News articles on chytridiomycosis

---
Mongabay.com news articles on chytridiomycosis in blog format. Updated regularly.






Madagascar's frog haven: rich, underexplored, threatened
(03/04/2015) Madagascar is a treasure trove of frogs. Located off the east coast of Africa, this large island nation has more than 500 species of frogs, many of which are found nowhere else in the world. Much of Madagascar's rich biodiversity remains understudied. As researchers comb through the country's forests, they continue to discover previously undescribed species of frogs, adding to Madagascar's amphibian diversity.
Scientists rediscover Critically Endangered streamside frog in Costa Rica
(12/26/2014) In the past 20 years, amphibian species around the world have experienced rapid decline due to climate change, disease, invasive species, habitat loss and degradation. Populations have decreased by approximately 40 percent with nearly 200 species thought to have gone extinct since 1980. However, despite these discouraging statistics, new research efforts are turning up lost populations of some vanished frogs.
The Search for Lost Frogs: one of conservation's most exciting expeditions comes to life in new book
(10/30/2014) One of the most exciting conservation initiatives in recent years was the Search for Lost Frogs in 2010. The brainchild of scientist, photographer, and frog-lover, Robin Moore, the initiative brought a sense of hope—and excitement—to a whole group of animals often ignored by the global public—and media outlets. Now, Moore has written a fascinating account of the expedition: In Search of Lost Frogs.
Amphibian pandemic may have hit Madagascar, hundreds of species at risk of infection
(04/11/2014) Madagascar is one of the world's hotspots for amphibian diversity, home to so many frog species that many of them don't even have names. But soon the island may also harbor a fungus causing drastic declines – even extinctions – of frogs around the world. Ironically, the wildlife trade that's often blamed for helping spread the disease may also give scientists a chance to prevent it.
287 amphibian and reptile species in Peruvian park sets world record (photos)
(01/28/2014) It's official: Manu National Park in Peru has the highest diversity of reptiles and amphibians in the world. Surveys of the park, which extends from high Andean cloud forests down into the tropical rainforest of the Western Amazon, and its buffer zone turned up 155 amphibian and 132 reptile species, 16 more than the 271 species documented in Ecuador's Yasuní National Park in 2010.
Strange mouth-brooding frog driven to extinction by disease
(11/21/2013) An unusual species of mouth-brooding frog was likely driven to extinction by the fungus Batrachochytrium dendrobatidis (Bd), making an unusual example of 'extinction by infection', argue scientists writing in the open-access journal PLOS ONE. Rhinoderma rufum has not been seen in the wild since 1980.
Thought-to-be-extinct 'halloween' frog rediscovered in Costa Rica
(11/04/2013) A breeding population of a critically endangered harlequin toad thought to be extinct in Costa Rica has been discovered in a tract of highland forest in the Central American country, reports a paper published in Amphibia-Reptilia. Atelopus varius, an orange-and-black harlequin toad, was once relatively common from central Costa Rica to western Panama. But beginning in the 1980's the species experienced a rapid population collapse across most of its range.
Newly discovered chytrid fungus devastates salamander populations
(09/19/2013) A frightening disease has been ravaging amphibians across the planet. At least 350 species have been infected, two hundred of which have suffered massive population reductions or extinctions, some even occurring within the space of weeks. In 1999, a single fungal species called Batrachochytrium dendrobatidis (Bd), commonly known as the chytrid fungus, was identified as the causative agent for these rapid die-offs.
Vocal-sac breeding frog possibly extinct
(07/02/2013) Somewhere in the wet pine forests of Chile, a male frog is gulping-up a bunch of eggs. No he's not eating them, he's just being a good dad. Darwin's frogs are known for their unique parenting-style: tadpoles are incubated in the vocal sac of the father. First recorded by Charles Darwin during his world famous voyage aboard the Beagle, the amphibians were common in the native Chilean pine forests until the last few decades. Now, scientists believe that one of the two species, the northern Darwin's frog (Rhinoderma rufum), may have vanished for good. And the other is hanging on by a thread.
Amazonian students help monitor threatened frog populations
(07/01/2013) According to the International Union for Conservation of Nature, amphibians are the most threatened group of animals on Earth: currently around 30 percent of the world's amphibians are listed as threatened with extinction. However this percentage doesn't include those species about which too little is known to evaluate (26 percent). Amphibians face many threats but two of the largest are habitat loss and the lethal chytrid fungus, which has rapidly spread worldwide and is likely responsible for numerous extinctions. But conservationists are coming up with innovative and creative ways to keep amphibians from disappearing, including a program from the Detroit Zoological Society (DZS) that is working with students in the Peruvian Amazon to monitor frog populations.
Common toads ravaged by killer disease in Portugal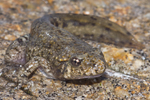 (01/14/2013) The chytrid fungus—responsible for millions of amphibian deaths worldwide—is now believed to be behind a sudden decline in the common midwife toad (Alytes obstetricans), according to a new paper in Animal Conservation. Researchers have detected the presence of the deadly fungus in the Serra da Estrela, north-central Portugal, home to a population of the midwife toad.
Climate change may be worsening impacts of killer frog disease

(08/13/2012) Climate change, which is spawning more extreme temperatures variations worldwide, may be worsening the effects of a devastating fungal disease on the world's amphibians, according to new research published in Nature Climate Change. Researchers found that frogs infected with the disease, known as chytridiomycosis, perished more rapidly when temperatures swung wildly. However scientists told the BBC that more research is needed before any definitive link between climate change and chytridiomycosis mortalities could be made.
Scientists testing anti-fungal bacteria on diseased frogs in California

(07/23/2012) Researchers are treating tadpoles in Kings Canyon National Park with a bacteria they hope will provide immunity to an infamous fungal disease, reports the San Francisco Gate. The bacteria could be key not only to saving California's mountain yellow-legged frog (Rana muscosa), which is listed as Endangered by the IUCN Red List, but also frog species around the planet, many of which have been decimated by the chytrid fungal disease.
Celebrate frogs on leap day!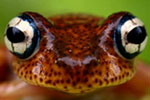 (02/20/2012) The NGO Amphibian Ark is asking frog-lovers to visit their local zoos on up-coming leap day, February 29th. Dubbed, Leaping Ahead of Extinction, the program includes 58 zoos and other amphibian breeding facilities in seventeen countries that have captive breeding populations of endangered amphibians.
Vampire and bird frogs: discovering new amphibians in Southeast Asia's threatened forests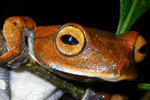 (02/06/2012) In 2009 researchers discovered 19,232 species new to science, most of these were plants and insects, but 148 were amphibians. Even as amphibians face unprecedented challenges—habitat loss, pollution, overharvesting, climate change, and a lethal disease called chytridiomycosis that has pushed a number of species to extinction—new amphibians are still being uncovered at surprising rates. One of the major hotspots for finding new amphibians is the dwindling tropical forests of Southeast Asia.
California city bans bullfrogs to safeguard native species
(01/26/2012) Santa Cruz, California has become the first city in the U.S. to ban the importation, sale, release, and possession of the American bullfrog (Rana catesbeiana). Found throughout Eastern and Central U.S., the frogs have become an invasive threat to wildlife in the western U.S. states and Canada.
Frog plague found in India

(01/03/2012) The chytrid fungus, which is responsible for the collapse of numerous amphibian populations as well as the extinction of entire species, has been located for the first time in India, according to a paper in Herpetological Review. Researchers took swabs of frog in the genus Indirana in the Western Ghats and found the killer fungus known as chytridiomycosis.
Effort to save world's rarest frogs recognized with conservation award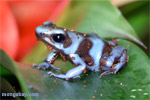 (12/05/2011) An effort to save the world's most endangered amphibians has won mongabay.com's 2011 conservation award. Amphibian Ark — a joint effort of the World Association of Zoos and Aquariums, the IUCN/SSC Conservation Breeding Specialist Group, and the IUCN/SSC Amphibian Specialist Group — is working to evaluate the status of threatened amphibians, raise awareness about the global amphibian extinction crisis, and set up captive breeding programs. The initiative is targeting 500 species that will not survive without captive breeding efforts.
Museum specimens reveal the tracks of an amphibian epidemic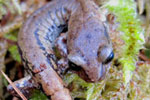 (11/07/2011) Dead men tell no tales, but dead frogs can speak volumes. Scientists have shown that frogs and salamanders preserved in museums tell the history of a deadly fungus and its spread across Mexico and Central America. The new finding, published recently in the Proceedings of the National Academy of Sciences (PNAS), may help explain past and ongoing amphibian die-offs in the region.
Amphibian-plague strikes frogs harder in pristine ecosystems

(05/31/2011) Frog populations worldwide are facing two apocalypses: habitat destruction and a lethal plague, known as chytridiomycosis. Over 30 percent of the world's amphibians are currently threatened with extinction and it is thought at least 120 species have gone extinct in just the last 30 years. Unfortunately, a new study in Proceedings of the National Academy of Sciences (PNAS) finds that the two threats—habitat loss and chytridiomycosis—are likely to leave no frog population undisturbed. According to the study, frogs that live in still-pristine habitats are more susceptible to chytridiomycosis than those that are already suffering from habitat loss.
Scientists scramble to save dying amphibians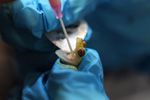 (04/28/2011) In forests, ponds, swamps, and other ecosystems around the world, amphibians are dying at rates never before observed. The reasons are many: habitat destruction, pollution from pesticides, climate change, invasive species, and the emergence of a deadly and infectious fungal disease. More than 200 species have gone silent, while scientists estimate one third of the more than 6,500 known species are at risk of extinction. Conservationists have set up an an emergency conservation measure to capture wild frogs from infected areas and safeguard them in captivity until the disease is controlled or at least better understood. The frogs will be bred in captivity as an insurance policy against extinction.
Golden toad saved from brink of extinction

(08/17/2010) One hundred Kihansi Spray Toads have been flown to their native Tanzania after a close brush with extinction, reports the Wildlife Conservation Society (WCS).
Save the frogs, save ourselves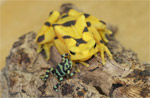 (09/04/2009) Amphibians are going extinct around the globe. As a scientist specializing in frogs, I have watched dozens of species of these creatures die out. The extinction of frogs and salamanders might seem unimportant, but the reality couldn't be farther from the truth. Indeed, from regulating their local ecosystems, to consuming and controlling the population of mosquitoes and other insects that spread disease, to potentially pointing the way to new drugs for fighting diseases such as cancer or HIV-AIDS, the fate of these creatures is inexorably linked to our own.
Salamander populations collapse in Central America

(02/09/2009) Salamanders in Central America — like frogs, toads, and other amphibians at sites around the world — are rapidly and mysteriously declining, report researchers writing in the journal Proceedings of the National Academy of Sciences. Disturbingly, salamanders are disappearing from protected areas and otherwise pristine habitats.
Lack of information may slow conservation response to amphibian crisis

(12/01/2008) The Neotropics harbor between 30-50% of the world's reptiles and amphibians, but dramatic declines in both groups have been observed over recent decades. While a number of factors have been cited, many of the causes of reptile and amphibian declines are still poorly understood. The situation is paralleled by a lack of information of the natural history, ecology, and behavior of many species.
New hope of curing amphibian plague

(11/28/2008) Amphibians worldwide are in trouble. One of the most endangered animal groups, amphibians are increasingly threatened by habitat loss, pollution, and climate change. However the largest threat is chytridiomycosis, a devastating disease caused by a parasitic chytrid fungus known as Batrachochytrium dendrobatidis, otherwise known as Bd.
Prioritizing amphibian species for captive breeding to save them from extinction

(11/13/2008) Frogs, toads, salamanders and other amphibians are disappearing at an alarming rate. Of approximately 6,000 amphibian species in the world, about one third are classified as threatened or endangered. A disease caused by a chytrid fungus has devastated frogs living in mid to high elevation streams worldwide. Amphibians also face habitat destruction as forests and wetlands are developed and polluted by agricultural chemicals. In Panama, highland frog populations west of the Canal have declined at an alarming rate.
Scientists can't explain cause of amphibian extinction crisis

(11/13/2008) Scientists have yet to conclusively explain the underlying cause of global declines in amphibian populations, according to a study published in the journal Proceedings of the National Academy of Sciences. The research says that two leading theories for the demise of amphibians — both related to the emergence and spread of the deadly chytrid fungus — are not supported by scientific data.
Mass amphibian die-offs affect ecosystems

(10/19/2008) Large-scale die-offs of amphibians due to the outbreak of a killer fungal disease is impacting the forest ecosystem in which they live, reports a new study published in the journal Ecosystems.
Armageddon for amphibians? Frog-killing disease jumps Panama Canal

(10/12/2008) Chytridiomycosis — a fungal disease that is wiping out amphibians around the world — has jumped across the Panama Canal, report scientists writing in the journal EcoHealth. The news is a worrying development for Panama's rich biodiversity of amphibians east of the canal.