News articles on Cetaceans

---
Mongabay.com news articles on Cetaceans in blog format. Updated regularly.






Population of Maui's dolphins slips below 50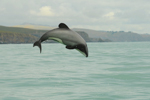 (06/05/2015) Maui's dolphins are edging closer to extinction. Strikingly marked, with a dark, rounded dorsal fin that has been likened to a Mickey Mouse ear, the dolphins max out at just four and a half feet long. New papers show their population has reached a new low, with fewer than 47 individuals remaining alive.
Vaquita porpoises down to 'way less than 100,' Mexican agents shoot fisherman while enforcing new protected area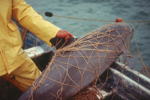 (05/29/2015) With fewer than 100 individuals alive and dropping fast, the vaquita porpoise is just a swish of the tail away from extinction. In April, alerted by scientists that the vaquita population had recently suffered its biggest decline ever, the Mexican government announced an emergency two-year ban on gillnet fishing across the porpoise's main habitat in the upper Gulf of California. A frenzied race to fish for another critically endangered species, the totoaba, is behind the plummeting porpoise numbers.
Last ditch: Mexico finally gets serious about saving the vaquita
(03/04/2015) There are likely less than 100 vaquita on the planet. Found only in the northern pocket of the Sea of Cortez in Mexico, the vaquita is a tiny, shy porpoise that has been brought to the very edge of extinction due to drowning in gillnets used for shrimping. But after years of stalling, Mexico now appears to be making a final effort to save the world's most endangered cetacean.
Is there hope for the vaquita? IUCN calls for action to save world's smallest, rarest porpoise
(09/19/2014) Since the baiji was declared extinct in the early aughts, the vaquita has taken its unenviable position as the world's most threatened cetacean. The tiny porpoise currently numbers around 100, with accidental entanglement in gillnets primarily responsible for its decline. In response, the IUCN recently issued a statement calling for immediate action to curb vaquita bycatch and head off its extinction – which otherwise may lie just around the corner.
California blue whales recover to historical levels

(09/05/2014) The population of blue whales in the Eastern Pacific has recovered to 97 percent of historic levels decades after Earth's largest animal was nearly driven to extinction in some places due to the whaling industry, reports a new study published in the journal, Marine Mammal Science.
Coastal wildlife paradise declared biosphere reserve in Argentina (PHOTOS)
(07/15/2014) Conservationists are celebrating the announcement that UNESCO has dubbed Argentina's Península Valdés a biosphere reserve under the Man and Biosphere Program (MBA). A hatchet-shaped peninsula that juts out into the Southern Atlantic Ocean, the world's newest biosphere reserve is home to a hugely-diverse collection of both terrestrial and marine wildlife.
Scientists spy on whales from space

(03/11/2014) Although whales are the biggest animals on the planet, scientists have found in difficult to count them. But a new study in PLOS ONE may change this: researchers tested the idea of counting whales using high resolution satellite imagery. Employing a single image from the WorldView2 satellite, scientists went about counting a pod of southern right whales in the Golfo Nuevo off the coast of Argentina.
Scientists discover new whale species
(02/14/2014) Beaked whales are incredibly elusive and rare, little-known to scientists and the public alike—although some species are three times the size of an elephant. Extreme divers, beaked whales have been recorded plunging as deep as 1,800 meters (5,900 feet) for over an hour. Few of the over 20 species are well-known by researchers, but now scientists have discovered a new beaked whale to add to the already large, and cryptic, group: the pointed beaked whale (Mesoplodon hotaula).
Japanese whale hunt stopped, for now

(01/06/2014) Anti-whaling group Sea Shepherd said its fleet of ships has successfully disrupted the annual Japanese whale hunt in the waters off Antarctica.
Activists urge Southwest to drop SeaWorld over whale concerns
(01/06/2014) More than 27,000 people have signed a petition calling on Southwest Airlines Co. (LUV) to drop its partnership with SeaWorld Entertainment, Inc. (NYSE:SEAS), over the theme park's treatment of its marine mammals, reports Change.org, the site that is hosting the petition.
DNA tests reveal new dolphin species (photos)
(10/30/2013) With the help of DNA tests, scientists have declared a new dolphin species that dwells off the coast of northern Australia. The discovery was made after a team of researchers looked at the world's humpback dolphins (in the genus Sousa), which sport telltale humps just behind their dorsal fins. While long-known to science, the new, as-yet-unnamed species was previously lumped with other humpback dolphins in the Indo-Pacific region.
Fishermen illegally killing dolphins for shark-bait in Peru (video)
(10/23/2013) Peruvian fishermen slaughtered dolphins to use as bait for shark fishing, an undercover investigation has revealed. Footage showed infant and adult dolphins being harpooned then stabbed and clubbed before, in some cases, being cut open and butchered while still alive. The slaughtered dolphins were cut up and used as bait. Dolphins are also killed for human consumption in Peru even though it is illegal.
Are seagulls killing whales in Patagonia?
(05/08/2013) It sounds ludicrous, but it could just be true: scientists say seagulls may be responsible for hundreds of southern right whale moralities off the Argentine coastline. Since 2003, scientists have documented the deaths of 605 southern right whales (Eubalaena australis) near Península Valdés which the whales use as a nursery. Notably, 88 percent of these were newborn calves. The death rate is so high that researchers now fear for the whales' long-term survival.
Munching on marine plastic kills sperm whale
(05/07/2013) What do children's toys, balloons, mattresses and plastic bags have in common? They can, along with more non-biodegradable pollutants, be found in the belly of a sperm whale, the topic of a new study in the Marine Pollution Bulletin. The same whale that swallowed Jonah from the Bible, Geppetto from Collodi's Pinocchio, and the crew of the Pequod from Melville's Moby-Dick is now swallowing trash from the Spanish-Mediterranean coast, and in the Strait of Gibraltar.
Save Lolita: new film urges release of captive killer whale
(01/22/2013) Through his new 90-second PSA, Save Lolita, filmmaker Daniel Azarian wanted to connect people to the plight of Lolita on a deeply human level; the only problem: Lolita is an orca, also known as a killer whale. But the stark, moving PSA succeeds, given the sociability of an individual—human or orca—who was stolen from her family and held in captivity for the past 42 years at Miami's Seaquarium.
Whale only known from bones washes up on beach in New Zealand
(11/05/2012) In 2010, a whale mother and male calf were found dead on Opape Beach in New Zealand. Although clearly in the beaked whale family—the most mysterious marine mammal family—scientists thought the pair were relatively well-known Gray's beaked whales (Mesoplodon grayi). That is until DNA findings told a shocking story: the mother and calf were actually spade-toothed beaked whales (Mesoplodon traversii), a species no one had ever seen before as anything more than a pile of bones.
Maui's dolphins still in danger of extinction despite New Zealand's protective measures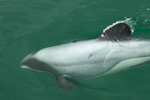 (08/07/2012) The New Zealand government's recent efforts to protect the world's smallest dolphin have come under scrutiny from various conservation organizations at the 64th meeting of the International Whaling Commission (IWC). There are only 55 Maui dolphins (Cephalorhynchus hectori maui) now found on the west coast of New Zealand's North Island, less than half the 2005 population with numbers continuing to decline. Less than 20 of the remaining Maui's are breeding females and their slow reproductive rates make it difficult to increase their numbers when faced with an even bigger danger: fishing nets.
Humpback whales delaying migration due to Antarctic changes

(07/30/2012) Humpback whales in the Antarctic are delaying their migration to feed on krill that are staying later due to reduced extent of sea ice, a possible consequence of climate change, reports a study published in the journal Endangered Species Research.
Deepwater Horizon oil spill may have played role in dolphin deaths

(07/22/2012) In the first four months of 2011, 186 bottlenose dolphins (Tursiops truncatus) were found dead in the Gulf of Mexico, nearly half of them dolphin calves many of whom were perinatal, or near birth. Researchers now believe a number of factors may have killed the animals. Writing in the open-access journal PLoS ONE, scientists theorize that the dolphins died a sudden influx of freshwater from snowmelt after being stressed and weakened by an abnormally cold winter and the impacts of the BP oil spill.
Over 30 Yangtze porpoises found dead in China as population nears extinction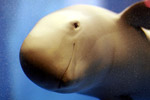 (05/01/2012) Six years after the Yangtze river dolphin (Lipotes vexillifer), or baiji, was declared "functionally extinct" by scientists, another marine mammal appears on the edge of extinction in China's hugely degraded Yangtze River. In less than two months, 32 Yangtze finless porpoises (Neophocaena asiaeorientalis asiaeorientalis), a subspecies of the finless porpoise, have been dead found in Dongting and Poyang Lakes in the Yangtze, reports the World Wide Fund for Nature (WWF).
Beyond Bigfoot: the science of cryptozoology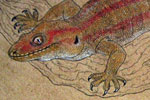 (03/26/2012) Anyone who doubts cryptozoology, which in Greek means the "study of hidden animals," should remember the many lessons of the past 110 years: the mountain gorilla (discovered in 1902), the colossal squid (discovered in 1925, but a full specimen not caught until 1981), and the saola (discovered in 1992) to name a few. Every year, almost 20,000 new species are described by the world's scientists, and a new book by Dr. Karl Shuker, The Encycloapedia of New and Rediscovered Animals, highlights some of the most incredible and notable new animals uncovered during the past century.
World's smallest dolphin: only 55 left, but continue to drown in nets

(03/22/2012) The world's smallest dolphin is also the closest to extinction. New Zealand government figures show that Maui's dolphin (Cephalorhynchus hectori maui) are down to just 55 mature individuals, falling from 111 in 2005. The small cetaceans, measuring up to 1.7 meters (5.5 feet), are imperiled due to drowning in gillnets with the most recent death by a fisherman's net occurring in January.
Amazon.com stops selling whale meat

(02/22/2012) Amazon Japan, a subsidiary of Amazon.com, pulled all whale meat products (and possibly dolphin meat) from its site after a new report by the Environmental Investigation Agency (EIA) and the Humane Society International highlighted the issue. Last December the organizations recorded 147 whale products on sale at Amazon Japan despite an international whaling moratorium since 1986. Japan, along with Iceland and Norway, continues to industrially hunt whales. Japan says their whale hunt is for scientific purposes only, but environmentalists dispute this.
New sanctuaries declared for Asia's freshwater dolphins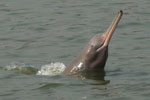 (02/15/2012) Bangladesh has declared three new sanctuaries to help protect the south Asian river dolphin (Platanista gangetica) in the Sundarbans, the world's largest mangrove forest. Split into two subspecies, the Ganges River dolphin (Platanista gangetica gangetica) and the Irrawaddy River dolphin (Platanista gangetica minor), the new sanctuaries will benefit both. Listed as Endangered by the IUCN Red List, the south Asian freshwater dolphin has disappeared from much of its habitat. Already Asia has its other freshwater dolphin species: the baiji (Lipotes vexillifer) was declared functionally extinct into 2006 after a survey of the Yangtze River failed to find a single individual.
87 marine mammals still eaten by people

(01/24/2012) Threats to marine mammals usually include climate change, drowning as by-catch, pollution, depletion of prey, but what about eating marine mammals? A new study in Biological Conservation finds that a surprising 87 marine mammals—including polar bears, small whales, and dolphins—have been eaten as food since 1990 in at least 114 countries.
Featured video: tuna industry bycatch includes sea turtles, dolphins, whales

(01/16/2012) A Greenpeace video, using footage from a whistleblower, shows disturbing images of the tuna industry operating in the unregulated waters of the Pacific Ocean. Using fish aggregation devices (FADs) and purse seine nets, the industry is not only able to catch entire schools of tuna, including juvenile, but also whatever else is in the area of the net.
How much is the life of a whale worth?

(01/16/2012) How do you end a decades-long conflict between culture and conservation? How do you stop a conflict where both sides are dug in? A new paper in Nature proposes a way to end the long and bitter battle over whaling: environmentalists could pay whalers not to whale.
Decline in top predators and megafauna 'humankind's most pervasive influence on nature'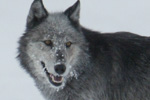 (07/14/2011) Worldwide wolf populations have dropped around 99 percent from historic populations. Lion populations have fallen from 450,000 to 20,000 in 50 years. Three subspecies of tiger went extinct in the 20th Century. Overfishing and finning has cut some shark populations down by 90 percent in just a few decades. Though humpback whales have rebounded since whaling was banned, they are still far from historic numbers. While some humans have mourned such statistics as an aesthetic loss, scientists now say these declines have a far greater impact on humans than just the vanishing of iconic animals. The almost wholesale destruction of top predators—such as sharks, wolves, and big cats—has drastically altered the world's ecosystems, according to a new review study in Science. Although researchers have long known that the decline of animals at the top of food chain, including big herbivores and omnivores, affects ecosystems through what is known as 'trophic cascade', studies over the past few decades are only beginning to reveal the extent to which these animals maintain healthy environments, preserve biodiversity, and improve nature's productivity.
India plans to aid dwindling Ganges River dolphin

(03/08/2011) The Indian government has announced that it plans to develop a program to raise the population of its native Ganges river dolphin (Platanista gangetica gagnetica), a subspecies of the South Asian river dolphin. During a question and answer session Jairam Ramesh, India's Environment and Forests Minister, said that the dolphin's current population was estimated at 2,000 to 3,000 individuals in the Ganges. However, other estimates have placed it lower.
Kite-photography gives new perspective to whale migration

(12/22/2010) A new project sponsored by Nokia uses KAPing - kite aerial photography - to get an innovative look at whale behavior. The project will be taking place in Hawaii and will document the area's annual humpback whale migration.
Japanese making themselves sick with dolphin hunt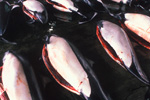 (11/01/2010) Japan's dolphin hunt of Dall's porpoise (Phocoenoides dalli) could be making people sick, according to a new study by the Environmental Investigation Agency (EIA) and Campaign Whale. The controversial hunt, which kills some 15,000 dolphins annually, produces cheap meat-for-consumption that on average contains over double Japan's limit on mercury contamination. "We are very concerned that people in Japan are threatening their health and possibly that of their children by unwittingly eating Dall's porpoise meat that is dangerously contaminated with poisons such as mercury and PCBs," Andy Ottaway, Director of Campaign Whale, said in a press release.
Island nation announces Ukraine-sized sanctuary for whales and dolphins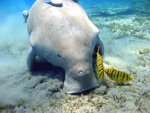 (10/24/2010) Dolphins, whales, and dugongs will be safe from hunting in the waters surrounding the Pacific nation of Palau. At the Convention on Biological Diversity (CBD) in Nagoya, Japan, Palau's Minister of the Environment, Natural Resources and Tourism, Harry Fritz, announced the establishment of a marine mammal sanctuary covering over 230,000 square miles (60,000 square kilometers) of the nation's waters, an area the size of Mongolia.
Flickr reveals longest whale migration

(10/14/2010) Communal photo sharing site, Flickr, has allowed researchers to discover the longest migration by a whale yet recorded. Ten years ago a female humpback whale swam from Brazil to Madagascar, covering around 6,090 miles (9,800 kilometers). The migration tops the previous record by 2,485 miles (4,000 kilometers). Not only is this a record for a whale, it's a record for non-human mammals.
Conservation photography: on shooting and saving the world's largest temperate rainforest, an interview with Amy Gulick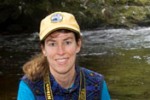 (07/11/2010) Most of the US's large ecosystems are but shadows of their former selves. The old-growth deciduous forests that once covered nearly all of the east and mid-west continental US are gone, reduced to a few fragmented patches that are still being lost. The tall grassy plains that once stretched further than any eye could see have been almost wholly replaced by agriculture and increasing suburbs. Habitats, from deserts to western forests, are largely carved by roads and under heavy impact from resource exploitation to invasive species. Coastal marine systems, once super abundant, have partially collapsed in many places due to overfishing, as well as pollution and development. Despite this, there are still places in the US where the 'wild' in wilderness remains largely true, and one of those is the Tongass temperate rainforest of Southeast Alaska.
Extinct animals are quickly forgotten: the baiji and shifting baselines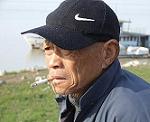 (02/23/2010) In 2006 a survey in China to locate the endangered Yangtze River dolphin, known as the baiji, found no evidence of its survival. Despondent, researchers declared that the baiji was likely extinct. Four years later and the large charismatic marine mammal is not only 'likely extinct', but in danger of being forgotten, according to a surprising new study 'Rapidly Shifting Baselines in Yangtze Fishing Communities and Local Memory of Extinct Species' in Conservation Biology. Lead author of the study, Dr. Samuel Turvey, was a member of the original expedition in 2006. He returned to the Yangtze in 2008 to interview locals about their knowledge of the baiji and other vanishing megafauna in the river, including the Chinese paddlefish, one of the world's largest freshwater fish. In these interviews Turvey and his team found clear evidence of 'shifting baselines': where humans lose track of even large changes to their environment, such as the loss of a top predator like the baiji.
Photos: ten beloved species threatened by global warming

(12/14/2009) The International Union for the Conservation of Nature (IUCN) has released a list of ten species that are likely to be among the hardest hit by climate change, including beloved species such as the leatherback sea turtle, the koala, the emperor penguin, the clownfish, and the beluga whale. The timing of the list coincides with the negotiations by world leaders at the UN Climate Change Conference to come up with an international agreement to combat climate change.
The Yangtze River may have lost another inhabitant: the Chinese paddlefish

(10/22/2009) In December of 2006 it was announced that the Yangtze River dolphin, commonly known as the baiji, had succumbed to extinction. The dolphin had survived on earth for 20 million years, but the species couldn't survive the combined onslaught of pollution, habitat loss, boat traffic, entanglement in fishing hooks, death from illegal electric fishing, and the construction of several massive dams. Now, another flagship species of the Yangtze River appears to have vanished.
Whale skeleton reveals species unknown to science

(09/22/2009) The importance of a whale to the oceanic ecosystem does not end with its life. After dying, a whale's body sinks to the bottom of the ocean and becomes food for many species, some of whom specialize on feeding on these corpses.
Ganges River Dolphin population falls below 300, faces new threat from oil exploration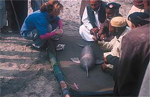 (07/19/2009) The Ganges River Dolphin faces a high risk of extinction in India's Brahmaputra river system unless critical habitat is protected, report conservationists. Once abundant in the Ganges and Brahmaputra river systems in India and Bangladesh, the population of the Ganges River Dolphins has fallen sharply over the past century due to accidental bycatch by fishermen, direct killing for their meat and oil, and diversion of water for agriculture. Scientists estimate that only 2,000 remain, of which 240-300 survive in the Brahmaputra, according to a new survey by IUCN researchers, who warn the Brahmaputra population is also imperiled by new threats, including dam building and prospecting for oil.
Iceland reaffirms whaling targets for 2009

(02/19/2009) Iceland's interim government will allow whaling to continue through 2009 but left in question whether it would be permitted in the future, reports Reuters.
A new reason to ban whaling: your health

(11/28/2008) Health officials have recommended a ban on the eating of pilot whales, a traditional food source, in the Faroe Islands, reports New Scientist. The build-up of toxins — which bioaccumulate up the food chain as predators feed on tainted organisms — have rendered whale meat harmful to humans.
Supreme Court lifts ban on sonar testing, whales lose

(11/12/2008) A Supreme Court decision will allow the Navy to continue its of sonar in training exercises off the coast of California, a defeat for environmental groups who say sonar is harmful to whales, reports the Associated Press.
Argentina bans fishing, trawling in eco-rich area

(10/09/2008) The government of Argentina has banned commercial fishing along Burdwood Bank, an 1,800 square kilometer (694 square mile) submerged island off its southern coast, according to the Wildlife Conservation Society (WCS).
Whaling Commission issues media blackout on discussions to lift whale killing ban

(09/11/2008) The survival of whales is perhaps the most successful conservation story of the 20th century. Since a moratorium on commercial hunting, some whale species have staged dramatic recoveries. In May it was announced that the humpback whale population has climbed from 1,500 to 20,000 individuals, resulting in it being "downlisted" from vulnerable to least concern, according to the IUCN's Red List. Others, like the blue whale, appear to have stable populations but recovery remains slow.
The extinction of the baiji a 'wake-up call' to conserve vaquita and other cetaceans

(08/25/2008) In December of 2006 an expedition spent six weeks surveying the Yangtze River in China for one of the world's rarest cetaceans, the baiji. Also known as 'The Goddess of the Yangtze' the shy river-dolphin had roamed the river for millions of years locating fish with echolocation. The survey came back empty-handed without a spotting a single dolphin. Dr. Jay Barlow, a member of the surveying team, described his emotions on the expedition's findings in an interview with Mongabay.com: "I was stunned. I knew the species was in trouble, but I did not think they were already gone. We really had not seen the extinction of a large mammal species in 50 years, so we grew complacent."
The long-ignored ocean emergency and what can be done to address it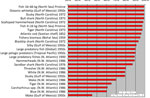 (08/18/2008) This year has been full of bad news regarding marine ecosystems: one-third of coral species threatened with extinction, dead-zones spread to 415 sites, half of U.S. reefs in fair or bad condition, increase in ocean acidification, tuna and shark populations collapsing, and only four percent of ocean considered pristine. Jeremy Jackson, director of the Scripps Center for Marine Biodiversity and Conservation at the University of California, San Diego, synthesizes such reports and others into a new paper, published in the journal Proceedings of the National Academy of Sciences, that boldly lays out the scope of the oceanic emergency and what urgently needs to be done.
Whale biomimicry inspires better wind turbines

(07/07/2008) By studying and mimicking the characteristics of the flippers, fins and tails of whales and dolphins, engineers have devised more a efficient way to generate wind power, reports a researcher presenting at the Society for Experimental Biology's Annual Meeting in Marseille, France.
Humpback whale population is recovering

(05/21/2008) The number of humpback whales in the North Pacific Ocean has increased substantially since international and federal protections were put into place in the 1960s and 70s, according to a new study involving more than 400 whale researchers throughout the Pacific region.
New species of river dolphin discovered in the Amazon

(04/30/2008) Researchers have identified a new species of river dolphin in the Bolivian Amazon according to the Whale and Dolphin conservation Society (WDCS). The announcement was made at a conservation workshop in Santa Cruz de la Sierra in Bolivia.
The Arctic's most threatened marine mammals due to climate change

(04/25/2008) A recent study has measured the sensitivity to Arctic marine mammals to climate change. The study found that the three species most vulnerable to climate change are the hooded seal, the polar bear, and the narwhal: the common thread between these species being the loss of sea ice.
Japan cancels plan to kill 50 humpback whales

(12/21/2007) Japan has canceled highly controversial plans to kill 50 humpback whales for purported "scietific purposes" (the meat is sold in fish markets) after widespread condemnation from environmentalists and governments. .
Evolution of whales challenged

(12/19/2007) Modern whales appear to have evolved from a raccoon-sized creature with the body of a small deer, according to scientists writing in the journal Nature. The results challenge the theory that cetaceans are descended from even-toed ungulates (artiodactyls) like hippos, as previous molecular analysis has suggested.
Only 150 vaquita remain

(11/19/2007) Only 150 individual vaquita, the world's smallest cetacean, remain, according to a new study published in conservation Biology. The species has been decimated as accidental bycatch in fishing nets in its Gulf of California habitat. Researchers--who say there may be only a two-year window to save the species from extinction--have launched a last-ditch conservation effort.
Apology for Whale Shooting given by Tribe

(09/13/2007) The ninth of September saw a gray whale shot and killed by members of the Makah Tribe, off the coast of the Washington Coast, in the Strait of Juan de Fuca.
Gray whale populations a fraction of historic level

(09/10/2007) The current population of gray whales is one-third to one-fifth of the number found in the Pacific before industrial whaling began in the 19th century, reports a new study based on genetic analysis.
Squid chasing drove evolution of whale sonar

(09/06/2007) A University of California at Berkeley study argues that dolphins and other toothed whales developed sonar to chase schools of squid swimming near the ocean surface at night.
Rare Chinese river dolphin sighting in doubt

(09/01/2007) A prominent researcher is skeptical of last week's reported sighting of the baiji, the Chinese river dolphin declared extinct earlier this year, according to the New York Times. The sighting near Tongling city in Anhui Province -- widely reported in Chinese and Western media -- was captured on video.
Saving beautiful - and ugly - species from extinction

(08/30/2007) Allow me to wax poetic about the world's newest wildlife organization, EDGE. I must admit I'm a little in love. This singular organization was founded in January as a part of the London Zoological Society. Its basic tenants remain similar to other endangered species programs: survey populations, set up conservation programs, work with local governments and communities to ensure protection. However, what is unique about EDGE is not their approach to saving species, but rather the species they choose to focus their efforts on. This year they have selected ten mammalian species: the Yangztee River Dolphin, Attenborough's Long-Beaked Echidna, Hispaniolan Solenodon, Bactarian Camel, Pygmy Hippopotamus, Slender Loris, Hirola, Golden-rumped Elephant Shrew, Bumblebee Bat, and the Long-eared Jerboa.
Iceland halts whaling

(08/24/2007) With stagnant demand for whale meat nearly a year after ending its ban on commercial whaling, Iceland said it would not issue new whale-hunting quotas until it gets an export license from Japan, reports Reuters.
U.S. court blocks sonar testing to protect whales

(08/07/2007) A U.S. federal court blocked the Navy from using a type of sonar that environmentalists say pose a threat to whales off the coast of California. The judge noted that the Navy's own analyses concluded that the Southern California exercises "will cause widespread harm to nearly thirty species of marine mammals, including five species of endangered whales, and may cause permanent injury and death" and characterized the Navy's proposed mitigation measures as "woefully inadequate and ineffectual."
How to save the world's oceans from overfishing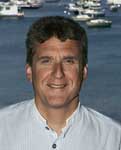 (07/08/2007) Global fishing stocks are in trouble. After expanding from 18 millions tons in 1950 to around 94 million tons in 2000, annual world fish catch has leveled off and may even be declining. Scientists estimate that the number of large predatory fish in the oceans has fallen by 90 percent since the 1950s, while about one-quarter of the world's fisheries are overexploited, depleted, or recovering from depletion. Despite these dire trends, the situation is changing. Today some of the world's largest environmental groups are focused on addressing the health of marine life and oceans, while sustainable fisheries management is at the top of the agenda for intergovenmental bodies. At the forefront of these efforts is Mike Sutton, director of the Monterey Bay Aquarium's conservation program: the Center for the Future of the Oceans. The aquarium, which has long been recognized as one of the world's most important marine research facilities, is pioneering new strategies for protecting the planet's oceans. Sutton says the approach has four parts: establishing new marine protected areas, pushing for ocean policy reform, promoting sustainable seafood, and protecting wildlife and marine ecosystems.
Harpoon proves whale is 115-130 years old

(06/12/2007) A 19th-century weapon found in the neck of a 50-ton bowhead whale caught off Alaska shows that cetaceans can live more than 100 years, reports the Associated Press (AP).
South Korea fishermen cheat on whale killing

(05/09/2007) Fishermen in South Korea are killing far more whales than they claim, reports an article in New Scientist Magazine. DNA fingerprinting of whale meat purchased in local markets suggests that South Korea caught 827 minke whales between 1999 and 2003, well above the 458 they reported.
Japan will kill 50 humpbacks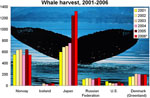 (04/26/2007) Humpback whale populations are rebounding but concerns are rising over Japan's plans to kill 50 humpback whales for "scientific" research, reports a paper published in the latest issue of Science.
The news of extinction: western media's response to the demise of the Baiji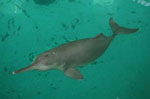 (04/01/2007) The news came and went with an alacrity that I found alarming, almost jolting. I waited for weeks, faithfully; I could not believe that the initial announcement would be followed by nothing but silence on the issue, no rationalizations, no opinions, no discussions, no outpourings of grief. Just silence.
Jumbo squid and sperm whales tagged

(03/08/2007) Scientists have simulatenously tagged sperm whales and jumbo squid off Mexico's Pacific coast, allowing them to be tracked by satellite even as they dive to depths exceeding 3000 feet. Details of the effort are published in in the March 12 edition of the journal Marine Ecology Progress Series (MEPS).
Goodbye to the Baiji

(12/14/2006) After a short illness spurred by pollution, overfishing, boat traffic, and obstructions like dams, the Baiji was declared 'functionally extinct' last night. As a species, the river dolphin found only in China's Yangtze River was 20 million years. The Baiji is survived by other river dolphins, all themselves threatened, in the Ganges, Indus, Amazon, Orinoco, and La Plata rivers. No memorial service will be held.
The Vaquita, the world's smallest cetacean, dives toward extinction

(12/10/2006) Accidental death in fishing nets is driving the world's smallest cetacean, the Vaquita (Phocoena sinus), towards extinction, according to a new study published in the current issue of Mammal Review, the official scientific periodical of the Mammal Society.
Chinese river dolphin nearly extinct says official

(12/03/2006) Xinhua, China's state news agency, reported that a 26-day search for the Baiji, or the Yangtze dolphin, found no dolphins. The Baiji is highly threatened by pollution, overfishing, and obstructions like dams.
How many whales are enough?

(11/30/2006) Iceland's decision to resume hunting endangered fin whales raises an important question: how many whales are enough to sustain a population? While conservionists will debate over the actual number using varying models and population studies, a new paper published in the journal Bioscience attempts to establish a new system for setting population targets for threatened species.
Whales share human brain cells

(11/27/2006) Whales share brain cells with humans according to a new study published online November 27, 2006 in The Anatomical Record, the official journal of the American Association of Anatomists. The research suggests that "certain cetaceans and hominids may have evolved side by side."
Grey whales missing from traditional feeding grounds

(10/23/2006) Researchers found few grey whales in their traditional feeding grounds in the North Pacific last summer according to a scientist at the University of Bath. Dr. William Megill, a professor of mechanical engineering with special interest in biomimetics at the University of Bath, said that the absence of the 17,000 grey whales from traditional summer feeding grounds in the North Pacific could be cause for concern, despite the species' recent removal from the endangered species list.
Dolphin Slaughter Resumes in Japan

(09/21/2006) As the annual dolphin drive hunts begin in the Japanese villages of Taiji and Futo, a consortium of scientists and zoo and aquarium professionals has launched a campaign to end the practices through public awareness and by appealing to the government of Japan to put an end to the hunts.
Ancient blue whale was a shark killer

(08/22/2006) A 25-million-year-old whale fossil from southeastern Australia suggests a curious origin for baleen whales. Presented at the at the Melbourne Museum last week, the fossil shows that earliest baleen whales were small, toothed and highly predatory creatures with enormous eyes -- virtually the opposite of the baleen whales we know today. These, like the blue whale and the humpback are gentle, toothless giants that feed on krill and other tiny organism.
Norwegian killer whales most toxic mammals in Arctic

(12/12/2005) Initial scientific results show Norwegian killer whales are the most toxic mammals in the Arctic, says WWF, the global conservation organization. Previous research awarded this dubious honour to the polar bear, but a new study shows that killer whales have even higher levels of PCBs, pesticides and a brominated flame retardant.
Underwater sound pollution threat to marine life says new report

(11/21/2005) New evidence shows that the rising level of intense underwater sound produced by oil and gas exploration, military sonar and other manmade sources poses a significant long-term threat to whales, dolphins, fish and other marine species, according to a report published today by the Natural Resources Defense Council (NRDC).
Humpback whale tracked migrating between ocean basins

(08/18/2005) For the first time ever, a genetic study has followed a single humpback whale from one ocean basin to another, adding to traditional notions of the migratory patterns of these majestic marine mammals in the process, according to researchers from the Wildlife conservation Society (WCS), the American Museum of Natural History (AMNH), and New York University.