News articles on certification

---
Mongabay.com news articles on certification in blog format. Updated regularly.





Palm oil facilitates large-scale illegal logging in Indonesia


(12/16/2014) Development of oil palm plantations is providing cover for large-scale illegal logging in Indonesian Borneo, driving destruction of some of the island's most biodiverse forests and undermining efforts to reform the country's forestry sector, alleges a new report published by the Environmental Investigation Agency (EIA).


Progress being made in curbing illegal timber imports

(11/25/2014) Five major timber importers are making progress in cutting contraband wood from their markets, argues a series of reports published by Chatham House.


IKEA commits to zero deforestation palm oil

(11/21/2014) Home products giant IKEA has made a time-bound commitment for eliminating palm oil linked to deforestation and human rights abuses from its supply chain.


Ranking the world's best - and worst - palm oil companies in terms of sustainability


(11/20/2014) A new initiative ranks the world's 25 largest publicly listed palm oil companies in terms of transparency around the environmental performance of their operations. The project, called Sustainable Palm Oil Transparency Toolkit, was developed by The Zoological Society of London (ZSL).


UN to promote RSPO-certified palm oil as conservation solution

(11/14/2014) The United Nations Environment Programme (UNEP) has signed an agreement with the Roundtable on Sustainable Palm Oil (RSPO) to promote eco-certified palm oil as part of the broader effort to conserve biodiversity.


Reducing deforestation is good for business, argues report

(11/12/2014) Some of the world's largest companies are making progress in disclosing and addressing deforestation risk within their commodity supply chains, but much work is left to be done to shift to more sustainable practices, argues a new report from the Climate Disclosure Project.


The Zanaga iron ore mine – a test of best laid plans for preserving wildlife


(10/06/2014) One of the largest iron ore deposits in Africa is located in a strip 47 kilometers long and three kilometers wide in the Republic of the Congo (RoC), bordering Gabon. A core section of the Guineo-Congolian Forest rises above this vast mineral deposit, and provides a home to flagship endangered species like western lowland gorillas, chimpanzees, and forest elephants.


Central Kalimantan to set up palm oil monitoring system to in bid cut deforestation 80%


(10/05/2014) The Indonesian province of Central Kalimantan is moving forward on an oil palm plantation monitoring system it hopes will help meet a commitment to reduce deforestation 80 percent by 2020. The online monitoring system will include "information on the performance of plantation concessions such as productivity, the number of smallholder farmers, deforestation and other land cover change, and fire occurrence," according to Earth Innovation Institute which designed and is helping the provincial government implement the system.


FSC passes motion for greater protection of primary forests

(09/12/2014) The Forest Stewardship Council (FSC) has passed a motion to increase protection of old-growth forests.


FSC meeting weighs old-growth forest protection, smallholder participation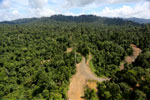 (09/11/2014) The Forest Stewardship Council (FSC), a body that sets social and environmental certification criteria for forestry products, is weighing measures that could step up protection for old-growth forests and make it easier for indigenous people and traditional forest communities to qualify for certification. The measures are set for a vote this week at the body's General Assembly, which is held every three years to establish and revise criteria that underpin the standard.


Greenpeace alleges SLAPP suit tactic by logging company

(08/22/2014) Greenpeace Canada has filed a Statement of Defense in response to a $7 million lawsuit by Resolute Forest Products (NYSE:RFP) over allegations that the logging company destroyed forests in Quebec and Ontario.


New palm oil sustainability manifesto met with criticism from environmentalists


(07/11/2014) This week several palm oil giants announced new environmental criteria for palm oil production. The companies say the initiative goes beyond the industry-leading standard set by the Roundtable on Sustainable Palm Oil (RSPO), but two prominent environmental groups quickly disagreed, arguing the measure has substantial loopholes that will allow growers to continue destroying forests.


Greenpeace rates companies' zero deforestation commitments

(06/06/2014) Greenpeace has released a basic rating system to gauge the strength of companies' zero deforestation commitments related to palm oil sourcing.


In cutting deforestation, Brazil leads world in reducing emissions


(06/05/2014) Brazil's success in reducing deforestation in the world's largest rainforest has been much heralded, but progress may stall unless farmers, ranchers and other land users in the region are provided incentives to further improve the environmental sustainability of their operations, argues a study published this week in the journal Science.


RSPO plantations publicly mapped for the first time

(06/04/2014) A global map of the world's Roundtable on Sustainable Palm Oil (RSPO) certified oil palm plantations is available for the first time.


RSPO calls for greater collaboration on zero deforestation commitments

(05/27/2014) The Roundtable on Sustainable Palm Oil (RSPO) today called for greater collaboration between it and the leading implementer of zero deforestation policies, The Forest Trust (TFT).


Rainforest Alliance eco-certified coffee hits 1 billion pounds

(05/17/2014) Coffee produced under the Rainforest Alliance's certification system topped a billion pounds (455,000 million tons) for the first time in 2013.


Malaysian palm oil company stock drops after environmental complaint

(05/06/2014) Genting Plantations Bhd's stock price fell by more than two percent after the palm oil company's membership in the Roundtable of Sustainable Palm Oil (RSPO) was suspended due to a complaint by the Borneo Rhino Alliance for failing to abide by the body's principles on establishing new plantations, reports The Edge Financial Daily.


Commodity eco-certification skyrockets, but standards slip

(05/01/2014) The volume of commodities produced under various social and environmental certification standards jumped 41 percent in 2012, far outpacing the 2 percent growth across conventional commodity markets, finds a comprehensive new assessment of the global certification market.


Despite campaign, Girl Scout cookies still aren't deforestation free, say scout activists


(04/25/2014) Despite a high-profile campaign that caused one of the world's largest food companies to adopt a comprehensive zero deforestation policy, Girl Scout cookies still aren't necessarily free of rainforest destruction and social conflict, say the two girl scouts who launched the protest seven years ago.


Malaysia at risk of falling behind in push for more sustainable palm oil


(04/17/2014) The Malaysian state should play a more active role in supporting the transition toward less environmentally destructive palm oil production, says a coalition of Malaysian NGO's. In a statement issued Sunday, the Malaysian Palm Oil NGO Coalition (MPONGOC) urged Malaysian banks, palm oil associations, and other government-backed institutions to commit to 'improving social and environmental standards in the palm oil industry'.


Indonesian 'legal' timber scheme could be greenwashing illegal products, NGOs warn


(04/07/2014) Flaws in the country's system to verify legal wood products could have implications for trade with Europe, as new research suggests even certified companies in Indonesia may not be meeting EU standards. Indonesian civil society groups have called on their government to reform its legal timber certification system, pointing to widespread illegal practices among certified companies and an auditing system that is 'almost impossible' for companies to fail.


Will zero deforestation commitments save Indonesia's forests?


(03/17/2014) Skirting the Malacca Strait near the Indonesian city of Dumai the air is thick with haze from peat fires burning below. As the sky clears, a landscape of sharply-cut geometric shapes becomes apparent. What was once carbon-dense peat forests and rainforests are today massive oil palm and wood pulp plantations.


Progressive palm oil group opens door to companies, NGO's adopting zero deforestation policies

(03/12/2014) The Palm Oil Innovation Group (POIG), an alliance formed last year, has opened its doors to new members who commit to social and environmental safeguards that go beyond the Roundtable on Sustainable Palm Oil (RSPO) eco-certification standard.


Fast food companies are laggards on palm oil sourcing safeguards


(03/05/2014) Fast food companies are lagging behind other consumer products companies in efforts to establish policies that favor deforestation-free and conflict-free palm oil, finds a new assessment published by the Union of Concerned Scientists, an advocacy group. The report, titled 'Donuts, Deodorant, Deforestation: Scoring America's Top Brands on Their Palm Oil Commitments', looked at palm oil sourcing policies of 30 of the largest fast food, personal care, and packaged food corporations in the United States. It found leadership by a handful of firms.


In Girl Scouts vs. Kellogg's over palm oil, rainforests and orangutans win

(02/14/2014) After a campaign waged by two charismatic Girl Scouts over questionably-sourced palm oil used in Girl Scout Cookies, Kellogg Company today announced a policy that will move it toward deforestation-free palm oil.


Despite falling palm oil price, premium for 'sustainable' product rises


(02/12/2014) Despite a sharp drop in the price of palm oil since 2011, premiums for certificates representing palm oil produced under the Roundtable on Sustainable Palm Oil (RSPO) standard have risen due to increased demand for greener palm kernel oil (CPKO), reveals data released by GreenPalm.


Reduced impact logging failing to cut emissions in Indonesia


(02/10/2014) Advocates for reduced impact logging in tropical forests often make a case that better forest management cuts carbon emissions relative to traditional forms of timber harvesting. While the argument for altering logging approaches to limit forest damage makes intuitive sense, a new study suggests that the carbon benefits may not bear out in practice.


Rainforest Alliance to independently audit APP's zero deforestation commitment


(01/29/2014) The Rainforest Alliance has agreed to conduct an audit of Asia Pulp & Paper's progress in implementing the zero deforestation policy the forestry giant signed last year. The deal, announced Thursday in Jakarta, could help boost the credibility of APP's policy, which while heralded as a breakthrough by several environmental groups, is still viewed with skepticism by some prominent critics, who remember past broken commitments from the paper producer.


Company accused of logging endangered rainforest trees in breach of timber legality certificate


(01/07/2014) An Indonesian wood supplier that was recently certified under the country's legal timber verification scheme has been clearing natural forests – including stands of endangered ramin trees – and draining peat swamps on its concession, alleges a local environmental watchdog. The company, the group says, is also implicated in corruption linked to its concession permit. The organization is calling for the company's legal timber certification to be revoked and urging auditors not to issue legality certificates to companies involved in corruption.


Small farmers see better access to credit with eco-certification

(12/30/2013) Participation in agricultural certification programs appears to boost access to credit for small farmers, asserts a study published by the Rainforest Alliance, an environmental group that sets up and implements eco-certification standards.


Rainforest news review for 2013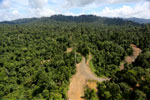 (12/26/2013) 2013 was full of major developments in efforts to understand and protect the world's tropical rainforests. The following is a review of some of the major tropical forest-related news stories for the year. As a review, this post will not cover everything that transpired during 2013 in the world of tropical forests. Please feel free to highlight anything this post missed via the comments section at the bottom. Also please note that this review focuses only on tropical forests.


Canada's biggest logger loses eco-certification


(12/17/2013) Resolute Forest Products, the largest industrial logging company in Canada, suffered a major setback this week when the Forest Stewardship Council (FSC) revoked three certifications for the forestry giant. According to Greenpeace, the company lost its certification in Quebec and Ontario due to several problems, including a lack of consent from the Crees nations and failure to safeguard high priority conservation areas.


World's biggest palm oil company makes zero deforestation commitment


(12/05/2013) Wilmar, the world's largest palm oil trader and a long-time target of environmentalists, has signed a landmark policy that commits the company to eliminate deforestation from its supply chain. The deal, if fully implemented, has the potential to transform the palm oil industry, which has emerged over the past decade as one of the world's most important drivers of tropical forest destruction.


Journalism prizes explore community forestry, commodity supply chains, China's seafood consumption


(12/01/2013) Mongabay.org announces three new $20,000 environmental reporting prizes under its Special Reporting Initiatives program. Three new environmental journalism prizes will enable journalists to do in-depth reporting on three important environmental topics: the role of community forest management in addressing climate change, cleaning up commodity supply chains, and the market for more sustainable seafood in China. The prizes come under Mongabay.org's Special Reporting Initiatives(SRI), a program that provides funding for environmental reporting. Mongabay.org will commit up to $20,000 to fund the top proposal.


Palm oil workers stage massive protest at sustainability meeting in Indonesia


(11/19/2013) Protesters from 10 Indonesian labor unions and four NGOs descended on the Roundtable on Sustainable Palm Oil (RPSO) meetings in Medan last Tuesday, urging the industry body to take serious steps to end what they claim is rampant abuse of workers on RSPO-certified plantations.


Greener palm oil on the horizon?

(11/18/2013) A group of environmental activists, conservation groups, and palm oil producers officially announced a new initiative that aims to showcase best practices in the palm oil industry, demonstrating that palm oil can be produced without social conflict, conversion of peatlands, or destruction of wildlife-rich forests.


Aiming to avoid deforestation, Unilever to trace all palm oil it sources


(11/12/2013) In a move that represents a significant development for efforts to reduce the environmental impact of palm oil, consumer products giant Unilever today announced it will be able to trace all of the palm oil it sources by the end of 2014. Implementing a traceability system means that by the end of next year, Unilever will able to pinpoint the origin of its palm oil back to the plantations that produce the fresh fruit bunches that are milled into the widely-used vegetable oil.


HBSC financing deforestation for palm oil in Borneo


(11/11/2013) HSBC, the world's third largest bank, continues to lend to companies linked to deforestation despite a policy explicitly prohibiting such practices, alleges a new report from the London-based Environmental Investigation Agency (EIA). The report, published last week, looks at two Indonesian palm oil companies that recently received finance from HSBC: Bumitama Agri and Triputra Agro Persada.


Palm oil companies ignoring community rights, new study shows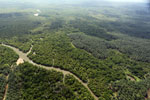 (11/07/2013) Some of the largest palm oil companies are clearing forests and peatlands without seeking consent of local communities, leading to a spate of unresolved conflicts in plantation concessions around the world, warns a coalition of NGOs and researchers. Members of the Roundtable on Sustainable Palm Oil (RSPO) are violating the rights of local communities in tropical forests and failing to live up to social and environmental commitments, the coalition said in a report released on Thursday.


'Sustainable' tropical timber trade a misnomer, says group

(10/24/2013) The production and trade in 'sustainable' timber products in Southeast Asia is mostly 'a mirage' due to questionable forestry practices and loopholes in import regulations, alleges a new report from Friends of the Earth International.


Palm oil giant profiting off tiger habitat destruction, alleges Greenpeace

(10/22/2013) The world's largest palm oil trader is continuing to traffic in palm oil linked to deforestation and illegal peatlands conversion, alleges a new report from Greenpeace.


The palm oil debate: can the world's most productive oilseed be less damaging to the environment?


(10/21/2013) On Thursday, 17 October 2013 Mongabay.com and the Roundtable on Sustainable Palm Oil (RSPO) co-hosted a discussion on environmental issues related to palm oil. The discussion involved representatives from WWF, Greenpeace and the RSPO. Mongabay.com Founder Rhett A. Butler served as the moderator.


Indonesia, EU sign historic deal to end the illegal timber trade

(10/01/2013) Indonesia and the European Union signed a deal on Monday that aims to curb illegal logging by ending all trade in illegal wood products between Asia's largest exporter of timber to Europe and each of the EU's 28 member states.


Malaysia to launch palm oil certification scheme to compete with RSPO

(09/06/2013) Malaysia will launch its own certification standard for palm oil produced by local firms by 2014, reports Reuters. The initiative aims to differentiate Malaysian palm oil from that produced in other countries, while offering a less stringent alternative to the Roundtable on Sustainable Palm Oil, the sector's leading certification body.


Palm oil now biggest cause of deforestation in Indonesia


(09/03/2013) Conversion of forests for palm oil production now appears to be the single largest driver of deforestation in Indonesia, accounting for roughly a quarter of forest loss between 2009 and 2011, asserts a new Greenpeace report that accuses the sector's main certification standard of failing to stop forest destruction. The report, titled Certifying Destruction, uses satellite imagery, government concession data, field investigations, and third party analysis to conclude that several recent and current members of the Roundtable on Sustainable Palm Oil (RSPO) — the industry's chief eco-certification body — are continuing to buy or trade palm oil produced via the conversion of rainforests and carbon-dense peatlands in the Southeast Asian nation.


80% of rainforests in Malaysian Borneo logged


(07/17/2013) 80 percent of the rainforests in Malaysian Borneo have been heavily impacted by logging, finds a comprehensive study that offers the first assessment of the spread of industrial logging and logging roads across areas that were considered some of Earth's wildest lands less than 30 years ago. The research, conducted by a team of scientists from the University of Tasmania, University of Papua New Guinea, and the Carnegie Institution for Science, is based on analysis of satellite data using Carnegie Landsat Analysis System-lite (CLASlite), a freely available platform for measuring deforestation and forest degradation. It estimated the state of the region's forests as of 2009.


Chain of custody nonsense from FSC & PEFC: protecting income streams rather than the world's forests

(07/10/2013) The FSC and PEFC released a joint statement on July 8th urging ISO members to vote against a new proposal for an ISO Chain of Custody certification. I expected the statement to explain that the proposed standard was weak, that it would allow illegally logged timber into supply chains, that it would be bad for the world's forests. Instead, the statement amounts to a call for no new competition.


World's biggest companies lay out path toward zero-deforestation commodities

(06/28/2013) With a backdrop of fires raging across oil palm and timber plantations in Sumatra, business and political leaders convened in Indonesia to discuss a path forward for producing deforestation-free commodities by 2020.


Greenpeace launches series of case studies critiquing forest certification standard

(06/26/2013) Activist group Greenpeace says it will publish a series of case studies highlighting examples of good and bad practice among operations certified under the Forest Stewardship Council (FSC), an eco-standard for forest products. Greenpeace, an FSC member since the body was found in 1993, says that as the standard has expanded, the risk to its credibility has also increased.


Indonesian logging giant pulls out of FSC certification scheme

(06/22/2013) Following a complaint filed by environmental groups, Indonesian forestry giant Asia Pacific Resources International Limited (APRIL) has pulled out of the Forest Stewardship Council (FSC), an eco-labeling initiative for timber and other forest products.


Forest certification body revokes Swiss logging company's certificate over alleged Congo abuses

(05/21/2013) The Forest Stewardship Council (FSC), a body that certifies forest management practices, has revoked all certificates granted to the Danzer Group, a multinational logging company, over alleged human rights abuses by one of its former subsidiaries in the Democratic Republic of Congo (DRC), reports Bloomberg.


Palm oil company violated RSPO standards, evicted from sustainability body

(05/13/2013) The Roundtable on Sustainable Palm Oil (RSPO) has evicted Indonesian palm oil giant Dutapalma Nusantara for violating key principles for sustainability.


Environmentalists unhappy with new palm oil standard


(04/25/2013) Environmentalists are unhappy with Thursday's approval of new criteria for the world's leading palm oil certification standard. After members of the Roundtable on Sustainable Palm Oil (RSPO) in a special assembly approved the body's new 'principles and criteria' (P&Cs) for palm oil certification, several groups voiced concern that the rules won't protect against conversion of carbon-dense rainforests and peatlands for oil palm plantations.


RSPO failing to meet sustainability objectives for palm oil production, says WWF

(04/23/2013) An initiative that aims to improve the social and environmental performance of palm oil production is faltering in its mission by failing to establish strong performance standards on greenhouse gas emissions and pesticide use, argues a new statement issued by WWF, the initiative's biggest green supporter.


Yum! Brands announces 'greener' paper policy

(04/08/2013) After a prolonged campaign by environmental activists, the world's largest fast food company has announced a new sourcing policy that will shift it toward greener packaging materials.


Nordic energy giant launches 'no deforestation' policy

(04/07/2013) Neste Oil, a Finnish energy giant, has announced a new 'no deforestation' policy for sourcing palm oil. The company, which is one of the world's largest buyers of palm oil, had faced criticism from environmentalists for purchasing palm oil potentially linked to rainforest and peatland destruction in southeast Asia.


Can we meet rising food demand and save forests?


(04/03/2013) A few weeks ago the Skoll World Forum hosted an online debate on how increased global consumption can be balanced with sustainability. The debate asks how a rapidly growing world that is ever consuming can hope to feed everyone, and at the same time address the deforestation that is emitting massive amounts of carbon into the atmosphere and destroying the world's greatest tropical forests. Many contributors made very strong points—even contradicting one another in their approaches and ideas.


Brazilian supermarkets ban beef linked to Amazon deforestation

(03/27/2013) A group representing 2,800 Brazilian supermarkets has signed an agreement barring beef linked to deforestation in the Amazon rainforest from their shelves.


Gucci launches 'zero-deforestation' handbag


(03/07/2013) Gucci has rolled out a collection of 'zero-deforestation' leather handbags. Each handbag comes with a 'passport' that provides the history of the product's supply chain going back to the ranch that produced the leather. The line emerged out of concerns that leather in the fashion industry is contributing to deforestation in the Brazilian Amazon, where roughly two-thirds of forest destruction is for cattle production.


Dunkin' Donuts to adopt palm oil policy

(03/07/2013) Doughnut and coffeehouse giant Dunkin' Donuts has agreed to source 100 percent of its palm oil under the Roundtable on Sustainable Palm Oil (RSPO), though the company has yet to set a date for the move, reports the New York State Comptroller's office.


Saving forests by stemming agricultural sprawl


(03/01/2013) I'm fortunate to travel the world helping conserve habitats for some of the world's most iconic species. When I visit places like the Amazon and Sumatra, I'm still awestruck by their diversity and pristine beauty. I'm also reminded how threatened they are. Our growing demand for food and fiber is fueling deforestation in resource-rich regions of the world. As environmentalists, if we don't change where and how we produce food and fiber, we can turn off the lights and go home. There won't be any biodiversity left to protect.


Guide for filing complaints on rule-breaking by palm oil companies published

(02/28/2013) Over the past 25 years palm oil production has emerged as one of the biggest drivers of deforestation and peatlands degradation in Southeast Asia. And there are fears that expansion in West and Central Africa could soon make palm oil a major cause of forest conversion on that continent.


The corporate conservation revolution


(02/27/2013) There's a new kind of environmental hero emerging. They don't live in Washington, D.C., and they're known more for their interest in increasing earnings than in reducing greenhouse gases. They are found in an unlikely place: The Corporate Boardroom, and they're making a big difference in saving the worlds forests and our climate. In recent years, a group of visionary corporate leaders have been quietly teaming up with a growing number of environmental groups to take a hard look at what's left of our planet's natural resources. Together, they agree: we are past the point where our land and oceans can meet the food, energy and commodity demands of our planet's seven billion inhabitants.


Activists blast World Bank on continued support of industrial rainforest logging

(02/11/2013) Two environmental activist groups blasted the World Bank over its reported decision to block a probe into its support of industrial-scale rainforest logging.


The beginning of the end of deforestation in Indonesia?


(02/05/2013) Asia Pulp & Paper, a forestry giant that has been widely criticized for its role in driving deforestation and contributing to social conflict in Indonesia, today announced a zero deforestation policy that could have a dramatic impact on efforts to slow the Southeast Asian nation's high rate of deforestation. The policy, which went into effect February 1, is ambitious enough that one of APP's most vocal critics and agitators, Greenpeace, will suspend its highly-damaging campaign against the paper giant. The campaign against APP has cost the paper giant tens of millions of dollars in lost business since 2009. The new policy targets several of the major criticisms against APP, including deforestation, degradation of high carbon peatlands, conservation of critical wildlife habitat, and social conflict with local communities.


100 companies disclose their forest impact

(01/30/2013) 100 companies have reported on the impact of their operations on the world's forests.


HarperCollins establishes policy barring paper sourced from rainforest destruction


(01/29/2013) HarperCollins has established a policy that excludes paper sourced from destruction of tropical rainforests and old growth forests. The revised policy, posted on its web site earlier this month, is a response to a campaign by the Rainforest Action Network (RAN), an activist group that is targeting companies linked to clearing of Indonesian rainforests and peatlands for pulp and paper production:


Palm oil sustainability initiative must rule out deforestation, says group

(01/18/2013) The Roundtable on Sustainable Palm Oil (RSPO) must implement standards that protect forests and account for greenhouse gas emissions to remain credible, said an environmental group ahead of a that will determine the body's 'Principles and Criteria' for the next five years.


RSPO rules against palm oil company in controversial deforestation case

(12/20/2012) The body that sets social and environmental criteria for greener palm oil production has taken action against a palm oil accused of clearing community forest in Indonesian Borneo, reports the Environmental Investigation Agency (EIA).


Cutting through the rhetoric on palm oil production


(12/14/2012) Palm oil is widely acknowledged as one of the most important drivers of deforestation and forest diminishment in Southeast Asia. Conversion of forests and peatlands for oil palm plantations is both a substantial source of greenhouse gas emissions and a major threat to biodiversity — one study called palm oil the 'single most immediate threat to the greatest number of species'.


E.U. OKs biofuels produced from certified palm oil


(11/28/2012) The European Commission has approved palm oil-based biodiesel for the renewable fuels standard provided it is certified under the Roundtable for Sustainable Palm Oil (RSPO), a body that sets social and environmental criteria for palm oil production. The move, which could dramatically boost sales of palm oil in Europe, was sharply criticized by environmental activists, who said that without stronger safeguards, increased palm oil production could increase deforestation and greenhouse gas emissions.


Borneo may lose half its orangutans to deforestation, hunting, and plantations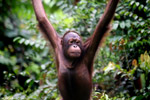 (11/13/2012) Borneo will likely lose half of its orangutans if current deforestation and forest conversion trends continue, warns a comprehensive new assessment by an international team of researchers. The study, published in the journal PLoS ONE, overlays orangutan distribution with land use regulations in Malaysian and Indonesian Borneo. Borneo has suffered high rates of deforestation, logging, and forest conversion for industrial plantations in recent decades, endangering the world's largest surviving populations of orangutans.


Norway's $650B pension fund to require deforestation disclosure among portfolio companies

(11/12/2012) Norway's $650 billion sovereign wealth fund will ask companies in which it invests to disclose their impacts on tropical forests, as part of its effort to reduce deforestation, reports Reuters. The move could usher in broader reporting on the forest footprint of operations.


China, India should cut tariff on eco-certified palm oil to boost demand, says RSPO official


(11/02/2012) China and India, the world's largest palm oil buyers, should reduce or eliminate an import tariff on eco-certified palm oil to boost demand for less-damaging production of the widely-used oilseed, said the President of the Roundtable on Sustainable Palm Oil (RSPO) during the body's tenth annual meeting in Singapore.


Timber, paper demand contributing to destruction of rainforests

(09/06/2012) Demand for timber and paper is contributing to destruction of the world's most biodiverse rainforests and worsening climate change, argues a new report issued Tuesday by the Union of Concerned Scientists (UCS).


Boosting forestry at the bottom of the pyramid

(09/04/2012) Nearly 600 million people manage some one billion hectares (2.5 million hectares) of agroforests worldwide, yet these smallholders have been largely left out of a push to move some commodities up the value chain through certification programs. To date, it has been mostly corporate entities and commercial farmers who have been able to capitalize on premiums offered for certified "eco-friendly" products. The reason is simple: scale. Smallholders can't bear the costs associated with getting certified.


Apple reverses course, rejoins green tech registry

(07/14/2012) Facing criticism from customers and potential loss of government contracts, computer giant Apple rejoined a green product registry it abandoned earlier this month.


San Francisco bars officials from buying Apple computers for city business

(07/11/2012) Employees at San Francisco agencies will no longer be able to buy Apple products for official city business due to the computer giant's decision to pull out of a green certification scheme for consumer electronics, reports the Wall Street Journal.


IKEA logging old-growth forest for low-price furniture in Russia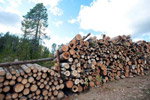 (05/30/2012) A new campaign is targeting IKEA, the world's biggest furniture retailer, for logging old-growth forests in the Karelia region of Russia. An alliance of groups, headed by the Swedish NGO Protect the Forest, allege that IKEA's subsidiary, Swedwood, is clearcutting thousands of hectares of old and biodiverse forests. But, Swedwood's 300,000 hectare concession is certified by the Forest Stewardship Council (FSC), generally considered the world's strongest forestry certifier.


Can loggers be conservationists?


(05/10/2012) Last year researchers took the first ever publicly-released video of an African golden cat (Profelis aurata) in a Gabon rainforest. This beautiful, but elusive, feline was filmed sitting docilely for the camera and chasing a bat. The least-known of Africa's wild cat species, the African golden cat has been difficult to study because it makes its home deep in the Congo rainforest. However, researchers didn't capture the cat on video in an untrammeled, pristine forest, but in a well-managed logging concession by Precious Woods Inc., where scientist's cameras also photographed gorillas, elephants, leopards, and duikers.


In sustainability push, Unilever aims to build palm oil processing plant in Indonesia


(04/25/2012) Unilever is in talks to build a $130 million palm oil processing mill in Indonesia as part of its commitment to use more environmentally-friendly palm oil in its products, reports The Wall Street Journal. The mill, which would be located in Sumatra, would produce about 10 percent of Unilever's annual consumption of palm oil, which is produced from fruit from the oil palm tree. Unilever is the world's largest single consumer of palm oil, using 1.36 million tons a year for beauty and food products, including Dove soap, Ben & Jerry's ice cream, and Vasoline.


Certified palm oil profitable for companies, finds study

(04/06/2012) A new study suggests shifting to certified palm oil production increases profitability despite higher production costs.


Our success in transforming commodity markets will determine nature's fate


(04/01/2012) The success of governments and big corporations in eliminating environmental degradation from the products we consume will play a critical role in determining the fate of the world's remaining wild places, said a group of experts speaking at a panel during the Skoll World Forum on Social Entrepreneurship.


Controversial logging company sells operations in DR Congo

(03/23/2012) Danzer, a Swiss-German forestry company that has been subject to much criticism by environmentalists for its logging practices in the Democratic Republic of Congo (DRC), has sold its operations in the Central African country, reports Greenpeace.


APP affiliates in U.S., Australia, pledge to drop controversial pulp supplier linked to deforestation

(03/17/2012) Two affiliates of Asia Pulp & Paper (APP) have announced they are severing at least some ties with the beleaguered paper giant, according to the Northern Virginia Daily and Greenpeace, an environmental group whose recent undercover investigation found ramin, a protected species, at APP's pulp mill in Sumatra.


RSPO-certified palm oil production jumps, generates $21M in premiums for producers

(03/08/2012) Production and sales of palm oil certified under the Roundtable on Sustainable Palm Oil (RSPO) reached record volume in 2011, reports a new analysis published by the multistakeholder body.


After illegal logging allegations, certifier lodges complaint against paper giant APP

(03/07/2012) Less than a week after Greenpeace released evidence that protected tree species were being illegally logged and pulped at an Asia Pulp and Paper (APP) mill in Sumatra, a major certifier, the Program for the Endorsement of Forest Certification (PEFC), has lodged a complaint and asked for an investigation. In addition to PEFC's move, the National Geographic Society (NGS), which was found to be sourcing from APP recently, has publicly broken ties with the company, and Greenpeace has handed over its evidence to Indonesian police who told the group there would be an investigation.


Paper giant hammered on forest certification claims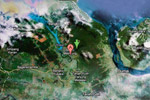 (02/15/2012) Beleaguered paper giant Asia Pulp & Paper was sharply criticized Wednesday for its claims that its operations are certified sustainable by independent auditors. WWF said its survey of certifiers and certification schemes shows that none apply to 'the most controversial operations' of APP's suppliers: clearing of rainforests and peatlands that are home to endangered tigers, elephants, and orangutans. In responding to complaints from environmentalists that its operations are responsible for large-scale destruction of native forests, APP often touts various certification standards which it says demonstrate its commitment to sustainability. Yet the new WWF survey found that these standards don't apply across all of the paper giant's operations — APP's suppliers in Indonesia continue to harvest and convert natural forests. Nor do the certification standards necessarily prove that APP's forest management practices are 'sustainable'.


Some toilet paper production destroys Indonesian rainforests, endangering tigers and elephants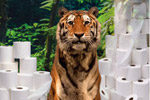 (02/09/2012) American consumers are unwittingly contributing to the destruction of endangered rainforests in Sumatra by purchasing certain brands of toilet paper, asserts a new report published by the environmental group WWF. The report, Don't Flush Tiger Forests: Toilet Paper, U.S. Supermarkets, and the Destruction of Indonesia's Last Tiger Habitats, takes aim at two tissue brands that source fiber from Asia Pulp & Paper (APP), a paper products giant long criticized by environmentalists and scientists for its forestry practices on the Indonesian island of Sumatra. The brands — Paseo and Livi — are among the fastest growing, in terms of sales, in the United States.


Belgium to source only RSPO-certified palm oil by 2015

(01/31/2012) Belgium will source only palm oil certified under the Roundtable for Sustainable Palm Oil (RSPO) by 2015 under a pledge by an alliance of major processors, manufacturers, and industry associations, reports the RSPO.


Logging of primary rainforests not ecologically sustainable, argue scientists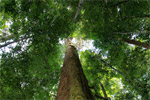 (01/25/2012) Tropical countries may face a risk of 'peak timber' as continued logging of rainforests exceeds the capacity of forests to regenerate timber stocks and substantially increases the risk of outright clearing for agricultural and industrial plantations, argues a trio of scientists writing in the journal Biological Conservation. The implications for climate, biodiversity, and local economies are substantial.


Economic slowdown leads to the pulping of Latvia's forests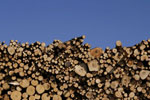 (01/23/2012) The economic crisis has pushed many nations to scramble for revenue and jobs in tight times, and the small Eastern European nation of Latvia is no different. Facing tough circumstances, the country turned to its most important and abundant natural resource: forests. The Latvian government accepted a new plan for the nation's forests, which has resulted in logging at rates many scientists say are clearly unsustainable. In addition, researchers contend that the on-the-ground practices of state-owned timber giant, Latvijas Valsts meži (LVM), are hurting wildlife and destroying rare ecosystems.


Levi's new forest policy excludes fiber from suppliers linked to deforestation

(01/17/2012) Levi Strauss & Company had issued a new policy that will exclude fiber from controversial sources from its products. The move will effectively bar Asia Pulp & Paper (APP) as a supplier, according to the Rainforest Action Network, a green group that is campaigning to reform APP's sourcing practices, which the NGO says come at the expense of rainforests in Sumatra.


The year in review for rainforests


(12/28/2011) 2011 was designated as "Year of the Forests" by the United Nations. While there was relatively little progress on intergovernmental forest protection programs during the year, a lot happened elsewhere. Below is a look at some of the biggest tropical forest-related news stories for 2011. We at mongabay readily acknowledge there were a number of important temperate and boreal forest developments, including Britain's decision not to privatize its forests and the severe drought in Texas, but this article will cover only tropical forest news.


Will 'sustainable' palm oil sell in China?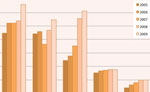 (12/19/2011) Owing to the high yield of the African oil palm tree, palm oil is today the cheapest commercial source of edible oil. But oil palm expansion in recent decades has at times had high indirect costs, including destruction of biologically diverse rainforests and further marginalization of forest-dependent people, especially in southeast Asia. Concerns over the environmental and social impact of palm oil production in the spurred a group of palm oil producers, processors, and buyers to team up with conservation groups to form the Roundtable on Sustainable Palm Oil (RSPO) in 2004. But a big question looms over all certification efforts: will the world's largest importers of palm oil — India and China — buy it?


Feeding the world's population and saving forests aren't mutually exclusive

(12/06/2011) The world can simultaneously improve food security and save tropical forests by better optimizing land use, factoring in the true costs of biofuels, boosting yields on existing farmland, encouraging production away from forest frontiers, and supporting efforts to develop more sustainable community roundtables, concludes a new report released Monday by the National Wildlife Federation.


Cargill should do more to end use of problematic palm oil, says RAN

(11/24/2011) As part of our coverage of the 9th Annual Roundtable Meeting on Sustainable Palm Oil currently underway in Kota Kinabalu in Sabah, Malaysia, mongabay.com is interviewing participants and attendees. In the following interview, mongabay.com speaks with the delegation from the Rainforest Action Network (RAN), an advocacy group which has been critical of some Roundtable on Sustainable Palm Oil (RSPO) members for what is sees as ongoing social and environmental problems.


Peace accord reached in violent conflict between locals and Indonesian state plantation company

(11/23/2011) A peace accord has been announced to resolve a long-running conflict between a giant state-owned plantation company and local communities on the Indonesian island of Java.


Toymaker Hasbro cuts deforestation from its supply chain

(11/01/2011) Hasbro, the second largest American toy company, today announced a new packaging policy that excludes the use of fiber produced via destruction of rainforests, reports Greenpeace.



Page 1 | Page 2 | Page 3