News articles on Cellulosic Ethanol

---
Mongabay.com news articles on Cellulosic Ethanol in blog format. Updated regularly.








Will hydrocarbon biofuels replace gasoline and ethanol?

(08/13/2009) In a Perspectives piece in Science, John R. Regalbuto argues that the world will soon see a revolution in biofuels, but not those made from corn. Instead Regalbuto, program director of Catalysis and Biocatalysis at the National Science Foundation, says that the future of biofuels is in substances that can be converted into hydrocarbons, such as switch grass, woody biomass, corn stover, and even algae.
Economic crisis hurts forestry sector, sustainability initiatives

(03/16/2009) The global economic crisis has slowed demand for timber products and may undermine efforts to improve the environmental performance of forestry, reports the U.N. Food and Agriculture Organization (FAO) in its biannual "State of the World's Forests 2009", released today.
Cellulosic biofuels endanger old-growth forests in the southern U.S.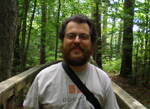 (10/16/2008) Cellulosic biofuel is on its way. This second generation biofuel — so-called because it does not involve food crops — has excited many researchers and policymakers who hope for a sustainable energy source that lowers carbon emissions. However, some believe that cellulosic biofuel may prove less-than-perfect. Just as agricultural biofuels have gone from being considered 'green' to an environmental disaster, some think the new rush to cellulosic biofuel will follow the same course. Scot Quaranda is one of those concerned about cellulosic biofuel's impact on the environment. Campaign director at Dogwood Alliance, which he describes as "the only organization in the Southern US holding corporations accountable for the impact of their industrial forestry practices on our forests and our communities", Quaranda condemns cellulosic biofuels as dangerous to forests "by its very definition".
U.S. needs environmental standards for biofuels

(10/02/2008) The U.S. lacks criteria to ensure that cellulosic ethanol production will not harm the environment, warn scientists writing in the journal Science. The researchers say that with proper safeguards, cellulosic ethanol can help the U.S. meet its energy needs sustainably.
Europe cuts biofuel targets to 4% in 2015, 6% in 2020

(09/12/2008) The E.U. voted to relax biofuels targets following widespread criticism of their social, economic, and environmental impacts. Thursday the European Parliament's Industry and Energy Committee said it would push a plan calling for a 5 percent share of renewables in transport fuel by 2015 and a 10 percent target by 2020, a reduction from the 20 percent target set forth in March 2007. The plan effectively cuts targets for biofuels produced from conventional feedstocks to four percent in 2015 and six percent in 2020.
Future threats to the Amazon rainforest

(07/31/2008) Between June 2000 and June 2008, more than 150,000 square kilometers of rainforest were cleared in the Brazilian Amazon. While deforestation rates have slowed since 2004, forest loss is expected to continue for the foreseeable future. This is a look at past, current and potential future drivers of deforestation in the Brazilian Amazon.
Using farm waste for ethanol may hurt crop yields in some areas

(07/15/2008) Cellulosic ethanol proponents have pushed the idea of using farm waste as a way to boost biofuel production without impacting food crops, but such conversion may carry a hidden cost in areas with insufficient rainfall or lacking irrigation, warns a soil scientist from Washington State University.
Cellulosic biofuels may be viable alternative to gas within 5 years

(06/02/2008) A new institute in the San Francisco Bay Area is seeking to make cellulosic biofuel an economically viable alternative to corn ethanol and gasoline within the next five years. The Joint BioEnergy Institute (JBEI), a partnership between three national laboratories and three Bay Area universities, was formed in June 2007 after the U.S. Department of Energy awarded the institute a $125 million grant to develop better methods for making liquid biofuels from the natural cellulose in trees and grasses. JBEI researchers expect cellulosic biofuels to yield more energy, produce less greenhouse gases, and have less impact on the environment than other alternatives to gasoline, such as corn ethanol.
Cellulosic energy may trigger dramatic collapse in the Amazon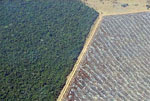 (03/11/2008) Next generation biofuels may trigger the ecological collapse of the Amazon frontier and could have profoundly unexpected economic consequences for the region, warns a paper published in Philosophical Transactions of the Royal Society B. Dr. Donald Sawyer writes that "interacting with climate change and land use, the upcoming stage of cellulosic energy could result in a collapse of the new frontier into vast degraded pasture." The shift could increase the incidence and severity of fires, reduce rainfall in key agricultural zones, exacerbate forest die-back and climate change, and worsen social instability. Sawyer says that while difficult to anticipate, the worst outcomes could likely be avoided be promoting "intensified and more sustainable use" of already cleared areas, minimizing new deforestation, and encouraging "sustainable use of natural resources by local communities."
Corn ethanol is worsening the Gulf dead zone

(03/10/2008) Proposed legislation that will expand corn-ethanol production in the United States will worsen the growing "dead zone" in the Gulf of Mexico and hurt marine fisheries, report researchers writing in the Proceedings of the National Academy of Sciences (PNAS).
Biofuels are worsening global warming

(02/07/2008) Converting native ecosystems for production of biofuel feed stocks is worsening the greenhouse gas emissions they are intended to mitigate, reports a pair of studies published in the journal Science. The studies follow a series of reports that have linked ethanol and biodiesel production to increased carbon dioxide emissions, destruction of biodiverse forest and savanna habitats, and water and air pollution.
E.U. may ban palm oil biodiesel

(01/15/2008) The E.U. may ban imports of certain biofuel feedstocks that damage the environment, reports The New York Times. Environmentalists say some biofuels like palm oil are driving the destruction of biologically-rich rainforests and may produce more emissions than conventional fossil fuels.
Switchgrass a better biofuel source than corn

(01/07/2008) Switchgrass yields more than 540 percent more energy than the energy needed to produce and convert it to ethanol, making the grassy weed a far superior source for biofuels than corn ethanol, reports a study published in Proceedings of the National Academy of Sciences (PNAS).
Economics of next generation biofuels

(08/08/2007) 'Second generation' biorefineries -- those making biofuel from lignocellulosic feedstocks like straw, grasses and wood -- have long been touted as the successor to today's grain ethanol plants, but until now the technology has been considered too expensive to compete. However, recent increases in grain prices mean that production costs are now similar for grain ethanol and second generation biofuels, according to a paper published in the first edition of Biofuels, Bioproducts & Biorefining.
Miscanthus bests switchgrass as biofuel source

(07/11/2007) In a side-by-side comparison, miscanthus (Miscanthus x giganteus) grass has been shown to be a more productive bioenergy source than switchgrass (Panicum virgatum), according to research presented at the annual meeting of the American Society of Plant Biologists in Chicago.
Biofuels demand will increase, not decrease, world food supplies

(03/27/2007) As concerns mount over fuel-versus-food competition for crops, a Michigan State University ethanol expert says that cellulosic ethanol could render the debate moot. Bruce Dale, an MSU chemical engineering and materials science professor, notes that ethanol can be made from cellulosic materials, like farm waste, instead of corn grain.
New green biofuels process could meet all U.S. transportation needs

(03/14/2007) Purdue University chemical engineers have proposed a new environmentally friendly process for producing liquid fuels from plant matter - or biomass - potentially available from agricultural and forest waste, providing all of the fuel needed for "the entire U.S. transportation sector."
Government pledges $385M for cellulosic ethanol

(03/08/2007) The U.S. Department of Energy (DOE) announced it will invest up to $385 million over the next four years for six biorefinery projects capable of producing more than 130 million gallons of cellulosic ethanol annually.
Termites can make ethanol

(03/06/2007) Achim Steiner, Executive Director of the UN Environment Programme (UNEP), says that termites can be used to make eco-friendly ethanol. He cites U.S. government backed research showing that "microbes living in the guts of termites have potent enzymes able to efficiently and cost effectively transform woody wastes into sugars for ethanol production."
Ethanol always not as green as some believe

(02/16/2007) Ethanol is generally not as green as some people believe says Bruce Dale, Michigan State University professor of chemical engineering and materials science. Speaking at the American Association for the Advancement of Science annual meeting in San Francisco, Dale says that while corn ethanol produces less greenhouse gases than gasoline, it can cause other detrimental environmental effects if not carefully managed.
Weedy grass could free U.S. of foreign oil dependence says biologist

(02/16/2007) A weedy grass may hold the key to domestic energy security and mitigating emissions of greenhouse gasese, said a Stanford University plant biologist speaking Friday at the annual meeting of the American Association for the Advancement of Science in San Francisco.
Genetically modified tree could be used for cellulosic ethanol biofuel

(08/24/2006) A tree that can reach 90 feet in six years and be grown as a row crop on fallow farmland could represent a major replacement for fossil fuels. Purdue University researchers are using genetic tools in an effort to design trees that readily and inexpensively can yield the substances needed to produce alternative transportation fuel.
Cellulosic ethanol fuels environmental concerns

(08/06/2006) In recent months, high fuel prices and national security concerns have sparked interest in biofuels. Cellulosic ethanol, which can be derived from virtually any plant matter including farm waste, looks particularly promising. The U.S. Department of Energy projects that cellulosic conversion technology could reduce the cost of producing ethanol by as much as 60 cents per gallon by 2015. Green groups see cellulosic ethanol as a carbon neutral energy source that could be used to fight the build up of atmospheric carbon dioxide responsible for global warming.
Corn waste potentially useful for more than ethanol

(07/19/2006) After the corn harvest, whether for cattle feed or corn on the cob, farmers usually leave the stalks and stems in the field, but now, a team of Penn State researchers think corn stover can be used not only to manufacture ethanol, but to generate electricity directly.
High oil prices fuel bioenergy push

(05/09/2006) High oil prices and growing concerns over climate change are driving investment and innovation in the biofuels sector as countries and industry increasingly look towards renewable bioenergy to replace fossil fuels. Bill Gates, the world's richest man, has recently invested $84 million in an American ethanol company while global energy gluttons ranging from the United States to China are setting long-term targets for the switch to such fuels which potentially offer a secure domestic source of renewable energy and fewer environmental headaches. Biofuels are fuels that are derived from biomass, including recently living organisms like plants or their metabolic byproducts like cow manure. Unlike fossil fuels -- like coal, petroleum, and natural gas, which are finite resources -- biofuels are a renewable source of energy that can be replenished on an ongoing basis. In general, biofuels are biodegradable and, when burned, have fewer emissions than traditional hydrocarbon-based fuels. Typically, biofuels are blended with traditional petroleum-based fuels, though it is possible to run existing diesel, engines purely on biodiesel, something which holds a great deal of promise as an alternative energy source to replace fossil fuels. Further, because biofuels are generally derived from plants which absorb carbon from the atmosphere as they grow, biofuel production offers the potential to help offset carbon dioxide emissions and mitigate climate change.
Scientists closer to understanding key to cellulosic biofuels

(04/20/2006) Cellulose -- a fibrous molecule found in all plants -- is the most abundant biological material on Earth. It is also a favored target of renewable, plant-based biofuels research. Despite overwhelming interest, scientists know relatively little about how plant cells synthesize individual cellulose fibers.