News articles on caillie mutterback

---
Mongabay.com news articles on caillie mutterback in blog format. Updated regularly.






Environment ministry drops copper mine in Zambezi park

(01/07/2013) A proposed copper mine set to be built in Lower Zambezi National Park has been rejected by Zambia's environmental management agency. Australian company Zambezi Resources Ltd, a subsidiary of Proactive Investors, had scheduled the $494 million Kangaluwi Copper Project to begin production in 2015. But their proposal sparked an outcry from environmentalists and government lobbyists concerned about the effects of the open pit mine in the park. Though mining is not generally permitted in the park, Zambezi Resources obtained a Large-Scale Mining License from the government which would have allowed them to mine for 25 years right in the middle of Lower Zambezi National Park.
Poaching in Serengeti seems worth the risk

(12/10/2012) Illegal hunting in Tanzania's Greater Serengeti Ecosystem (GSE) remains a prevalent activity for local people, despite government regulation and grassroots movements to prevent it. A new paper from mongabay.com's open-access Tropical Conversation Science examines the factors that drive poachers to continue their activities, despite the high costs involved. By interviewing citizens involved with illegal hunting in the Western part of the Serengeti, they were able to identify key risks that are faced by the hunters as well as the perceived gains of a successful hunt.
Leopard poaching is a bigger problem in India than previously believed
(10/31/2012) A recent study conducted by wildlife trade monitoring group TRAFFIC uncovered unnerving statistics about the illegal trade of leopards (Panthera pardus) in India: at least four leopards have been poached every week for the past decade in the country. The study, entitled Illuminating the Blind Spot: A study on illegal trade in Leopard parts in India, highlights the severity of leopard poaching from 2001 to 2010, despite preventative measures established in 1972 by the Wildlife Protection Act (WLPA) that prohibit the sale of leopard parts in India.
Rehabilitated orangutans in danger if industrial project proceeds in Borneo
(10/22/2012) The proposed extension of an industrial area in East Kalimantan, Indonesia will likely mean the end of a population of rehabilitated orangutans who reside there, according to the Indonesian environmental group Peduli Teluk Balikpapan. The Kariangau Industrial Area (KIK) will comprise 5,130 hectares of land currently covered by hardwood forests and mangroves when completed, including one third of orangutan habitat in Sungai Wain forest—a crucial portion that is not within the boundaries of the Sungai Wain Protection Forest and therefore not under any governmental protection.
Bird diversity at risk if 'agroforests' replaced with farmland
(09/13/2012) Agroforests contain much higher levels of bird diversity than their open agricultural counterparts, according to new research from the University of Utah. If large forests and agroforests continue to be replaced by simple open farms, bird communities will become much less specialized and entire groups may become extinct. Important roles for birds, such as pollination, pest control or seed dispersal, may remain unfilled if ongoing trends toward open agriculture continues and biodiversity decreases.
Maui's dolphins still in danger of extinction despite New Zealand's protective measures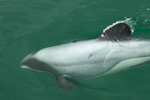 (08/07/2012) The New Zealand government's recent efforts to protect the world's smallest dolphin have come under scrutiny from various conservation organizations at the 64th meeting of the International Whaling Commission (IWC). There are only 55 Maui dolphins (Cephalorhynchus hectori maui) now found on the west coast of New Zealand's North Island, less than half the 2005 population with numbers continuing to decline. Less than 20 of the remaining Maui's are breeding females and their slow reproductive rates make it difficult to increase their numbers when faced with an even bigger danger: fishing nets.