News articles on brazil

---
Mongabay.com news articles on brazil in blog format. Updated regularly.





Deforestation in the Brazilian Amazon pacing 88% higher than last year's rate

(05/18/2013) Satellite analysis by a Brazil-based NGO indicates that deforestation in the Brazilian Amazon continues to pace well ahead of last year, when the government passed a weakened version of its law governing use of forest lands.


Amazon's flood/drought cycle becoming more extreme, less predictable


(05/14/2013) The Amazon River's hydrological cycle has become more extreme over the past two decades with increasing seasonal precipitation across much of the basin despite drier conditions in the southern parts of Earth's largest rainforest, finds a new study published in Geophysical Research Letters. The research analyzed monthly Amazon River discharge at Óbidos, a point that drains 77 percent of the Amazon Basin, and compared it with regional precipitation patterns.


Deforestation will undercut effectiveness of rainforest dams


(05/13/2013) Deforestation may significantly decrease the hydroelectric potential of tropical rainforest regions, warns a new study published in Proceedings of the National Academy of Science. The study, used climate, hydrological, and land use models to forecast the impact of potential forest loss on hydropower generation on the Xingu River, a major tributary of the Amazon where the world's third largest dam — Belo Monte — is currently under construction.


Continued deforestation in the Amazon may kill Brazil's agricultural growth

(05/09/2013) Continuing deforestation in the Amazon rainforest could undermine agricultural productivity in the region by reducing rainfall and boosting temperatures, warns a new study published in the journal Environmental Research Letters.


Brazil's satellite monitoring reduced Amazon deforestation by 60,000 sq km in 5 years

(05/08/2013) Brazil's advanced satellite monitoring system, coupled with increased law enforcement, was responsible for nearly 60 percent of the 101,000 square kilometer-drop in deforestation observed between 2007 and 2011, argues a new study published an international think tank.


Debate heats up over California's plan to reduce emissions via rainforest protection


(05/07/2013) As the public comment period for California's cap-and-trade program draws to a close, an alliance of environmental activists have stepped up a heated campaign to keep carbon credits generated by forest conservation initiatives in tropical countries out of the scheme. These groups say that offsets generated under the so-called Reducing Emissions from Deforestation and Degradation (REDD+) mechanism, will undermine efforts to cut emissions as home, while potentially leading to abuses abroad. However supporters of forest conservation-based credits say the program may offer the best hope for saving the world's beleaguered rainforests, which continue to fall at a rate of more than 8 million hectares per year.


Unconventional swine: how invasive pigs are helping preserve biodiversity in the Pantanal


(05/06/2013) Ordinarily, invasive and exotic species are a grave threat to native wildlife: outcompeting local species, introducing parasites and disease, and disturbing local ecological regimes. A unique case in the Brazilian Pantanal, however, has turned the tables; here, an introduced mammal has actually aided the conservation of native wildlife.


Tribesmen launch 'occupy' protest at dam site in the Amazon rainforest

(05/03/2013) On Thursday roughly 200 indigenous people launched an occupation of a key construction site for the controversial Belo Monte dam in the Brazilian Amazon. The protestors, who represent communities that will be affected by the massive dam, are demanding immediate suspension of all work on hydroelectric projects on the Xingu, Tapajós and Teles Pires rivers until they are properly consulted, according to a coalition of environmental groups opposing the projects.


Is it possible to reduce the impact of oil drilling in the Amazon rainforest?


(05/02/2013) Oil extraction in the Amazon rainforest has been linked to severe environmental degradation — including deforestation and pollution — which in some areas has spurred violent social conflict. Yet a vast extent of the Colombian, Peruvian, Ecuadorian, Bolivian, and Brazilian Amazon is currently under concession for oil and gas exploration and production. It seems clear that much of this hydrocarbon development is going to proceed whether environmentalists and human rights groups like it or not.


Sugarcane production impacting local climate in Brazil


(05/01/2013) Intensification of Brazil's sugarcane industry in response to rising demand for sugar-based ethanol could have impacts on the regional climate reports a new study by researchers from Arizona State University, Stanford University and the Carnegie Institution for Science. Following the conversion of cerrado grasslands into sugarcane in Brazil, a recent study in Geophysical Research Letters found local cooling that approached 1 degree Celsius during the growing season and maximum local warming near 1 degree Celsius post-harvest.


Indigenous tribes say effects of climate change already felt in Amazon rainforest


(04/30/2013) Tribal groups in Earth's largest rainforest are already being affected by shifts wrought by climate change, reports a paper published last week in the British journal Philosophical Transactions of the Royal Society B. The paper, which is based on a collection of interviews conducted with indigenous leaders in the Brazilian Amazon, says that native populations are reporting shifts in precipitation patterns, humidity, river levels, temperature, and fire and agricultural cycles. These shifts, measured against celestial timing used by indigenous groups, are affecting traditional ways of life that date back thousands of years.


What if companies actually had to compensate society for environmental destruction?


(04/29/2013) The environment is a public good. We all share and depend on clean water, a stable atmosphere, and abundant biodiversity for survival, not to mention health and societal well-being. But under our current global economy, industries can often destroy and pollute the environment—degrading public health and communities—without paying adequate compensation to the public good. Economists call this process "externalizing costs," i.e. the cost of environmental degradation in many cases is borne by society, instead of the companies that cause it. A new report from TEEB (The Economics of Ecosystems and Biodiversity), conducted by Trucost, highlights the scale of the problem: unpriced natural capital (i.e. that which is not taken into account by the global market) was worth $7.3 trillion in 2009, equal to 13 percent of that year's global economic output.


Featured documentary: Damocracy, highlighting the battles over the Belo Monte and Ilisu dams

(04/29/2013) A new short documentary highlights the battles over monster dam projects imperiling local people and wild rivers. Examining the Belo Monte dam in Brazil and the Ilisu dam in Turkey, the documentary argues that such hydroelectric projects cannot be deemed "green" energy as they overturn lives, livelihoods, and ecosystems.


Amazon: the world's greatest rainforest or internet giant?

(04/25/2013) When you see the word "Amazon", what's the first thing that springs to mind—the world's biggest forest, the longest river or the largest internet retailer—and which do you consider most important? These questions have risen to the fore in an arcane, but hugely important, debate about how to redraw the boundaries of the internet. Brazil and Peru have lodged objections to a bid made by the US e-commerce giant for a prime new piece of cyberspace: ".amazon".


Frequent understory fires change rainforest community composition

(04/24/2013) Frequent understory fires change the composition of rainforest plant communities, potentially altering the capacity of forests to regenerate, finds a study published in special issue of the journal Philosophical Transactions of the Royal Society B.


Burned rainforest vulnerable to grass invasion

(04/24/2013) Rainforests that have been affected by even low-intensity fires are far more vulnerable to invasion by grasses, finds a new study published in special issue of the journal Philosophical Transactions of the Royal Society B. The findings are significant because they suggest that burned forests may be more susceptible to subsequent fires which may burn more intensely due to increased fuel loads.


Brazil's success in reducing deforestation will be hard to replicate

(04/23/2013) The sharp reduction in deforestation in the Brazilian state of Mato Grosso since the mid-2000s will be difficult to replicate in other tropical countries where commodity production is a major driver in forest loss, argues a new study published in a special issue of the journal Philosophical Transactions of the Royal Society B.


Brazil threatens $282m in fines for beef linked to Amazon deforestation

(04/17/2013) Federal prosecutors in Brazil are threatening to fine 26 beef producers $282 million for buying cattle raised in illegally deforested areas and on Indian reservations, reports Reuters.


Judge halts military-backed dam assessment in Brazil's Amazon

(04/17/2013) A federal court in Brazil has suspended the use of military and police personnel during technical research on the controversial São Luíz do Tapajós Dam in the Brazilian Amazon. The military and police were brought in to stamp down protests from indigenous people living along the Tapajós River, but the judge decreed that impacted indigenous groups must give free, prior, and informed consent (FPIC) before any furter studies can be done on the proposed dam. However, the decision is expected to be appealed.


New insect discovered in Brazil, only third known in its bizarre family (photos)


(04/15/2013) A new species of forcepfly named Austromerope brasiliensis, was recently discovered in Brazil and described in the open access journal Zoo Keys. This is the first discovery of forcepfly in the Neotropics and only the third known worldwide. The forcepfly, often called the earwigfly because the male genital forceps closely resemble the cerci of the common earwig, remains a scientific enigma due to the lack of information on the family.


New species tree-dwelling porcupine discovered in critically threatened Brazilian habitat

(04/11/2013) Scientists in Brazil have described a new species of tree-dwelling porcupine in the country's most endangered ecosystems. The description is published in last week's issue of Zootaxa.


Landowner who allegedly ordered Amazon murders acquitted

(04/10/2013) Jose Rodrigues Moreira, a Brazilian landowner who allegedly ordered the killings of Amazon activists Jose Claudio Ribeiro da Silva and his wife Maria, was acquitted this week due to lack of evidence. But, the two men who carried out the assassinations, Lindonjonson Silva Rocha and Alberto Lopes do Nascimento, were found guilty and sent to 42 and 45 years of jail respectively.


6 lessons for stopping deforestation on the frontier


(04/09/2013) In 1984, at the tail end of the Brazilian dictatorship, I took up residence in a frontier town called Paragominas in the eastern Amazon. I went to study rainforests and pasture restoration, but soon became captivated as well by the drama of the frontier itself. Forests were hotly contested among cattle ranchers, smallholder communities, land speculators and more than a hundred logging companies, sometimes with fatal results. If we are to meet rising global demand for food, conserve tropical forests, and mitigate climate change at the pace that is necessary, we must become much better at taming aggressive, lawless tropical forest frontiers where people are making a lot of money cutting forests down.


Featured video: stemming human-caused fires in the Amazon

(04/09/2013) A new series of 5 films highlights how people use fire in the Amazon rainforest and how such practices can be mitigated. Collectively dubbed "Slash & Burn" each film explores a different aspect of fire-use in the Amazon. In recent years the Amazon has faced unprecedented droughts, possibly linked to climate change and vast deforestation, making the issue of human-started fires even more important.


Indigenous group: Brazil using military to force Amazon dams


(04/08/2013) An Amazonian community has threatened to "go to war" with the Brazilian government after what they say is a military incursion into their land by dam builders. The Munduruku indigenous group in Para state say they have been betrayed by the authorities, who are pushing ahead with plans to build a cascade of hydropower plants on the Tapajós river without their permission.


30% of Brazil's emissions from deforestation are export-driven


(04/05/2013) 2.7 billion tons of carbon dioxide emissions or 30 percent of the carbon associated with deforestation in the Brazilian Amazon between 2000 and 2010 was effectively exported in the form of beef products and soy, finds a new study published in the journal Environmental Research Letters. The research underscores the rising role that global trade plays in driving tropical deforestation.


Killings over land continues in the Amazon

(04/04/2013) On Wednesday, in the Brazilian state of Pará, the trial begins of three men accused of murdering José Cláudio Ribeiro da Silva and his wife Maria do Espirito Santo, who had campaigned against loggers and ranchers for years. Their assassinations in May 2011 generated international outrage, just like that of Chico Mendes, 25 years ago, and that of the American-born nun Dorothy Stang in 2005.


Scientists describe new species of see-through fish from the Amazon

(04/03/2013) Scientists have documented an entirely new genus of fish from the Amazon rainforest.


Brazilian govt confirms rise in deforestation

(03/28/2013) Brazil's National Space Research Agency INPE today confirmed an apparent rise in Amazon forest clearing for the four-month period ending February 28, 2013.


Conflict zones have higher deforestation rates in the Amazon

(03/28/2013) Areas in the Amazon where there is conflict over land tenure have higher deforestation rates than places where land rights are secure, finds a new study that assesses the effectiveness of indicators used to gauge the success of protected areas in Brazil.


Brazilian supermarkets ban beef linked to Amazon deforestation

(03/27/2013) A group representing 2,800 Brazilian supermarkets has signed an agreement barring beef linked to deforestation in the Amazon rainforest from their shelves.


Tribe rejects payment from electricity company behind destructive Amazon dam

(03/14/2013) Leaders of more than two dozen Kayapó indigenous communities have rejected a $9 million offer from Brazilian state energy company Eletrobras to fund development projects in their region due to the the firm's involvement in the construction of the Belo Monte dam, reports Amazon Watch, an activist group fighting the hydroelectric project.


Parks, indigenous territories are effectively reducing Amazon deforestation


(03/11/2013) Strict conservation areas and indigenous reserves are more effective at reducing deforestation in the Brazilian Amazon relative to 'sustainble-use' areas set up for non-indigenous resource extraction, reports a new study published in the journal Proceedings of the National Academy of Sciences. The research, which involved an international team, compared rates of forest loss between different categories of managed lands using satellite imagery and statistical analysis.


Gucci launches 'zero-deforestation' handbag


(03/07/2013) Gucci has rolled out a collection of 'zero-deforestation' leather handbags. Each handbag comes with a 'passport' that provides the history of the product's supply chain going back to the ranch that produced the leather. The line emerged out of concerns that leather in the fashion industry is contributing to deforestation in the Brazilian Amazon, where roughly two-thirds of forest destruction is for cattle production.


A promising initiative to address deforestation in Brazil at the local level


(03/05/2013) The history of the Brazilian Amazon has long been marked by deforestation and degradation. Until recently the situation has been considered out of control. Then, in 2004, the Brazilian government launched an ambitious program to combat deforestation. Public pressure—both national and international—was one of the reasons that motivated the government to act. Another reason was that in 2004, deforestation contributed to more than 55 percent of Brazil's total greenhouse gas emissions, making Brazil the fourth-largest greenhouse gas emitter in the world.


Saving forests by putting a price on them


(03/04/2013) During the 2013 SuperBowl, the championship game of the US National Football League, a truck company aired an advertisement that likened farmers to God's favorite assistant. It suggested that when God needs something tough, or gentle, done, he calls a farmer. The narration, taken from a speech given to the Future Farmers of America in 1978 by Paul Harvey, a radio host, plays directly to the near mythical stature of farmers and ranchers in American culture and their deep connection to nature.


The challenge of putting Brazil's forests in good hands


(02/28/2013) People often associate Brazil with its forests. It's no wonder given that nearly 60% of the country's territory is covered by forest and it holds about one-third of the world's remaining tropical rainforests. You might assume that a country like this would care about educating people to sustainably manage this precious heritage. Well, you'd be wrong!


Deforestation, wetlands loss in Brazil and Indonesia generated 45b tons of CO2 in 20 years

(02/22/2013) The United Nations Food and Agriculture Organization (FAO) has launched a global set of statistics on carbon emissions from deforestation, agriculture and other forms of land use for the 1990-2010 period.


First strike: nearly 200 illegal loggers arrested in massive sting across 12 countries

(02/20/2013) One-hundred-and-ninety-seven illegal loggers across a dozen Central and South American countries have been arrested during INTERPOL's first strike against widespread forestry crime. INTERPOL, or The International Criminal Police Organization, worked with local police forces to take a first crack at illegal logging. In all the effort, known as Operation Lead, resulted in the seizure of 50,000 cubic meters of wood worth around $8 million.


Scientists document baby giant armadillo for first time (photos)


(02/19/2013) Despite weighing as much as full-grown human, almost nothing is known about the giant armadillo (Priodontes maximus) including its breeding and reproductive behaviors. How does mating occur? How long does pregnancy last? How many babes are typically born? Scientists are simply in the dark, but a ground-breaking study employing camera traps is beginning to change this. For the first time, scientists in the Brazilian Pantanal have documented giant armadillo breeding and the happy outcome: a baby giant armadillo.


Brazilian agency rejects Canadian company's bid to mine controversial Amazon dam site for gold

(02/13/2013) Brazil's Federal Public Ministry rejected a proposed gold mining project adjacent to a controversial dam site in the heart of the Amazon rainforest, reports Amazon Watch, an environmental activist group that is campaigning against both the mine and the dam.


Investors beware: global land grabbing ends in 'financial damage' and human rights violations


(02/07/2013) Investing in companies that flout local community rights in developing countries often leads to severe economic losses, according to a new report from the Rights and Resources Initiative (RRI). A rising trend in "land grabbing" from Africa to South America by corporations and even foreign governments results in social instability, which can lead to large-scale protests, violence, and even murder, delaying and sometimes derailing projects. Such instability poses massive risk to any investor, not to mention supporting corporate entities that are accused of ignoring human rights.


Rate of tree die-off in Amazon higher than conventionally believed

(02/01/2013) The rate of tree mortality in the Amazon rainforest due to storm damage and drought is 9-17 percent higher than conventionally believed, reports a study published in the Proceedings of the National Academy of Sciences (PNAS).


Loans tied to environmental compliance reduced Amazon deforestation by 15%

(01/30/2013) A rural credit law that ties loans to environmental compliance made a significant contribution to reducing deforestation in the Brazilian Amazon between 2008 and 2011, argues a study published by the Climate Policy Initiative (CPI).


Brazil to inventory the Amazon

(01/27/2013) Brazil will launch a comprehensive inventory of trees in the Amazon rainforest for the first time in more than 30 years, reports BBC News.


Illegally logged trees to start calling for help

(01/24/2013) Illegal loggers beware: trees will soon be calling—literally—for backup. The Brazilian government has begun fixing trees with a wireless device, known as Invisible Tracck, which will allow trees to contact authorities after being felled and moved.


Amazon deforestation rate pacing ahead of last year

(01/18/2013) Data released by Imazon, a Brazil-based NGO, shows that deforestation in the Brazilian Amazon continues to pace well ahead of last year's record low rate.


Can ranchers co-exist with jaguars?


(01/17/2013) Jaguar once roamed from the United States to Argentina, but today they've been eliminated from several range countries, including the United States. The chief reasons are habitat loss and direct killing by humans, putting ranchers and farmers at the heart of the issue. Both ranchers and farmers convert key jaguar habitat and kill the big cats as a threat to their livestock. However in parts of Brazil's Pantanal, some ranchers are going about their business without killing jaguars. My Pantanal, a film by Andrea Heydlauff, Vice President of the wild cat conservation group Panthera, takes a look at one particular ranch that is helping prove that jaguars and ranchers can co-exist.


Nest of one of world's rarest birds discovered for the first time

(01/17/2013) A nest belonging to one of the world's rarest birds has been discovered by researchers for the first time in Brazil, reports the American Bird Conservancy.


The year in rainforests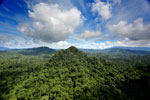 (12/31/2012) 2012 was another year of mixed news for the world's tropical forests. This is a look at some of the most significant tropical rainforest-related news stories for 2012. There were many other important stories in 2012 and some were undoubtedly overlooked in this review. If you feel there's something we missed, please feel free to highlight it in the comments section. Also please note that this post focuses only on tropical forests.



Page 1 | Page 2 | Page 3 | Page 4 | Page 5 | Page 6 | Page 7 | Page 8 | Page 9 | Page 10 | Page 11 | Page 12 | Page 13 | Page 14 | Page 15 | Page 16 | Page 17