News articles on brazil

---
Mongabay.com news articles on brazil in blog format. Updated regularly.





Nearly a thousand environmental activists murdered since 2002


(04/15/2014) At least 908 people were murdered for taking a stand to defend the environment between 2002 and 2013, according to a new report today from Global Witness, which shows a dramatic uptick in the murder rate during the past four years. Notably, the report appears on the same day that another NGO, Survival International, released a video of a gunman terrorizing a Guarani indigenous community in Brazil.


Emissions from rainforest logging average 16% of those from deforestation


(04/08/2014) Carbon emissions from selective logging operations in tropical rainforests are roughly a sixth of those from outright forest clearing, finds a new study that evaluated 13 forestry concessions in six countries. The study analyzed carbon losses from elements of logging operations, including timber extraction, collateral damage to surrounding vegetation, and logging infrastructure like roads and skid trails.


Will yellow fever drive brown howler monkeys to extinction in Argentina?


(04/04/2014) The brown howler monkey is listed as Critically Endangered in Argentina, where a small number persist in the northeastern portion of the country. Although habitat loss and other human impacts have contributed to the populations' decline, a new report indicates that yellow fever outbreaks in the region are primarily to blame.


Revealed for the first time: the surprising biodiversity of algae 'reefs'


(03/28/2014) Most people are familiar with coral reefs, but very few have ever heard of their algal equivalent – rhodolith beds. Yet, these structures provide crucial habitat for many marine species. In the first study of its kind, published in mongabay.com's Tropical Conservation Science, researchers unveil just how important these beds are for bottom-dwelling organisms, and the species that depend on them.


Next big idea in forest conservation? Quantifying the cost of forest degradation


(03/27/2014) How much is a forest really worth? And what is the cost of forest degradation? These values are difficult to estimate, but according to Dr. Phillip Fearnside, we need to do a better job. For nearly forty years, Fearnside has lived in Amazonia doing ecological research, looking at the value of forests in terms of environmental or ecosystem services such as carbon storage, water cycling, and biodiversity preservation. Fearnside then works to convert these services into a basis for sustainable development for rural populations.


Controversial Amazon dams may have exacerbated biblical flooding


(03/16/2014) Environmentalists and scientists raised howls of protest when the Santo Antônio and Jirau Dams were proposed for the Western Amazon in Brazil, claiming among other issues that the dams would raise water levels on the Madeira River, potentially leading to catastrophic flooding. It turns out they may have been right: last week a federal Brazilian court ordered a new environmental impact study on the dams given suspicion that they have worsened recent flooding in Brazil and across the border in Bolivia.


Sharp jump in deforestation when Amazon parks lose protected status

(03/01/2014) Areas that have had their protected status removed or reduced have experienced a sharp increase in forest loss thereafter, finds a new study published by Imazon, a Brazilian NGO.


Is Brazil's epic drought a taste of the future?

(02/25/2014) With more than 140 cities implementing water rationing, analysts warning of collapsing soy and coffee exports, and reservoirs and rivers running precipitously low, talk about the World Cup in some parts of Brazil has been sidelined by concerns about an epic drought affecting the country's agricultural heartland.


Two new wasp species found hidden in museum collections


(02/24/2014) Scientists have identified two new wasp species, years after the specimens were first collected from the wild. The two new species, Abernessia prima and Abernessia capixaba, belong to the rare pompilid genus Abernessia, and are believed to be endemic to Brazil. They made the discovery while examining spider wasp collections from museums in Brazil and Denmark, and published their findings in the journal ZooKeys.


Helping the Amazon's 'Jaguar People' protect their culture and traditional wisdom


(02/11/2014) Tribes in the Amazon are increasingly exposed to the outside world by choice or circumstance. The fallout of outside contact has rarely been anything less than catastrophic, resulting in untold extinction of hundreds of tribes over the centuries. For ones that survived the devastation of introduced disease and conquest, the process of acculturation transformed once proud cultures into fragmented remnants, their self-sufficiency and social cohesion stripped away, left to struggle in a new world marked by poverty and external dependence


Photos: mass turtle hatching produces over 200,000 babies


(02/11/2014) Biologists recently documented one of nature's least-known, big events. On the banks of the Purus River in the Brazilian Amazon, researchers witnessed the mass-hatching of an estimated 210,000 giant South American river turtles (Podocnemis expansa). The giant South American river turtle, or Arrau, is the world's largest side-necked turtle and can grow up to 80 centimeters long (nearly three feet).


Brazilian soy industry extends deforestation moratorium

(02/01/2014) Soy traders and producers in the Brazilian Amazon agreed to extend a moratorium on soybeans produced in recently deforested areas for another year, reports Greenpeace.


Next big idea in forest conservation? Connecting forest fragments


(01/31/2014) Dr. Stuart Pimm is an expert in extinctions: why they happen, how fast they happen, and how they can be prevented. Reconnecting forest fragments and avoiding fragmentation, according to Pimm, are among the most crucial things we can do to conserve global biodiversity. His organization SavingSpecies identifies areas at-risk for extinctions and helps local organizations fundraise so they can protect and restore habitats and safeguard biodiversity.


New dolphin discovered in the Amazon surprises scientists


(01/23/2014) Researchers have discovered a new species of river dolphin from the Amazon. Writing in the journal Plos One, scientists led by Tomas Hrbek of Brazil's Federal University of Amazonas formally describe Inia araguaiaensis, a freshwater dolphin that inhabits the Araguaia River Basin. It is the first true river dolphin discovered since 1918.


Rainforest news review for 2013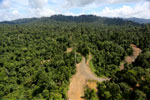 (12/26/2013) 2013 was full of major developments in efforts to understand and protect the world's tropical rainforests. The following is a review of some of the major tropical forest-related news stories for the year. As a review, this post will not cover everything that transpired during 2013 in the world of tropical forests. Please feel free to highlight anything this post missed via the comments section at the bottom. Also please note that this review focuses only on tropical forests.


Assassination 25 years ago catalyzed movement to protect the Amazon

(12/22/2013) Twenty-five years ago today, Chico Mendes, an Amazon rubber tapper, was shot and killed in front of his family at his home in Acre, Brazil at the age of 44.


Brazilian cattle producers standardize audits to exclude deforestation from supply chain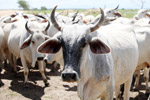 (12/18/2013) Brazil's largest cattle producers have agreed to standardize and make public their audits as part of an effort to exclude from their supply chains livestock produced via deforestation, reports Greenpeace, which has led a campaign to improve the environmental performance of the sector. The agreement on a standard auditing protocol means that the companies' progress toward eliminating deforestation will now be directly comparable.


Scientists make one of the biggest animal discoveries of the century - a new tapir


(12/16/2013) In what will likely be considered one of the biggest (literally) zoological discoveries of the Twenty-First Century, scientists today announced they have discovered a new species of tapir in Brazil and Colombia. The new mammal, hidden from science but known to local indigenous tribes, is actually one of the biggest animals on the continent, although it's still the smallest living tapir. Described in the Journal of Mammology, the scientists have named the new tapir Tapirus kabomani after the name for 'tapir' in the local Paumari language: Arabo kabomani.


Scientists: well-managed forest restoration benefits both biodiversity and people

(12/16/2013) In November this year, the world was greeted by the dismaying news that deforestation of the Brazilian Amazon jumped 28% in the past year. The year 2013 also holds the dubious distinction of being the first time since humans appeared on the planet, that carbon concentrations in the atmosphere rose to 400 parts per million. A map by Google revealed that Russia, Brazil, the United States, Canada and Indonesia all displayed over 10 million hectares of gross forest loss from 2000-2012, with the highest deforestation rate occurring in Malaysia.


Odd porcupine hugely imperiled by hunting, deforestation


(12/16/2013) The thin-spined porcupine, also known as the bristle-spined rat, is a truly distinct animal: a sort of cross between New World porcupines and spiny rats with genetic research showing it is slightly closer to the former rather than the latter. But the thin-spined porcupine (Chaetomys subspinosus), found only in Brazil's Atlantic Forest, is imperiled by human activities. In fact, a new study in mongabay.com's open access journal Tropical Conservation Science found that the species remains a target for hunters, despite a reputation for tasting terrible.


Top 10 Environmental Stories of 2013


(12/10/2013) 1. Carbon concentrations hit 400ppm while the IPCC sets global carbon budget: For the first time since our appearance on Earth, carbon concentrations in the atmosphere hit 400 parts per million. The last time concentrations were this high for a sustained period was 4-5 million years ago when temperatures were 10 degrees Celsius higher. Meanwhile, in the slow-moving effort to curb carbon emissions, the Intergovernmental Panel on Climate Change (IPCC) crafted a global carbon budget showing that most of the world's fossil fuel reserves must be left untouched if we are to avoid catastrophic climate change.


New mountain porcupine discovered in Brazil (photos)


(12/09/2013) In Brazil's Baturite Mountains, scientists have uncovered a new species of prehensile-tailed porcupine, according to a new paper in Revista Nordestina de Biologia. Dubbed, the Baturite porcupine (Coendou baturitensis), the new species was discovered when scientists noticed significant differences between it and its closest relative, the Brazilian porcupine (Coendou prehensilis). The name prehensile-tailed refers to these porcupines long, mobile tail which they use as a fifth limb to adroitly climb trees.


Humans are not apex predators, but meat-eating on the rise worldwide


(12/05/2013) A new paper in Proceedings of the National Academy of Sciences has measured the "trophic level" of human beings for the first time. Falling between 1 and 5.5, trophic levels refer to where species fit on the food chain. Apex predators like tigers and sharks are given a 5.5 on trophic scale since they survive almost entirely on consuming meat, while plants and phytoplankton, which make their own food, are at the bottom of the scale. Humans, according to the new paper, currently fall in the middle: 2.21. However, rising meat-eating in countries like China, India, and Brazil is pushing our trophic level higher with massive environmental impacts.


Brazil could boost agriculture without destroying forests


(12/03/2013) Brazil could substantially boost its agricultural output while increasing protection of its native ecosystems, finds a new analysis published by the Climate Policy Initiative (CPI), an international think tank.


Scientists discover new cat species roaming Brazil


(11/27/2013) As a family, cats are some of the most well-studied animals on Earth, but that doesn't mean these adept carnivores don't continue to surprise us. Scientists have announced today the stunning discovery of a new species of cat, long-confused with another. Looking at the molecular data of small cats in Brazil, researchers found that the tigrina—also known as the oncilla in Central America—is actually two separate species. The new species has been dubbed Leopardus guttulus and is found in the Atlantic Forest of southern Brazil, while the other Leopardus tigrinus is found in the cerrado and Caatinga ecosystems in northeastern Brazil.


Gold mine near controversial Belo Monte dam suspended

(11/22/2013) A gold mining project proposed near the Belo Monte dam site in the Amazon rainforest has been suspended by a Brazilian court, reports Reuters.


Why is Amazon deforestation climbing?


(11/17/2013) The 28 percent increase in deforestation in the Brazilian Amazon over last year that was reported this week is bad news, but it is not surprising. It is bad news because the decline in deforestation since 2005 has given us the single largest contribution to climate change mitigation on the planet, far surpassing the reductions in emissions achieved by any Annex 1 country under the Kyoto Protocol. Brazil's achievement is particularly noteworthy because it did not come at the expense of agricultural production; beef and soybean production continued to grow.


New bat species discovered in Brazil leaves another at risk


(11/15/2013) A team of researchers has discovered a new species of bat in Brazil, which has put a previously known species, Bokermann's nectar bat (Lonchophylla bokermanni), at risk of extinction. Long thought to comprise one species, the bat populations of the Atlantic Forest and the Cerrado – the tropical savannah of Brazil's interior - are in fact distinct from one another, according to a new study in Zootaxa. Scientists now say the Atlantic Forest's population represents a newly described species, which they have dubbed Peracchi's nectar bat (Lonchophylla peracchii).


Deforestation in the Brazilian Amazon jumps 28% in 2013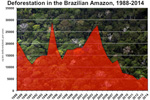 (11/14/2013) Deforestation in the Brazilian Amazon jumped 28% in 2013 sparking concerns that recent progress in reducing forest loss in the world's largest rainforest may be in danger of reversing. The preliminary data, released Thursday by the Brazilian government, shows that 5,843 square kilometers (2,256 sq miles) of rainforest was cleared across the 'Legal Amazon' between August 1, 2012 and July 31, 2013.


Powered by Google, high resolution forest map reveals massive deforestation worldwide


(11/14/2013) Researchers today released a long-awaited tool that reveals the extent of forest cover loss and gain on a global scale. Powered by Google's massive computing cloud, the interactive forest map establishes a new baseline for measuring deforestation and forest recovery across all of the world's countries, biomes, and forest types. The map has far-reaching implications for efforts to slow deforestation, which accounts for roughly ten percent of greenhouse gas emissions produced by human activities, according to the authors of the paper that describes the tool and details its first findings.


Scientists identify 137 protected areas most important for preserving biodiversity


(11/14/2013) Want to save the world's biodiversity from mass extinction? Then make certain to safeguard the 74 sites identified today in a new study in Science. Evaluating 173,000 terrestrial protected areas, scientists pulled out the most important ones for global biodiversity based on the number of threatened mammals, birds, and amphibians found in the parks. In all they identified 137 protected areas (spread over 74 sites as many protected areas were in the same region) in 34 countries as 'irreplaceable.'


Locally extinct birds in the Amazon slowly flock back to forests when trees regrow


(11/13/2013) Some good news out of the Amazon rainforest: given enough time, deforested land can rebound enough to host bird species that had previously deserted the area, according to a recent study in The Auk. When people abandon deforested land, the rainforest slowly reclaims it. Eventually, birds begin to use the clumps of secondary forest as corridors between thickets of old growth.


Like humans, marmosets are polite communicators


(11/06/2013) Common marmoset monkeys have been described as having human-like conversations according to a team of researchers from the Princeton Neuroscience Institute. Native to Brazil, marmosets are highly social animals, using simple vocalizations in a multitude of situations: during courtship, keeping groups together and defending themselves. They also, according to the study published in Current Biology, exchange cooperative conversations with anyone and everyone - not just with their mates.


Belo Monte dam suspended

(10/29/2013) Construction on Belo Monte, Brazil's largest dam, was again halted by a federal court due to concerns over its license, reports Amazon Watch, an NGO that is mobilizing opposition to the project.


50,000 km of roads built across Brazilian Amazon in 3 years

(10/29/2013) Roads are rapidly expanding across the Brazilian Amazon opening up once remote rainforests to loggers, miners, ranchers, farmers, and land speculators, finds a new study published in the journal Regional Environmental Change.


Illegal logging remains rampant in Brazil

(10/23/2013) Illegal logging remains pervasive in the Brazilian state of Pará, finds an assessment released Monday by Imazon.


Scientist splits Amazonian giants into separate species

(10/23/2013) It's hard to mistake an arapaima for anything else: these massive, heavily-armored, air-breathing fish (they have to surface every few minutes) are the megafauna of the Amazon's rivers. But despite their unmistakability, and the fact that they have been hunted by indigenous people for millennia, scientists still know relatively little about arapaima, including just how many species there are. Since the mid-Nineteenth Century, scientists have lumped all arapaima into one species: Arapaima gigas. However, two recent studies in Copeia split the arapaimas into at least five total species—and more may be coming.


40% of Brazil's rural area owned by 1.4% of landholders

(10/16/2013) Forty percent of the 509 million hectares of land classified as 'rural property' in Brazil is owned by 1.4 percent of rural households, finds a new analysis conducted by a group of Brazilian NGO's.


Mammal-watching: one man's obsession to see the world's mammals


(10/16/2013) There are more than 5,000 different mammal species across the globe, but with this number being dwarfed by the 10,000 bird species, it is little wonder that bird-watching has become the most common wildlife watching hobby in the world. While there are thousands of websites dedicated to ornithology enthusiasts, with information detailing the best places to see particular species and how to find them, similar resources about mammals remain scarce.


Has Brazil turned against its progressive environmental policies?


(09/30/2013) Last year, Brazil rolled back crucial parts of its landmark Forestry Code, potentially opening vast tracts of forest for destruction; it is also moving ahead on a number of Amazon dams, including the infamous Belo Monte, despite international condemnation and conflict with indigenous people. Meanwhile, a new law under consideration proposes allowing large-scale mining in protected areas. Given this a new paper in mongabay.com's open access journal Tropical Conservation Science argues that Brazil has thrown off its once admired mantle of environmental legislation, imperiling hundreds of thousands of species in the most biodiverse country on Earth.


New prioritization for Brazil's threatened mammals pushes little known primates and rodents to the top


(09/30/2013) Scientists have applied a species prioritization scheme to Brazil's diverse mammals to deduce which species should become the focus of conservation efforts over the next few years in a new paper published in mongabay.com's open-access journal Tropical Conservation Science.


Judge halts construction of Amazon dam on Brazil's Teles Pires river

(09/19/2013) A federal judge in Brazil has ordered the suspension of construction activities on the Teles Pires due to shortcomings in the environmental licensing process, including the project's impacts on three local tribes, reports International Rivers.


Indigenous peoples resume occupation of Brazil's Belo Monte dam site

(09/19/2013) 150 indigenous protesters have once again occupied the Belo Monte dam site in an effort to block the controversial project, reports Amazon Watch, an NGO that is helping lead the fight against the dam.


Brazil's satellite data suggests rise in Amazon deforestation over past year


(09/12/2013) Deforestation in the Brazilian Amazon appears to have risen significantly over the past year, according to data released by the country's space agency, INPE. Data aggregated from INPE's monthly deforestation alert system shows a 34 percent rise for the 12 months ended July 31, 2013 relative to the year-earlier period.


Scientists discover that threatened bird migrates entirely within Amazon Basin


(09/11/2013) When one thinks of bird migrations, it's usually a north-south route that follows seasonal climates. But researchers in the Amazon have tracked, for the first time, a largely-unknown long-distance migration that sticks entirely to the Amazon Basin. Using satellite telemetry, scientists tracked a pair of Orinoco geese (Neochen jubata) from Peru and a male from Western Brazil, who both migrated to the Llanos de Moxos, a vast savanna and Amazonian watershed in Bolivia. The research has shown that the Orinoco geese—which breeds in both Peru and Brazil—depends on wetlands in the Llanos de Moxos for much of the year.


Brazil establishes 2 Amazon parks covering 2.4m acres

(09/10/2013) The Brazilian government has designated 952,000 hectares of remote public land in the Amazon as two new protected areas.


Amazon rainforest tribe sells REDD+ credits to Brazilian cosmetics giant

(09/10/2013) The Paiter-Suruí, a rainforest tribe that in June became the first indigenous group to generate REDD+ credits under the Verified Carbon Standard (VCS), has now closed their first deal. As reported by Ecosystem Marketplace, Brazilian cosmetics giant Natura Cosméticos has purchased 120,000 tons of carbon offsets from the the Surui Forest Carbon Project in Rondônia, Brazil.


Scientists catch boa constrictor eating a howler monkey (photos)


(09/02/2013) In a world first, scientists have captured images and video of a boa constrictor attacking and devouring whole a femle howler monkey, one of the largest new world primates weighing in at around 4 kilograms (8.8 pounds). The rare predation event was recorded in a tiny forest fragment (2.5 hectares) in the Brazilian state of Rondonia by Erika Patricia Quintino, a PhD student at the Pontifical Catholic University of Rio Grande do Sul.


85% of Brazilian leather goes to markets sensitive to environmental concerns

(08/22/2013) Around 40% of beef and 85% of leather production serve markets that are potentially sensitive to environmental concerns, providing a partial explantation as to why Brazilian producers have made recent commitments to reducing deforestation for cattle production, finds a new study published in Tropical Conservation Science.


Pesticide problems in the Amazon


(08/21/2013) As the world's population increases and agricultural frontiers expand into native tropical habitats, researchers are working furiously to understand the impacts on tropical forests and global biodiversity. But one obvious impact has been little studied in these agricultural frontiers: pesticides. However a new study in the journal Philosophical Transactions of The Royal Society B seeks to shine a light on the problem.


With deforestation rising, Brazil sends more police to the Amazon

(08/19/2013) With deforestation pacing more than 90 percent ahead of last year's rate according to an estimate released today, Brazil said it has increased the number of environmental inspectors in the Amazon rainforest.


Brazil's military takes on illegal loggers to protect nearly-extinct tribe

(07/18/2013) Brazil has launched a military campaign to evict illegal loggers working from the fringes of an indigenous reserve home to the Awá people, reports Survival International. Inhabiting the Amazon rainforest in northeastern Brazil, only around 450 Awá, also known as Guajá, survive today, and around a quarter of these have chosen voluntary isolation.


Tiny suckermouth catfish discovered in Brazil

(07/10/2013) Scientists have discovered a new suckermouth catfish in the Rio Paraíba do Sul basin in southeastern Brazil.


Brazil confirms Amazon deforestation increase

(07/06/2013) Data released by the Brazilian government Friday confirms an increase in Amazon forest loss.


Brazilian state to pay counties that cut Amazon deforestation

(07/01/2013) The Brazilian state of Pará has launched a new compensation scheme to incentivize further cuts in deforestation.


60 big cats killed in Brazilian parks in last two years


(06/24/2013) At least 60 big cats have been killed within national protected areas in Brazil during the past two years according to a recent survey published in mongabay.com's open access journal Tropical Conservation Science. The report, which focuses on jaguar (Panthera onca) and puma (Puma concolor) populations, within Brazilian protected areas shows that reserve management and use restrictions impact the level of big cat hunting.


On guard: protecting wildlife in a heavily hunted Brazilian forest

(06/24/2013) The Brazilian government offers tax relief to landowners who set aside areas for preservation. While this has expanded the system of private ecological reserves considerably, the Brazilian government currently lacks funding to enforce the protection of these lands from threats such as hunting, leaving the responsibility to the landowners.


Bird extravaganza: scientists discover 15 new species of birds in the Amazon

(06/12/2013) From 2000-2009, scientists described on average seven new bird species worldwide every year. Discovering a new bird is one of the least common of any species group, given that birds are highly visible, mobile, and have been scrutinized for centuries by passionate ornithologists and birders. But descriptions this year already blows away the record year over the last decade (in 2001 when nine new birds were described): scientists working in the southern Amazon have recorded an incredible 15 new species of birds according to the Portuguese publication Capa Aves. In fact, this is the largest group of new birds uncovered in the Brazilian in the Amazon in 140 years.


11,000 barrels of oil spill into the Coca River in the Amazon

(06/12/2013) On May 31st, a landslide ruptured an oil pipeline in Ecuadorean Amazon, sending around 11,000 barrels of oil ( 420,000 gallons) into the Coca River. The oil pollution has since moved into the larger Napo River, which borders Yasuni National Park, and is currently heading downstream into Peru and Brazil. The spill has occurred in a region that is notorious for heavy oil production and decades of contamination, in addition to resistance and lawsuits by indigenous groups.


Brazil may lift ban on Amazon ethanol expansion

(06/09/2013) In coming weeks Brazil will vote on a bill that would lift a ban on sugar cane mills across a large extent of the Amazon region, sparking fears that ethanol production could drive new deforestation and tarnish the country's image as an attractive source biofuels for environmentally-conscious markets,


Brazil's GHG emissions fall 39% since 2005, now 10% below 1990 levels

(06/06/2013) Brazil's greenhouse-gas emissions dropped 39 percent between 2005 and 2010, largely due to a reduction in deforestation, reports an inventory released yesterday by the Brazilian government.


Brazil touts progress in reducing deforestation, but fails to note recent jump in clearing

(06/05/2013) Today in a press release for the U.N.'s World Environment Day, the Brazilian government highlighted a sharp drop in deforestation since 2012. The trouble is, the South American superpower failed to acknowledge what appears to be a sharp rise in Amazon forest loss since last year, reports Greenpeace.


Loss of big fruit-eating birds impacting trees in endangered rainforests

(05/31/2013) The extinction of large, fruit-eating birds in fragments of Brazil's Atlantic rainforest has caused palm trees to produce smaller seeds over the past century, impacting forest ecology, finds a study published in the journal Science.


Indigenous carbon conservation project gets verification, will start generating credits

(05/30/2013) An effort by an Amazonian tribe to protect their rainforest home against encroachment and illegal logging has finally been validated and verified under a leading carbon accounting standard, enabling it to begin selling carbon credits.


Two new arachnids discovered in Brazilian caves (photos)

(05/29/2013) Scientists have discovered two new species of short-tailed whipscorpions (in the order Schizomida) in limestone caves in Brazil, according to a new paper published in PLoS ONE. The new species—dubbed Rowlandius ubajara and Rowlandius potiguara—add new knowledge to a group of arachnids that is little known in South America outside of the Amazon.


World's largest tropical park may have protected status revoked

(05/21/2013) Tumucumaque National Park, a sprawling reserve that covers 38,874 square kilometers (15,010 sq mi) of rainforest in northeastern Brazil, may see its protected status revoked due to insufficient consultation with local municipalities prior to its creation.


Deforestation in the Brazilian Amazon pacing 88% higher than last year's rate

(05/18/2013) Satellite analysis by a Brazil-based NGO indicates that deforestation in the Brazilian Amazon continues to pace well ahead of last year, when the government passed a weakened version of its law governing use of forest lands.


Amazon's flood/drought cycle becoming more extreme, less predictable


(05/14/2013) The Amazon River's hydrological cycle has become more extreme over the past two decades with increasing seasonal precipitation across much of the basin despite drier conditions in the southern parts of Earth's largest rainforest, finds a new study published in Geophysical Research Letters. The research analyzed monthly Amazon River discharge at Óbidos, a point that drains 77 percent of the Amazon Basin, and compared it with regional precipitation patterns.


Deforestation will undercut effectiveness of rainforest dams


(05/13/2013) Deforestation may significantly decrease the hydroelectric potential of tropical rainforest regions, warns a new study published in Proceedings of the National Academy of Science. The study, used climate, hydrological, and land use models to forecast the impact of potential forest loss on hydropower generation on the Xingu River, a major tributary of the Amazon where the world's third largest dam — Belo Monte — is currently under construction.


Continued deforestation in the Amazon may kill Brazil's agricultural growth

(05/09/2013) Continuing deforestation in the Amazon rainforest could undermine agricultural productivity in the region by reducing rainfall and boosting temperatures, warns a new study published in the journal Environmental Research Letters.


Brazil's satellite monitoring reduced Amazon deforestation by 60,000 sq km in 5 years

(05/08/2013) Brazil's advanced satellite monitoring system, coupled with increased law enforcement, was responsible for nearly 60 percent of the 101,000 square kilometer-drop in deforestation observed between 2007 and 2011, argues a new study published an international think tank.


Debate heats up over California's plan to reduce emissions via rainforest protection


(05/07/2013) As the public comment period for California's cap-and-trade program draws to a close, an alliance of environmental activists have stepped up a heated campaign to keep carbon credits generated by forest conservation initiatives in tropical countries out of the scheme. These groups say that offsets generated under the so-called Reducing Emissions from Deforestation and Degradation (REDD+) mechanism, will undermine efforts to cut emissions as home, while potentially leading to abuses abroad. However supporters of forest conservation-based credits say the program may offer the best hope for saving the world's beleaguered rainforests, which continue to fall at a rate of more than 8 million hectares per year.


Unconventional swine: how invasive pigs are helping preserve biodiversity in the Pantanal


(05/06/2013) Ordinarily, invasive and exotic species are a grave threat to native wildlife: outcompeting local species, introducing parasites and disease, and disturbing local ecological regimes. A unique case in the Brazilian Pantanal, however, has turned the tables; here, an introduced mammal has actually aided the conservation of native wildlife.


Tribesmen launch 'occupy' protest at dam site in the Amazon rainforest

(05/03/2013) On Thursday roughly 200 indigenous people launched an occupation of a key construction site for the controversial Belo Monte dam in the Brazilian Amazon. The protestors, who represent communities that will be affected by the massive dam, are demanding immediate suspension of all work on hydroelectric projects on the Xingu, Tapajós and Teles Pires rivers until they are properly consulted, according to a coalition of environmental groups opposing the projects.


Is it possible to reduce the impact of oil drilling in the Amazon rainforest?


(05/02/2013) Oil extraction in the Amazon rainforest has been linked to severe environmental degradation — including deforestation and pollution — which in some areas has spurred violent social conflict. Yet a vast extent of the Colombian, Peruvian, Ecuadorian, Bolivian, and Brazilian Amazon is currently under concession for oil and gas exploration and production. It seems clear that much of this hydrocarbon development is going to proceed whether environmentalists and human rights groups like it or not.


Sugarcane production impacting local climate in Brazil


(05/01/2013) Intensification of Brazil's sugarcane industry in response to rising demand for sugar-based ethanol could have impacts on the regional climate reports a new study by researchers from Arizona State University, Stanford University and the Carnegie Institution for Science. Following the conversion of cerrado grasslands into sugarcane in Brazil, a recent study in Geophysical Research Letters found local cooling that approached 1 degree Celsius during the growing season and maximum local warming near 1 degree Celsius post-harvest.


Indigenous tribes say effects of climate change already felt in Amazon rainforest


(04/30/2013) Tribal groups in Earth's largest rainforest are already being affected by shifts wrought by climate change, reports a paper published last week in the British journal Philosophical Transactions of the Royal Society B. The paper, which is based on a collection of interviews conducted with indigenous leaders in the Brazilian Amazon, says that native populations are reporting shifts in precipitation patterns, humidity, river levels, temperature, and fire and agricultural cycles. These shifts, measured against celestial timing used by indigenous groups, are affecting traditional ways of life that date back thousands of years.


What if companies actually had to compensate society for environmental destruction?


(04/29/2013) The environment is a public good. We all share and depend on clean water, a stable atmosphere, and abundant biodiversity for survival, not to mention health and societal well-being. But under our current global economy, industries can often destroy and pollute the environment—degrading public health and communities—without paying adequate compensation to the public good. Economists call this process "externalizing costs," i.e. the cost of environmental degradation in many cases is borne by society, instead of the companies that cause it. A new report from TEEB (The Economics of Ecosystems and Biodiversity), conducted by Trucost, highlights the scale of the problem: unpriced natural capital (i.e. that which is not taken into account by the global market) was worth $7.3 trillion in 2009, equal to 13 percent of that year's global economic output.


Featured documentary: Damocracy, highlighting the battles over the Belo Monte and Ilisu dams

(04/29/2013) A new short documentary highlights the battles over monster dam projects imperiling local people and wild rivers. Examining the Belo Monte dam in Brazil and the Ilisu dam in Turkey, the documentary argues that such hydroelectric projects cannot be deemed "green" energy as they overturn lives, livelihoods, and ecosystems.


Amazon: the world's greatest rainforest or internet giant?

(04/25/2013) When you see the word "Amazon", what's the first thing that springs to mind—the world's biggest forest, the longest river or the largest internet retailer—and which do you consider most important? These questions have risen to the fore in an arcane, but hugely important, debate about how to redraw the boundaries of the internet. Brazil and Peru have lodged objections to a bid made by the US e-commerce giant for a prime new piece of cyberspace: ".amazon".


Frequent understory fires change rainforest community composition

(04/24/2013) Frequent understory fires change the composition of rainforest plant communities, potentially altering the capacity of forests to regenerate, finds a study published in special issue of the journal Philosophical Transactions of the Royal Society B.


Burned rainforest vulnerable to grass invasion

(04/24/2013) Rainforests that have been affected by even low-intensity fires are far more vulnerable to invasion by grasses, finds a new study published in special issue of the journal Philosophical Transactions of the Royal Society B. The findings are significant because they suggest that burned forests may be more susceptible to subsequent fires which may burn more intensely due to increased fuel loads.


Brazil's success in reducing deforestation will be hard to replicate

(04/23/2013) The sharp reduction in deforestation in the Brazilian state of Mato Grosso since the mid-2000s will be difficult to replicate in other tropical countries where commodity production is a major driver in forest loss, argues a new study published in a special issue of the journal Philosophical Transactions of the Royal Society B.


Brazil threatens $282m in fines for beef linked to Amazon deforestation

(04/17/2013) Federal prosecutors in Brazil are threatening to fine 26 beef producers $282 million for buying cattle raised in illegally deforested areas and on Indian reservations, reports Reuters.


Judge halts military-backed dam assessment in Brazil's Amazon

(04/17/2013) A federal court in Brazil has suspended the use of military and police personnel during technical research on the controversial São Luíz do Tapajós Dam in the Brazilian Amazon. The military and police were brought in to stamp down protests from indigenous people living along the Tapajós River, but the judge decreed that impacted indigenous groups must give free, prior, and informed consent (FPIC) before any furter studies can be done on the proposed dam. However, the decision is expected to be appealed.


New insect discovered in Brazil, only third known in its bizarre family (photos)


(04/15/2013) A new species of forcepfly named Austromerope brasiliensis, was recently discovered in Brazil and described in the open access journal Zoo Keys. This is the first discovery of forcepfly in the Neotropics and only the third known worldwide. The forcepfly, often called the earwigfly because the male genital forceps closely resemble the cerci of the common earwig, remains a scientific enigma due to the lack of information on the family.


New species tree-dwelling porcupine discovered in critically threatened Brazilian habitat

(04/11/2013) Scientists in Brazil have described a new species of tree-dwelling porcupine in the country's most endangered ecosystems. The description is published in last week's issue of Zootaxa.


Landowner who allegedly ordered Amazon murders acquitted

(04/10/2013) Jose Rodrigues Moreira, a Brazilian landowner who allegedly ordered the killings of Amazon activists Jose Claudio Ribeiro da Silva and his wife Maria, was acquitted this week due to lack of evidence. But, the two men who carried out the assassinations, Lindonjonson Silva Rocha and Alberto Lopes do Nascimento, were found guilty and sent to 42 and 45 years of jail respectively.


6 lessons for stopping deforestation on the frontier


(04/09/2013) In 1984, at the tail end of the Brazilian dictatorship, I took up residence in a frontier town called Paragominas in the eastern Amazon. I went to study rainforests and pasture restoration, but soon became captivated as well by the drama of the frontier itself. Forests were hotly contested among cattle ranchers, smallholder communities, land speculators and more than a hundred logging companies, sometimes with fatal results. If we are to meet rising global demand for food, conserve tropical forests, and mitigate climate change at the pace that is necessary, we must become much better at taming aggressive, lawless tropical forest frontiers where people are making a lot of money cutting forests down.


Featured video: stemming human-caused fires in the Amazon

(04/09/2013) A new series of 5 films highlights how people use fire in the Amazon rainforest and how such practices can be mitigated. Collectively dubbed "Slash & Burn" each film explores a different aspect of fire-use in the Amazon. In recent years the Amazon has faced unprecedented droughts, possibly linked to climate change and vast deforestation, making the issue of human-started fires even more important.


Indigenous group: Brazil using military to force Amazon dams


(04/08/2013) An Amazonian community has threatened to "go to war" with the Brazilian government after what they say is a military incursion into their land by dam builders. The Munduruku indigenous group in Para state say they have been betrayed by the authorities, who are pushing ahead with plans to build a cascade of hydropower plants on the Tapajós river without their permission.


30% of Brazil's emissions from deforestation are export-driven


(04/05/2013) 2.7 billion tons of carbon dioxide emissions or 30 percent of the carbon associated with deforestation in the Brazilian Amazon between 2000 and 2010 was effectively exported in the form of beef products and soy, finds a new study published in the journal Environmental Research Letters. The research underscores the rising role that global trade plays in driving tropical deforestation.


Killings over land continues in the Amazon

(04/04/2013) On Wednesday, in the Brazilian state of Pará, the trial begins of three men accused of murdering José Cláudio Ribeiro da Silva and his wife Maria do Espirito Santo, who had campaigned against loggers and ranchers for years. Their assassinations in May 2011 generated international outrage, just like that of Chico Mendes, 25 years ago, and that of the American-born nun Dorothy Stang in 2005.


Scientists describe new species of see-through fish from the Amazon

(04/03/2013) Scientists have documented an entirely new genus of fish from the Amazon rainforest.


Brazilian govt confirms rise in deforestation

(03/28/2013) Brazil's National Space Research Agency INPE today confirmed an apparent rise in Amazon forest clearing for the four-month period ending February 28, 2013.


Conflict zones have higher deforestation rates in the Amazon

(03/28/2013) Areas in the Amazon where there is conflict over land tenure have higher deforestation rates than places where land rights are secure, finds a new study that assesses the effectiveness of indicators used to gauge the success of protected areas in Brazil.


Brazilian supermarkets ban beef linked to Amazon deforestation

(03/27/2013) A group representing 2,800 Brazilian supermarkets has signed an agreement barring beef linked to deforestation in the Amazon rainforest from their shelves.


Tribe rejects payment from electricity company behind destructive Amazon dam

(03/14/2013) Leaders of more than two dozen Kayapó indigenous communities have rejected a $9 million offer from Brazilian state energy company Eletrobras to fund development projects in their region due to the the firm's involvement in the construction of the Belo Monte dam, reports Amazon Watch, an activist group fighting the hydroelectric project.


Parks, indigenous territories are effectively reducing Amazon deforestation


(03/11/2013) Strict conservation areas and indigenous reserves are more effective at reducing deforestation in the Brazilian Amazon relative to 'sustainble-use' areas set up for non-indigenous resource extraction, reports a new study published in the journal Proceedings of the National Academy of Sciences. The research, which involved an international team, compared rates of forest loss between different categories of managed lands using satellite imagery and statistical analysis.


Gucci launches 'zero-deforestation' handbag


(03/07/2013) Gucci has rolled out a collection of 'zero-deforestation' leather handbags. Each handbag comes with a 'passport' that provides the history of the product's supply chain going back to the ranch that produced the leather. The line emerged out of concerns that leather in the fashion industry is contributing to deforestation in the Brazilian Amazon, where roughly two-thirds of forest destruction is for cattle production.



Page 1 | Page 2 | Page 3 | Page 4 | Page 5 | Page 6 | Page 7 | Page 8 | Page 9