News articles on Biomimicry

---
Mongabay.com news articles on Biomimicry in blog format. Updated regularly.





Bat's tongue could inspire miniature surgical robot design

(05/06/2013) Nectar-feeding bats shift the shape of their tongue to slurp up sugar from flowers upon which they feed, finds a new study published in the Proceedings of the National Academy of Sciences.


Singing frog leads to insights into human hearing

(08/03/2011) New understanding of how female tungara frogs sort out the din of multiple males singing may lead to insights into human hearing, according to a new study in Nature Communications.


Discovery may lead to organic acrylic glass made from sugar

(11/16/2008) A new discovery make it possible in the future to manufacture acrylic glass from organic materials including sugars, alcohols or fatty acids.


Challenges of starting a green business

(10/20/2008) While green design offers the potential to greatly improve the sustainability of new goods and services without sacrificing performance, developing and bringing such products to market is a challenge, said a panel of innovators from companies using nature as inspiration for new technologies. Speaking at the 2008 Bioneers conference in San Rafael, California, Stephen Dewar of WhalePower, Charles Hamilton of Novomer, and Jay Harman of PAX Scientific told biomimicry expert Jane Benyus that radically new approaches to solving design and engineering problems is often met with skepticism from the existing market.


Company that turns CO2 into eco-friendly plastic gets new CEO

(10/20/2008) Novomer, a firm developing biodegradable plastics using carbon dioxide instead of petroleum as a feedstock, today announced the appointment of Jim Mahoney as its new chief executive officer and the relocation of company headquarters from Ithaca, N.Y. to Boston, Mass.


Financial crisis could pave way for greener economy inspired by nature

(10/20/2008) Biomimicry — the use of nature to inspire design — could serve as a model for a greener economy that rises out of the ashes of the financial crisis, said experts meeting at a sustainability conference in the San Francisco Bay Area. Speaking at the three-day Bioneers conference in San Rafael, Janine Benyus, a leading voice in the emerging field of biomimicry, said that nature offers lessons that can be applied to build better and more sustainable products and services as well as economic models.


Whale biomimicry inspires better wind turbines

(07/07/2008) By studying and mimicking the characteristics of the flippers, fins and tails of whales and dolphins, engineers have devised more a efficient way to generate wind power, reports a researcher presenting at the Society for Experimental Biology's Annual Meeting in Marseille, France.


Future cities will be more like ecosystems that enrich society and the environment

(05/28/2008) As The World Science Festival continues in New York this week, specialists in vastly diverse fields across scientific disciplines are coming together to talk about ideas, problems and solutions. From Astronomy to Bioacoustics, the dialogues about challenges and opportunities are rich and inspiring. At the front of this year's festival rests the issue of sustainability and how scientists, specialists and society will address the imminent environmental and economic trials we are sure to face in a rapidly changing and uncertain world.


Squid beaks may revolutionize engineering

(03/27/2008) When scientists dissect the stomachs of sperm whales, they find the super-hard beaks of squids, the only part of them that is indigestible. Scientists can tell the diet of a whale by the variety of beaks left behind, sometimes numbering in the thousands. But how does a squid, whose body is soft and supple, have a beak that is considered one of the hardest organic materials in natures? Scientists have long pondered this question.


How falling a gecko lands on its feet

(03/17/2008) According to new research the gecko may have the most dynamic tail in the natural world. Two researchers from UC Berkley have discovered that the gecko uses its tail to keep itself from falling off slippery vertical surfaces and when falling to rapidly right itself. So, like a cat, it always lands on four feet.


Biomimicry of sea cucumber skin may help stroke treatment

(03/06/2008) Using sea cucumber skin for design inspiration, scientists have developed a new material that may improve treatment for Parkinson's disease, stroke and spinal chord injuries. The research is published in the journal Science.


Gecko-inspired adhesive tape could improve recovery from surgery

(02/18/2008) Researchers are close to developing a biodegradable surgical adhesive based on biomimicry of gecko feet. Geckos are famous for their ability to walk on ceilings and vertical surfaces.


Termites may produce cleaner biofuels

(11/23/2007) Termites may be the key to greener, more effective biofuels, report scientists writing in the November 22 edition of the journal Nature.


Gecko + mussels = biomimetic underwater adhesive

(07/19/2007) Scientists have developed a new adhesive material based on the properties of mussels and gecko lizard. The researchers say the biomimetic design could produce more durable and longer-lasting bandages, patches, and surgical materials.


Gecko biomimicry produces adhesive better than the real thing

(06/19/2007) Mimicking the agile gecko, with its uncanny ability to run up walls and across ceilings, has long been a goal of materials scientists. Researchers at Rensselaer Polytechnic Institute and the University of Akron have taken one sticky step in the right direction, creating synthetic "gecko tap" with four times the sticking power of the real thing.


World's largest movement has no leader but 100M employees

(06/11/2007) The world's largest movement has no name, no leader, and no ideology, but may directly involve more than 100 million people, said a green business pioneer.


Agriculture modeled on biological systems may better cope with global warming

(02/20/2007) Complex farming systems could be less energy intensive, reduce risk from climate change, and out-produce industrial monocultures says a noted researcher from Iowa State University.


Biomimicry of beetle could produce whiter teeth

(01/18/2007) A pure white beetle found in the forests of southeast Asia could eventually lead to brilliant white ultra-thin materials including whiter teeth and finer paper, according to research led by scientists at the University of Exeter.


Butterfly biomimicry improves communications technology

(12/11/2006) A new DARPA-sponsored study says that biomimicry of butterfly wings can help researchers build complex photonic integrated circuits to improve communications technology. "By replicating the complex micron- and nanometer-scale photonic structures that help give butterfly wings their color, researchers have demonstrated a new technique that uses biotemplates for fabricating nanoscale structures that could serve as optical waveguides, optical splitters and other building blocks of photonic integrated circuits," stated a release from the Georgia Institute of Technology.


Biomimicry of native prairie yields more bioenergy than corn ethanol

(12/07/2006) Diverse mixtures of plants that mimic the native prairie ecosystem are a better source of biofuels than corn grain ethanol or soybean biodiesel according to a new paper published in the Dec. 8 issue of the journal Science. Led by David Tilman, a biology professor at the University of Minnesota, the research shows that "mixtures of native perennial grasses and other flowering plants provide more usable energy per acre than corn grain ethanol or soybean biodiesel and are far better for the environment," according to a release from the University of Minnesota.


Snail venom could be used to treat pain due to spinal cord injury

(11/15/2006) Cone snail venom may offer a new approach to treating severe pain according to researchers at the University of Utah. "We found a new way to treat a chronic and debilitating form of pain suffered by hundreds of millions of people on Earth," says J. Michael McIntosh, a University of Utah research professor of biology. "It is a previously unrecognized mechanism for treating pain."


Beetle biomimicry could allow robots to climb vertical glass walls

(11/03/2006) Researchers at Max Planck Institute for Metals Research are developing adhesives based on biomimicry of beetles' feet. The design enables the materials to stick to smooth walls without any adhesives. The researchers say the technology, which uses microhairs "reminiscent of tiny mushrooms", could someday allow robots to climb vertical glass walls and refrigerator magnets to be replaced by non-magnetic objects.


Shark biomimicry produces renewable energy system

(11/01/2006) An Australian firm has developed a renewable tidal energy conversion system based on the highly efficient fin structure of shark, tuna, and mackerel. BioPower Systems Pty Ltd., a renewable energy systems company based in Eveleigh, New South Wales, says that its bioSTREAM technology for converting tidal and marine current energy into electricity is modeled on biological species, such as shark and tuna, that use Thunniform-mode swimming propulsion.


Bacteria can generate renewable energy from pollution, help fight global warming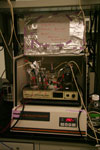 (10/26/2006) Currently, most energy production generates carbon dioxide, a potent greenhouse gas that contributes to global warming and local pollution. At the same time that carbon dioxide concentrations are rising in the atmosphere, fueling higher temperatures, burgeoning population growth of humans and livestock is producing ever-increasing amounts of organic pollution and waste. Now researchers at the Center for Biotechnology at the Biodesign Institute of Arizona State University are working on a way to solve both problems using bacteria to convert organic wastes into a source of electricity. Bruce Rittmann, Director of the Center for Environmental Biotechnology at the Biodesign Institute, and his team of researchers are developing microbial fuel cells (MFC) that can oxidize organic pollutants and create electricity from pollution.


Bacteria can ensure clean water say researchers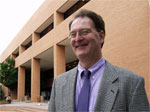 (10/24/2006) Water is shaping up to be one of the most critical problems facing humanity. With water consumption far outstripping population growth rates due to surging industrial and agricultural demand, the World Bank estimates that 40 percent of the world's population -- more than 2.5 billion people -- are enduring some form of water scarcity. In China, where massive river relocation projects to shift water from the south to the dry north are under consideration, an official government survey found that some 300 million Chinese drink unsafe water tainted by chemicals and other contaminants, while 90% of China's cities have polluted ground water. Elsewhere, development experts say that access to reliable, safe and affordable water is key to poverty alleviation efforts and that addressing declining groundwater supplies and water pollution is be critical to raising the quality of life in poor regions.


Feathers, human hair used to fight oil spill in Philippines

(08/24/2006) The Philippines has asked for hair clippings from salons and chicken feathers to help fight the country's worst oil spill, according to a report from Reuters. The oil spill occurred August 1 after Solar I, an oil tanker chartered by Petron Corp. sank in rough seas. About 1700 barrels spilled initially, but because the tanker sank in deep water with as much as 15,300 barrels of bunker oil, more is expected to leak into the surrounding environment. According to Greenpeace, about 320 kilometers of coastline -- including a coral reef located in a marine reserve and 27 coastal villages -- have been affected by the spill.


Gecko feet inspire high-friction micro-fibers

(08/22/2006) Inspired by the remarkable hairs that allow geckos to hang single-toed from sheer walls and scamper along ceilings, a team of researchers led by engineers at the University of California, Berkeley, has created an array of synthetic micro-fibers that uses very high friction to support loads on smooth surfaces.


Biomimicry of Scorpion Venom Fights Cancer

(07/31/2006) A new method of delivering a dose of radioactive iodine -- using a man-made version of scorpion venom as a carrier -- targets deadly brain tumors called gliomas without affecting neighboring tissue or body organs.


Copying nature could save us energy, study shows

(05/09/2006) New technologies that mimic the way insects, plants and animals overcome engineering problems could help reduce our dependence on energy, according to new research published in the Royal Society journal Interface. When faced with engineering difficulties, such as lifting a load or coping with extremes of heat, up to 70 per cent of man-made technologies manipulate energy, often increasing the amount used, in order to resolve the problem. However, new research which has compared how nature and man-made technologies overcome similar problems has shown that only 5 per cent of natural machines rely on energy in the same way.


Bats Hunt Using Guided Missile Strategy

(05/04/2006) When it comes to rocket science, it looks like bats had it worked out before the scientists did. A new University of Maryland study finds that echolocating bats use a strategy to track and catch erratically moving insects that is much like the system used by some guided missiles to intercept evasive targets and different from the way humans and some animals track moving objects.


Sea slug chemical defense has potential industrial applications

(12/16/2005) When threatened by predators, sea slugs defend themselves by ejecting a potent inky secretion into the water consisting of hydrogen peroxide, ammonia and several types of acids. A team of researchers with the Atlanta-based Center for behvaioral Neuroscience (CBN) has found that this secretion is produced from normally inert chemicals stored separately in two glands. The discovery, published in the Dec. 16 on-line edition of the Journal of Experimental Biology, provides insight into a natural chemical process with potential industrial applications.


Using biomimicry to fight computer viruses via "immunity software"

(12/06/2005) Biomimicry is being used to fight computer viruses. The Electrical and Computer Engineering Department at the University of Arizona (UA) received $1 million to fund research and development of security software that mimics biological immune systems. The software will screen a computer network for abnormalities, isolating infectious computer viruses, worms and other attack agents while developing software "antibodies" to fight them. UA received the grant from the Army Research Office.


Toucan Beaks Are Models Of Lightweight Strength says UCSD engineer

(11/30/2005) As a boy growing up in Brazil 40 years ago, Marc A. Meyers marveled at the lightweight toughness of toucan beaks that he occasionally found on the forest floor. Now a materials scientist and professor of mechanical and aerospace engineering at UCSD's Jacobs School of Engineering, Meyers said makers of airplanes and automobiles may benefit from the first ever detailed engineering analysis of toucan beaks conducted in his lab.


Nature's engineering shows butterfly innovation

(11/18/2005) Flourescent patches on the wings of African swallowtail butterflies work in a very similar, but more efficient way to high emission light emitting diodes (LEDs) used in electronic equipment and displays, according to University of Exeter research published in Science.


Nature Provides Design Template for Human Problems

(11/01/2005) Copying the ideas of others is usually frowned upon, but when it comes to the work of Mother Nature, scientists are finding they can use nature as a template.


Biomimicry Employed by MIT Nanotechnology Researchers

(09/21/2005) The ocean is a perilous environment for a soft-bodied creature like a sea snail, so nature gives it an advanced nanostructured armor system that is stiff and strong yet lightweight. It's called a shell.


Bioinsecticide for the tomato and the green bean

(09/05/2005) Bioinsecticide for combating a pest that affects the tomato and the green bean The tomato fruitworm is the name given to an insect pest which, due to its polyphagous character, causes very serious damage to a number of plants, such as the tomato and the green bean.


Biomimetics, technology that mimcs nature

(07/11/2005) Engineers, scientists, and business people alike are increasingly turning toward nature for design inspiration. The field of biomimetics, the application of methods and systems found in nature to engineering and technology, has spawned a number of innovations far superior to anything the human mind alone could have devised. The reason is simple. Nature, through billions of years of trial and error, has produced effective solutions to innumerable complicated real-world problems. The rigorous competition of natural selection means waste and efficiency is not tolerated in natural systems, unlike many of the technologies devised by humans.


Design of new Mercedes-Benz bionic car inspired by fish body shape

(07/10/2005) DaimlerChrysler is using a new concept vehicle to examine the great potential of bionics for automobile development, and has achieved outstanding results for fuel consumption and emissions with a combination of pioneering diesel engine technology and innovative emission control methods. The Mercedes-Benz bionic car study will have its world premiere at this year's DaimlerChrysler Innovation Symposium in Washington.