News articles on asia

---
Mongabay.com news articles on asia in blog format. Updated regularly.






APP: Indonesia needs a new business model
(07/04/2014) In response to news that Indonesia has now surpassed Brazil as the world's top deforester, the head of sustainability at one of Indonesia's biggest forestry companies is calling for a new business model in how the Southeast Asian nation manages its forest. In a letter published Friday, Aida Greenbury, Asia Pulp & Paper's Managing Director Sustainability, said Indonesia needs to take a more comprehensive approach to tackling deforestation.
No restrictions: Japan's demand for illegal wood driving rampant deforestation in Siberia
(07/03/2014) Illegal logging is taking a huge toll on forests around the world. In response, many countries have banned the import of timber whose legal harvest cannot be verified. However, Japan has made no strides to reduce its import of illegal timber. Instead, it is knowingly importing mass quantities of wood sourced from vulnerable forests in Siberia, according to a recent report.
Next big idea in forest conservation? The 'double-edged sword' of democracy
(07/03/2014) Dr. Douglas Sheil considers himself an ecologist, but his research includes both conservation and management of tropical forests. Currently teaching at the Norwegian University of Life Sciences (NMBU) Sheil has authored and co-authored over 200 publications including scholarly articles, books, and popular articles on the subject.
Horror movie bugs: new wasp species builds nest with the bodies of dead ants
(07/02/2014) If ants made horror movies this is probably what it would look like: mounds of murdered ants sealed up in a cell. The villain of the piece—at least from the perspective of the ants—is a new species of spider wasp, which scientists have aptly dubbed the bone-house wasp (Deuteragenia ossarium) in a paper released today in PLOS ONE.
Bigfoot found? Nope, 'sasquatch hairs' come from cows, raccoons, and humans
(07/01/2014) Subjecting 30 hairs purportedly from bigfoot, the yeti, and other mystery apes has revealed a menagerie of sources, but none of them giant primates (unless you count humans). Using DNA testing, the scientists undertook the most rigorous and wide-ranging examination yet of evidence of these cryptic—perhaps mythical—apes, according to a new study in the Proceedings of Royal Society B.
On the brink of extinction: Javan rhino has new enemy in invasive palm
(07/01/2014) The last of Indonesia's critically endangered Javan rhinoceroses have survived poachers, rapid deforestation and life in the shadow of one of the archipelago's most active volcanoes. But an invasive plant is now posing a new threat to the world's rarest species of rhino.
Malaysian citizens want govt to spend more to save native rainforests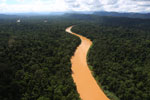 (06/30/2014) As developing countries reach upper middle income (UMI) status, their populations are willing to pay increasing amounts toward tropical forest conservation, yet government spending on these programs lags far behind, concludes a study available today in the PNAS Online Early Edition.
Despite moratorium, Indonesia now has world's highest deforestation rate
(06/29/2014) Despite a high-level pledge to combat deforestation and a nationwide moratorium on new logging and plantation concessions, deforestation has continued to rise in Indonesia, according to a new study published in Nature Climate Change. Annual forest loss in the southeast Asian nation is now the highest in the world, exceeding even Brazil.
Next big idea in forest conservation? Playing games to understand what drives deforestation
(06/26/2014) Dr. Claude Garcia plays games, but you won't find him betting his shirt at the casino. As leader of the Forest Management and Development Research Group at ETH Zürich, Garcia and his team use participatory modeling and role-playing games, merged with more traditional disciplinary sciences such as ecology, economics, and sociology to understand and manage complex landscape change in the tropics.
Despite early headwinds, Indonesia's biggest REDD+ project moves forward in Borneo
(06/26/2014) Just over a year ago, the Indonesian government officially approved the country's first REDD+ forest carbon conservation project: Rimba Raya, which aims to protect more than 64,000 hectares of peat forest in Central Kalimantan. The approval came after years of delays from the Ministry of Forestry and a substantial reduction in the project's concession area. But InfiniteEarth, the firm behind the project, pressed on. Now a year later, Rimba Raya's is not only still in business, but is scaling up its operations.
Logging in Vietnam still affecting rare trees 30 years later
(06/25/2014) Restricted geographic ranges, high habitat specificity, and small local population sizes all contribute to the natural rarity of many tree species. Anthropogenic activities such as selective logging can compound this rarity by modifying habitats and altering the competitive balance among tree species. According to a new study, previous logging in the forests of Vietnam continue to put rare tree species at risk.
Is the banteng making a comeback? Researchers find new population in Cambodia
(06/23/2014) Researchers have discovered a new population of banteng, a species of wild cattle, in northwestern Cambodia. The discovery was announced June 4, 2014 by Fauna and Flora International (FFI), and efforts are underway to implement conservation initiatives to protect the area and its newfound banteng, which are listed as Endangered by the IUCN.
Wilmar to investigate palm oil company allegedly destroying orangutan forest
(06/23/2014) A Wilmar supplier is allegedly destroying orangutan habitat in Indonesian Borneo, potentially putting it in breach of the plantation giant's zero deforestation policy, reports Greenomics. According to analysis of satellite data by Greenomics, PT Sumatera Jaya Agro Lestari (SJAL) has cleared an area of forest that is classified as orangutan habitat.
Monkeys reset camera trap, capture first-ever images of flat-headed cats in park
(06/23/2014) Photo trapping is a popular technique for gathering images and information about elusive wildlife. Recently, camera traps captured the first-ever images of wild flat-headed cats in the Pasoh Forest Reserve, an unexpected find in the forestland southeast of Kuala Lumpur, according to a new report in mongabay.com's open access journal Tropical Conservation Science.
Broken promises no more? Signs Sabah may finally uphold commitment on wildlife corridors
(06/23/2014) Five years ago an unlikely meeting was held in the Malaysian state of Sabah to discuss how to save wildlife amid worsening forest fragmentation. Although the meeting brought together longtime adversaries—conservationists and the palm oil industry—it appeared at the time to build new relationships and even point toward a way forward for Sabah's embattled forests.
The palm oil diet: study finds displaced orangutans have little else to eat
(06/20/2014) In a recent study, researchers assessed how orangutans have adapted to living among oil palm plantations on Borneo. They found that while orangutans have adapted to the island's human-transformed landscapes better than expected, oil palm plantations are unable to sustain orangutan populations in the long-term.
Apeidemiology: researchers model ape disease transmission for the first time
(06/20/2014) In a nine-year-long study published recently in PLOS ONE, a team of researchers attempted to understand how diseases spread and differ among orangutans (Pongo pygmaeus wurmbii) and chimpanzees (Pan troglodytes schweinfurthii), creating the first-ever epidemiological model for great ape populations.
Chinese fishermen get the ultimate phone video: a swimming tiger

(06/19/2014) Two Chinese fishermen got the catch of their lives...on mobile phone this week. While fishing in the Ussuri River, which acts as a border between Russia and China, the fishermen were approached by a swimming Siberian tiger. These tigers, also known as Amur tigers, are down to around 350-500 animals.
Indonesian logger: cleared peat forest doesn't have high conservation value

(06/17/2014) An Indonesian logging company says that clearing of peat forest on an island off Sumatra is 'in line with its Sustainable Forest Management Policy' because the area wasn't found to be of high conservation value. In a letter responding to concerns raised by environmental groups, Asia Pacific Resources International Holdings Limited (APRIL) said its forest policy applies to all its concessions, including the Pulau Padang concession where Greenpeace documented deep peat clearance last month.
Despite poaching, Indian rhino population jumps by 27 percent in eight years

(06/10/2014) The world's stronghold for Indian rhinos—the state of Assam—has seen its population leap by 27 percent since 2006, despite a worsening epidemic of poaching that has also seen 156 rhinos killed during the same period. According to a new white paper, the population of Indian rhinos in Assam hit 2,544 this year.
Bears, cats, and mystery mammals: camera traps in 'paper park' prove it's worth protecting
(06/09/2014) Can a single photograph change the fate of a park? A new conservation group, HabitatID, believes so, and is putting this belief into action. Setting up camera traps in Cambodia's Virachey National Park, the group hopes that photos of charismatic and endangered species will help reinvigorate protection for a park that has been abandoned by conservation groups and underfunded by the government.
Another year of fires, another year of inaction

(06/06/2014) With a 70% chance of an El Niño this year, Indonesia could soon be facing the ire of its nearest neighbors yet again as the dry season approaches with the ever present threat of vegetation fires.
Next big idea in forest conservation? Work locally, relentlessly, and, if necessary, ignore the government
(06/05/2014) In 1997, Gabriella Fredriksson, then a young PhD student, was studying sun bears in East Kalamantan, Indonesia, when massive forest fires broke out in the park. 'It quickly became clear that there was no government agency, NGO, or private company in the area interested in assisting putting out these fires, which were threatening to burn down the entire reserve,' Fredriksson told mongabay.com.
Newly discovered snails at risk of extinction
(06/03/2014) A team of Dutch and Malaysian scientists has recently completed one part of a taxonomic revision of Plectostoma, a genus of tiny land snails in Southeast Asia. Unfortunately, according to their article published recently in ZooKeys, it seems that these animals may be going extinct as fast as they are being discovered.
Facebook, Twitter to carry 24 hours of live rainforest animal sightings on Monday
(05/29/2014) Next week, the rainforests of Southeast Asia are going live. On June 2nd, 11 organizations in the region will be posting lives video, photos, and wildlife sightings over 24 hours on Facebook and Twitter (see #rainforestlive). Dubbed Rainforest: Live, the initiative hopes to raise awareness of quickly vanishing ecosystems and species.
Indonesia's haze from forest fires kills 110,000 people per year
(05/28/2014) Haze caused by burning peat forests in Indonesia kills an average of 110,000 people per year and up to 300,000 during el Niño events, while releasing hundreds of millions of tons of greenhouse gases into the atmosphere, warns a new report from Greenpeace. Sumatra: Going up in smoke argues that peatland and forest protection are the best way to protect the region from the effects of haze.
Brunei to limit agricultural land use to 1 percent

(05/25/2014) The tiny, but densely forested country of Brunei Darussalam says it will limit agricultural conversion to one percent of its land mass, preserving much of the rest for biodiversity and other services afforded by healthy forest ecosystems.
Indonesia's forests increasingly empty of wildlife

(05/25/2014) Tropical rainforests are the most species-rich ecosystems in the world. Each square kilometer has hundreds of tree species, birds and mammals, and countless other creatures. The idea that these forests could be devoid of animal life therefore seems ludicrous. Still the disappearance of birds, mammals and other species is what is happening in Indonesian forests. The 'empty forest' syndrome is becoming an increasing reality in this country.
Timber concessions in Sumatra have high conservation value, according to report
(05/21/2014) Five industrial plantation forest concessions that supply timber to PT Asia Pulp and Paper (APP) in South Sumatra – locally known as HTI concessions – are areas of high conservation value inhabited by endangered Sumatran tigers (Panthera tigris sumatrae) and other endemic wildlife, according to a report issued at the end of March.
Chinese officials seize nearly a thousand dead pangolins
(05/20/2014) In one of the biggest pangolin trafficking cases yet recorded in China, officials confiscated 956 animals stuffed into 189 coolers this month. The dead pangolins were being carried overland in a truck, with the total haul weighing four tonnes. The traffickers were caught at the border of Guangdong Province. If convicted, they face up to ten years in jail.
Chinese poachers caught with 555 marine turtles, most dead (PHOTOS)
(05/15/2014) On Friday, eleven Chinese fishermen were caught by Filipino police with 555 marine turtles, 378 of which were dead. Officials in the Philippines have since released the 177 living turtles. But the incident has sparked an international standoff between the Philippines and China as the Chinese nationals were arrested in disputed waters in the South China Sea.
NASA data: 1997 all over again for Indonesia?
(05/14/2014) The latest data from NASA shows that conditions developing in the tropical Pacific are eerily similar to those in 1997, when El Niño wreaked havoc across Indonesia, spurring a severe drought that exacerbated massive peatland and forest fires which spread choking haze across much of South and Southeast Asia.
Scientists release odd-looking, Critically Endangered crocodiles back into the wild (PHOTOS)
(05/13/2014) Among the largest and most endangered crocodilians in the world, the gharial is on the verge of extinction today. This harmless fish-eating crocodile has fewer than 200 adult breeding individuals in the wild, their numbers having plummeted rapidly over the past few decades. But among this gloom and doom, conservationists have been working tirelessly to reinstate the wild populations.
Chinese luxury furniture linked to murder, near extinction
(05/12/2014) Intricately carved, meticulously designed, and costing hundreds of thousands of dollars: this is "hongmu," or Chinese luxury furniture reflecting the elite styles of the Ming and Qing dynasties. But while the red-colored furniture may be aesthetically beautiful, it comes with a blood price.
India, not China, has the world's worst urban air pollution

(05/12/2014) Breathing in urban India is hard: of the world's top twenty cities with the worst air, 13 of them are found in India, according to a new analysis by the World Health Organization (WHO). Despite the attention recently given to Chinese cities for atrocious air pollution, many of India's cities are actually worse when comparing annual averages of fine airborne particulates.
Special Report: Lake Toba indigenous people fight for their frankincense forest
(05/08/2014) It was a cool and foggy day in Dolok Ginjang forest, but that did not stop villagers of Pandumaan and Sipituhuta in North Sumatra from heading to work to extract frankincense from the trunks of its tall trees. Frankincense, an aromatic tree resin used in perfumes and incense, is the primary source of income for local people in the area. However, that routine has been disrupted for the past few years as land conflict has erupted between villagers and wood pulp producer PT Toba Pulp Lestari over the forest area.







Malaysian palm oil company stock drops after environmental complaint

(05/06/2014) Genting Plantations Bhd's stock price fell by more than two percent after the palm oil company's membership in the Roundtable of Sustainable Palm Oil (RSPO) was suspended due to a complaint by the Borneo Rhino Alliance for failing to abide by the body's principles on establishing new plantations, reports The Edge Financial Daily.





Palm oil plan unlikely to help communities in Indonesian New Guinea

(05/05/2014) Plans to rapidly expand palm oil production in Indonesian New Guinea are unlikely to boost livelihoods for local communities since most investors are outsiders and the bulk of workers will be migrants, argues a paper published in Environment, Development and Sustainability.




Page 1 | Page 2 | Page 3 | Page 4 | Page 5 | Page 6 | Page 7 | Page 8 | Page 9 | Page 10 | Page 11 | Page 12 | Page 13 | Page 14 | Page 15 | Page 16 | Page 17 | Page 18 | Page 19 | Page 20 | Page 21 | Page 22 | Page 23 | Page 24 | Page 25 | Page 26 | Page 27 | Page 28 | Page 29 | Page 30 | Page 31 | Page 32 | Page 33 | Page 34 | Page 35 | Page 36 | Page 37 | Page 38 | Page 39