News articles on asia

---
Mongabay.com news articles on asia in blog format. Updated regularly.





After widespread deforestation, China bans commercial logging in northern forests


(04/22/2014) Forestry authorities in China have stopped commercial logging in the nation's largest forest area, marking an end to more than a half-century of intensive deforestation that removed an estimated 600 million cubic meters (21 billion cubic feet) of timber. The logging shutdown was enacted in large part to protect soil and water quality of greater China, which are significantly affected by forest loss in the mountainous region.


APRIL continued destroying high conservation rainforest up until January pledge


(04/21/2014) Plantation giant Asia Pacific Resources International Limited (APRIL) continued to source fiber produced by destruction of high conservation value forests in Sumatra right up until it committed to a new forest conservation policy, according to an investigation by Eyes of the Forest, a coalition of environmental groups in Riau.


New relative of the 'penis snake' discovered in Myanmar


(04/17/2014) Scientists have discovered a new species of limbless amphibians, known as caecilians, in Myanmar. Dubbing the species, the colorful ichthyophis (Ichthyophis multicolor), the researchers describe the new amphibian in a recent paper published in Zootaxa. The world's most famous caecilian is the so-called penis snake (Atretochoana eiselti) which was rediscovered in Brazil in 2011.


Malaysia at risk of falling behind in push for more sustainable palm oil


(04/17/2014) The Malaysian state should play a more active role in supporting the transition toward less environmentally destructive palm oil production, says a coalition of Malaysian NGO's. In a statement issued Sunday, the Malaysian Palm Oil NGO Coalition (MPONGOC) urged Malaysian banks, palm oil associations, and other government-backed institutions to commit to 'improving social and environmental standards in the palm oil industry'.


Malaysia imperils forest reserves and sea turtle nesting ground for industrial site (photos)


(04/15/2014) Plans for an industrial site threaten one of Malaysia's only marine turtle nesting beaches and a forest home to rare trees and mammals, according to local activists. Recently, the state government of Perak approved two industrial project inside Tanjung Hantu Permanent Forest Reserve. But activists say these will not only cut into the reserve, but also scare away nesting turtles from Pasir Panjang.


Forests in Indonesia's concession areas being rapidly destroyed


(04/10/2014) Forest clearing within areas zoned for timber, logging, oil palm, and mining accounted for nearly 45 percent of deforestation in Indonesia between 2000 and 2010, finds a new study that examined forest loss within industrial concessions.


Giant ibis, little dodo, and the kakapo: meet the 100 weirdest and most endangered birds


(04/10/2014) The comic dodo, the stately great auk, the passenger pigeon blotting out the skies: human kind has wiped out nearly 200 species of birds in the last five hundred years. Now, if we don't act soon we'll add many new ones to the list: birds such as the giant ibis, the plains-wanderer, and the crow honeyeater. And these are just a few of the species that appear today on the long-awaited EDGE list.


Indonesian 'legal' timber scheme could be greenwashing illegal products, NGOs warn


(04/07/2014) Flaws in the country's system to verify legal wood products could have implications for trade with Europe, as new research suggests even certified companies in Indonesia may not be meeting EU standards. Indonesian civil society groups have called on their government to reform its legal timber certification system, pointing to widespread illegal practices among certified companies and an auditing system that is 'almost impossible' for companies to fail.


Bioluminescent bacteria expose toxic arsenic in Bangladesh


(04/02/2014) A knob turns, and pure water streams from the faucet. In developed nations, this expectation borders on being a fundamental human right. Elsewhere in the world, tap water is a pipe dream, while finding potable groundwater can be a full-time occupation laced by lethal threats—such as arsenic contamination.


Kala: the face of tigers in peril


(03/27/2014) In 1864, Walter Campbell was an officer in the British Army, stationed in India when he penned these words in his journal: "Never attack a tiger on foot—if you can help it. There are cases in which you must do so. Then face him like a Briton, and kill him if you can; for if you fail to kill him, he will certainly kill you." In a stroke of good fortune for the tiger, perceptions in India have changed drastically since Campbell's time. Tiger hunting is now banned and conservationists are usually able to rescue the big cats if they become stranded while navigating increasingly human-occupied areas. But is this enough to save the tiger?


Just how bad is the logging crisis in Myanmar? 72 percent of exports illegal


(03/26/2014) Just days before Myanmar, also known as Burma, implements a ban on exporting raw logs, the Environmental Investigative Agency (EIA) has released a new report that captures the sheer scale of the country's illegal logging crisis. According to the EIA, new data shows that 72 percent of logs exported from Myanmar between 2000-2013 were illegally harvested.


Deforestation makes Indonesia hotter, reduces quality of life


(03/26/2014) One of the reasons I like living in the tropics is that they are perpetually warm. A pair of shorts and a light shirt will comfortably get you through the day and night in most parts of Indonesia. Still there are the occasional unpleasant extremes. Even the most cold-blooded creature will likely break into a sweat walking for more than a few minutes in the sun filtering through Jakarta's polluted skies. We consider such heat a normal part of the tropics. But is it really?


Europe approves vet drug that killed off almost all of Asia's vultures


(03/25/2014) When Europeans first arrived in North America, they exterminated three to five billion passenger pigeons (Ectopistes migratorius) in the short span of a century through a combination of habitat destruction and hunting. In 1914, the last living passenger pigeon perished at the Cincinnati Zoo. Despite the staggering scale of this extinction event, three species of vulture from Southeastern Asia retain the dubious distinction of having had the most rapid population crash of any avian fauna. They might not have begun with numbers as large as the passenger pigeon, but within the space of a single decade, their populations were reduced by 96 to 99 percent.


Long lost mammal photographed on camera trap in Vietnam


(03/25/2014) In 1929, two sons of Theodore Roosevelt (Teddy Junior and Kermit) led an expedition that killed a barking deer, or muntjac, in present-day Laos, which has left scientists puzzled for over 80 years. At first scientists believed it to be a distinct species of muntjac and named it Roosevelts' muntjac (Muntiacus rooseveltorum), however that designation was soon cast into doubt with some scientists claiming it was a specimen of an already-known muntjac or a subspecies. The problem was compounded by the fact that the animal simply disappeared in the wild. No one ever documented a living Roosevelts' muntjac again—until now.


Indigenous communities demand forest rights, blame land grabs for failure to curb deforestation


(03/25/2014) Indigenous and forest-dependent peoples from Asia, Africa and Latin America have called for increased recognition of customary land rights in order to curb deforestation and ensure the survival of their communities. The Palangkaraya Declaration on Deforestation and the Rights of Forest Peoples calls on governments to uphold forest peoples' rights to control and manage their customary lands and to halt rights-violating development projects being carried out without consent from local communities.


General Mills, Colgate-Palmolive announce deforestation-free policies for palm oil sourcing


(03/24/2014) Two consumer products giants have joined the wave of companies committing to deforestation-free palm oil. On Monday General Mills and Colgate-Palmolive both announced palm oil policies that go beyond standards set by the Roundtable on Sustainable Palm Oil (RSPO), the industry's main certification body. The policies include provisions to protect wildlife-rich rainforests and carbon-dense peatlands, while respecting the rights of local communities.


Indonesia's orangutan action plan failing to save great red apes


(03/24/2014) In December 2007, President Susilo Bambang Yudhoyono launched Indonesia's Strategy and Action Plan for National Conservation of Orangutans. Quoting the president from his speech, 'this will serve as a blueprint for our efforts to save some of our most exotic but endangered wildlife.' Furthermore, the president said that 'the Orangutan action plan formally endorses Indonesia's commitment to orangutan conservation as expressed in 2005 when Indonesia signed the Kinshasa Declaration on the Protection of Great Apes in the Democratic Republic of Congo.'


Meet Iman: the Sumatran rhino's newest hope for survival


(03/24/2014) Hopes for one of the world's most imperiled megafauna rose this month when wildlife conservationists succeeded in catching a female Sumatran rhino named Iman in the Malaysian state of Sabah. The female, which experts believe to be fertile, has since been successfully transferred via helicopter to the Borneo Rhino Sanctuary where experts plan to mate her with the local male, Tam. Located in Tabin Wildlife Reserve, the Borneo Rhino Sanctuary is an uncompleted semi-wild enclosure and home to one of several last-ditch efforts to save the vanishing species from extinction.


The power of connections: India to establish Asia's largest protected forest


(03/21/2014) India has stepped up forest conservation efforts in recent years, with a major project underway to establish a large swath of uninterrupted habitat through the designation of additional protected areas and expanding those already under protection. If realized, these areas would converge to become Asia's largest unbroken forest, encompassing approximately 15,000 square kilometers (5,790 square miles) over three states.


Next big idea in forest conservation? Offer health care for forest protection


(03/21/2014) Dr. Kinari Webb has a superpower: the ability to provide high-quality health care in a remote and rural landscape. And she uses her power not only to save lives, but also to protect the remaining Bornean rainforests. Twenty-one years ago, Kinari Webb traveled to Borneo to work with orangutans. She witnessed the faltering health of both the people and the environment and saw that the two issues were inseparable. When families must choose between the health of their children and the health of the forest that supports them, everyone loses. But in the region of Gunung Palung National Park — where an estimated 10 percent of the world's orangutans live — illegal logging and slash and burn farming methods paid the bills and locals saw few alternatives. Kinari vowed to study medicine and return with more to offer.


Community's push to clear forest for plantation challenges efforts to conserve in Indonesia


(03/20/2014) In the swampy peatlands of Basilam Baru in Sumatra's Riau Province a conflict between a community and a woodpulp company is illustrating some of the intractable challenges of conserving forests and addressing deforestation in Indonesia. On first glance the story seems depressingly familiar. One actor wants to preserve the forest, which serves as critical habitat for endangered Sumatran tigers and clouded leopards. The other wants to clear it for a plantation.


Photos: Forests, peatlands, plantations, and deforestation in Riau


(03/19/2014) Indonesia's Riau Province on the island of Sumatra has experienced rapid deforestation since the early 1990's, with primary forest cover plummeting by 85 percent in twenty years. Most of this forest loss has been driven by plantation development for timber, woodpulp, and palm oil production.


APP pledges to restore forests, if given the opportunity


(03/18/2014) Over the past 20 years, Sumatra's lowland rainforests have been destroyed at a virtually unmatched rate and scale. Since 1990, the island's primary forests shrank by 40 percent while its overall forest cover declined by 36 percent, mostly the result of logging, agricultural expansion, and conversion for oil palm and timber plantations. What little forest does survive is often degraded — today less than 8 percent of Sumatra retains primary forest.


Will zero deforestation commitments save Indonesia's forests?


(03/17/2014) Skirting the Malacca Strait near the Indonesian city of Dumai the air is thick with haze from peat fires burning below. As the sky clears, a landscape of sharply-cut geometric shapes becomes apparent. What was once carbon-dense peat forests and rainforests are today massive oil palm and wood pulp plantations.


Indonesian sugar company poised to destroy half of island paradise's forests


(03/14/2014) An Indonesian plantation company may be preparing to destroy up to half of the natural forests on Indonesia's remote Aru Islands, reports Forest Watch Indonesia. Analyzing land use plans for Aru, Forest Watch Indonesia found that local government officials have turned over 480,000 hectares (1.2 million acres) to 28 companies held by PT. Menara Group, a plantation conglomerate. 76 percent of the area is currently natural forest. Converting the area to sugar plantations would cut Aru's forest cover by half, from 730,000 ha to 365,000 ha.


Indonesia's proposed peat law too weak to protect peatlands, stop haze, says Greenpeace

(03/14/2014) A new regulation aiming to protect peatlands is likely to fall short of its goals, failing to stop peat degradation, emissions, and fires that are driving the current haze crisis in Southeast Asia, asserts a new analysis from Greenpeace.


Sumatra on fire: burning spikes in Indonesia

(03/13/2014) Fires in Sumatra's Riau province have spiked to levels unseen since last June, finds new analysis from the World Resources Institute (WRI) that reveals widespread burning within concessions managed by pulpwood, palm oil, and logging companies.


Indonesia politician gets 14 years in jail for illegal permits, forest corruption


(03/13/2014) The former governor of Indonesia's Riau province has been sentenced to 14 years in prison and ordered to pay almost $90,000 in fines for illegally issuing logging permits in Riau and bribes linked to construction projects for sports facilities. On Wednesday, the anti-corruption court in Pekanbaru found former Riau Governor Rusli Zainal guilty of embezzlement relating to the illegal issuance of logging permits in the central Sumatran province, which has seen huge areas of forest lost to palm oil and pulp and paper companies in recent years.


West Sumatra joins Indonesia's REDD+ program

(03/12/2014) West Sumatra has officially joined Indonesia's effort to cut forest loss as a pilot province under the country's REDD+ program.


Photos: Greenpeace stages protest in rainforest destroyed for palm oil


(03/10/2014) On Monday, Greenpeace activists in Indonesia staged a dramatic protest in an area of rainforest freshly cleared for a new oil palm plantation in Central Kalimantan. The demonstration came under the group's campaign to push consumer products giant Proctor & Gamble (P&G) to strengthen its palm oil sourcing policy to include a zero deforestation commitment like those signed recently by Nestle, Neste Oil, and Kellogg's, among others.


Islamic clerics issue 'fatwa' against poaching, declare the illegal wildlife trade 'haram'


(03/10/2014) Indonesia's Islamic clerics drew praise from conservation groups last week after the top clerical body in the world's largest Muslim-majority country issued a fatwa, or religious decree, against poaching and wildlife trafficking. The Indonesian Council of Ulema (MUI) announced the fatwa on Tuesday, declaring the illegal wildlife trade to be haram, or forbidden under Islamic law. The fatwa forbids Indonesia's Muslims from "all activities resulting in wildlife extinction" and is meant in part to help support existing national laws protecting endangered species, which are poorly enforced and have done little to prevent poaching.


Peatlands biosphere reserve facing severe encroachment in Sumatra

(03/06/2014) An important reserve that contains a block of fast-dwindling lowland swamp forest in Riau Province is facing an onslaught of encroachment for illegal oil palm plantations, worsening choking haze in the region, reports Mongabay-Indonesia.


Clash with palm oil company leaves one indigenous community member dead in Sumatra


(03/06/2014) A member of the Suku Anak Dalam indigenous community was killed and five others were injured during a clash with security forces on an oil palm concession owned by PT Asiatic Persada in Sumatra, reports Mongabay-Indonesia. The incident occurred Wednesday evening in Bungku, Jambi.


NASA photo reveals ongoing haze problem in Sumatra

(03/01/2014) A new satellite image released by NASA highlights Indonesia's ongoing problem with haze caused by land-clearing fires set across carbon-dense peatlands on the island of Sumatra.


Sarawak's top official accused of violating constitution

(02/27/2014) Sarawak Chief Minister Taib Mahmud has been accused of violating Sarawak's constitution by engaging in commercial activities while serving as the state's top official over the past thirty plus years, reports the Bruno Manser Fund, an NGO that campaigns on behalf of Sarawak's forest people.


Procter & Gamble's palm oil suppliers linked to deforestation (photos)


(02/26/2014) A year-long investigation by Greenpeace has found companies that supply Procter & Gamble (P&G) (NYSE:PG) with palm oil are engaged in clearing of rainforests and peatlands in Indonesia, suggesting that Head & Shoulders shampoo and other consumer products made by the company may be linked to forest destruction.


New forest map for Sarawak reveals large-scale deforestation, encroachment on indigenous territories


(02/24/2014) A new online platform released by the Bruno Manser Fund reveals large-scale destruction of Sarawak's rainforests, peatlands, and traditional lands. Drawing from a variety of sources, the Sarawak Geoportal includes data on logging concessions, oil palm plantations, existing and proposed dams, historical forest cover, the extent of indigenous cultivated areas, election results, and area where there are current native customary rights (NCR) disputes.


If Indonesia can't protect its orangutans, why doesn't it just 'sell' them?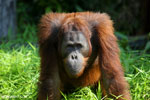 (02/23/2014) It is obvious that at the moment Indonesia neither has the political commitment nor ability to safeguard its dwindling populations of orangutans. Despite its Presidentially supported Action Plan to stabilize all remaining wild populations by 2017, orangutan habitats in Sumatra and Borneo are disappearing as rapidly as ever.


Indonesian cop caught smuggling rare timber worth millions escapes with 2-year sentence


(02/21/2014) Green activists are crying foul after an Indonesian police officer believed to have laundered nearly $128 million in proceeds from illegal fuel and timber smuggling was sentenced to just two years in prison for illegal logging – a verdict described as 'shockingly lenient' and 'unbelievable' given the extent of his alleged crimes


Indonesia pledges to protect manta rays


(02/21/2014) In a move signaling their commitment to CITES agreements on international trade of plants and animals, the Indonesian government declared two species of manta ray 'protected' under Indonesian law. Decree Number 4/KEPMEN-KP/2014 issued by Ministry of Maritime Affairs and Fisheries states that two manta ray species, Manta birostris and Manta alfredi, now enjoy full protection throughout their entire life cycle. The decree explicitly extends that protection to all parts of their body.


APP, environmentalists talk future of Indonesia's forests


(02/20/2014) In February 2013, one of the world's most notorious forestry companies announced it would no longer chop down rainforests and peatlands to produce pulp and paper. The move was met with considerable skepticism by critics who had seen the company break previous high profile commitments to end deforestation. Why would this time be any different?


Uprising against illegal mining in Indonesia pits villagers against miners, police

(02/19/2014) Hundreds of villagers and fishermen on Bangka Island in North Sulawesi attempted to stop a ship owned by PT Mikgro Metal Perdana (MMP) from offloading heavy machinery to be used in mining operations. The Indonesian Supreme Court ruled in November that the company's mining permits, issued by the local government, should be invalidated.


Scientists discover new gecko hanging-on in single forest fragment


(02/17/2014) Scientists have identified a new species of day gecko that is the largest in its genus (Cnemaspis) to be found in Sri Lanka. To date, it has been observed only within the Rammalakanda Reserve in southern Sri Lanka, an area spanning just 1,700 hectares, raising questions about the viability of this population and hence the species' long-term prospects.


Indonesia rejects, delays 1.3m ha of concessions due to moratorium

(02/12/2014) The Indonesian government has rejected nearly 932,000 hectares (2.3 million acres) of oil palm, timber, and logging concessions due to its moratorium on new permits across millions of hectares of peatlands and rainforests, reports Mongabay-Indonesia.


Cambodia protects forest for giant ibis

(02/10/2014) Cambodia has set aside an area of forest just slightly smaller than Singapore to protect the country's national bird: the giant ibis (Thaumatibis gigantea). Listed as Critically Endangered by the IUCN Red List, the giant ibis is down to just a few hundred birds.


Proposed rail and road projects could devastate Nepal's tigers and rhinos


(02/06/2014) Chitwan National Park is a conservation success story. Since its establishment in 1973 the park's populations of both Bengal tigers (Panthera tigris tigris) and one-horned rhinos (Rhinoceros unicornis) have quintupled, a success achieved during a time when both species have been under siege globally by poachers. A UNESCO World Heritage site, the park is also a vital economic resource for locals: last year the park admitted over 150,000 tourists who brought in nearly $2 million in entry fees alone. But all this is imperiled by government plans for a new railway that would cut the park in half and a slew of new roads, according to a group of international conservationists known as the Alliance of Leading Environmental Researchers and Thinkers (ALERT).


Alpine bumblebees capable of flying over Mt. Everest


(02/05/2014) The genus Bombus consists of over 250 species of large, nectar-loving bumblebees. Their bright coloration serves as a warning to predators that they are unwelcome prey and their bodies are covered in a fine coat of hair - known as pile - which gives them their characteristically fuzzy look. Bumblebees display a remarkably capable flight performance despite being encumbered with oversized bodies supported by relatively diminutive wings.


Peatland plantations drive steep GHG emissions in Indonesia's Riau Province


(02/05/2014) Versatile is the best way to describe the reddish brown fruit born from oil palm trees. Both the flesh and seed of the fruit is used in many applications including cooking, cosmetics, and biofuel. In addition, the fruit is composed of 50 percent oil, making it a highly efficient product that requires less land than other oil producing crops.


APRIL's green pledge falls short, say environmentalists

(01/31/2014) Asia Pacific Resources International Holdings Ltd (APRIL), Indonesia's second-largest pulp and paper producer, has announced a new environmental policy that aims to stem criticism about its forestry practices, which include large-scale conversion of rainforests and peatlands in Sumatra. But environmentalists say the pledge falls far short of the commitment made by APRIL's biggest competitor, Asia Pulp & Paper (APP), last year.


Rainforest Alliance to independently audit APP's zero deforestation commitment


(01/29/2014) The Rainforest Alliance has agreed to conduct an audit of Asia Pulp & Paper's progress in implementing the zero deforestation policy the forestry giant signed last year. The deal, announced Thursday in Jakarta, could help boost the credibility of APP's policy, which while heralded as a breakthrough by several environmental groups, is still viewed with skepticism by some prominent critics, who remember past broken commitments from the paper producer.


Predator appreciation: how saving lions, tigers, and polar bears could rescue ourselves


(01/29/2014) In the new book, In Predatory Light: Lions and Tigers and Polar Bears, authors Elizabeth Marshall Thomas, Sy Montgomery, and John Houston, and photographers Cyril Christo and Marie Wilkinson share with us an impassioned and detailed appeal to appreciate three of the world's biggest predators: lions, tigers, and polar bears. Through lengthy discussions, combining themes from scientific conservation to local community folklore, In Predatory Light takes us step by step deeper into the wild world of these awe-inspiring carnivores and their varied plight as they facedown extinction.


Investigation finds Chinese factory slaughters 600 whale sharks a year

(01/29/2014) A four-year investigation by WildLifeRisk, a Hong Kong-based marine conservation group, has found that a single factory in China's Zhejiang Province slaughters some 600 whale sharks a year to produce oil for cosmetics and health supplements.


Feral crèches: parenting in wild India


(01/28/2014) The Wildlife Conservation Society-India has been camera trapping wild animals for over 20 years in the Western Ghats. The results reveal the most intimate, fascinating and sometimes comical insights into animal behavior and ecology. These mammals generally become secretive and protective during parenting, and therefore we seldom get to see little ones in the wild. But discretely placed camera traps have not only caught glimpses of these adorable wild babies, but also produced wonderful family albums!


Cambodian communities best placed to prevent illegal logging


(01/22/2014) A study on deforestation in Cambodia has found that forests are better protected when local communities are given the responsibility to manage them locally. Cambodia has one of the highest rates of deforestation in the world, losing 1.2 per cent each year from 2005-2010. The loss of forests due to illegal logging, commercial agriculture, and other factors can have a devastating impact on local communities, as well as contributing to global climate change. In a country beset by corruption and ineffectual state forest management, alternative models of forest protection are clearly needed.


New frog species discovered on tallest mountain in Indochina


(01/22/2014) A team of Australian and Vietnamese researchers recently discovered a new species of frog in the high elevations of Vietnam's Mount Fansipan, according to a new paper in Zootaxa. The amphibian was named Botsford's leaf-litter frog (Leptolalax botsfordi) as a tribute to Christopher Botsford for his role in amphibian biodiversity research in Asia.


Indonesian logger faces expulsion from business sustainability group

(01/17/2014) Indonesian pulp and paper giant Asia Pacific Resources International Limited (ARPIL) faces expulsion from the World Business Council for Sustainable Development (WBCSD), a body of 200 large companies that have made sustainability commitments, if it fails to stop clearing rainforests and peatlands on the island of Sumatra, reports Greenpeace.


Land conflicts complicate effort to spare forests from palm oil in Borneo


(01/17/2014) A widely-heralded effort to spare carbon-dense rainforests and peatlands from palm oil development in Indonesian Borneo is facing new criticism after an investigation by rights groups found evidence of unresolved conflicts over community land. The report, published Friday by the Forest Peoples Program and TUK-Indonesia, looked at a carbon conservation pilot project run by Golden Agri Resources (GAR), a Singapore-based agribusiness giant that is one of Indonesia's largest palm oil producers.


WALHI Jambi: Forestry giant allegedly evaded $15m in taxes


(01/16/2014) Sinar Mas Group allegedly defrauded the Indonesian government of $15 million by avoiding reforestation taxes on 2,000 hectares in Jambi province. The land is reportedly managed by subsidiaries of Sinar Mas Group which do not have the proper concession permits. The discovery came after analysis of public reports and an audit conducted last year by BPK (The Audit Board of the Republic of Indonesia), as reported by the non-profit Indonesian Forum for the Environment (WALHI), an Indonesian affiliate of Friends of the Earth.


Snow leopards and other mammals caught on camera trap in Uzbekistan (photos)


(01/16/2014) Scientists knew that snow leopards (Panthera uncia) still survived in the Central Asian country of Uzbekistan, but late last year they captured the first ever photos. Camera traps in the Gissar Nature Reserve took photos of the big cats, along with bear, lynx, ibex, wild boar, and other mammals. The camera trap program was led by biologists Bakhtiyor Aromov and Yelizaveta Protas working with Panthera, WWF's Central Asia Program, and Uzbekistan's Biocontrol Agency.


Environmental groups: top secret Pacific trade agreement to sacrifice wildlife, environment

(01/16/2014) Environmental groups have blasted draft text of the Trans-Pacific Partnership (TPP) released yesterday by WikiLeaks as potentially devastating to the environment and wildlife. The massive 12-nation free trade agreement has been negotiated in secret now for almost four years, and the information release by WikiLeaks shows that key environmental safeguards in the agreement are being stripped away, including a ban on shark finning and illegal logging, as well as legally-enforced pollution regulations.


German government gives tigers $27 million

(01/14/2014) At a summit in 2010, the world's 13 tiger range states pledged to double the number of tigers (Panthera tigris) in the wild by 2020. Today, non-tiger state Germany announced its assistance toward that end. Through its KfW Development Bank, the German government has pledged around $27 million (20 million Euro) to a new program run by the International Union for Conservation of Nature.


Indonesia police nab illegal wildlife traffickers in sting operation


(01/12/2014) Police in Indonesia's Aceh province have arrested two wildlife trafficking suspects allegedly behind five tiger poaching rings operating in the forests of northern Sumatra. The arrests followed a months-long investigation and an undercover sting operation in which police seized thousands of dollars worth of illegal animal parts.


Not seen in over 130 years, 'extinct' frog rediscovered in Sri Lanka


(01/10/2014) In 1876—the same year that the first telephone call was made—the British scientist Albert Günther described a new species of frog from Sri Lanka, but the species, known as the webless shrub frog (Pseudophilautus hypomelas), was never seen again. Having disappeared into history, scientists considered the species extinct—that is until a 2010 expedition stumbled on 40 mystery frogs.


In precedent-setting case, palm oil company fined $30M for destroying orangutan forest


(01/09/2014) In a precedent-setting case, an Indonesian court has found a palm oil company guilty of violating environmental laws and ordered it to pay $30 million in fines and reparations for clearing an area of protected peat forest that is a stronghold for endangered orangutans in Indonesia's Aceh Province. In a ruling handed down Wednesday, the Meulaboh district court concluded that PT Kallista Alam illegally cleared and burned forest within the the protected Tripa peat swamp in northwestern Sumatra.


Requiem or recovery?: the Sumatran rhino 200 years after its description


(01/08/2014) In 1893, William Bell, a surgeon in the service of the Dutch East India Company stationed in Bencoolen, Sumatra, examined the body of a dead rhinoceros. The animal, a male, was relatively small as rhinoceroses go, measuring only four feet four inches at the shoulder and eight feet five inches from its nose to the tip of its tail. Dr. Bell noted that the animal resembled a large hog and judged it to be a young individual based upon the condition of the bones and teeth.


Company accused of logging endangered rainforest trees in breach of timber legality certificate


(01/07/2014) An Indonesian wood supplier that was recently certified under the country's legal timber verification scheme has been clearing natural forests – including stands of endangered ramin trees – and draining peat swamps on its concession, alleges a local environmental watchdog. The company, the group says, is also implicated in corruption linked to its concession permit. The organization is calling for the company's legal timber certification to be revoked and urging auditors not to issue legality certificates to companies involved in corruption.


Rainforest news review for 2013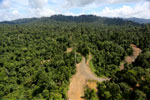 (12/26/2013) 2013 was full of major developments in efforts to understand and protect the world's tropical rainforests. The following is a review of some of the major tropical forest-related news stories for the year. As a review, this post will not cover everything that transpired during 2013 in the world of tropical forests. Please feel free to highlight anything this post missed via the comments section at the bottom. Also please note that this review focuses only on tropical forests.


World first: Russia begins pumping oil from Arctic seabed

(12/23/2013) Oil has begun to be pumped from the Arctic seabed, according to Russian oil giant, Gazprom. The company announced on Friday that it has begun exploiting oil reserves at the offshore field of Prirazlomnoye. The project, which is several years behind schedule, is hugely controversial and made international headlines in September after Russian military arrested 28 Greenpeace activists protesting the operation along with a British journalist and Russian videographer.


Unraveling the secrets of one of the world's most mysterious big cats


(12/22/2013) The Sunda clouded leopard has always been shrouded in mystery. Only declared a separate species from its mainland cousin, the Borneo clouded leopard, in 2006, the IUCN lists the cat as Endangered. The distinction between the Borneo clouded leopard (Neofelis nebulas) and the Sunda clouded leopard (Neofelis diardi) was made by ground-breaking molecular coding technologies and anatomy studies of the two species. Although it is Borneo's largest predator, very little is known about the Sunda leopard. As a medium-sized, well-camouflaged and mostly nocturnal animal, the leopard has evaded researchers since its discovery eight years ago.


Anti-elephant poaching story goes viral in China


(12/20/2013) A newspaper story about the impact of the ivory trade has gone viral in China, raising awareness among millions of Chinese, reports the Wildlife Conservation Society (WCS). The story, published November 15 in Southern Weekly, has been shared widely across Chinese web sites and social media.


Indonesia appoints head of REDD+ agency to implement forest conservation plan


(12/20/2013) Indonesia has selected the first chief of its new REDD+ agency: Heru Prasetyo, an administrator and former private sector management consultant, reports Indonesian President Susilo Bambang Yudhoyono's office. Prasetyo will take up the challenging task of implementing Indonesia's REDD+ program, which aims to steer the Southeast Asian nation away from business-as-usual management of its fast dwindling forests. The REDD+ program is part of the broader government plan to cut Indonesia's greenhouse has emissions by at least 26 percent from a projected 2020 baseline.


UN raps Malaysia on palm oil abuses, risks

(12/19/2013) Malaysia's push to join the ranks of rich countries shouldn't come at the expense of the environment or the vulnerable groups, warned a U.N. expert after a visit to the Southeast Asian nation.


Little elephant is the first scientific record of dwarfism in the wild


(12/19/2013) Biologists in Sri Lanka have published the first documented evidence of dwarfism in an adult wild animal. A male Asian elephant (Elephas maximus) measuring just over 1.5 meters (five feet) in height was seen in an aggressive encounter with another male of average size. The elephant's small stature was due to disproportionately short legs, according to the findings published in the IUCN/SSC Asian Elephant Specialist Group journal Gajah. "The 'dwarf' was by far the main aggressor in the altercation and appeared to be older than the other, a young adult," states the study. "Other than for the disproportionately short legs, morphologically and behaviorally the dwarf appeared normal."


Top 10 HAPPY environmental stories of 2013


(12/19/2013) China begins to tackle pollution, carbon emissions: As China's environmental crisis worsens, the government has begun to unveil a series of new initiatives to curb record pollution and cut greenhouse emissions. The world's largest consumer of coal, China's growth in emissions is finally slowing and some experts believe the nation's emissions could peak within the decade. If China's emissions begin to fall, so too could the world's.


Ongoing deforestation reported in Borneo concession held by APP supplier


(12/18/2013) Up to 1,400 hectares of forest have been cleared in a concession belonging to an Asia Pulp & Paper (APP) supplier in Borneo, potentially putting the company in breach of the forestry giant's zero deforestation commitment, reports a coalition of local NGO's. In a report released Tuesday, Relawan Pemantau Hutan Kalimantan (RPHK), a coalition of NGO's in part supported by WWF-Indonesia, said that blocks of natural forest have been cleared in a concession belonging to PT Daya Tani Kalbar (DTK), an APP supplier. The clearing has taken place since APP's moratorium went into effect February 1, 2013.


World suffers warmest November on record


(12/18/2013) Last month was the warmest November on record, according to new analysis from the NOAA. Temperatures were 0.78 degrees Celsius (1.40 degrees Fahrenheit) above the average November in the 20th Century. Global temperatures are on the rise due to climate change caused primarily by burning fossil fuels, but also by deforestation and land-use change.


Asian elephants depend on shifting cultivation during the dry season

(12/16/2013) Asian elephants (Elephas maximus) have co-existed with human practices for thousands of years, including shifting cultivation. Shifting agriculture encompasses a variety of different practices that involve abandoning plots for periods of time to allow natural vegetation to grow. The practice consists of cutting and burning the natural vegetation at the end of the dry season and cultivating with the rains. Harvesting is completed by the end of the wet season.


A bird's eye view of hornbills in northeast India


(12/16/2013) Hornbills are as peculiar, as they are magnificent. Their calls especially, can sound rather strange to the uninitiated - some grunt, some growl, and some cackle maniacally. These queer birds, with their large brightly-colored curved beaks, and a distinctive cavity-nesting habit, are also totem animals for many tribes in India.


Indonesian palm oil company demolishes homes and evicts villagers in week-long raid


(12/14/2013) Nearly 150 homes were reportedly destroyed in the latest incident in a long-standing conflict between indigenous Batin Sembilan residents and former Wilmar unit PT Asiatic Persada. Indonesian security forces allegedly stormed several villages inside a Sumatran palm oil plantation concession last weekend and earlier this week, accompanying company staff and hired thugs accused of destroying dozens of homes and looting residents' property.


Big data shows tropical mammals on the decline


(12/12/2013) The world's largest remote camera trap initiative—monitoring 275 species in 17 protected areas—is getting some big data assistance from Hewlett-Packard (HP). To date, the monitoring program known as the Tropical Ecology Assessment and Monitoring (TEAM) Network has taken over 1.5 million photos of animals in 14 tropical countries, but conservationists have struggled with how to quickly evaluate the flood of data.


Logging kingpin linked to kidnapping, violent assault seeks legitimacy via IPO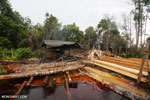 (12/11/2013) A businessman whose company kidnapped and violently assaulted environmentalists investigating illegal logging in a national park is set to earn millions of dollars from Thursday's initial public offering of Sawit Sumbermas Sarana, a palm oil company with holdings in Indonesian Borneo. Environmentalists are warning responsible investors to steer clear of the IPO.


Environmentalists call for recognition of orangutan, rhino habitat as heritage site

(12/11/2013) Environmentalists in Indonesia's Aceh Province are calling upon the local governor to nominate the Leuser Ecosystem as a UNESCO World Heritage Site to help protect the area — one of the last places where rhinos, elephants, tigers, and orangutans share the same habitat — from new legislation that would grant large blocks of forest for logging concessions, mining, and industrial plantations.


Indonesia urged to implement decision recognizing indigenous rights to land


(12/10/2013) Indigenous rights groups are circulating a petition asking the Indonesian government to immediately implement a court ruling that would take management of million of hectares of customary forest out of the hands of the Ministry of Forestry and turn it over to traditional communities. The petition was posted on Change.org by Indigenous Peoples Alliance of the Archipelago (AMAN).


Top 10 Environmental Stories of 2013


(12/10/2013) 1. Carbon concentrations hit 400ppm while the IPCC sets global carbon budget: For the first time since our appearance on Earth, carbon concentrations in the atmosphere hit 400 parts per million. The last time concentrations were this high for a sustained period was 4-5 million years ago when temperatures were 10 degrees Celsius higher. Meanwhile, in the slow-moving effort to curb carbon emissions, the Intergovernmental Panel on Climate Change (IPCC) crafted a global carbon budget showing that most of the world's fossil fuel reserves must be left untouched if we are to avoid catastrophic climate change.


APP's Borneo expansion to be constrained by forest conservation policy


(12/04/2013) Asia Pulp & Paper (APP) will not convert any blocks of forest found to have high conservation value or substantial carbon stocks as it expands in Indonesian Borneo, according the forestry giant's managing director of sustainability. Responding to a report published by Greenomics, Aida Greenbury said APP's 10-month-old forest conservation policy applies to four suppliers operating in East and West Kalimantan.


Sri Lankan elephant amnesty will lead to poaching, warn conservationists


(12/03/2013) Environmentalists have responded with alarm to a proposed amnesty permitting the registration of illegally captured elephants in Sri Lanka. Recent reports in Sri Lankan media have outlined the proposal, stating that during the amnesty period it would be possible to register elephant calves for a fee of about $7,600. Elephants are closely linked with Sri Lankan history and culture, and are considered sacred in both Buddhism and Hinduism. But the situation for elephants in the country is complicated.


Plantations used as cover for destruction of old-growth forests in Myanmar

(12/02/2013) As Wild Burma: Nature's Lost Kingdom airs on the BBC, the forests documented in the series are increasingly being cut down, according to a new report by U.S. NGO Forest Trends. The report alleges that wide swathes of forest are being cleared in ethnic minority areas of Myanmar (also known as Burma), ostensibly for palm oil and rubber plantations. However after the lucrative timber is extracted, the report finds little evidence that the companies involved are serious about establishing plantations.


New project works to raise the profile of the world's littlest bear


(12/02/2013) The world's least-known bear also happens to be the smallest: sun bears (Helarctos malayanus), so called for the yellowish horseshoe mark on its chest, are found across Southeast Asia. But despite their telltale markings, super-long tongues, and endearing cuteness, sun bears remain little-studied and little-known compared to many of the region's other large mammals. Now, a new project is working to raise the profile of the sun bears of Borneo—Survival of the Sun Bears—which are a smaller subspecies of the mainland animals.


Hedge fund downgrades stock over company's links to illegal logging in Russian Far East


(12/02/2013) A hedge fund manager has downgraded Lumber Liquidators' stock over the company's alleged links to illegal logging in the Russian Far East, reports The Wall Street Journal. Speaking at the Robin Hood Investors Conference on November 22, Whitney Tilson, the founder of Kase Capital Management, said Lumber Liquidators' stock price may be inflated due to purchases of illegally sourced timber from Russia.


Palm oil company Bumitama under fire for clearing rainforest, endangering orangutans


(12/02/2013) Bumitama Agri, an Indonesian palm oil producer, is breaking the law by clearing forests and developing plantations without the proper licenses, a coalition of NGOs said in a report released on Nov. 21. The groups have called on financiers to either force Bumitama to shape up or cut ties with the company and with global palm oil traders such as Wilmar and IOI that do business with Bumitama.


Camera traps reveal Amur leopards are breeding in China (photos)


(11/26/2013) Good news today about one of the world's rarest mammals: camera traps in China's Wangqing Nature Reserve have captured the first proof of breeding Amur leopards in the country, according to the Wildlife Conservation Society (WCS). The photos show a mother Amur leopard with two cubs. A recent survey by WWF-Russia estimated the total wild population of Amur leopards at just 50 individuals, but that's a population on the rise (from a possible nadir of 25) and expanding into long-unused territory.


Indonesia's national airline carrier bans shark fins


(11/23/2013) Indonesia's national carrier Garuda Indonesia has joined a growing number of airlines looking to curb the international shark fin trade by banning the transport of shark fins and other shark products on their aircraft. The airline had previously transported 36 tons of shark fin products a year, the conservation group said in a media release on Nov. 15.


Greenpeace photos expose palm oil giant's deforestation in Indonesia


(11/22/2013) A series of photos released this week by Greenpeace shows that an Indonesian palm oil company is continuing to clear orangutan habitat in Borneo despite a pledge to stop destroying the forest. Flyovers of a concession owned by PT Andalan Sukses Makmur, a subsidiary of Bumitama Agri Ltd, show excavators clearing peat forests and digging drainage canals just outside Tanjung Puting National Park in Central Kalimantan. Tanjung Puting is famous for its population of orangutans that have been intensely studied by Birute Galdikas, a noted researcher and conservationist.


Satellites reveal browning mountain forests


(11/22/2013) In a dramatic response to global warming, tropical forests in the high elevation areas of five continents have been "browning" since the 1990s. They have been steadily losing foliage, and showing less photosynthetic activity. Scientists analyzed the forest cover by using satellites to measure sunlight bouncing off the surface of the earth, then determining the different surface types via reflection patterns.


Asia's most precious wood is soaked in blood


(11/21/2013) Deep in the tropical forests of Southeast Asia grows a rare and beautiful tree whose wood is so highly prized that men will kill to possess it. Wild rosewood, famous since antiquity in China and Japan for its unique, blood-hued luster and intricate grain, was once only used for the finest religious statues and princely ornaments. Now, China's nouveau riche lust for decorative baubles and furniture made of rosewood as a sign of status leading to a massive surge in demand for this precious timber that shows no signs of abating. In just a few short years the price has skyrocketed from just a hundred dollars a cubic meter to over $50,000 today.


Mining the Heart of Borneo: coal production in Indonesia


(11/20/2013) Indonesia is the world's top exporter of coal – supplying energy to China, India, and elsewhere. Indonesia is also ranked the fourth top emitter of greenhouse gases in the world (after China, the USA, and the European Union), largely due to high deforestation rates and peatland fires. This ranking does not take into consideration the carbon emissions that Indonesia 'exports' in the form of coal.


Palm oil workers stage massive protest at sustainability meeting in Indonesia


(11/19/2013) Protesters from 10 Indonesian labor unions and four NGOs descended on the Roundtable on Sustainable Palm Oil (RPSO) meetings in Medan last Tuesday, urging the industry body to take serious steps to end what they claim is rampant abuse of workers on RSPO-certified plantations.


Japan pledges to raise carbon emissions, instead of cutting them

(11/18/2013) In 2009, Japan pledged to cut its carbon emissions by 25 percent based on 1990 levels within 11 years. Four years later—including a nuclear meltdown at Fukushima—and Japan has reset its goal with a new target to cut emissions by 3.8 percent based on 2005 levels at the UN Climate Summit in Warsaw, Poland. But, the new target, which received widespread condemnation when announced on Friday, actually results in a 3.1 percent rise in emissions when viewed from the widely-accepted 1990 baseline.


World's most vulnerable nation to climate change turns to coal power


(11/18/2013) In October, a global risks analysis company, Maplecroft, named Bangladesh the world's most vulnerable nation to climate change by 2050. The designation came as little surprise, since Bangladesh's government and experts have been warning for years of climatic impacts, including rising sea levels, extreme weather, and millions of refugees. However, despite these very public warnings, in recent years the same government has made a sudden turn toward coal power—the most carbon intensive fuel source—with a master plan of installing 15,000 megawatts (MW) of coal energy by 2030, which could potentially increase the country's current carbon dioxide emissions by 160 percent.


Malaysia has the world's highest deforestation rate, reveals Google forest map


(11/15/2013) Malaysia had the world's highest rate of forest loss between 2000 and 2012, according to a new global forest map developed in partnership with Google. Malaysia's total forest loss during the period amounted to 14.4 percent of its year 2000 forest cover. The loss translates to 47,278 square kilometers (18,244 square miles), an area larger than the country of Denmark.



Page 1 | Page 2 | Page 3 | Page 4 | Page 5 | Page 6 | Page 7 | Page 8 | Page 9 | Page 10 | Page 11 | Page 12 | Page 13 | Page 14 | Page 15 | Page 16 | Page 17