News articles on animals

---
Mongabay.com news articles on animals in blog format. Updated regularly.





Population of Asian elephants discovered in Malaysian park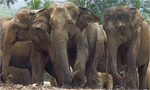 (01/15/2009) A population of 631 Asian elephants has been documented in Malaysia's Taman Negara National Park, reports the Wildlife Conservation Society (WCS). The population may be the largest in Southeast Asia. Scientists from WCS and Malaysia's Department of Wildlife and National Parks (DWNP) counted elephant dung piles to estimate the protected area's population size. There were no previous scientific population surveys for elephants in the park.


Gorilla ranger killed in Congo

(01/12/2009) A wildlife ranger has paid the ultimate price in the effort to protect endangered mountain gorillas in Democratic Republic of Congo, reports Wildlife Direct, a group that promotes wildlife protection through blogs by rangers and conservationists. Ranger Safari Kakule was killed by a rebel forces during an attack on the evening of January 8 in Congo's Virunga National Park. Safari, along with six other rangers, were attacked while on patrol. They were "far outnumbered" by armed members of the Mai Mai militia according to Wildlife Direct.


17 new reptile and amphibian species discovered in Tanzania


(01/04/2009) 17 previously unknown species of reptiles and amphibians have been discovered in the rainforests of eastern Tanzania, report Italian and Tanzanian scientists. Conducting surveys of the 'virtually unexplored' forests of the South Nguru Mountains between 2004 and 2006, Michele Menegon of the Natural Science Museum of Trento in Italy and colleagues recorded 92 species of 'herps', of which 17 had never before been documented. The new species — which include chameleons, tree frogs, and snakes, among others — are believed to be endemic to the region.


Did cheetah come from China?


(12/30/2008) The discovery of a fossilized big cat skull in northwestern China provides new evidence that cheetah originated in the Old World, rather than the Americas, report scientists writing in the journal Proceedings of the National Academy of Sciences.


Reindeer, a symbol of the holidays, is under increasing threat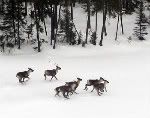 (12/26/2008) Reindeer are beloved in the holiday season for the mystical role they play in guiding Santa from the North Pole to the world's chimneys. However, according to a new book, reindeer, more commonly referred to as caribou, face increasing pressures from a variety of sources. The new book entitled, Caribou and the North: A Shared Future, draws an intimate portrait of the only deer species where both male and females sport horns, while outlining the dangers which may lead these unique animal to become globally endangered.


Malaysia seeks to reverse collapse of tiger population due to poaching, logging, palm oil

(12/23/2008) A new law seeks to double Malaysia's tiger population to 1,000 by 2020, reports BBC News.


Photos: Google Earth used to find new species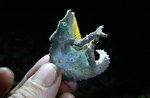 (12/22/2008) Scientists have used Google Earth to find a previously unknown trove of biological diversity in Mozambique, reports the Royal Botanic Gardens in Kew. Scouring satellite images via Google Earth for potential conservation sites at elevations of 1600 meters or more, Julian Bayliss a locally-based conservationist, in 2005 spotted a 7,000-hectare tract of forest on Mount Mabu. The scientifically unexplored forest had previously only been known to villagers. Subsequent expeditions in October and November this year turned up hundreds of species of plants and animals, including some that are new to science.


Visiting New Mexico's Crane festival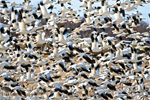 (12/21/2008) It's six in the morning; the Southwest sky is rich in hues of yellow and red, yet despite the warm colors the air is cold and brisk enough that my toes have begun to go numb. We have been waiting nearly a half-hour for the light and warmth of morning to wake-up thousands of cranes and tens of thousands of snow geese. But so far, despite the glimmer growing across the sky, there isn't a bird in sight. Every winter cranes and snow geese migrate from Montana, Idaho, Canada, and Alaska to Bosque del Apache, a National Wildlife Refuge in Central New Mexico. For the past twenty-one years the refuge has celebrated the bird migration with a Festival of the Cranes. People travel from around the state (and country) to see the Southwest skies fill with birds. The festival lasts a week and includes educational stands, social gatherings, tours, hikes, and speakers on natural history and the environment. For this one week the small town of Socorro becomes overrun with birders, scientists, and tourists.


Green-blooded, blue-boned frog discovered in Cambodia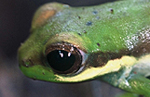 (12/18/2008) Researchers have discovered a previously unknown species of frog in Cambodia. The amphibian is unusual in that is has green blood and turquoise-colored bones, a result of its transparent skin and a pigment that may make the species unpalatable to predators, according to Fauna & Flora International (FFI).


Climate change, ocean acidification may doom jumbo squid

(12/15/2008) Ocean acidification — driven by rising carbon dioxide levels in the atmosphere — may hurt the Humboldt squid, report researchers writing in the journal Proceedings of the National Academy of Sciences.


Photos of new species discovered in the Greater Mekong

(12/15/2008) More than 1,000 previously unknown species have been discovered in the Greater Mekong, a region comprising Cambodia, Laos, Myanmar (Burma), Thailand, Vietnam and the Yunnan Province of China, in the past decade, according to a new report from WWF.


Neither slow nor stupid, manatees are killed by boats because they can't hear them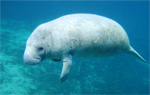 (12/12/2008) Last year 73 manatees were killed by boats in Florida, despite two decades of manatee-related protections. In fact, manatee deaths due to boat collisions have only increased since protections were implanted. A recent study at the Florida Atlantic University has finally revealed why boats are so dangerous to manatees: the manatee cannot run from what it does not hear.


Elephants die significantly earlier in zoos than in wild

(12/11/2008) A new study from Science provides disturbing evidence that one of the zoos' most popular animals, the elephant, faces a far shorter lifespan in captivity than in the wild. The findings raise new ethical and scientific questions regarding the rightness of keeping elephants in captivity and the causes of their shorter life-spans.


Chad's elephant population falls by two-thirds in two years

(12/11/2008) Civil strife of Chad — a consequence of the calamity in Darfur — is taking a toll on the country's elephant population, reports the Wildlife Conservation Society (WCS) which has launched an emergency appeal for funds to support conservation efforts in the country.


Why do different species of bird lay different numbers of eggs?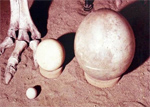 (12/10/2008) Clutch size varies greatly between bird species. Researchers now have a better idea why. Analyzing data on clutch size, biology, and habitat for 5,290 species of birds, a team of biologists — Walter Jetz (UC San Diego), Cagan H. Sekercioglu (Stanford University), and Katrin Böhning-Gaese (Johannes Gutenberg-Universität) — developed a model to predict variations in the number of eggs a species lays. They found clutch sizes are consistently largest in cavity nesters and in species occupying seasonal environments. The findings add depth and complexity to previous research that has shown short-lived species — ones that face high predation or have low survival rates among offspring — tend to lay more eggs than longer-lived species, which invest more resources in raising their offspring.


Fear and conservation

(12/10/2008) How does fear shape the behavior and conservation of deer, moose and antelope, not to mention carnivores such as wolves, bears, and even tigers? What is the natural state of wildlife, and how do animals know or learn which species to ignore or fear? Should we reintroduce predators to former habitats, even though the prey animals may be unprepared for their return?


TV footage leads to discovery of strange and rare monkey

(12/04/2008) After showing archival TV footage of a critically endangered species of primate to local villagers, conservationists have discovered a previously unknown population of the Tonkin snub-nosed monkey in a remote forested area of northern Vietnam. The find the offers new hope for the species, which is down to 200 individuals in two of Vietnam's northern-most provinces — Tuyen Quang and Ha Giang.


Manatees become conservation symbol for communities in Mexico

(12/01/2008) Local conservation efforts are helping protect endangered manatees in Chiapas, Mexico, report researchers writing in the December issue of Tropical Conservation Science.


Japanese scientists clone embryo of vanishing 'living fossil'

(11/28/2008) With less than 5,000 Amami rabbits left in Japan, scientists have implanted a cloned embryo of the species into a common rabbit according to a recent entry in the EDGE blog. The scientists hope that the Amami will come to full-term, but warned that the possibility of pregnancy was only 10 percent—not uncommon with other cloned animals.


New hope of curing amphibian plague

(11/28/2008) Amphibians worldwide are in trouble. One of the most endangered animal groups, amphibians are increasingly threatened by habitat loss, pollution, and climate change. However the largest threat is chytridiomycosis, a devastating disease caused by a parasitic chytrid fungus known as Batrachochytrium dendrobatidis, otherwise known as Bd.


A new reason to ban whaling: your health

(11/28/2008) Health officials have recommended a ban on the eating of pilot whales, a traditional food source, in the Faroe Islands, reports New Scientist. The build-up of toxins — which bioaccumulate up the food chain as predators feed on tainted organisms — have rendered whale meat harmful to humans.


Invasive ant interferes with gecko's role in pollinating endangered plant

(11/28/2008) Invasive ants are destroying the symbiotic relationship between a colorful gecko and a critically endangered flower on the island of Mauritius, reports New Scientist citing research published by Dennis Hansen and Christine Müller in the journal Biotopica.


Captive breeding of monster Amazon fish could feed people and save it from depletion

(11/26/2008) A new technique for sexing a giant Amazon fish may help create a sustainable source of protein in South America, report researchers writing in Fish Physiology and Biochemistry.


Madagascar denies 'land grab' by South Korean conglomerate

(11/22/2008) Officials from Madagascar are denying they have reached an agreement to turn over half the island nation's arable land to a South Korean corporation for food production, reports Reuters. The controversial deal — which would have paid Madagascar nothing and turned over 1.3 million hectares to produce corn and palm oil for export at a time when one-third of country's children are malnourished — was reported last week by the Financial Times.


A cure for the Tasmanian devil's strange and fatal cancer?

(11/21/2008) Researchers have announced that two Tasmanian devils have survived a cancer devastating their species after receiving inoculations of dead tumor cells, according to the International Herald. However, the inoculations have not worked on every devil – despite being inoculated four devils died from the cancer during the work.


Bush seeks to gut endangered species protections in final weeks

(11/20/2008) The Bush Administration is expected to publish rules that relax protections for endangered species ahead of tomorrow's deadline in order for them to take effect immediately, reports the Associated Press.


Photos of living gremlin discovered in Indonesia

(11/19/2008) Scientists have rediscovered a long-lost species of primate on a remote island in Indonesia. Conducting a survey of Mount Rore Katimbo in Lore Lindu National Park on the island of Sulawesi, a team led by Sharon Gursky-Doyen of Texas A&M University captured three pygmy tarsiers, a tiny species of primate that was last collected in 1921 and was assumed to be extinct until 2000 when two scientists studying rats accidently trapped and killed an individual. Gursky-Doyen's team spent two months using 276 mist nets to capture the gremlin-like creatures so they could be fitted with radio collars and tracked. One other individual was spotted but eluded capture.


Studying world's rarest penguin leads to the discovery of a new species

(11/19/2008) Researching one of the world's most endangered penguins in New Zealand, the yellow-eyed penguin, has led to a remarkable discovery. DNA from 500-year-old penguin fossils has shown that the country was once home to not just one penguin species, but two. The DNA has resurrected an unknown extinct penguin, which researchers have named the Waitaha Penguin.


Mosques Support Sea Turtle Conservation in Malaysia

(11/17/2008) This week almost 500 mosques around the Malaysian state of Terengganu will present sermons on turtle conservation, reported the New Strait Times.


Cheetah conservationist awarded for renewable energy product that helps wildlife

(11/14/2008) Dr. Laurie Marker, founder and Executive Director of the Cheetah Conservation Fund (CCF), has been awarded $50,000 by the Tech Museum of Innovation for her organization's Bushblok program which uses a high-pressure extrusion process to convert invasive, habitat-destroying bush into a clean-burning fuel log. Bushblok provides an alternative to products such as firewood, coal, lump charcoal and charcoal briquettes that are costly or result in environmental harm.


Rare rhino rat snake hatches in London zoo

(11/13/2008) With its characteristic horn, the endangered rhino rat snake has been bred in a European zoo for the first time.


Scientists can't explain cause of amphibian extinction crisis

(11/13/2008) Scientists have yet to conclusively explain the underlying cause of global declines in amphibian populations, according to a study published in the journal Proceedings of the National Academy of Sciences. The research says that two leading theories for the demise of amphibians — both related to the emergence and spread of the deadly chytrid fungus — are not supported by scientific data.


Prioritizing amphibian species for captive breeding to save them from extinction

(11/13/2008) Frogs, toads, salamanders and other amphibians are disappearing at an alarming rate. Of approximately 6,000 amphibian species in the world, about one third are classified as threatened or endangered. A disease caused by a chytrid fungus has devastated frogs living in mid to high elevation streams worldwide. Amphibians also face habitat destruction as forests and wetlands are developed and polluted by agricultural chemicals. In Panama, highland frog populations west of the Canal have declined at an alarming rate.


Caspian seal numbers plummet 90%

(11/12/2008) Caspian Seal populations have declined 90% in the past 100 years, prompting the IUCN to switch their designation from Vulnerable to Endangered.


New species of flying lemurs discovered

(11/10/2008) A new study has found that colugos or flying lemurs are twice as diverse as previously believed.


Hundreds of rare and bizarre marine species discovered

(11/09/2008) The evolutionary origin of deep sea octopuses, new species populating an underwater "continent", 12,000 amphipods crowding a square meter in the Gulf of Mexico, massive gatherings of white sharks in the middle of the Pacific: these are just a few highlights from the Census of Marine Life (COML)'s fourth report.


New gecko species discovered

(11/08/2008) A previously unknown species of gecko has been discovered in the South Pacific by French scientists, reports the Associated Press.


South Africa auctions last of 'legal' elephant ivory to China, Japan

(11/07/2008) South Africa sold 47 metric tons of elephant ivory to Chinese and Japanese buyers for $6.7 million in what was the final of four auctions sanctioned by CITES, an international agreement on the wildlife trade.


20 convicted for poaching Asiatic lions in their last refuge

(11/06/2008) Twenty people have been convicted for poaching Asiatic lions last year in India's Gir National Park. The twenty individuals will spend three years in prison and be fined 10,000 Rs each.


Missing gorilla rangers return safely in Congo, one dies of cholera in camp

(11/06/2008) All of the missing rangers have now been accounted for after they fled Virunga Park Headquarters in the Democratic Republic of Congo (DRC). The headquarters was seized by rebels led by Laurent Nkunda on October 26th.


Brazil triples endangered species list

(11/05/2008) Brazil has nearly tripled the number of species on its endangered list due to development, overfishing, pollution, wildlife trafficking and deforestation, reports the Associated Press.


Endangered wildlife in Malaysia falls victim to rampant poaching due to 'outdated' laws

(11/04/2008) In the face of rampant poaching of endangered animals, conservationists are calling for Malaysia to reform its 36-year-old wildlife protection law.


Two new species of gecko discovered in Australia

(10/31/2008) Two species of gecko have been discovered in the southern deserts of Western Australia and South Australia, report researchers from the Western Australian Museum.


Massive bat species returns from the brink of extinction

(10/31/2008) A critically endangered bat species has made a dramatic recovery from the brink of extinction, report conservationists.


Elephant ivory auction produces low prices, controversy

(10/30/2008) The first internally-sanctioned auction of elephant ivory since 1999 produced lower-than-expected prices, but plenty of controversy, reports Reuters.


U.S., Mexico, Canada pledge to save the vaquita from extinction

(10/30/2008) The United States, Mexico, and Canada will work together to conserve the vaquita, the world's smallest, and most endangered, species of cetacean.


39 rangers missing in Virunga Park after headquarters overtaken by rebels

(10/30/2008) Five days after rebels occupied Virunga Park's headquarters, thirty-nine wildlife rangers are still unaccounted in the Democratic Republic of Congo (DRC). During the takeover, which included fighting between the Congolese army and the rebels, many of the rangers fled into the forest.


Researchers catch, then release, world's rarest big cat in Russia

(10/30/2008) The world's rarest big cat is alive and well. At least one of them, that is, according to researchers from the Wildlife Conservation Society (WCS) who captured and released a female Far Eastern leopard in Russia last week. The capture was made in Primorsky Krai along the Russian-Chinese border by a team of scientists from WCS and the Russian Academy of Sciences Institute of Biology and Soils (IBS). The team is evaluating the health and potential effects of inbreeding for this tiny population, which experts believe contains no more than 10-15 females.


U.S. Fish and Wildlife Service program restores bird habitat on farms and ranches

(10/28/2008) Matt Filsinger is driving his white pickup headed northeast from Sterling to look at two of his projects. This self-described introvert speaks enthusiastically about his job. "Ducks, ducks, ducks – that's what I love!" says Filsinger, grinning broadly. Filsinger is a wildlife biologist with the Partners for Fish and Wildlife Program of the U.S. Fish and Wildlife Service. He works with private landowners to set aside land and create attractive habitat for imperiled species. Specifically, he designs wetlands to attract waterfowl. Partners for Fish and Wildlife is a successful program that has been around since 1987. Landowners, including farmers and ranchers, form partnerships with the program because they reap a variety of benefits from it. Nonprofit organizations such as Ducks Unlimited, Audubon and the Rocky Mountain Bird Observatory are also partners. Collaboration between the federal government and private landowners is essential to preserving habitat and species, as 73 percent of the country's land is privately owned, and most wildlife lives on that land.


Mystery cat discovered in Ecuador is likely a pampas cat according to expert

(10/28/2008) Two years ago a mysterious wild cat was spotted in Peru. The cat was photographed recently by Aldo Sornoza of Fundacion Jocotoco (FJ) in Ecuador's Jorupe Reserve, close to the Peruvian border.



Page 1 | Page 2 | Page 3 | Page 4 | Page 5 | Page 6 | Page 7 | Page 8 | Page 9 | Page 10 | Page 11 | Page 12 | Page 13 | Page 14 | Page 15 | Page 16 | Page 17 | Page 18 | Page 19 | Page 20 | Page 21 | Page 22 | Page 23 | Page 24 | Page 25 | Page 26 | Page 27 | Page 28 | Page 29 | Page 30 | Page 31 | Page 32 | Page 33 | Page 34 | Page 35 | Page 36 | Page 37 | Page 38 | Page 39 | Page 40 | Page 41 | Page 42 | Page 43 | Page 44 | Page 45 | Page 46 | Page 47