News articles on animal behavior

---
Mongabay.com news articles on animal behavior in blog format. Updated regularly.





Wonderful Creatures: meet the beetle-riding arachnid


(03/06/2014) Without wings, smaller terrestrial animals are really restricted when it comes to moving long distances to find new areas of habitat. However, lots of species get around this problem simply by clinging on to other, more mobile animals. The common, yet overlooked pseudoscorpions are among the most accomplished stowaways, one of which (Cordylochernes scorpiodes) has forged a fascinating relationship with the harlequin beetle, a large, strikingly colored insect.


Featured video: camera traps catch jaguars, anteaters, and a sloth eating clay in the Amazon rainforest

(02/13/2014) These are sights that have rarely been seen by human eyes: a stealthy jaguar, a bustling giant armadillo, and, most amazingly, a sloth slurping up clay from the ground. A new compilation of camera trap videos from Yasuni National Park in the Ecuadorean Amazon shows a staggering array of species, many cryptic and rare.


Incredible encounter: whales devour European eels in the darkness of the ocean depths


(02/11/2014) The Critically Endangered European eel makes one of the most astounding migrations in the wild kingdom. After spending most of its life in Europe's freshwater rivers, the eel embarks on an undersea odyssey, traveling 6,000 kilometers (3,720 miles) to the Sargasso Sea where it will spawn and die. The long-journeying eels larva than make their way back to Europe over nearly a year. Yet by tracking adult European eels (Anguilla anguilla) with electronic data loggers, scientists have discovered that some eels never make it to their spawning ground, but instead are swallowed-up in the depths by leviathans.


Alpine bumblebees capable of flying over Mt. Everest


(02/05/2014) The genus Bombus consists of over 250 species of large, nectar-loving bumblebees. Their bright coloration serves as a warning to predators that they are unwelcome prey and their bodies are covered in a fine coat of hair - known as pile - which gives them their characteristically fuzzy look. Bumblebees display a remarkably capable flight performance despite being encumbered with oversized bodies supported by relatively diminutive wings.


'Flying snakes' achieve surprising lift through unique body shape


(02/04/2014) Flying snakes achieve surprising amounts of lift through the shape of their bodies, report researchers from Virginia Tech in a paper recently published in the Journal of Experimental Biology. The study examined how paradise tree snakes—one of five species of so-called flying snake found in Southeast Asia—shape their bodies to achieve the lift that allows them to glide up to 30 meters between trees.


Predator appreciation: how saving lions, tigers, and polar bears could rescue ourselves


(01/29/2014) In the new book, In Predatory Light: Lions and Tigers and Polar Bears, authors Elizabeth Marshall Thomas, Sy Montgomery, and John Houston, and photographers Cyril Christo and Marie Wilkinson share with us an impassioned and detailed appeal to appreciate three of the world's biggest predators: lions, tigers, and polar bears. Through lengthy discussions, combining themes from scientific conservation to local community folklore, In Predatory Light takes us step by step deeper into the wild world of these awe-inspiring carnivores and their varied plight as they facedown extinction.


For agoutis, the night is fraught with peril


(01/15/2014) In a study recently published in the online Animal Behavior journal, scientists from the US and the Netherlands have examined the impact of predation patterns on prey's food foraging habits. The two-year long study on Barro Colorado Island, Panama, focused on the predator-prey relationship between the Central American agouti (Dasyprocta punctata), a common rainforest rodent, and the ocelot (Leopardus pardalis).


Wonderful Creatures: the lightning-fast Stenus beetles


(01/10/2014) Rove beetles are among the most diverse animals on the planet, with around 56,000 species currently described. Amongst this multitude of species is a dazzling array of adaptations perhaps best illustrated by the genus Stenus. These beetles, with their bulbous eyes and slender bodies are often found near water running swiftly over the wet ground and clambering among the vegetation.


A bird's eye view of hornbills in northeast India


(12/16/2013) Hornbills are as peculiar, as they are magnificent. Their calls especially, can sound rather strange to the uninitiated - some grunt, some growl, and some cackle maniacally. These queer birds, with their large brightly-colored curved beaks, and a distinctive cavity-nesting habit, are also totem animals for many tribes in India.


Like ancient humans, some lemurs slumber in caves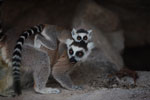 (12/05/2013) After playing, feeding, and socializing in trees all day, some ring-tailed lemurs (Lemur catta) take their nightly respite in caves, according to a new study in Madagascar Conservation and Development. The findings are important because this is the first time scientists have ever recorded primates regularly using caves (see video below).


Animal Earth: exploring the hidden biodiversity of our planet


(12/03/2013) Most of the species on Earth we never see. In fact, we have no idea what they look like, much less how spectacular they are. In general, people can identify relatively few of their backyard species, much less those of other continents. This disconnect likely leads to an inability in the general public to relate to biodiversity and, by extension, the loss of it. One of the most remarkable books I have read is a recent release that makes serious strides to repair that disconnect and affirm the human bond with biodiversity. Animal Earth: The Amazing Diversity of Living Creatures written by Ross Piper, a zoologist with the University of Leeds, opens up the door to discovery.


Reversing local extinction: scientists bring the northern bald ibis back to Europe after 300 years


(12/02/2013) The northern bald ibis (Geronticus eremita), also called the hermit ibis or waldrapp, is a migratory bird. Once, the bald ibis lived in the Middle East, northern Africa and southern and central Europe, but due to hunting, loss of habitat and pesticide-use, the birds disappeared from most of these areas and is currently considered Critically Endangered. It became extinct in Europe 300 years ago; the bird is almost gone in Syria, with only a single individual recorded at the country's lone breeding site in 2013; and the only stronghold left is a small population of around 500 birds in Morocco. But now, a team of scientists from Austria is working to reestablish a self-sustaining, migratory population of bald ibis in Europe.


Coelacanths might be monogamous, to the surprise of researchers


(11/14/2013) They evaded humans for millions of years and live very private lives. The hulking, fleshy-finned fish known as the coelacanth has beguiled scientists for generations. But the coelacanth mystique that enchants researchers also makes it difficult to study. Researchers recently revealed in Nature Communications one startling aspect of the coelacanth lifestyle: they might be monogamous.


Newly discovered beetles construct private homes out of leaf holes and feces


(11/12/2013) Scientists have discovered two new species of leaf beetles in southern India that display a novel way of using leaf holes and their fecal pellets to build shelters – a nesting behavior previously not known among leaf beetles. Discovered in the forests of the Western Ghats in the states of Karnataka and Kerala, the scientists have named these pin-head sized leaf beetles Orthaltica syzygium and Orthaltica terminalia, after the plants they feed on: Syzygium species (e.g., the Java plum) and Terminalia species (e.g., the flowering murdah).


Dolphins, bats and the evolution of echolocation


(11/08/2013) A dolphin swimming through the world's oceans after fish, and a bat flying through the air with its membranous wings to catch insects or eat fruit: at first glance, it looks like no two creatures could be more different. But it turns out they share a superpower - they hunt prey by emitting high-pitched sounds and listening for a returning echo. A recent study published in the journal Nature Letters has shown that the regions of the genome responsible for this ability are strikingly similar between these very different mammals.


Like humans, marmosets are polite communicators


(11/06/2013) Common marmoset monkeys have been described as having human-like conversations according to a team of researchers from the Princeton Neuroscience Institute. Native to Brazil, marmosets are highly social animals, using simple vocalizations in a multitude of situations: during courtship, keeping groups together and defending themselves. They also, according to the study published in Current Biology, exchange cooperative conversations with anyone and everyone - not just with their mates.


The mystery of the disappearing elephant tusk


(10/30/2013) Give it a few thousand years, and tusks could completely disappear from the Asian elephant (Elephas maximus). The beautifully smooth, elongated ivory incisors neatly bordering a long trunk are iconic in the public mind. The reigning hypothesis is that tusks evolved to help male elephants fight one another, as demonstrated when males compete over females in estrus. However, a recent study published in the journal Animal Behaviour has shown that tusks may not be key factors in tussles, at least as far as elephants are concerned.


Armored giant turns out to be vital ecosystem engineer


(10/24/2013) The giant armadillo (Priodontes maximus) is not called a giant for nothing: it weighs as much as a large dog and grows longer than the world's biggest tortoise. However, despite its gigantism, many people in its range—from the Amazon to the Pantanal—don't even know it exists or believe it to be more mythology than reality. This is a rare megafauna that has long eluded not only scientific study, but even basic human attention. However, undertaking the world's first long-term study of giant armadillos has allowed intrepid biologist, Arnaud Desbiez, to uncovered a wealth of new information about these cryptic creatures. Not only has Desbiez documented giant armadillo reproduction for the first time, but has also discovered that these gentle giants create vital habitats for a variety of other species.


Featured video: bears work together to take down camera traps


(10/24/2013) Scientists with the Wildlife Conservation Society (WCS) have captured stunning images of Andean bear families taking down camera traps in Bolivia's Apolobamba National Natural Area of Integrated Management. In one series of images a mother and her two cubs bite, claw, and whack one of the cameras. However even as they destroy one camera, the bears' antics are captured by another as researchers typically set several cameras to capture different views of animals, a process that helps them identify individuals.


Featured video: 22-year-old produces documentary on the Peruvian Amazon


(10/15/2013) Spending a year on the Tambopata River in Peru's deep Amazon, allowed 22-year-old Tristan Thompson, to record stunning video of the much the region's little seen, and little known, wildlife. Thompson, a student at the University of the West of England, has turned his footage into a new documentary An Untamed Wilderness that not only gives viewers an inside look at the world's greatest forests, but also records the secretive behavior of many species, including howler monkeys, aracaris, leaf-cutter ants, hoatzin, and giant river otters.


No place like home: scientists discover that male crested penguins head home earlier than females


(10/08/2013) Male crested penguins are hard workers - especially when it comes to their elaborate breeding ritual. After gathering in massive colonies to mate, they find and establish a nesting site, help incubate the eggs females lay, and then guard the chicks after they hatch. Male crested penguins have also been known to arrive at their breeding locations long before the females. But the reasons for this have been largely speculative. Do the males start swimming back to their breeding grounds earlier than the females?


Bornean elephant meets palm oil: saving the world's smallest pachyderm in a fractured landscape


(10/01/2013) In the Malaysian state of Sabah, where most conservation students are still foreigners—either European or American—Nurzahafarina Othman stands out: not only is she Malaysian, a Muslim, and a mother of a young daughter, but she's rapidly becoming a top researcher and champion for the world's smallest elephant: the Bornean elephant (Elephas maximus borneensis). Although sometimes described as a pygmy elephant, they still weigh 2,000 kilograms (4,400 pounds). The origin of these 'tiny' elephants in Malaysian Borneo have baffled scientists for decades.


Terror from above: eagle tackles deer in stunning camera trap photos


(09/26/2013) During a routine Amur tiger survey with remote camera traps in December 2011, a few photos gave biologists a shock when they revealed the stunning sight of a golden eagle (Aquila chrysaetos) launching itself on the back of a 7-month old sika deer (Cervus nippon) and bringing down prey that outweighed it by at least seven times. Photographed in remote Far East Russia, the photos show an incredibly-rare instance of an eagle preying on a deer.


Bornean orangutans travel along the ground


(09/12/2013) A recent study of forest in East Kalimantan, Borneo has found that orangutans travel on the ground far more often than expected. The study, published in the American Journal of Primatology, was carried out in Wehea Forest involving the use of 78 camera traps across 38 square kilometres of forest.


Butchering nature's titans: without the elephant 'we lose an essential pillar in the ability to wonder'


(09/12/2013) Africa's elephant poaching crisis doesn't just threaten a species, but imperils one of humanity's most important links to the natural world and even our collective sanity, according to acclaimed photographers and film-makers, Cyril Christo and Marie Wilkinson. Authors of the book Walking Thunder - In the Footsteps of the African Elephant, Christo and Wilkinson have been documenting Africa's titans in photos and film for several years. In 2011, the pair released a film Lysander's Song (named after their son an avid fan of elephants) which depicts the millennial-old relationship between humans and elephants.


Scientists discover that threatened bird migrates entirely within Amazon Basin


(09/11/2013) When one thinks of bird migrations, it's usually a north-south route that follows seasonal climates. But researchers in the Amazon have tracked, for the first time, a largely-unknown long-distance migration that sticks entirely to the Amazon Basin. Using satellite telemetry, scientists tracked a pair of Orinoco geese (Neochen jubata) from Peru and a male from Western Brazil, who both migrated to the Llanos de Moxos, a vast savanna and Amazonian watershed in Bolivia. The research has shown that the Orinoco geese—which breeds in both Peru and Brazil—depends on wetlands in the Llanos de Moxos for much of the year.


Video: scientists discover new walking shark species in Indonesia

(09/11/2013) A species of shark that uses its fins to 'walk' along the bottom of the ocean floor has been discovered off the coast of Indonesia. The shark, Hemiscyllium halmahera, uses its fins to wiggle along the seabed and forage for small fish and crustaceans, scientists from Conservation International said on Friday.


Scientists discover that even crocs have a fetish for fruit


(09/10/2013) It is hard to reconcile visions of a sharp-toothed, scaly, and ferocious crocodile with anything other than a completely carnivorous diet. We have been bombarded with gory kill scenes in which crocodiles take down everything from impala to buffalo, but new evidence suggests we need to rethink crocodilians altogether.


Scientists catch boa constrictor eating a howler monkey (photos)


(09/02/2013) In a world first, scientists have captured images and video of a boa constrictor attacking and devouring whole a femle howler monkey, one of the largest new world primates weighing in at around 4 kilograms (8.8 pounds). The rare predation event was recorded in a tiny forest fragment (2.5 hectares) in the Brazilian state of Rondonia by Erika Patricia Quintino, a PhD student at the Pontifical Catholic University of Rio Grande do Sul.


The evolution of cooperation: communal nests are best for ruffed lemurs


(08/21/2013) Raising young lemurs in communal crèches benefits both mothers and offspring, a new study has found. Andrea Baden and colleagues, of Yale University, studied a group of black-and-white ruffed lemurs (Varecia variegata) in Ranomafana National Park, Madagascar. This is the first study to examine the consequences of different parenting strategies in the ruffed lemur.


Does size matter (for lemur smarts, that is)?


(08/09/2013) Does size matter? When referring to primate brain size and its relation to social intelligence, scientists at Duke University do not think the answer is a simple yes or no. In the past, scientists have correlated large brain size to large group size. However, in a new study published in PLoS ONE, scientists at Duke University provide evidence that large social networks, rather than large brains, contribute to social cognition, favoring the evolution of social intelligence.


Cheetah don't overheat during hunts

(07/25/2013) A new study published in Biology Letters finds that contrary to popular opinion, cheetah don't overheat during hunts. But their body temperature rises after successful hunts due to stress than another predator may seize their prey.


Scientists build app to automatically identify species based on their calls


(07/16/2013) New technology makes it possible to automatically identify species by their vocalizations. The platform, detailed in the current issue of the journal PeerJ, has been used at sites in Puerto Rico and Costa Rica to identify frogs, insects, birds, and monkeys. Many of the animals identified by the system are typically difficult to spot in their natural environment, but audio recordings of their calls reveal not only their presence but also their activity patterns.


To protect themselves, lemurs learn alarm calls of other species

(07/11/2013) Solitary lemurs in Madagascar rely on the alarm calls of birds and more social lemurs to evade predators, reports a study published in PLoS ONE.


Loris champion: conserving the world's most surprising primate family


(06/04/2013) Before Anna Nekaris began championing the cause of the world's lorises, little was known about this cryptic family of large-eyed, nocturnal, insect-eating, venomous primates. Nekaris, with Oxford Brookes University and founder of the Little Fireface project, has been instrumental in documenting rarely-seen loris behavior, establishing conservation programs, and identifying new species of these hugely-imperiled Asian primates.


Featured video: a glimpse into the life of Cambodia's Asian elephant

(05/29/2013) The Cambodian Government's Forestry Administration has recently teamed up with the Wildlife Conservation Society (WCS) in order to peer into the daily lives of the country's Asian Elephants (Elephas maximus). Through the use of camera traps, the organizations caught an intimate glimpse of the regular, day-to-day behavior of these animals.


Whales teach each other new feeding behavior


(05/29/2013) Humpback whales (Megaptera novaeangliae), popularly known for their majestic and alluring underwater mating songs and acrobatic breaches, have shown that they can adapt to changing prey variability by passing on new hunting techniques to each other. According to new findings in the journal Science, a team of researchers have revealed the cultural spread of new hunting techniques through a population of humpback whales over the span of 27 years.


Featured video: giant anteater wallowing and scratching like a dog

(05/28/2013) Scientists have recently taken rare and incredible footage of a giant anteater with a camera trap in the Barba Azul Nature Reserve of Bolivia. This footage captures a giant anteater wallowing in a pit of mud. The animal lies down, rolling around and scratching itself, for a period of, what seems to be, over a minute.


Snowy tigers and giant owls: conservation against the odds in Russia's Far East


(05/28/2013) The Russian Far East is one of the wildest places on Earth: where giant tigers roam snow-covered forests and the world's biggest owls stalk frozen rivers. Bordering northern China and North Korea, the forests of Primorye are known for the diversity of habitats, including coastal forests along the Sea of Japan, vast coniferous forests in the Sikhote-Alin mountains, and even steppe. These diverse ecosystems also makes the forests a hotspot for endangered species, including Amur tigers (Panthera tigris altaica), Blakiston's fish owls (Bubo blakistoni), and one of the world's rarest big cats, Amur leopards (Panthera pardus orientalis), which number only 30-50 animals.


Famed bird reappears after 400,000 miles of flight

(05/22/2013) A migratory shorebird that has flown more than 400,000 miles has reappeared once again.


Crazy cat numbers: unusually high jaguar densities discovered in the Amazon rainforest


(05/16/2013) Jaguars (Panthera onca) are the biggest cat in the Americas and the only member of the Panthera genus in the New World; an animal most people recognize, the jaguar is also the third largest cat in the world with an intoxicatingly dangerous beauty. The feline ranges from the harsh deserts of southern Arizona to the lush rainforests of Central America, and from the Pantanal wetlands all the way down to northern Argentina. These mega-predators stalk prey quietly through the grasses of Venezuelan savannas, prowl the Atlantic forests of eastern Brazil, hunt along the river of the Amazon, and even venture into lower parts of the Andes.


Common moth can hear higher frequencies than any other animal on Earth

(05/09/2013) A common little moth turns out to have the best ears in the animal kingdom. According to a new study in Biology Letters, the greater wax moth (Galleria mellonella) is capable of hearing frequencies up to 300,000 hertz (300kHz), which is 15 times the frequency humans can hear at their prime, around 20 kHz.


Are seagulls killing whales in Patagonia?


(05/08/2013) It sounds ludicrous, but it could just be true: scientists say seagulls may be responsible for hundreds of southern right whale moralities off the Argentine coastline. Since 2003, scientists have documented the deaths of 605 southern right whales (Eubalaena australis) near Península Valdés which the whales use as a nursery. Notably, 88 percent of these were newborn calves. The death rate is so high that researchers now fear for the whales' long-term survival.


A Tale of Two Elephants: celebrating the lives and mourning the deaths of Cirrocumulus and Ngampit


(05/07/2013) On March 21st, the organization Save the Elephants posted on their Facebook page that two African elephants had been poached inside a nearby reserve: "Sad news from the north of Kenya. Usually the national reserves are safe havens for elephants, and they know it. But in the last two weeks two of our study animals have been shot inside the Buffalo Springs reserve. First an 18 year-old bull called Ngampit and then, yesterday, 23 year-old female called Cirrocumulus (from the Clouds family)."


Bat's tongue could inspire miniature surgical robot design

(05/06/2013) Nectar-feeding bats shift the shape of their tongue to slurp up sugar from flowers upon which they feed, finds a new study published in the Proceedings of the National Academy of Sciences.


Hibernating primates: scientists discover three lemur species sleep like bears


(05/02/2013) Bears do it, bats do it, and now we know lemurs do it too: hibernate, that is. Since 2005, scientists have known that the western fat-tailed dwarf lemur hibernates, but a new study in Scientific Reports finds that hibernation is more widespread among lemurs than expected. At least two additional lemur species—Crossley's dwarf lemur and Sibree's dwarf lemur—have been discovered hibernating. So far lemurs, which are only found on the island of Madagascar, are the only primates known to undergo hibernation, raising curious questions about the relationship between lemur hibernation and more well-known deep sleepers.


Clownfish helps its anemone host to breathe


(04/24/2013) The sight of a clownfish wriggling through the stinging tentacles of its anemone is a familiar and seemingly well-understood one to most people—the stinging anemone provides a protective home for the clownfish who is immune to such stings, and in turn the clownfish chases away any polyp-eating sunfish eyeing the anemone's tentacles for a meal. But recent research has shown that all that clownfish wriggling significantly helps to oxygenate the anemone at night, when oxygen levels in the water are low.


An insidious threat to tropical forests: over-hunting endangers tree species in Asia and Africa


(04/04/2013) A fruit falls to the floor in a rainforest. It waits. And waits. Inside the fruit is a seed, and like most seeds in tropical forests, this one needs an animal—a good-sized animal—to move it to a new place where it can germinate and grow. But it may be waiting in vain. Hunting and poaching has decimated many mammal and bird populations across the tropics, and according to two new studies the loss of these important seed-disperser are imperiling the very nature of rainforests.


Proposed coal plant threatens Critically Endangered Philippine cockatoo


(04/02/2013) One kilometer off the Philippine island of Palawan lies the Rasa Island Wildlife Sanctuary; here forest grows unimpeded from a coral island surrounded by mangroves and coral reefs. Although tiny, over a hundred bird species have been recorded on the island along with a major population of large flying foxes, while in the waters below swim at least 130 species of coral fish, three types of marine turtles, and that curious-looking marine mammal, dugongs. Most importantly, perhaps, the island is home to the world's largest population of Philippine cockatoos (Cacatua haematuropygia), currently listed as Critically Endangered. But, although uninhabited by people, Rasa Island may soon be altered irrevocably by human impacts.


Relative of the 'penis snake' discovered in South America (photos)

(03/27/2013) A new species of caecilian - a worm-like amphibian - has been discovered in French Guiana.



Page 1 | Page 2 | Page 3 | Page 4 | Page 5 | Page 6 | Page 7