News articles on amazon

---
Mongabay.com news articles on amazon in blog format. Updated regularly.





95% of Amazon deforestation happens near roads or major rivers

(08/05/2014) 94.9 percent of deforestation in the Brazilian Amazon occurs on land less than 5 kilometers from a road or navigable river, finds a new study published in the journal Biological Conservation.


2 prize-winning journalists will report on Amazon, 2 new prizes announced


(08/01/2014) Mongabay.org's Special Reporting Initiative (SRI) program has recently awarded two different reporting prizes to journalists to tackle these vital and complicated issues in-depth. The non-profit has also launched a call for applications to two new SRIs: The social and environmental impacts of foreign development finance in the Amazon and Food spoilage and waste in Sub-Saharan Africa.


Stunning high-resolution map reveals secrets of Peru's forests


(07/30/2014) Peru's landmass has just been mapped like never before, revealing important insights about the country's forests that could help it unlock the value healthy and productive ecosystems afford humanity.


Peruvian oil spill sparks concern in indigenous rainforest community

(07/29/2014) A ruptured pipeline that spilled tens of thousands of gallons of crude oil into the Marañón River in late June is fueling concerns about potential health impacts for a small indigenous community.


Short-eared dog? Uncovering the secrets of one of the Amazon's most mysterious mammals


(07/28/2014) Fifteen years ago, scientists knew next to nothing about one of the Amazon's most mysterious residents: the short-eared dog. Although the species was first described in 1883 and is considered the sole representative of the Atelocynus genus, biologists spent over a century largely in the dark about an animal that seemed almost a myth.


No longer 'deaf as a stump': researchers find turtles chirp, click, meow, cluck


(07/25/2014) Turtles comprise one of the oldest living groups of reptiles, with hundreds of species found throughout the world. Many have been well-researched, and scientists know very specific things about their various evolutionary histories, metabolic rates, and the ways in which their sexes are determined. But there was one very obvious thing that has been largely left unknown by science until very recently. Turtles can make sounds.


Targeted enforcement saved a Massachusetts-worth of Amazon rainforest in 3 years

(07/24/2014) Targeted law enforcement efforts via Brazil's green municipalities programs were responsible for reducing deforestation by 10,653 square kilometers — an area the size of Massachusetts — between 2009 and 2011, argues a paper published in the journal Land Use Policy.


Peru slashes environmental protections to attract more mining and fossil fuel investment


(07/23/2014) In an effort to kickstart investment in mining and fossil fuels, Peru has passed a controversial law that overturns many of its environmental protections and essentially defangs its Ministry of Environment. The new law has environmentalists not only concerned about its impact on the country but also that the measures will undermine progress at the up-coming UN Climate Summit in December.


Phone-based logging alert system eyes expanding to the Amazon

(07/23/2014) After exceeding an ambitious fundraising target to launch a near-real time forest monitoring system in the Congo Basin, a San-Francisco based start-up is now eyeing expansion in the Amazon where it hopes to help an indigenous rainforest tribe fight illegal logging.


A garden or a wilderness? One-fifth of the Amazon may have been savannah before the arrival of Europeans


(07/09/2014) The Amazon is the largest tropical forest on the planet, covering about 6.5 million square kilometers, although much has been lost in recent decades.Yet new research published in the Proceedings of the National Academy of Sciences (PNAS) finds that quite recently—just 500 years ago—a significant portion of the southern Amazon was not the tall-canopied forest it is today, but savannah.


Scientists: Neotropical otter should not be considered threatened

(06/24/2014) The Neotropical otter (Lontra longicaudis) should not be considered threatened by the IUCN Red List, according to a new paper in mongabay.com's open-access journal Tropical Conservation Science. Currently the species is listed as Data Deficient, but was considered Vulnerable until 2000.


Using Google Earth to protect uncontacted tribes in the Amazon rainforest


(06/19/2014) In 2008, images of an uncontacted tribe in the Amazon rainforest in Brazil created ripples. With bodies painted in bright colors, members of the tribe aimed their arrows at a Brazilian government plane flying overhead, occupants of which were attempting to photograph the tribe to prove their existence. Now, a new study has found another way to survey such tribes safely and remotely—using satellite images.


Camera trap captures first ever video of rarely-seen bird in the Amazon...and much more


(06/17/2014) A camera trap program in Ecuador's embattled Yasuni National Program has struck gold, taking what researchers believe is the first ever film of a wild nocturnal curassow (Nothocrax urumutum). In addition, the program has captured video of other rarely-seen animals, including the short-eared dog and the giant armadillo.


After Greenpeace complaint, UK timber giant removes controversial Amazon wood from shelves

(06/16/2014) After being implicated in a Greenpeace report on illegal logging in the Amazon rainforest, UK building supplier Jewson has pulled controversial wood from its shelves until it can conduct a full investigation on the timber's origin.


Oil drilling causes widespread contamination in the Amazon rainforest

(06/13/2014) Decades of oil extraction in the Western Amazon has caused widespread pollution, raising questions about the impact of a new oil boom in the region, according to a team of Spanish researchers presenting at a conference in California.


Next big idea in forest conservation? Learning from innovations to make REDD+ work


(06/12/2014) A scientist at the Center for International Forestry Research (CIFOR) in Brazil, Dr. Amy Duchelle coordinates research on the effectiveness, efficiency, equity, and co-benefits of REDD+ initiatives at the sub-national level in Latin America as part of CIFOR's Gloal Comparative Study on REDD+.


Oil company breaks agreement, builds big roads in Yasuni rainforest


(06/05/2014) When the Ecuadorian government approved permits for an oil company to drill deep in Yasuni National Park, it was on the condition that the company undertake a roadless design with helicopters doing most of the leg-work. However, a new report based on high-resolution satellite imagery has uncovered that the company, Petroamazonas, has flouted the agreement's conditions, building a massive access road.


Intact Amazon forests show possible signs of global warming impact


(06/04/2014) Climate change may be taking a hidden toll on intact rainforests in the heart of the Amazon, finds a new study based on 35 years of observations. The research, published in the journal Ecology, focused on the ecological impacts of fragmentation but unexpectedly found changes in the control forests.


After throwing out referendum, Ecuador approves oil drilling in Yasuni's embattled heart

(06/02/2014) By 2016, oil drilling will begin in what scientists believe is the most biodiverse place on the planet: remote Yasuni National Park. Late last month, Ecuador announced it had approved permits for oil drilling in Yasuni's Ishpingo-Tambococha-Tiputinin (ITT) block, an untouched swathe of primary rainforest covering around 100,000 hectares or about 10 percent of the park.


Of jaguars and loggers: new film to showcase one of the least-known regions in the deep Amazon


(06/02/2014) In August, three young filmmakers will go on the expedition of a lifetime. They plan to spend six months filming in one of the most remote, most spectacular, and most endangered ecosystems on the planet: the Las Piedras River system. This unprotected swathe of Amazon jungle contains massive anacondas, prowling jaguars, and even uncontacted indigenous people.


Logging, fires take a hidden toll on Amazon rainforest


(05/28/2014) Selective logging and small sub-canopy fires are degrading vast areas of rainforest across the Brazilian Amazon, contributing to largely hidden carbon emissions, argues a study published today in Global Change Biology. The research found stark differences in carbon storage between primary forests, selectively logged forests, logged and burned forests, and regrowing or secondary forests.


Happy Amazon: $215 million raised for world's largest protected area network


(05/21/2014) By all standards the Amazon Region Protected Areas (ARPA) program is gargantuan: the network includes over 90 parks, covers 51 million hectares, and comprises 15 percent of Brazil's Amazon. But protecting an area bigger than Spain isn't cheap or easy. Today, a broad coalition of government donors and private funders have announced $215 million to secure ARPA over the next 25 years.


Greenpeace: Timber laundering rampant in the Brazilian Amazon


(05/18/2014) A two-year investigation by Greenpeace has revealed the extent of timber laundering in two major Brazilian Amazon states: Pará and Mato Grosso. The report, published last week, suggests that fraud is widespread in the Brazilian timber industry. Loggers are using loopholes and outright deception to game regulations that aim to reduce the environmental impact of timber extraction.


53 indigenous activists on trial for police-protester massacre in Peru


(05/15/2014) In the summer of 2009, on a highway in Peru known as Devil's Curve: everything went wrong. For months, indigenous groups had protested new laws by then President Alan Garcia opening up the Amazon to deregulated logging, fossil fuels, and other extractive industries as a part of free trade agreements with the U.S.


New report reveals human rights abuses by corporations, governments in the Amazon


(05/14/2014) Regnskogfondet (the Rainforest Foundation of Norway) recently released a 52-page report that gives an in-depth account of the conflicts activists and indigenous peoples (IPs) are having with corporations and governmental agencies. It relays a situation that does not look good.


Borneo bests Amazon in terms of giant tree growth rates

(05/11/2014) Trees in the rainforests of Borneo have faster growth rates than those in the Amazon, finds a study published in the Journal of Ecology.


Intensifying cattle production in Brazil could cut global deforestation emissions 25%, says study


(04/28/2014) Brazil could reduce more than a quarter of emissions linked to deforestation worldwide by intensifying cattle production in the Amazon, argues a new study published in the journal Proceedings of the National Academy of Sciences.


Next big idea in forest conservation? Crowdsourced forest monitoring


(04/25/2014) In the Brazilian Amazon, deforestation alerts are being submitted via smartphones. On the ground technicians send alerts to a database stored in 'the cloud.' This information is added to maps, which, along with satellite imagery, are used to inform law enforcement. And the speed of this process is getting real results.


Brazil's new Forest Code a mixed bag for native ecosystems

(04/24/2014) The revised Forest Code passed into law by Brazil in 2012 could authorize conversion of 400,000 square miles of native grassland for industrial agriculture, while granting amnesty for deforesters in the Amazon rainforest, argues a policy piece published this week in the journal Science.


Brazil to test drones in monitoring the Amazon rainforest

(04/24/2014) Brazilian municipalities are planning to use drones to map properties and monitor forest cover as they move to step up enforcement of the country's Forest Code, reports The Financial Times.


Small monkeys take over when big primates have been hunted out in the Amazon


(04/21/2014) The barbecued leg of a spider monkey might not be your idea of a sumptuous dinner, but to the Matsés or one of the fifteen tribes in voluntary isolation in Peru, it is the result of a successful hunt and a proud moment for the hunter's family. However, a spider monkey tends to have only a single infant once every 30 months, which necessarily limits the number of adult monkeys available to subsistence hunters.


Brazil strips protected status from 5.2M ha

(04/21/2014) While Brazil led the world in establishing new protected areas in recent years, it has also stripped legal protected status from some 5.2 million hectares (12.8 million acres) of land, finds a new study published in the journal Conservation Biology.


Rainforests on fire: climate change is pushing the Amazon over the edge


(04/18/2014) From 1999-2010, nearly three percent of the Amazon rainforest burned, and climate forecasts indicate dry conditions conducive to fire will only become more commonplace in the future. A new study indicates that rainforests are more vulnerable to fire than previously thought, and it warns the current combination of climate change and deforestation may be pushing Amazon forests past the breaking point.


Legal logging concessions drive illegal logging in Peru, threatening forests and indigenous people


(04/17/2014) Nearly 70 percent of officially inspected logging concessions in Peru have had their permits canceled or are under investigation for major breaches of forestry laws, finds a new study published in the journal Scientific Reports. Worryingly, the research also concludes that forestry permits are being widely used to launder timber illegally logged from outside concession areas.


Saving rainforests by buying them


(04/04/2014) For more than twenty five years, an international non-profit known as the World Land Trust has been working to protect tropical forests through land purchase and partnerships with local groups. Last year, the U.S. arm of the group decided to rebrand itself as the Rainforest Trust to better convey its core mission to the outside world. Since then, the Rainforest Trust has launched its most ambitious project yet: conserving 5.9 million acres of tropical forest in Peru.


Featured video: celebrities speak out for Yasuni

(04/02/2014) A group of celebrities, including recent Academy Award winner Jared Leto, Law and Order's Benjamin Bratt, and Kill Bill's Daryl Hannah, have lent their voices to a new Public Service Announcement to raise signatures to protect Ecuador's Yasuni National Park from oil drilling.


Brief lives linked to Amazon biodiversity


(03/31/2014) The South American Amazon rainforest is renowned for being one of the most biodiverse ecosystems on the planet, boasting an estimated 16,000 different tree species. However, the distribution of these diverse tree species is curiously uneven. What is the reason behind this irregular diversity? According to a new study, the answer lies within short durations between tree generations.


Next big idea in forest conservation? Quantifying the cost of forest degradation


(03/27/2014) How much is a forest really worth? And what is the cost of forest degradation? These values are difficult to estimate, but according to Dr. Phillip Fearnside, we need to do a better job. For nearly forty years, Fearnside has lived in Amazonia doing ecological research, looking at the value of forests in terms of environmental or ecosystem services such as carbon storage, water cycling, and biodiversity preservation. Fearnside then works to convert these services into a basis for sustainable development for rural populations.


Oil or rainforest: new website highlights the plight of Yasuni National Park

(03/20/2014) A new multimedia feature story by Brazilian environmental news group, ((o))eco, highlights the ongoing debate over Yasuni National Park in Ecuador, arguably the most biodiverse place on the planet.


Will zero deforestation commitments save Indonesia's forests?


(03/17/2014) Skirting the Malacca Strait near the Indonesian city of Dumai the air is thick with haze from peat fires burning below. As the sky clears, a landscape of sharply-cut geometric shapes becomes apparent. What was once carbon-dense peat forests and rainforests are today massive oil palm and wood pulp plantations.


Mother of God: meet the 26 year old Indiana Jones of the Amazon, Paul Rosolie


(03/17/2014) Not yet 30, Paul Rosolie has already lived a life that most would only dare dream of—or have nightmares over, depending on one's constitution. With the Western Amazon as his panorama, Rosolie has faced off jaguars, wrestled anacondas, explored a floating forest, mentored with indigenous people, been stricken by tropical disease, traveled with poachers, and hand-reared a baby anteater. It's no wonder that at the ripe age of 26, Rosolie was already written a memoir: Mother of God.


Controversial Amazon dams may have exacerbated biblical flooding


(03/16/2014) Environmentalists and scientists raised howls of protest when the Santo Antônio and Jirau Dams were proposed for the Western Amazon in Brazil, claiming among other issues that the dams would raise water levels on the Madeira River, potentially leading to catastrophic flooding. It turns out they may have been right: last week a federal Brazilian court ordered a new environmental impact study on the dams given suspicion that they have worsened recent flooding in Brazil and across the border in Bolivia.


Photos: Weird aquatic lizard discovered in mountain streams of Peru

(03/13/2014) A 'new' species of lizard has been described from the cloud forests of Peru's Manu National Park, reports SERNANP, the Peruvian National Park Service.


Amazon trees super-diverse in chemicals


(03/03/2014) In the Western Amazon—arguably the world's most biodiverse region—scientists have found that not only is the forest super-rich in species, but also in chemicals. Climbing into the canopy of thousands of trees across 19 different forests in the region—from the lowland Amazon to high Andean cloud forests—the researchers sampled chemical signatures from canopy leaves and were surprised by the levels of diversity uncovered.


Sharp jump in deforestation when Amazon parks lose protected status

(03/01/2014) Areas that have had their protected status removed or reduced have experienced a sharp increase in forest loss thereafter, finds a new study published by Imazon, a Brazilian NGO.


Is Brazil's epic drought a taste of the future?

(02/25/2014) With more than 140 cities implementing water rationing, analysts warning of collapsing soy and coffee exports, and reservoirs and rivers running precipitously low, talk about the World Cup in some parts of Brazil has been sidelined by concerns about an epic drought affecting the country's agricultural heartland.


New $20,000 reporting grant explores benefits of Amazonian protected areas


(02/21/2014) With six Special Reporting Initiatives (SRI) already under way, Mongabay.org is excited to announce a call for applications for its latest journalism grant topic: Amazonian protected areas: benefits for people. The Amazon's system of protected areas has grown exponentially in the past 25 years. In many South American nations, the mission of protected areas has expanded from biodiversity conservation to improving human welfare. However, given the multiple purposes and diverse management of many protected areas, it is often difficult to measure their effect on human populations.


The making of Amazon Gold: once more unto the breach


(02/19/2014) When Sarah duPont first visited the Peruvian Amazon rainforest in the summer of 1999, it was a different place than it is today. Oceans of green, tranquil forest, met the eye at every turn. At dawn, her brain struggled to comprehend the onslaught of morning calls and duets of the nearly 600 species of birds resounding under the canopy. Today, the director of the new award-winning film, Amazon Gold, reports that "roads have been built and people have arrived. It has become a new wild west, a place without law. People driven by poverty and the desire for a better life have come, exploiting the sacred ground."


Two kids, one year, from the Amazon to the Arctic: the environmental adventure of a lifetime


(02/19/2014) The Kraft family—Larry, Lauri, Jamie (age 8), and Jason (age 6)—are on the trip of a lifetime, a round-the-world tour with an environmental focus. Currently in India, the family has already made their way through the Amazon, Vietnam, Costa Rica, Australia, and the Galapagos, among other wild places. Still left on their itinerary: the Arctic. But the trip isn't all fun and games, instead the Kraft's are using the year abroad to learn first hand about global environmental issues and solutions.


Featured video: camera traps catch jaguars, anteaters, and a sloth eating clay in the Amazon rainforest

(02/13/2014) These are sights that have rarely been seen by human eyes: a stealthy jaguar, a bustling giant armadillo, and, most amazingly, a sloth slurping up clay from the ground. A new compilation of camera trap videos from Yasuni National Park in the Ecuadorean Amazon shows a staggering array of species, many cryptic and rare.


Helping the Amazon's 'Jaguar People' protect their culture and traditional wisdom


(02/11/2014) Tribes in the Amazon are increasingly exposed to the outside world by choice or circumstance. The fallout of outside contact has rarely been anything less than catastrophic, resulting in untold extinction of hundreds of tribes over the centuries. For ones that survived the devastation of introduced disease and conquest, the process of acculturation transformed once proud cultures into fragmented remnants, their self-sufficiency and social cohesion stripped away, left to struggle in a new world marked by poverty and external dependence


Photos: mass turtle hatching produces over 200,000 babies


(02/11/2014) Biologists recently documented one of nature's least-known, big events. On the banks of the Purus River in the Brazilian Amazon, researchers witnessed the mass-hatching of an estimated 210,000 giant South American river turtles (Podocnemis expansa). The giant South American river turtle, or Arrau, is the world's largest side-necked turtle and can grow up to 80 centimeters long (nearly three feet).


Drought, fire reducing ability of Amazon rainforest to store carbon

(02/06/2014) New research published in Nature adds further evidence to the argument that drought and fire are reducing the Amazon's ability to store carbon, raising concerns that Earth's largest rainforest could tip from a carbon sink to a carbon source.


Amazon rainforest does not 'green up' during the dry season

(02/06/2014) Analysis of satellite imagery has cleared up a controversy over whether the Amazon rainforest 'greens up' during the dry season.


Brazilian soy industry extends deforestation moratorium

(02/01/2014) Soy traders and producers in the Brazilian Amazon agreed to extend a moratorium on soybeans produced in recently deforested areas for another year, reports Greenpeace.


287 amphibian and reptile species in Peruvian park sets world record (photos)


(01/28/2014) It's official: Manu National Park in Peru has the highest diversity of reptiles and amphibians in the world. Surveys of the park, which extends from high Andean cloud forests down into the tropical rainforest of the Western Amazon, and its buffer zone turned up 155 amphibian and 132 reptile species, 16 more than the 271 species documented in Ecuador's Yasuní National Park in 2010.


New dolphin discovered in the Amazon surprises scientists


(01/23/2014) Researchers have discovered a new species of river dolphin from the Amazon. Writing in the journal Plos One, scientists led by Tomas Hrbek of Brazil's Federal University of Amazonas formally describe Inia araguaiaensis, a freshwater dolphin that inhabits the Araguaia River Basin. It is the first true river dolphin discovered since 1918.


Red toad discovered in the upper reaches of the Amazon

(01/19/2014) Scientists have described a previously unknown species of toad in the Peruvian Andes.


High-living frogs hurt by remote oil roads in the Amazon


(01/14/2014) Often touted as low-impact, remote oil roads in the Amazon are, in fact, having a large impact on frogs living in flowers in the upper canopy, according to a new paper published in PLOS ONE. In Ecuador's Yasuni National Park, massive bromeliads grow on tall tropical trees high in the canopy and may contain up to four liters of standing water. Lounging inside this micro-pools, researchers find a wide diversity of life, including various species of frogs. However, despite these frogs living as high as 50 meters above the forest floor, a new study finds that proximity to oil roads actually decreases the populations of high-living frogs.


Brazil begins evicting illegal settlers from hugely-imperiled indigenous reserve

(01/06/2014) Months after closing sawmills on the fringes of an indigenous reserve for the hugely-imperiled Awá people, the Brazil government has now moved into the reserve itself to evict illegal settlers in the eastern Amazon. According to the NGO Survival International, Brazil has sent in the military and other government agents to deal with massive illegal settlements on Awá land for logging or cattle.


Assassination 25 years ago catalyzed movement to protect the Amazon

(12/22/2013) Twenty-five years ago today, Chico Mendes, an Amazon rubber tapper, was shot and killed in front of his family at his home in Acre, Brazil at the age of 44.


Indigenous groups win right to pursue Chevron assets in Canada in Amazon pollution case

(12/19/2013) Indigenous plaintiffs in a long-running legal dispute against Chevron won the right to pursue the oil giant's assets in Canada as part of a $9.5 billion judgement by an Ecuadorean court over damages in the Amazon, reports Amazon Watch.


Top 10 HAPPY environmental stories of 2013


(12/19/2013) China begins to tackle pollution, carbon emissions: As China's environmental crisis worsens, the government has begun to unveil a series of new initiatives to curb record pollution and cut greenhouse emissions. The world's largest consumer of coal, China's growth in emissions is finally slowing and some experts believe the nation's emissions could peak within the decade. If China's emissions begin to fall, so too could the world's.


Brazilian cattle producers standardize audits to exclude deforestation from supply chain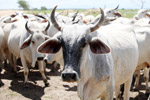 (12/18/2013) Brazil's largest cattle producers have agreed to standardize and make public their audits as part of an effort to exclude from their supply chains livestock produced via deforestation, reports Greenpeace, which has led a campaign to improve the environmental performance of the sector. The agreement on a standard auditing protocol means that the companies' progress toward eliminating deforestation will now be directly comparable.


Scientists make one of the biggest animal discoveries of the century - a new tapir


(12/16/2013) In what will likely be considered one of the biggest (literally) zoological discoveries of the Twenty-First Century, scientists today announced they have discovered a new species of tapir in Brazil and Colombia. The new mammal, hidden from science but known to local indigenous tribes, is actually one of the biggest animals on the continent, although it's still the smallest living tapir. Described in the Journal of Mammology, the scientists have named the new tapir Tapirus kabomani after the name for 'tapir' in the local Paumari language: Arabo kabomani.


Ecuador's government shuts down indigenous rights organization over oil battle

(12/10/2013) Last Wednesday, the government of Ecuador shutdown the indigenous rights NGO, Fundación Pachamama, in Quito over the group's opposition to oil drilling in indigenous areas. More than a dozen government officials showed up at Pachamama's office with a resolution by the Ministry of Environment that officially dissolved the organization, the first such moved by the government which in June passed an Executive Decree that tightened governmental oversight of the country's NGOs.


Top 10 Environmental Stories of 2013


(12/10/2013) 1. Carbon concentrations hit 400ppm while the IPCC sets global carbon budget: For the first time since our appearance on Earth, carbon concentrations in the atmosphere hit 400 parts per million. The last time concentrations were this high for a sustained period was 4-5 million years ago when temperatures were 10 degrees Celsius higher. Meanwhile, in the slow-moving effort to curb carbon emissions, the Intergovernmental Panel on Climate Change (IPCC) crafted a global carbon budget showing that most of the world's fossil fuel reserves must be left untouched if we are to avoid catastrophic climate change.


Brazil could boost agriculture without destroying forests


(12/03/2013) Brazil could substantially boost its agricultural output while increasing protection of its native ecosystems, finds a new analysis published by the Climate Policy Initiative (CPI), an international think tank.


Gold mine near controversial Belo Monte dam suspended

(11/22/2013) A gold mining project proposed near the Belo Monte dam site in the Amazon rainforest has been suspended by a Brazilian court, reports Reuters.


The quicksilver demon: rogue gold-mining is the world's largest source of mercury pollution


(11/20/2013) In 1956, in the quiet seaside town of Minamata on the southwestern coast of Japan's Kyushu Island, cats began to behave very strangely. They convulsed, displayed excessive salivation, and gradually lost the ability to walk. Then, dead birds began to fall out of the sky. Shellfish opened and decomposed. Fish also displayed abnormal behaviors, eventually floating up to the surface of the Shiranui Sea. Many of the ailing cats wandered into the sea and drowned. Soon, there were no more cats alive in the area.


Why is Amazon deforestation climbing?


(11/17/2013) The 28 percent increase in deforestation in the Brazilian Amazon over last year that was reported this week is bad news, but it is not surprising. It is bad news because the decline in deforestation since 2005 has given us the single largest contribution to climate change mitigation on the planet, far surpassing the reductions in emissions achieved by any Annex 1 country under the Kyoto Protocol. Brazil's achievement is particularly noteworthy because it did not come at the expense of agricultural production; beef and soybean production continued to grow.


Deforestation in the Brazilian Amazon jumps 28% in 2013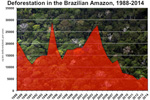 (11/14/2013) Deforestation in the Brazilian Amazon jumped 28% in 2013 sparking concerns that recent progress in reducing forest loss in the world's largest rainforest may be in danger of reversing. The preliminary data, released Thursday by the Brazilian government, shows that 5,843 square kilometers (2,256 sq miles) of rainforest was cleared across the 'Legal Amazon' between August 1, 2012 and July 31, 2013.


Powered by Google, high resolution forest map reveals massive deforestation worldwide


(11/14/2013) Researchers today released a long-awaited tool that reveals the extent of forest cover loss and gain on a global scale. Powered by Google's massive computing cloud, the interactive forest map establishes a new baseline for measuring deforestation and forest recovery across all of the world's countries, biomes, and forest types. The map has far-reaching implications for efforts to slow deforestation, which accounts for roughly ten percent of greenhouse gas emissions produced by human activities, according to the authors of the paper that describes the tool and details its first findings.


Flawed from inception? Ecuador's Yasuní-ITT initiative threatened indigenous groups with simple mapping errors


(11/13/2013) The plan from Ecuador's government was simple: Pay us and we won't destroy the planet's most extraordinary ecosystem. Dubbed the Yasuni-ITT initiative, the plan called upon developed nations to pay for protecting Ecuador's Yasuni National Park from oil companies. Now, a recent study claims the plan was fraught with flaws as basic as drawing lines on a map.


Locally extinct birds in the Amazon slowly flock back to forests when trees regrow


(11/13/2013) Some good news out of the Amazon rainforest: given enough time, deforested land can rebound enough to host bird species that had previously deserted the area, according to a recent study in The Auk. When people abandon deforested land, the rainforest slowly reclaims it. Eventually, birds begin to use the clumps of secondary forest as corridors between thickets of old growth.


Amazon's vast rainforest dominated by few tree species


(11/12/2013) The Amazon rainforest is so vast, and so diverse, that seemingly simple questions— such as which species of trees are most common— remain unanswered. Researchers are finally seeing the forest and the trees after an international collaboration of 120 scientists teamed up to compile the largest tree survey ever assembled from the Amazon.


Exclusive: Stunning aerial photos reveal Ecuador building roads deeper into richest rainforest on Earth (Yasuní National Park)


(11/12/2013) In August 2012, professional photographers Ivan Kashinsky and Karla Gachet were on assignment for National Geographic in Yasuní National Park, home to arguably the most biodiverse rainforest in the world. While there, they happened to take an aerial shoot above an area known as Block 31 (see Map), a controversial oil concession located in the heart of the park, at the precise moment that the national oil company, Petroamazonas, was secretly building a new oil access road.


Amazon deforestation could cause droughts in California


(11/08/2013) Complete deforestation of the Amazon rainforest could reduce rainfall in the Pacific Northwest by up to 20 percent and snowpack in the Sierra Nevada by up to 50 percent, suggests new research published in the Journal of Climate. The study is based on high resolution computer modeling that stripped the Amazon of its forest cover and assessed the potential impact on wind and precipitation patterns. While the scenario is implausible, it reveals the global nature of the ecological services afforded by the world's largest rainforest.


Could camera trap videos galvanize the world to protect Yasuni from oil drilling?


(11/07/2013) Even ten years ago it would have been impossible to imagine: clear-as-day footage of a jaguar plodding through the impenetrable Amazon, or a bicolored-spined porcupine balancing on a branch, or a troop of spider monkeys feeding at a clay lick, or a band of little coatis racing one-by-one from the dense foliage. These are things that even researchers who have spent a lifetime in the Amazon may never see. Now anyone can: scientists at the Tiputini Biodiversity Station in Ecuador's Yasuní National Park have recently begun using camera trap videos to take movies of animals few will ever view in their lifetimes. The videos—following years of photo camera trapping—provide an intimate view of a world increasingly threatened by the oil industry.


Deforestation may hurt U.S. agriculture, affect monsoon cycle


(11/04/2013) Unchecked deforestation will have far-reaching impacts on temperature, rainfall, and monsoon cycles in regions well outside the tropics, affecting agriculture and water availability, warns a new report published by Greenpeace International. The report is a synthesis of dozens of recent scientific papers that assess the effects of forest cover loss on weather patterns, local climate, and agricultural productivity.


Rebranded as the Rainforest Trust, green group launches push to protect 6M acres of Amazon rainforest

(10/30/2013) The Rainforest Trust, which from 1988 until last month was known as the World Land Trust-US, has kicked off an effort to preserve some 2.4 million hectares (5.9 million acres) of rainforest in a remote part of the Peruvian Amazon.


Belo Monte dam suspended

(10/29/2013) Construction on Belo Monte, Brazil's largest dam, was again halted by a federal court due to concerns over its license, reports Amazon Watch, an NGO that is mobilizing opposition to the project.


50,000 km of roads built across Brazilian Amazon in 3 years

(10/29/2013) Roads are rapidly expanding across the Brazilian Amazon opening up once remote rainforests to loggers, miners, ranchers, farmers, and land speculators, finds a new study published in the journal Regional Environmental Change.


Gold mining in the Amazon rainforest surges 400%


(10/28/2013) The extent of gold mining in the Peruvian Amazon has surged 400 percent since 1999 due to rocketing gold prices, wreaking havoc on forests and devastating local rivers, finds a new study published in the Proceedings of the National Academy of Sciences (PNAS). The assessment, led by Greg Asner of the Carnegie Institution for Science, is based on a combination of satellite imagery, on-the-ground field surveys, and an advanced airplane-based sensor that can accurately measure the rainforest canopy and sub-canopy vegetation at a resolution of 1.1 meters (42 inches).


Pictures: 441 new species described in the Amazon rainforest since 2010

(10/25/2013) Scientists described at least 441 previously unknown species from Amazon rainforest between 2010 and 2013, according a new report from the World Wildlife Fund (WWF).


Illegal logging remains rampant in Brazil

(10/23/2013) Illegal logging remains pervasive in the Brazilian state of Pará, finds an assessment released Monday by Imazon.


Scientist splits Amazonian giants into separate species

(10/23/2013) It's hard to mistake an arapaima for anything else: these massive, heavily-armored, air-breathing fish (they have to surface every few minutes) are the megafauna of the Amazon's rivers. But despite their unmistakability, and the fact that they have been hunted by indigenous people for millennia, scientists still know relatively little about arapaima, including just how many species there are. Since the mid-Nineteenth Century, scientists have lumped all arapaima into one species: Arapaima gigas. However, two recent studies in Copeia split the arapaimas into at least five total species—and more may be coming.


Map reveals gas company flying over Manu National Park


(10/17/2013) A map in an internal Peruvian government report reveals that gas company Pluspetrol has been flying over the protected Manu National Park (MNP) in the south-eastern Peruvian Amazon where UNESCO says the biodiversity "exceeds that of any other place on earth." The over-flight was done via helicopter on 3 February, 2012 by Pluspetrol personnel together with a team from the National Institute e Development of Andean, Amazonian and Afroperuvian Peoples (INDEPA).


Featured video: 22-year-old produces documentary on the Peruvian Amazon


(10/15/2013) Spending a year on the Tambopata River in Peru's deep Amazon, allowed 22-year-old Tristan Thompson, to record stunning video of the much the region's little seen, and little known, wildlife. Thompson, a student at the University of the West of England, has turned his footage into a new documentary An Untamed Wilderness that not only gives viewers an inside look at the world's greatest forests, but also records the secretive behavior of many species, including howler monkeys, aracaris, leaf-cutter ants, hoatzin, and giant river otters.


Has Brazil turned against its progressive environmental policies?


(09/30/2013) Last year, Brazil rolled back crucial parts of its landmark Forestry Code, potentially opening vast tracts of forest for destruction; it is also moving ahead on a number of Amazon dams, including the infamous Belo Monte, despite international condemnation and conflict with indigenous people. Meanwhile, a new law under consideration proposes allowing large-scale mining in protected areas. Given this a new paper in mongabay.com's open access journal Tropical Conservation Science argues that Brazil has thrown off its once admired mantle of environmental legislation, imperiling hundreds of thousands of species in the most biodiverse country on Earth.


Video of Amazon gold mining devastation goes viral in Peru


(09/26/2013) Video of illegal gold mining operations that have turned a portion of the Amazon rainforest into a moonscape went viral on Youtube after a popular radio and TV journalist in Peru highlighted the story. Last week Peruvian journalist and politician Guido Lombardi directed his followers to video shot from a wingcam aboard the Carnegie Airborne Observatory (CAO), an airplane used by researchers to conduct advanced monitoring and analysis of Peru's forests. The video quickly received more than 60,000 views on Youtube.


Judge halts construction of Amazon dam on Brazil's Teles Pires river

(09/19/2013) A federal judge in Brazil has ordered the suspension of construction activities on the Teles Pires due to shortcomings in the environmental licensing process, including the project's impacts on three local tribes, reports International Rivers.


Indigenous peoples resume occupation of Brazil's Belo Monte dam site

(09/19/2013) 150 indigenous protesters have once again occupied the Belo Monte dam site in an effort to block the controversial project, reports Amazon Watch, an NGO that is helping lead the fight against the dam.


Brazil's satellite data suggests rise in Amazon deforestation over past year


(09/12/2013) Deforestation in the Brazilian Amazon appears to have risen significantly over the past year, according to data released by the country's space agency, INPE. Data aggregated from INPE's monthly deforestation alert system shows a 34 percent rise for the 12 months ended July 31, 2013 relative to the year-earlier period.


Scientists discover that threatened bird migrates entirely within Amazon Basin


(09/11/2013) When one thinks of bird migrations, it's usually a north-south route that follows seasonal climates. But researchers in the Amazon have tracked, for the first time, a largely-unknown long-distance migration that sticks entirely to the Amazon Basin. Using satellite telemetry, scientists tracked a pair of Orinoco geese (Neochen jubata) from Peru and a male from Western Brazil, who both migrated to the Llanos de Moxos, a vast savanna and Amazonian watershed in Bolivia. The research has shown that the Orinoco geese—which breeds in both Peru and Brazil—depends on wetlands in the Llanos de Moxos for much of the year.


Brazil establishes 2 Amazon parks covering 2.4m acres

(09/10/2013) The Brazilian government has designated 952,000 hectares of remote public land in the Amazon as two new protected areas.


Amazon rainforest tribe sells REDD+ credits to Brazilian cosmetics giant

(09/10/2013) The Paiter-Suruí, a rainforest tribe that in June became the first indigenous group to generate REDD+ credits under the Verified Carbon Standard (VCS), has now closed their first deal. As reported by Ecosystem Marketplace, Brazilian cosmetics giant Natura Cosméticos has purchased 120,000 tons of carbon offsets from the the Surui Forest Carbon Project in Rondônia, Brazil.


Deforestation surges as Ecuador kills Amazon protection plan

(09/04/2013) Data released this week by Terra-i, a collaborative mapping initiative, shows that deforestation in Ecuador for the first three months of 2013 was pacing more than 300 percent ahead of last year's rate. The report comes shortly after Ecuadorean President Rafael Correa killed off a proposed plan to prohibit oil drilling in Yasuni National Park in exchange for payments equivalent to half the value of the park's unexploited oil.


Scientists catch boa constrictor eating a howler monkey (photos)


(09/02/2013) In a world first, scientists have captured images and video of a boa constrictor attacking and devouring whole a femle howler monkey, one of the largest new world primates weighing in at around 4 kilograms (8.8 pounds). The rare predation event was recorded in a tiny forest fragment (2.5 hectares) in the Brazilian state of Rondonia by Erika Patricia Quintino, a PhD student at the Pontifical Catholic University of Rio Grande do Sul.


$450/ha tax on deforestation could help curb forest loss in Bolivia, suggests new simulation

(09/01/2013) Levying a $450 per hectare tax on deforested lands could help curb forest clearing in Bolivia, suggests a new game-based simulation developed by researchers.



Page 1 | Page 2 | Page 3 | Page 4 | Page 5 | Page 6 | Page 7 | Page 8 | Page 9 | Page 10 | Page 11