News articles on agriculture

---
Mongabay.com news articles on agriculture in blog format. Updated regularly.






Palm oil plantations used to 'reforest' parts of Brazil despite being wildlife deserts
(06/30/2015) A recent study systematically documented bird biodiversity within oil palm plantations, finding they contain fewer species than secondary forest and even cattle pasture. As oil palm grows as a commodity in Brazil – and can legally even be used to "reforest" land – how can a country that has made big gains in reducing deforestation in recent years balance this powerhouse industry with environmental welfare?
Meager post-Ebola harvests worsen food insecurity in West Africa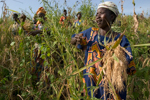 (06/25/2015) The chaos caused by the Ebola outbreak made it much more than a public health issue in affected West African nations. Farmers, who are central to West African economies, suffered, and the effects have hampered the region's efforts to recover from the disease.
Rising seas, sinking peat to swamp Malaysian and Indonesian palm oil
(06/13/2015) With global sea levels going up at a rate of about 9 millimeters per year, the livelihoods of many coastal people in the world look increasingly threatened, especially in those parts of the world with limited financial or technical means to adapt. A rate of a thumb-width of water per year may not sound like much, but the half to one meter higher water levels mean that many coastal people will have to abandon their homes and fields before the end of the century.
Bolivia's aggressive agricultural development plans threaten forests
(06/08/2015) Bolivia's government, supported by some small and most large producers, pushes to expand agricultural lands at the expense of the nation's environment. In April 2015, small-scale Bolivian farmers gathered for a summit with stakeholders from a very different part of the agricultural sector: commercial farmers who oversee vast farms and watch international exchange markets just as closely as the weather.
Private sector innovations reduce food loss in West Africa
(06/01/2015) Why is Africa's second largest tomato producer also the world's biggest importer of tomato paste? The question is a preoccupation for Lamido Sanusi, the former governor of the Central Bank of Nigeria. For Sanusi and other experts, the problem is a lack of processing capacity, which leads to enormous waste and a giant food import bill.
Together we stand: A policy approach to reducing food loss in West Africa
(05/28/2015) West African countries have recognized that when it comes to food security, no nation is an island. Since achieving independence, West African countries have strived for regional integration. By building strong political and economic ties, the 15 member nations of the Economic Community of West African States (ECOWAS) aimed to maximize economic development and minimize inter-country conflict.
China unveils plans for huge railway in South America
(05/27/2015) China is looking to add another rung to its investment presence in Latin America, with an announcement of plans to build an expansive railway bisecting the continent from Brazil to Peru. The bid has raised the hackles of conservation groups, which are concerned the railway will run through sensitive ecosystems, harm threatened wildlife, and affect indigenous communities.
New hope for the world's most endangered zebra
(05/22/2015) Writer and conservation biologist Nika Levikov embarked on the team's latest field mission led by Davidson, to the arid savannah landscape of northern Kenya to help find Grevy's zebras and attach GPS collars. This sub-population has never before been formally documented. With GPS, their movements can be tracked and scientists can learn more about this most endangered zebra species.
Consumer choice: Shade-grown coffee and cocoa good for the birds, farmers, ecosystems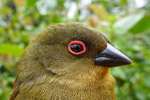 (05/22/2015) The next time you order that "wake up" cup of Joe or reach for a sweet treat, you may want to consider whether those coffee or cocoa beans were grown in the shade or open sun. Choosing the shade grown variety can offer huge benefits to tropical birds, their ecosystems and farmers says a new study by Cagan Şekercioğlu published in the Journal of Ornithology.
Primary rainforest cleared for massive palm oil plantations in Peru
(05/20/2015) More than 9,400 hectares of closed-canopy Amazonian rainforest has been removed for two oil palm plantations in the Peruvian region of Ucayali since 2011, according to scientists working for MAAP, the Monitoring of the Andean Amazon Project. The two plantations are linked to Czech entrepreneur Dennis Melka.
Golden Agri takes another hit as sustainability guru suspends its membership
(05/20/2015) The charity that Indonesia's Golden Agri-Resources has enlisted to devise and implement its zero-deforestation and community-engagement commitments suspended its cooperation with the palm oil giant yesterday, following breaches of the policies they had designed together. A few hours later, Golden Agri announced the resignation of its chief sustainability officer.
62M ha of Latin American forests cleared for agriculture since 2001
(05/19/2015) Over 62 million hectares (240,000 square miles) of forest across Latin America — an area roughly the size of Texas or the United Kingdom — were cleared for new croplands and pastureland between 2001 and 2013, find a study published in Environmental Research Letters.
West Africa's weakest links: Supply chain defects are behind worst food waste

(05/19/2015) For produce raised on some of Senegal's most fertile cropland, the shortest route to the richest urban markets runs through another country. This geographic reality, with its multiple logistical hurdles, illustrates the food security challenges facing Senegal and the wider West African region. The trouble with feeding people here is not so much the availability of food but its accessibility. The difficulties arise not just in agricultural production but also in inefficient food delivery systems – in harvesting, storage, processing and transport.
Luxury hotel chain linked to destruction of rainforests
(05/19/2015) The Mandarin Oriental hotel chain has landed in environmentalists' crosshairs for the practices of its sister company Astra Agro Lestari, a rapidly expanding palm oil producer with fully developed plantations on an area larger than Singapore. The new She's Not a Fan campaign – a play off Mandarin's celebrity-fan endorsement drive – launched yesterday with a petition calling on Astra to stop destroying forests and elephant habitat. Multinational conglomerate Jardine Matheson owns both firms.
China's investment in Latin America taking toll on the environment, setting the stage for conflict
(05/18/2015) China has been investing heavily in Latin America's natural resources and crude oil. Recently, the country even pledged to invest $250 billion over the next decade to strengthen its presence in the region, and compete with the U.S. But this increasing Chinese trade and investment in Latin America is also increasing environmental and social conflict, finds a new report published by Boston University.
Satellite images show deforestation on fringes of UNESCO World Heritage Site in Cameroon
(05/14/2015) In the push to become a middle-income country in the next two decades, Cameroon has courted investments in its vast natural resource wealth in the form of mining, logging and large-scale agriculture. But deforestation revealed by a recent Greenpeace Africa investigation highlights a lack of coordination in determining how to use the country's land.
Food coating made with African ingredient aims to decrease food waste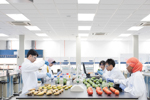 (05/13/2015) In sub-Saharan Africa, up to half of all fruits and vegetables are wasted before they make it to a plate. Lack of refrigeration or stable electricity, as well as long and unpredictable supply chains, make it difficult to keep food fresh. But a new food coating that relies on gum arabic, a regionally produced tree sap, might help solve the problem.
Satellite data shows how deforestation is impacting our weather and our food
(05/12/2015) The conversion of forests to cropland can drive local temperatures up or down by as much as a few degrees, according to a new report. Ironically, the authors write that these temperature fluctuations can lead to less productivity from the very same agricultural operations the forests were cleared to make way for.
EU votes to scale back on biofuels linked to deforestation

(04/28/2015) The European Parliament voted overwhelmingly today on a new cap on biofuels derived from edible crops, which critics say not only compete with feeding a growing global population but also contribute to deforestation and release unacceptably high levels of greenhouse gas emissions. The new legislation sets the cap on edible food crop biofuels—such as palm oil, corn, rapeseed, and soy—at seven percent.
Court rules deforestation of Peruvian rainforest for chocolate was legal
(04/16/2015) A regional court in Loreto, Peru recently ruled that the clearing of more than 2,000 hectares of forest by Cacao del Peru Norte for a plantation to grow cacao, the raw material behind chocolate, was legal, reported the investigative news site OjoPúblico on April 9. The ruling rejects contentions brought by Forestry Department that the company should have sought approval to clear the trees.
Lima to restore pre-Incan aqueducts to alleviate its water crisis
(04/16/2015) To tackle a looming water crisis, the city of Lima, Peru, is planning a series of green infrastructure projects, including the restoration of an ancient network of aqueducts in the mountains above the city. With a rapidly growing population of around 8.75 million Lima is the world's second largest desert city, and no stranger to water shortages.
Study finds abandoned pasture is 'a huge resource that is not being harnessed'
(04/09/2015) As tropical forests around the world are cleared for human development, scientists and conservationists are trying to find ways to both stem their loss and reclaim areas already deforested. In a recent study, researchers investigated restoration of abandoned agricultural land in Ecuador, finding that planting trees and even re-establishing pasture may help limit conversion of more forest to farmland.
Tiny Brazilian opossum could be farmers' friend
(04/07/2015) André Mendonça pops open the spring-loaded door on the shoebox-sized trap and peeks inside. Two bulging, black eyes glare back at him. He pulls the trap off the tree limb and shakes the stunned, sopping wet creature into a clear plastic bag. "One more!" he says excitedly.
Brazilian farmers urge return of big cats to Cerrado to protect crops from rampaging peccaries
(04/07/2015) Margie Peixoto was driving her pickup across her farm in the Brazilian state of Mato Grosso do Sul one February afternoon when she spotted some broken corn stalks and a trio of white-lipped peccaries ambling along the red-clay road as if they owned it. The moment these wild pig relatives spotted the truck, they snorted, snarled and disappeared into the head-high crop, where dozens more likely hid.
Reservations about Indonesian 'land reform' as details unclear
(04/02/2015) Indonesian civil society groups and experts welcome President Joko "Jokowi" Widodo's campaign promise to redistribute nine million hectares of land to farmers – in principle. But they remain wary of what the program, whose details have yet to be made clear, might look like in practice. These reservations were expressed at a discussion on the plan held in Jakarta on April 1.
Low crop prices means time is ripe for new forest protection programs
(03/27/2015) Today, conservation compliance is a U.S. policy between governments and farmers that reward farmers with federal subsidies for good conservation practices on designated vulnerable lands. But economist Clayton Ogg believes it could now be used to save forests in countries like Brazil, China, India, and Indonesia. "The main drivers for deforestation in recent years are high crop prices. However, as crop prices fall to more normal levels, farmers depend very heavily on government subsidies, and the subsidies become the major driver for deforestation," Ogg told mongabay.com.
Mexico's club mosses at risk of extinction
(03/26/2015) All nine species of the club moss genus Phlegmariurus found in the state of Veracruz in eastern Mexico are at risk of extinction, according to a new study published in the journal Tropical Conservation Science. One of these species, P. orizabae, has not been recorded in the wild since 1854.
Illegal cocoa plantations threaten Côte d'Ivoire's parks and primates
(03/25/2015) Côte d'Ivoire, the world's largest producer of cocoa, also boasts an ecosystem of great biological richness and species diversity, with over 2,250 endemic plants and 270 vertebrate species. Unfortunately, it also has the highest deforestation rate in all of sub-Saharan Africa, largely due to its rise as a significant player in the global agricultural economy after years of civil unrest.
New bird species confirmed in Sulawesi 15 years after first sighting
(03/06/2015) Although it's a hotspot of avian biodiversity, the Indonesian island of Sulawesi has been "poorly studied ornithologically," according to a study published in the scientific journal PloS one. Case in point: the subject of the study, a new species of flycatcher first observed in 1997 but not formally described by scientists until November 2014.
Humans cause erosion one hundred times faster than normal
(03/05/2015) Experts have long linked deforestation and intensive farming to worsening erosion rates around the world. Although studied extensively, determining erosion rates due to human-induced activities has rarely been quantified by scientists. However, new research conducted by geologists finds that erosion rates in the southeastern United States increased one hundred times after the arrival of European colonists in the 1700s due to tree clearing and unsustainable agriculture practices.
Indigenous communities in Paraguay threatened by deforestation despite having land rights
(02/17/2015) According to a report by Survival International, the existence of the isolated Ayoreo Totobiegosode people is critically threatened by cattle ranching firms that are destroying their last forest refuge. The report asserts Paraguayan law gives native people the rights to their traditional land. Yet, most of the land in Paraguay is privatized, making these laws in reality difficult to achieve.
U.S. Central Plains and Southwest will likely face apocalyptic drought
(02/12/2015) In the recent film Interstellar, a mysterious phenomenon known as "the blight" is wiping out agriculture around the world until only corn—for some reason—survives. Humanity is on the brink of starvation. While the blight may be science fiction, global warming is not, and a new study finds that future warming could decimate the western U.S. over the next century.
Ranking the best and worst companies in terms of deforestation
(02/11/2015) While a number of high profile companies have adopted policies designed to exclude deforestation from their commodity supply chains, such commitments remain outside the norm, indicating that most companies still lack forest-friendly safeguards, finds a comprehensive survey conducted by the Global Canopy Programme. The assessment ranks 250 companies, 50 jurisdictions, 150 banks and investors, and 50 'powerbrokers' by the extent and scope of their souring policies for six 'forest risk commodities': soy palm oil, beef, leather, timber, pulp and paper.
Pollution from fossil fuels decreased rainfall in Central America
(02/10/2015) Fossil fuel pollution may have caused a southern shift in a vital rainfall belt across Central America, according to a new study in Nature Geoscience, potentially leading to drier conditions and droughts in some northern tropical countries. Using data from a single stalagmite in a Belizean cave, the researchers were able to create an accurate record of both rainfall and temperature for the last 450 years.
Recently discovered, critically endangered bird gets its first reserve
(02/10/2015) In an 11-square mile strip of forest on the slopes of a plateau in northeastern Brazil lives an entire species, considered by scientists to be one of the most endangered birds in the world. Now, 18 years after it was first discovered by scientists, conservation groups have acquired 140 acres of land to establish the first-ever reserve for the Araripe manakin.
How termites hold back the desert
(02/05/2015) Some termite species erect massive mounds that look like great temples springing up from the world's savannas and drylands. But aside from their aesthetic appeal—and incredible engineering—new research in Science finds that these structures do something remarkable for the ecosystem: they hold back the desert.
Palm oil major makes deforestation-free commitment

(02/03/2015) IOI Corporation officially committed to what its subsidiary, palm oil trader IOI Loders Croklaan, pledged last November: it will no longer source palm oil linked to deforestation and human rights abuses.
Sulawesi communities build big, unique houses by sustainably managing forests
(02/03/2015) Layuk Sarungallo sits in front of a large Tongkonan, the traditional house of the Toraja people characterized by sweeping roofs that resemble a boat or a buffalo horn arching toward the sky. The locals still use traditional construction methods, maintaining their houses with wood, bamboo and reeds.
Rapid development threatening traditional farms, forests in West Papua
(02/03/2015) Through a system of community protected areas and family agricultural rotation, the indigenous people of Demaisi in West Papua have maintained their way of life and the health of the forest for as long as anyone can remember. But now this system is under threat as government-fostered development moves into the region.
Monarch butterfly population rises a little, but still perilously low
(01/28/2015) The world's migrating monarch butterfly population has bounced back slightly from its record low last year, but the new numbers are still the second smallest on record. According to WWF-Mexico and the Mexican government, butterflies covered 2.79 acres (1.13 hectares) in nine colonies this year in the Mexican forests where the insects overwinter.
Brazil's soy moratorium dramatically reduced Amazon deforestation
(01/23/2015) The moratorium on forest conversion established by Brazilian soy giants in 2006 dramatically reduce deforestation for soy expansion in the Amazon, and have been more effective in cutting forest destruction than the government's land use policy in the region, finds a study published today in the journal Science.
Sumatran community grows crops, aids conservation through 'village forests'
(01/23/2015) The rolling green hills covered in rice paddies and coffee plantations give Semende in the Muara Enim regency of South Sumatra a welcome and hospitable feeling. However, behind the peaceful pastoral veil, is a history of rampant forest encroachment and land conflict in the Barisan mountains.
Sumatran village protects environment through agroforestry
(01/21/2015) The forest behind Indudur village clings to the steep hillside. The topography itself is enough to protect it from most common threats of development. However, the area is under attack by a more pernicious force: a lack of interest by the younger generation in earning their living here. The difficulty of life compels many to migrate out, leaving the village dominated by older people.
Company chops down rainforest to produce 'sustainable' chocolate
(01/20/2015) A cacao grower with roots in Southeast Asia's palm oil industry has set up shop in the Peruvian Amazon. The CEO of United Cacao has told the international press that he wants to change the industry for the better, but a cadre of scientists and conservation groups charge that United Cacao has quietly cut down more than 2,000 hectares of rainforest.
Sulawesi village seeks protection for sacred forest threatened by development
(01/16/2015) Home to some 400 fishermen, Manurung village appears unremarkable at first glance: quiet houses along a winding river lined with boats. However, behind the village lies something remarkable: a tract of old-growth forest nearly untouched by human exploitation. Pensimoni Hill stands as a rare outpost of towering trees rising above freshwater springs that provide clean water and life for the villages below.
Farmers help restore degraded forests in Sulawesi
(01/15/2015) Irda tends to his two-hectare timber plantation in Pamulukkang Forest at the base of Tanete Kindo Mountain in West Sulawesi. Unlike some other farmers in Indonesia, he does so without fear of harassment by forest rangers or police. Since 2008, he has been involved in the Community Plantation Forest (HTR) program—an initiative by the Indonesian government to restore degraded lands by encouraging locals to plant and manage commercially sustainable forests.
Did palm oil expansion play a role in the Ebola crisis?
(01/14/2015) The Ebola outbreak in West Africa may have been the result of complex economic and agricultural policies developed by authorities in Guinea and Liberia, according to a new commentary in Environment and Planning A. Looking at the economic activities around villages where Ebola first emerged, the investigators analyzed a shift in land-use activities in Guinea's forested region, particularly an increase in oil palm.
Forest management by Sulawesi community attracts international attention
(01/13/2015) The Ngata Toro community in the Indonesian province of Central Sulawesi worked with the government to remap their lands and negotiate access to the forest. In the year 2000, officials from the national park signed an agreement with Ngata Toro recognizing the existence of indigenous forests, and granting them permission to maintain the forest as they had previously.
Sulawesi community regains access to forest on which it depends
(01/09/2015) Recognizing the ecological sensitivity of an area in Central Sulawesi, the Indonesian government established two expansive protected areas in the region. Although these protective measures may be forward-thinking in terms of environmental protection, they had the unfortunate side effect of corralling the residents of the village of Namo on a tiny patch of land, forbidding them from the utilizing the forest resources that once sustained them.
Kalimantan community maps forest to thwart timber companies
(01/08/2015) The small village of Tumbang Bahanei is inhabited by 139 indigenous families that tend to 2,859 hectares of customary forest, 132 hectares of rice fields, 5,841 hectares of rubber forest, and 43 hectares of forest designated for indigenous tourism. In total, this amounts to just over 8,880 hectares. The residents know these numbers precisely, because they have been diligently mapping every corner of their territory in a desperate attempt to prevent it from being snatched up by timber companies.
Sulawesi community vies to maintain rights to forest
(01/07/2015) Around 3,000 people from 833 households live in Tompo Bulu's seven sub-villages. Traditional culture and ritual run thick in this area. The residents of Karampuang believe the area is where the cultures from eastern and western Indonesia first met. Local myth holds that the first leader of the area descended from the sky with a mandate that the locals must maintain their traditional way of life.
Palm oil threatens community forest in Central Kalimantan
(01/07/2015) Delang district is different than many parts of Central Kalimantan. Namely, on the drive in from Nangabulik, you won't see large-scale oil palm plantations, and the forest appears to be well maintained. This is because the locals are keenly aware of the importance of their land at the headwaters of the Lamandau River.
Traditional farming technique preserves soil, forest in Kalimantan
(01/06/2015) The road winds five kilometers through a thick canopy of trees before ending abruptly at a stream and a small, stout wooden cabin in West Kalimantan, Indonesia. Amid, the cabin's owner, proudly explains that he constructed it from local hardwoods—high value trees still readily available in the surrounding hills.
Coffee farmers help protect Flores forest
(01/06/2015) Located on the slopes of Inerie Mountain on the island of Flores in Indonesia, farmers in Bajawa and Golewa districts have practiced sustainable agroforestry for generations, producing coffee for export to the U.S. and Europe known as Arabica Flores Bajawa (AFB). Although not as well-known as other specialty coffees in Indonesia, its popularity is increasing, and Ngada regency now produces more than 300 tons of AFB per harvest.
Endangered mussel still harvested for food in Laos
(12/29/2014) Only one freshwater pearl mussel species is known to inhabit tropical water systems. However, despite being listed as Endangered by the IUCN, it is also still a part of the diet of villagers in Northern Laos. A study published recently found that the dwindling populations of the bivalve would benefit from a ban on their capture.
Palawan palm oil presence likely to grow, industry rep denies harmful impact
(12/23/2014) Plans to convert eight million hectares of land for palm oil production on Palawan island in the Philippines have been met with opposition from environmental and social advocacy groups, with a petition to cease development sent to the United Nations Commission on Human Rights by an anti-palm oil expansion group. But an industry representative denies claims that all eight million hectares will be cultivated to the detriment of wildlife and human communities, maintaining palm oil expansion will be beneficial to the people of Palawan.
Advocacy group lashes out against palm oil expansion on Philippine island
(12/23/2014) In the first week of November, an anti-oil palm expansion group sent a copy of their petition to the Special Rapporteur on the Rights of the Indigenous People for the United Nations Commission on Human Rights hoping to elevate their concerns over land-grabbing issues faced by tribes in Palawan, Philippines, due to planned palm oil expansion in the province.
125M ha of degraded lands identified for forest-friendly agricultural expansion
(12/19/2014) A team of researchers has identified 125 million hectares (309 million acres) of land suitable for agricultural expansion that won't come at the expense of tropical forests. The study argues that shifting agricultural expansion away from forests to these 'degraded lands' would avoid 13 billion tons of carbon dioxide emissions that would be released were they converted for plantations, pasture, and croplands.
Tropical deforestation could disrupt rainfall globally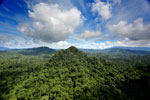 (12/18/2014) Large-scale deforestation in the tropics could drive significant and widespread shifts in rainfall distribution and temperatures, potentially affecting agriculture both locally and far from where forest loss is occurring, concludes a study published today in Nature Climate Change.
Deforestation taking toll on nesting birds in Cameroon
(12/17/2014) The tropical montane forests of the Cameroon mountain ranges boast fertile volcanic soils, high biodiversity of grasses and non-woody plants, as well as many endemic bird species that can be found only in this high-altitude region. Yet, many of these endemic bird species may be at risk due to increased nest predation linked with human-induced forest degradation, according to a new study.
Success of 'land sparing' will depend on global economics, regulations
(12/16/2014) Agriculture is the primary driver of tropical deforestation. Indeed, most global food production occurs in the tropics, including important commodity crops such as sugarcane, soybeans, palm oil, and beef. Recent estimates indicate that forest clearing for agriculture contributes significantly to greenhouse gas emissions. This fuels concern over how to balance food production for a growing population with climate change mitigation through conserving tropical forests.
EU adopts law mandating palm oil labeling on food products

(12/12/2014) Tomorrow the European Union will begin enforcing legislation that mandates labeling of specific vegetable oils on food products. The move means consumers will soon know whether the products they consume contain palm oil, canola, or one of many other sources of plant-based fat.
Initiative to restore 50M acres of degraded Latin American ecosystems by 2020
(12/07/2014) A coalition of governments and organizations today pledged to restore 20 million hectares (50 million acres) of degraded forests and ecosystems across Latin America by 2020 under an initiative that aims to curb boost rural incomes, fight climate change, and increase agricultural production. The effort is backed by $365 million from five impact investors.
New endangered bird species discovered in Brazil
(12/04/2014) The Bahian mouse-colored tapaculo (Scytalopus gonzagai) has only just been discovered by scientists in the heavily logged Atlantic Forest of southeast Brazil -- and it's already believed to be endangered.
One-two punch: farming, global warming destroying unique East African forests
(12/03/2014) Lush mountains speckle East Africa's grasslands and desert, from Mozambique to Ethiopia. These isolated habitats are home to a plethora of species, and are considered by scientists to be some of the most biodiverse regions in the world. However, their forests are being cut down for farmland and are threatened by global warming, putting at risk multitudes of species that have nowhere else to go.
Earthworm farming in the West Bank (commentary)

(11/25/2014) From what I'm told, there can't be too many worm farms in the West Bank. Local agricultural experts say they've never heard of the practice. That doesn't mean that someone, somewhere isn't happily vermicomposting -- the technical name for worm farming -- but it's clearly not happening at any scale. After today though, there are at least two worm farms up and running here.
Amazon deforestation moratorium extended 18 months
(11/25/2014) The Brazilian soy industry has extended its deforestation moratorium for another 18 months. The moratorium, which was established in 2006 after a high-profile Greenpeace campaign, bars conversion of forests in Brazilian Amazon for soy production. Independent analysis has shown it to be highly effective — just prior to the moratorium, soy accounted for roughly a fifth of recent deforestation, while today its share is less than one percent.
Conflict-fueled deforestation, poaching in Assam continue despite truce
(11/19/2014) Northeastern India boasts nearly 44 percent of the country's dense forests, and contains one of the most biodiverse areas in the world. However, the region lost approximately 548,440 hectares of tree cover—more than 3 percent—from 2001 through 2012. Sonitpur, Assam, has been particularly hard hit as people flooded into the area and cleared forest.
Disappearing oasis: northeastern India losing forests as people move in
(11/18/2014) Northeastern India is part of the Eastern Himalaya biodiversity hotspot, one of the megadiverse areas of the world. The region boasts more than 60 percent forest cover, compared to the 15 percent for India as a whole. However, not all is pristine when one visits areas designated as forest on the map.
Ending deforestation won't stop carbon emissions from land use change

(11/17/2014) Even if the world stopped cutting down forests, carbon dioxide emissions from land use change would still pose a major challenge, according to a new paper in Nature Climate Change. The research finds that eliminating deforestation would mean agriculture would be pushed into non-forest ecosystems and still release significant quantities of carbon dioxide.
Shifting the way the world shops (commentary)
(11/17/2014) If you are what you eat, then just as true, you are what you buy. From organic, fair-trade, responsible palm oil, Wildlife Friendly, and most recently deforestation-free, consumers can cast their lot with a variety of eco-friendly labels and define who they are by what they buy. It gives someone in New York City the chance to contribute to forest protection in Indonesia by using their wallets to influence the sustainability of the supply chain that serves them with goods.
Cargill to use drones to monitor zero deforestation commitment
(11/17/2014) Cargill will use Unmanned Aerial vehicles (UAVs) and 'solar-powered, satellite-connected remote sensor networks' to monitor compliance with its new zero deforestation policy for palm oil, reports the agribusiness giant in its first progress report on its recent forest commitments.
Over 60% of world's traded palm oil now bound by zero deforestation commitments
(11/13/2014) Over sixty percent of palm oil traded internationally is now bound by zero deforestation policies after IOI Loders Croklaan committed to excluding forest destruction from its supply chain, says Forest Heroes, a campaign that aims to reduce the environmental impact of palm oil production. IOI Loders Croklaan's parent corporation IOI Group has been aggressively targeted by environmentalists for its links to deforestation and controversies over conflicts with local communities.
Reducing deforestation is good for business, argues report

(11/12/2014) Some of the world's largest companies are making progress in disclosing and addressing deforestation risk within their commodity supply chains, but much work is left to be done to shift to more sustainable practices, argues a new report from the Climate Disclosure Project.
Mapping mistake leaves wildlife at risk
(11/12/2014) Scientists have discovered a new, endangered plant species in the Democratic Republic of Congo (DRC), in an area that is supposed to be protected as a reserve. However, mapping errors effectively moved the reserve's boundaries 50 kilometers to the west, opening up the region and its vulnerable wildlife to human disturbance.
Indonesia's new president, ministers have big plans for fish
(11/06/2014) Indonesia's new president, Joko Widodo (or Jokowi, as he's popularly called) spent half his 11-minute inaugural address thanking God, his partisans and the citizenry at large. For the rest of the speech he talked about oceans. Was this just rhetorical flourish, or does it portend a new seriousness about maritime management?
91% of Kenya's protected areas shrank in 100 years
(11/04/2014) Over the last century, 91.7 percent of all changes to protected areas in Kenya have involved reductions in their area, known as downsizing, which is an unusual and remarkable statistic from a global perspective. Analyses show, however, that a variety of factors—including some that which occurred half a century ago—could be responsible for the status of forests in Kenya today.
'Too many people': Philippine island being deforested despite extensive protections
(10/31/2014) About an hour and a half plane ride from the Philippine capital Manila is Palawan, a long, narrow island home to about a quarter of all the animal species found in the country. But the province is losing its forests at a rapid clip due to human population increases, logging, quarrying, mining, and even a huge palm plantation.
To become less damaging, target non-forest lands for palm oil, says book
(10/16/2014) Palm oil production has been spectacularly profitable but ecologically disastrous across Southeast Asia, consuming millions of hectares of indigenous lands, rainforests, and peatlands in recent decades. That paradox has made the crop highly controversial despite its importance in providing a high-yielding source of vegetable oil. A new book, published freely online by the Center for International Forestry Research (CIFOR), weighs in on the debate and concludes — like many before it — that the problem is not the crop itself, but how it is produced.
'A remarkable conservation achievement': Ecuador reserve expands as forest disappears
(10/09/2014) A strip of rainforest running along the northwestern Ecuadorian coast and up through Colombia is one of the most biodiverse places in the world. Yet, less than 10 percent of Ecuador's portion remains intact, with more forest lost every year to human development. But a little more has been saved for now, with 500 hectares added to an area reserve.
Brazil unlikely to sustain gains in reducing deforestation without new incentives for ranchers, says study
(10/09/2014) Cattle ranchers that drive the vast majority of forest clearing in the Brazilian Amazon are unlikely to be held at bay indefinitely unless they are afforded new incentives for keeping trees standing, argues new analysis published by an economic research group. The findings suggest that Brazil's recent progress in reducing deforestation — annual forest loss in the region has dropped by roughly 80 percent since 2004 — could easily be reversed.
Climate change to boost farmland, diminish harvests, says new study
(09/29/2014) Climate change is likely to alter how we humans grow adequate amounts of food for a swelling global population. Assessing just how much and where those changes will occur has been difficult. But a new study takes aim at those very questions and could provide a guide for the debate over feeding the planet while also preserving biodiversity and the forests that filter out the carbon we produce.




Page 1 | Page 2 | Page 3 | Page 4 | Page 5 | Page 6 | Page 7 | Page 8 | Page 9 | Page 10