News articles on africa

---
Mongabay.com news articles on africa in blog format. Updated regularly.



Africa Header
Zimbabwe selling baby elephant calves to China, says environmental group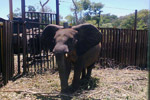 (04/17/2015) A hundred thousand African elephants were killed by poachers for their ivory between 2010 and 2012. Now a new threat looms: a growing wildlife trade in baby animals to satisfy international tourism. Zimbabwe has reportedly taken 80 elephant calves from their mothers and families in the wild, and is currently holding them in two heavily guarded facilities in Hwange National Park and near Victoria Falls. The baby animals await transport overseas for sale to unidentified buyers, possibly in China or other countries, says the international elephant rights organization, Global Action Ending Wild Capture (GAEWC).
Empowering women in order to save the harvest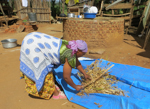 (04/16/2015) There are plenty of technological challenges to reducing food waste in sub-Saharan Africa, but a challenge that might prove more important to overcome is gender inequality. Women are responsible for nearly half of agricultural labor in sub-Saharan Africa, with some estimates reaching up to 90 percent. But they often don't have the authority to make financial decisions for their families, even when it comes to managing or selling the crops they've grown themselves.
Criticism of GAR and Wilmar African oil palm projects highlight global 'no-deforestation' challenges
(04/16/2015) Despite high-profile no-deforestation policies, palm oil giants Golden Agri-Resources and Wilmar have attracted criticism recently over their projects in Africa, particularly regarding the correct implementation of free, prior and informed consent (FPIC) of affected communities. Some NGOs have suggested these persistent problems indicate no lessons have been learned from years of bad practice in Indonesia.
Expedition in the Congo rediscovers lost primate
(04/14/2015) The last time there was a sighting of Bouvier's red colobus disco was all the rage, the Internet was non-existent, and Madonna still referred solely to the mother of God. But then the African monkey vanished and conservationists feared it had gone extinct—a victim of the bushmeat trade. For years, research groups called for an expedition to find out if Bouvier's red colobus still survived.
Innovative community fisheries initiative wins top social entrepreneurship prize
(04/13/2015) A program that helps restore overfished areas through community-based marine conservation has won the Skoll Foundation's top prize for social entrepreneurship. Today the Skoll announced Blue Ventures, which piloted its approach in Madagascar a decade ago before expanding to other regions, was one of four organizations to be honored with the $1.25 million Skoll Award for Social Entrepreneurship.
Australia becomes first country to ban lion trophies

(04/09/2015) Last month, Australia became the world's first country to ban the import or export of lion trophies, often taken from so-called canned hunting where lions are raised solely to be shot by foreign hunters.
New group hopes to raise global profile of the peace-loving bonobo
(04/08/2015) Of the world's six species of great ape (not including us), it's safe to say that bonobos (Pan paniscus) are the least studied and least known publicly. But a new organization, the Bonobo Project, is hoping to change that. To the untrained eye, a bonobo looks little different from their closest relative, the chimpanzee. But the differences between these two cousins are actually quite large.
Kenya crackdown on terrorism threatens NGOs, wildlife, media
(04/03/2015) The terrorist attack that killed at least 147 people at Garissa University on April 2nd was another tragic milestone in Kenya's ongoing battle with the al-Shabab terrorist group based in Somalia. In response to several other brutal attacks on civilians, Kenya's government recently passed and proposed harsh new laws that are alarming environmental activists, non-governmental organizations (NGOs), the media, opposition politicians and the public.
Big surprise in the greenhouse: study finds economic costs of climate change hugely underestimated
(03/30/2015) Look at most climate change projection graphs and you will see a smoothly rising red line of increasing temperature, melting ice and other impacts. But climate does not work that way. Studies of the paleoclimate record indicate that when heat energy is rapidly added to the atmosphere -- as humans are doing today -- the climate can experience "tipping points," with abrupt shifts and potentially disastrous results.
Chocolate company, NGO work together to save lemurs
(03/30/2015) Despite its biodiversity and unique plants and animals, Anjanaharibe-Sud Special Reserve hosts only around a dozen tourists each year. In an effort to increase tourism and research opportunities, the Lemur Conservation Foundation will be using the money raised during the Madécasse promotion to develop Camp Indri - the reserve's only authorized tourist site.
Elephant poaching rate unchanged – and still devastating
(03/25/2015) New figures show essentially no change in the number of elephants killed in Africa by poachers last year, despite a high-profile meeting on the crisis which was attended by 46 countries and a number of commitments. Data from CITES' Monitoring the Illegal Killing of Elephants (MIKE) estimated that around 20,000 elephants were killed in 2014, the same as in 2013.
Illegal cocoa plantations threaten Côte d'Ivoire's parks and primates
(03/25/2015) Côte d'Ivoire, the world's largest producer of cocoa, also boasts an ecosystem of great biological richness and species diversity, with over 2,250 endemic plants and 270 vertebrate species. Unfortunately, it also has the highest deforestation rate in all of sub-Saharan Africa, largely due to its rise as a significant player in the global agricultural economy after years of civil unrest.
DRC mulls changing Virunga's boundaries for oil

(03/19/2015) Last Friday, the government of the Democratic Republic of Congo (DRC) announced it was considering changing the boundaries of Virunga National Park to accommodate oil exploitation. Africa's oldest park, Virunga is home to around a quarter of the world's mountain gorillas as well as thousands of other species, many of them threatened with extinction.
Declining palm oil prices: Good news and bad news for smallholders
(03/16/2015) Declining crop prices usually spell bad news for farmers, and poor smallholders in particular. The drop in the price of palm oil from a recent high of US$860 per metric ton in March 2014 to below US$640 in March 2015 (and far below 2010-2012 prices which exceeded US$1000) heralds a shift in perceptions of oil palm from an economic boon to poverty-stricken smallholders, to a liability that ties small-scale farmers to a less profitable commodity.
King of the jungle returns to Gabon after nearly 20 year absence

(03/16/2015) There's a new cat in town. For the first time since 1996, conservationists have proof of a lion roaming the wilds of the Central African country of Gabon. The lion—a healthy-looking, young male—was caught on camera trap in Batéké Plateau National Park, a 20,200 hectare expanse of grasslands and gallery forests.
Road rage: scientists denounce $60 trillion infrastructure expansion
(03/14/2015) Last November, at the annual G-20 summit - for the 20 wealthiest of the world's nations - in Brisbane, Australia, a staggering commitment was made to invest $60 to $70 trillion worldwide in new infrastructure over the next 15 years. This is akin to doubling the current value of all global infrastructure put together.
Conservationists announce program to protect East Africa's largest elephant population
(03/12/2015) The Wildlife Conservation Society (WCS) and the Tanzanian government have launched an ambitious new initiative to protect East Africa's largest population of elephants (Loxodonta Africana). With funds from USAID, the plan aims to reduce poaching and protect biodiversity - including the area's 25,000 elephants- across an 115,000 square kilometer ecosystem.
Local land rights may be in danger from push for palm oil in Liberia
(03/12/2015) The rights of local and indigenous peoples aren't being adequately protected in the drive for economic development, according to a report published in February by the Rights and Resources Initiative (RRI), a coalition of forest-oriented organizations. For a place like Liberia, reeling from both decades of persistent poverty and the recent Ebola epidemic, economic development seems critical at just about any cost.
UN report warns of grave consequences if mangroves not protected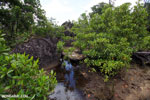 (03/11/2015) According to the United Nations Environment Program (UNEP), global destruction of mangrove forests impacts biodiversity, food security, and the lives and livelihoods of some of the most marginalized communities in the world. Mangroves, which are forests of salt-tolerant trees and shrubs that lie along coastlines in the tropics and subtropics, are also invaluable carbon sinks. And we're not doing nearly enough to protect them, says a recent report.
Citizen scientists help demystify Serengeti's wildlife with photos
(03/10/2015) Africa's Serengeti conjures up romantic images of millions of migrating wildebeest and zebras, prides of lions feasting on their prey, and hyenas prowling in the background. But not everyone is fortunate to see them up close. Snapshot Serengeti, a citizen science project, is changing that. It lets anyone, with or without a background in science or ecology, become a part of Africa's wilderness from their homes.
Firewood fervor may turn Zimbabwe into an 'outright desert'
(03/05/2015) In developing countries like Zimbabwe and in much of the rest of sub-Saharan Africa, fuelwood is a major source of energy for cooking and heating for people who can't afford electricity. A 2014 study published in Resources and Environment highlights the severity of this issue in Zimbabwe.
Somali charcoal: funding terrorism through deforestation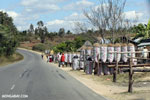 (03/05/2015) Militant terrorist group Al-Shabaab funds itself, in part, through the illegal production and sale of charcoal, turning Somalia's trees into "black gold." Because areas of the country controlled by the group aren't accessible to researchers, it's difficult to determine just how many trees are cut down to fuel Al-Shabaab's violent agenda.
Researchers, locals work together to save Ethiopia's 'church forests'
(03/03/2015) Presenting a workshop on ecosystem services to a roomful of priests in Ethiopia may seem like an unlikely scenario for a conservation biologist to end up in, but for Meg Lowman, it's an essential part of spreading her passion for bottom-up conservation. "Canopy Meg," as she's fondly referred to by her colleagues, believes in the power of local communities to be part of the solution, often in ways that are more effective than researchers can make alone.
How the Sahara keeps the Amazon rainforest going
(03/02/2015) Scientists have just uncovered an incredible link between the world's largest desert (the Sahara) and its largest rainforest (the Amazon). New research published in Geophysical Research Letters theorizes that the Sahara Desert replenishes phosphorus in the Amazon rainforest via vast plumes of desert dust blowing over the Atlantic Ocean.
To keep big cats out, use a cat door
(02/26/2015) As a hunter searches for prey, heat radiates off the sun stroked horizon distorting the landscape. At the snap of a twig and a rustle in thorny acacia the hunter is off. Keen eyed hearing pinpoint its prey: the cheetah spots an impala and immediately gives chase. The chase won't last long though. The impala lives on a farm and is protected by a high fence to keep predators out. But these fences aren't fool proof.
Rainforest loss increased in the 2000s, concludes new analysis
(02/25/2015) Loss of tropical forests accelerated roughly 60 percent during the 2000s, argues a paper published in the journal Geophysical Research Letters. The findings contradict previous research suggesting that deforestation slowed since the 1990s. The study is based on a map of 1990 forest cover developed last year by Do-Hyung Kim and colleagues from the University of Maryland. The map, which includes 34 countries that contain 80 percent of the world's tropical forests, enabled the researchers to establish a consistent baseline for tracking forest cover change across regions and countries over time.
Selective logging causes long-term changes to forest structure
(02/18/2015) Selective logging is causing long-term changes to tropical forests in Africa by facilitating the growth of weeds and vines, which reduces plant diversity and diminishes carbon storage, reports a new paper published in the journal Ecological Research. The paper is based on field data from more than 500 plots in Sierra Leone, Ghana, Cameroon and Gabon.
Illegal logging still a big issue in Cameroon
(02/13/2015) Cameroon is struggling to make progress in combatting illegal logging. Regulatory budgets are too thin to protect the country's vast tracts of Congolian Rainforest. And demand domestically and abroad make the financial incentives for both the informal sector and Cameroon's leaders too difficult to pass up, leading to an illicit timber trade beset with corruption.
Pollinator collapse could lead to a rise in malnutrition

(02/09/2015) Saving the world's pollinators may be a public health issue, according to recent research. Scientists have long believed that pollinators are important for human nutrition, but this is first time they have tested the hypothesis. What they found is disturbing: pollinator collapse could increase nutrient deficiency across local populations by a up to 56 percent in four developing counties.
Madagascar establishes a sanctuary for sharks
(02/06/2015) The government of Madagascar has established the Indian Ocean island's first shark sanctuary in an area famous for its marine biodiversity, reports the Wildlife Conservation Society (WCS).
Videos: new film series highlights bringing Gorongosa back to life

(01/29/2015) Tracking lions, photographing bats, collecting insects, bringing elephants home: it's all part of a day's work in Gorongosa National Park. This vast wilderness in Mozambique was ravaged by civil war. However, a unique and ambitious 20-year-effort spearheaded by Greg Carr through the Gorongosa Restoration Project is working to restore this rich and little-studied African wilderness.
Adorbs: scientists capture first photos of African golden cat kittens
(01/28/2015) The African golden cat is arguably the continent's least known feline, inhabiting dense tropical forests, almost never seen, and, of course, long-upstaged by Africa's famous felines. But a few intrepid scientists are beginning to uncover the long-unknown lives of these wild cats. Researchers working in Uganda's Kibale National Park have captured remarkable photos of African golden cats...with kittens.
1,215 rhinos butchered in South Africa in 2014
(01/22/2015) 1,215: that's the total number of rhinos butchered last year in South Africa for their horns. The number represents another annual record—the seventh in a row—topping last year's total by 195 rhinos. South Africa houses the bulk of the world's rhinos (around 80 percent), but has also become the center of the illegal poaching trade.
Scandal and intrigue overshadow environment at the Simandou mine in Guinea
(01/20/2015) Critically Endangered chimpanzees stand to lose their home over giant iron mine in West Africa. When I was a Peace Corps Volunteer in West Africa decades ago well-laid plans often crumbled to dust in the unpredictable confusion of life there. We just muttered with resignation, 'WAWA' – West Africa wins again. The Simandou iron ore mine in Guinea could be one of the biggest WAWAs the region has ever produced.
Did palm oil expansion play a role in the Ebola crisis?
(01/14/2015) The Ebola outbreak in West Africa may have been the result of complex economic and agricultural policies developed by authorities in Guinea and Liberia, according to a new commentary in Environment and Planning A. Looking at the economic activities around villages where Ebola first emerged, the investigators analyzed a shift in land-use activities in Guinea's forested region, particularly an increase in oil palm.
How black rhinos and local communities help each other in Namibia
(01/07/2015) Africa's rhinos are in a state of crisis. Poaching for their horn has resulted in the deaths of thousands of animals and pushed the continent's two species—the white and black rhino—against the wall. Yet, despite the crisis, there are pockets of rhino territory where poaching remains rare and rhinos live comparatively unmolested. Indeed, one of the brightest spots for rhinos is in Namibia.
Top 10 Environmental Stories of 2014
(12/23/2014) In 2014, the unimaginable happened: companies representing the majority of palm oil production and trade agreed to stop cutting down rainforests and draining peatlands for new oil palm plantations. After years of intense campaigning by environmentalists and dire warnings from scientists, nearly two dozen major producers, traders, and buyers established zero deforestation policies.
When predators attack, plants grow fewer thorns
(12/17/2014) Crisp lines of light begin to play out across the landscape. As the morning light grows, blades of grass take shape and, amongst rocky outcrops, green acacia breaks the yellow and gold of the savannah. Stirring in this early morning atmosphere is the African impala, an ungulate that typically grazes at dusk and dawn.
Deforestation taking toll on nesting birds in Cameroon
(12/17/2014) The tropical montane forests of the Cameroon mountain ranges boast fertile volcanic soils, high biodiversity of grasses and non-woody plants, as well as many endemic bird species that can be found only in this high-altitude region. Yet, many of these endemic bird species may be at risk due to increased nest predation linked with human-induced forest degradation, according to a new study.
Relief for Kenya's rare coastal forest
(12/09/2014) In October this year, CAMAC Energy, an oil and gas exploration and production company, announced that they would conduct seismic surveys for oil and gas within Arabuko-Sokoke Forest, one of the last remaining fragments of coastal forests in East Africa. But following immense pressure from the environmental front, CAMAC Energy cancelled their plans to conduct surveys inside the forest.
One-two punch: farming, global warming destroying unique East African forests
(12/03/2014) Lush mountains speckle East Africa's grasslands and desert, from Mozambique to Ethiopia. These isolated habitats are home to a plethora of species, and are considered by scientists to be some of the most biodiverse regions in the world. However, their forests are being cut down for farmland and are threatened by global warming, putting at risk multitudes of species that have nowhere else to go.
New survey finds surprisingly large population of endangered owl
(12/03/2014) The Anjouan scops owl—an elusive owl found only on its tiny eponymous island—was once considered among the world's most endangered owls, and even the most threatened birds. However, the first in-depth survey of the owls on the island finds that, in fact, the population is far larger than initially estimated.
Nano-tags track baby sea turtles during their first few hours
(12/03/2014) Baby sea turtles vanish after they scamper into the ocean. Years later, juvenile turtles may pop up thousands of kilometers away, but often scientists don't see them again until they return to their birthplaces to nest on the beach. Now, using tiny tracking tags weighing no more than two watermelon seeds, a team has followed newborn loggerhead turtles during their first critical hours at sea, revealing how they evade predators and hitch rides on the ocean's currents.
Egyptian art helps chart past extinctions of big mammals
(12/01/2014) Life in modern Egypt clings to the Nile River. This crowded green strip within the desert supports more than 2,300 people per square kilometer (6,000 per square mile). But 6,000 years ago, all of Egypt was green and vibrant, teeming with life much like the current Serengeti. Over time, this rich ecosystem fell apart.
Meet the world's rarest chameleon: Chapman's pygmy
(11/25/2014) In just two forest patches may dwell a tiny, little-known chameleon that researchers have dubbed the world's most endangered. Chapman's pygmy chameleon from Malawi hasn't been seen in 16 years. In that time, its habitat has been whittled down to an area about the size of just 100 American football fields.
Chameleon crisis: extinction threatens 36% of world's chameleons
(11/24/2014) Chameleons are an unmistakable family of wonderfully bizarre reptiles. They sport long, shooting tongues; oddly-shaped horns or crests; and a prehensile tail like a monkey's. But, chameleons are most known for their astonishing ability to change the color of their skin. Now, a update of the IUCN Red List finds that this unique group is facing a crisis that could send dozens of chameleons, if not more, to extinction.
New blood record: 1,020 rhinos killed in South Africa

(11/24/2014) South Africa has surpassed last year's grisly record for slaughtered rhinos—1,004—more than a month before the year ends. In an announcement on November 20th, the South African Department of Environmental Affairs said that 1,020 rhinos had been killed to date.
Mapping mistake leaves wildlife at risk
(11/12/2014) Scientists have discovered a new, endangered plant species in the Democratic Republic of Congo (DRC), in an area that is supposed to be protected as a reserve. However, mapping errors effectively moved the reserve's boundaries 50 kilometers to the west, opening up the region and its vulnerable wildlife to human disturbance.
'Militarized occupation': local communities pay the price for palm oil
(11/11/2014) There's little doubt that the use of palm oil is expanding rapidly throughout the world, and with it the need for millions of hectares of land to grow oil palm trees. The results can be devastating for local communities who depend on the agriculture and forests that these lands support. A recent report catalogs the issues that arise with oil palm expansion.
Poor rains then floods lead to food crisis in Somalia

(11/11/2014) Four years after over a quarter of a million people perished in a famine in Somalia, the East African country is again on the verge of a possible humanitarian disaster. Flooding in southern Somalia, following months of little rain, has just exacerbated an already-precarious situation according to the Food and Agricultural Organization (FAO).
Flying under the radar in Central Africa, Chinese companies may be wreaking environmental havoc
(11/07/2014) Tchimpounga, chimpanzees, and extractive industries in the Republic of Congo. 'Tchimpounga is not just a sanctuary,' shouted Rebeca Atencia above the din of the outboard motor, as she pointed to our progress up the Kouilou River on her tablet, donated by Google, which included access to high-resolution satellite maps. The GPS tracking showed us as a small, blue diamond moving slowly up the murky river.
Corruption in Tanzania facilitates ivory trade

(11/06/2014) Corruption in Tanzania is enabling large volumes of illegal elephant ivory to be smuggled out of the country, alleges a new report from the Environmental Investigation Agency (EIA).
91% of Kenya's protected areas shrank in 100 years
(11/04/2014) Over the last century, 91.7 percent of all changes to protected areas in Kenya have involved reductions in their area, known as downsizing, which is an unusual and remarkable statistic from a global perspective. Analyses show, however, that a variety of factors—including some that which occurred half a century ago—could be responsible for the status of forests in Kenya today.
Pet trade likely responsible for killer salamander fungus
(10/30/2014) As if amphibians weren't facing enough—a killer fungal disease, habitat destruction, pollution, and global warming—now scientists say that a second fungal disease could spell disaster for dozens, perhaps hundreds, of species. A new paper finds that this disease has the potential to wipe out salamanders and newts across Europe, the Middle East, North Africa, and the Americas.
Destroyed habitat, fewer resources, Ebola: the many repercussions of Liberia's deforestation
(10/29/2014) Liberia is one of the last strongholds of intact forest in West Africa. These forests are the home of many unique species of plants and animals, and many Liberians rely on the forests for direct economic benefits. The presence of intact forests may even be important for preventing the future outbreak of disease such as Ebola, which can be transmitted to people from animal vectors displaced by deforestation.
World's rarest gorilla gets a new protected home
(10/28/2014) The Cross River Gorilla, the rarest and most threatened of gorilla subspecies, has reason to cheer. Last month, on September 29, the Prime Minister of Cameroon, Philemon Yang, signed a decree to officially create a new protected area – Tofala Wildlife Sanctuary – in the southwestern part of the country.
Photos: slumbering lions win top photo prize
(10/27/2014) The king of beasts took this year's top prize in the Wildlife Photographer of the Year competition, which is co-owned by the Natural History Museum (London) and the BBC. The photo, of female lions and their cubs resting on a rock face in the Serengeti National Park in Tanzania, was taken by Michael 'Nick' Nichols, a photographer with National Geographic.
Beef, palm oil, soy, and wood products from 8 countries responsible for 1/3 of forest destruction

(10/23/2014) Four commodities produced in just eight countries are responsible for a third of the world's forest loss, according to a new report. Those familiar with the long-standing effort to stop deforestation won't be surprised by the commodities named: beef, palm oil, soy, and wood products (including timber and paper). Nor will they be very surprised by most of the countries: Brazil, Indonesia, and Malaysia.
Forest restoration commitments: driven by science or politics?
(10/10/2014) During September's UN Climate Summit, three African nations were recognized for their commitments to restore collectively millions of hectares of forest. But several organizations declined invitations to sign the pact because they say it fails to lay out "concrete action" to fight climate change, and some experts in the field worry that the announcements are little more than political posturing.
Elephants worth much, much more alive than dead, says new report
(10/06/2014) Elephants are worth 76 times more when they're alive than dead, according to a new analysis released this past weekend. The report follows on the heels of findings by WWF that the world has lost 50 percent of its wildlife over the past 40 years, with more than half of African elephants killed for ivory in just one decade.
The Zanaga iron ore mine – a test of best laid plans for preserving wildlife
(10/06/2014) One of the largest iron ore deposits in Africa is located in a strip 47 kilometers long and three kilometers wide in the Republic of the Congo (RoC), bordering Gabon. A core section of the Guineo-Congolian Forest rises above this vast mineral deposit, and provides a home to flagship endangered species like western lowland gorillas, chimpanzees, and forest elephants.
Climate change to boost farmland, diminish harvests, says new study
(09/29/2014) Climate change is likely to alter how we humans grow adequate amounts of food for a swelling global population. Assessing just how much and where those changes will occur has been difficult. But a new study takes aim at those very questions and could provide a guide for the debate over feeding the planet while also preserving biodiversity and the forests that filter out the carbon we produce.
Four countries pledge to restore 30 million hectares of degraded lands at UN Summit

(09/25/2014) In 2011, Germany and the International Union for the Conservation of Nature launched the Bonn Challenge, which pledged to restore 150 million hectares of degraded and deforested lands by 2020. Several countries have already made commitments—including the U.S.—but this week at the UN Climate Summit four more jumped on board.
Scientists use genes, feces to study disappearing monkeys
(09/24/2014) Human pressures through tree clearing and poaching are reducing both forest and fauna in West Africa. In response to dwindling primate populations, scientists used genetics techniques to examine their makeup and outlook – demonstrating the usefulness of such methods in the study of animals that are becoming ever-fewer in number and ever-harder to find.
Camera traps capture 'fantastically bizarre' animal behavior in South African park
(09/17/2014) Cowbirds ride cattle to pick off their parasites; egrets pal around with wildebeest and eat the small creatures disturbed by their grazing. But mammals riding other mammals is something long-thought pretty much isolated to humans and their domestic creatures. Then, earlier this month, a camera trap in a park in South Africa captured something that contradicts this assumption: a genet riding around on giant herbivores.
WCS-led raids lead to six arrests near Mozambique's largest reserve
(09/12/2014) A joint force of the Wildlife Conservation Society (WCS) and government authorities are in the midst of carrying out a series of raids against poachers in Mozambique aimed at halting the illegal killing of elephants in Niassa National Reserve, the country's largest protected area. Six men, thought to be responsible for killing 39 elephants in 2014, were arrested in an early morning bust in the town of Marrupa, just south of the park.
Illegal tropical deforestation driven globally by "agro-conversion"
(09/11/2014) Nearly 50 percent of tropical deforestation to make room for commercial agriculture between 2000 and 2012 was done so illegally. That's a key finding of a report published by the U.S.-based nonprofit organization Forest Trends looking at the global tide of tropical forest "agro-conversion."
Thought wiped out by climate change, 'extinct' snail rediscovered in Seychelles
(09/09/2014) The Aldabra banded snail was declared extinct in 1997 as one of the world's first recorded direct casualties of climate change. But last month, a monitoring team found a population on one of the atoll's islands, surprising the team and giving hope that other species whose habitats are being degraded by climate change may still be able to cling to existence.
Zambia ends trophy hunting ban, elephants fair game

(09/09/2014) After 20 months, Zambia has lifted its ban on hunting, allowing trophy hunters to target numerous species in the wildlife-rich country including elephants. The announcement was made by the country's Tourism and Art's Minister, Jean Kapata, who stated that the ban had resulted in a loss of revenue to the Zambia Wild Life Authority (ZAWA).
Where should the roads go? New map offers a solution to the 'Pandora's Box of environmental problems'
(08/27/2014) Roads make it possible to bring goods to market, to get to the office, to log a forest, to hunt its wildlife. Without roads, human society as we know it could not exist. However, to build roads, trees must be cleared and swamps drained, shrinking valuable wildlife habitat and fragmenting populations in the process. A new study unveils an innovative map that defines which areas of the world would be best used to build roads – and which should be left alone.
How do we save the world's vanishing old-growth forests?
(08/26/2014) There's nothing in the world like a primary forest, which has never been industrially logged or cleared by humans. They are often described as cathedral-like, due to pillar-like trees and carpet-like undergrowth. Yet, the world's primary forests—also known as old-growth forests—are falling every year, and policy-makers are not doing enough to stop it.
Can it be stopped? Ghana's forests 'could completely disappear in less than 25 years'
(08/25/2014) Ghana contains forests that are biologically unique and important both for the wildlife they contain and the human communities that depend on them. However, the country is experiencing one of the greatest rates of deforestation in West Africa. At its current rate of forest loss, a study estimates that Ghana could be devoid of major forest cover in less than a quarter-century.
New skeleton frog from Madagascar is already Critically Endangered
(08/20/2014) Sometimes all it takes is fewer clicks. Scientists have discovered a new species of frog from Madagascar that stuck out because it "clicked" less during calls than similar species. Unfortunately the scientists believe the new species—dubbed the Ankarafa skeleton frog—is regulated to a single patch of forest, which, despite protected status, remains hugely threatened.
Looming mining 'tsunami' set to take Africa by storm
(08/20/2014) Africa remains something of an untapped mineral resource, as the vast majority of extraction occurs elsewhere. However, a new report documents a surging tide of foreign interest in mining in Africa and cautions that the sector's unchecked development and expansion could devastate the environment.
20 percent of Africa's elephants killed in three years
(08/19/2014) Around 100,000 elephants were killed by poachers for their ivory on the African continent in just three years, according to a new paper in the Proceedings of the National Academy of Sciences. Between 2010 and 2012 an average of 6.8 percent of the elephant population was killed annually, equaling just over 20 percent of the continent's population in that time.
Google Earth spurs discovery of a 'new' chameleon species
(08/17/2014) Google Earth has spurred the discovery of another new species. In this case, the creature is a pygmy chameleon, one of four previously unknown Rhampholeon chameleon species described from the remote 'sky islands' in Mozambique. The Mount Mabu pygmy chameleon was discovered after Google Earth images of a tract of forest led Julian Bayliss to launch a scientific expedition to the region.
Want to save Africa's elephants? Close all ivory markets
(08/07/2014) The only way to save the long-suffering elephants of Africa is to close every ivory market on the planet and destroy all ivory stockpiles, according to a bold new essay in Conservation Biology. Written by Elizabeth Bennett, the Vice President for Species Conservation at the Wildlife Conservation Society, the paper is likely to prove controversial.
How did Ebola Zaïre Get to Guinea?
(08/05/2014) The vicious Ebola outbreak that has already killed over 800 people this year was not a strain endemic to the region as initially believed. Instead the University of Edinburgh found that the strain is the same as the Ebola Zaïre found in the Democratic Republic of Congo (DRC), formerly Zaïre. Does this mean the strain could have come from illegally-trafficked great apes instead of fruit bats as widely reported?
2 prize-winning journalists will report on Amazon, 2 new prizes announced
(08/01/2014) Mongabay.org's Special Reporting Initiative (SRI) program has recently awarded two different reporting prizes to journalists to tackle these vital and complicated issues in-depth. The non-profit has also launched a call for applications to two new SRIs: The social and environmental impacts of foreign development finance in the Amazon and Food spoilage and waste in Sub-Saharan Africa.
Conservation controversy: are bonobos protected in the right ways and in the right places?
(07/30/2014) Bonobos, endangered great apes, continue to survive in forests south of the Congo River in the DRC, albeit under constant threat of hunting, loss of habitat and the growing demands of an increasing human population. Conservationists have, over the years, tried and tested different conservation strategies to protect the last of the bonobos. And some of these strategies have invited considerable debate.
Don't eat or touch bat bushmeat amid worsening Ebola outbreak, UN warns

(07/29/2014) The world's worst Ebola outbreak was likely begun by a hunter shooting a fruit bat for their dinner or the market, according to the UN. The outbreak has killed over 660 people in six months to date, and recently spread via plane to Nigeria. The disease is particularly deadly with a mortality rate of around 90 percent.
Over a million pangolins slaughtered in the last decade
(07/28/2014) One of the world's most bizarre animal groups is now at risk of complete eradication, according to an update of the IUCN Red List. Pangolins, which look and behave similarly to (scaly) anteaters yet are unrelated, are being illegally consumed out of existence due to a thriving trade in East Asia.
Invasion of the oil palm: western Africa's native son returns, threatening great apes
(07/28/2014) As palm oil producers increasingly look to Africa's tropical forests as suitable candidates for their next plantations, primate scientists are sounding the alarm about the destruction of ape habitat that can go hand in hand with oil palm expansion. A recent study sought to take those warnings a step further by quantifying the overlap in suitable oil palm land with current ape habitat.
Next big idea in forest conservation: Reconnecting faith and forests
(07/24/2014) 'In Africa, you can come across Kaya forests of coastal Kenya, customary forests in Uganda, sacred forest groves in Benin, dragon forests in The Gambia or church forests in Ethiopia...You can also come across similar forest patches in South and Southeast Asia including numerous sacred groves in India well-known for their role in conservation of biological diversity,' Dr. Shonil Bhagwat told mongabay.com.
Monkeys use field scientists as human shields against predators
(07/22/2014) If you're monkey—say a samango monkey in South Africa—probably the last thing you want is to be torn apart and eaten by a leopard or a caracal. In fact, you probably spend a lot of time and energy working to avoid such a grisly fate. Well, now there's a simpler way: just stick close to human researchers.






Page 1 | Page 2 | Page 3 | Page 4 | Page 5 | Page 6 | Page 7 | Page 8 | Page 9 | Page 10 | Page 11 | Page 12 | Page 13