News articles on africa

---
Mongabay.com news articles on africa in blog format. Updated regularly.



Africa Header
Nearly 90 percent of logging in the DRC is illegal
(04/08/2014) The forestry sector in the Democratic Republic of Congo (DRC) is completely out of control, according to a new eye-opening report. Put together by the Chatham House, the report estimates that at least 87 percent of logging in the DRC was illegal in 2011, making the DRC possibly the most high-risk country in the world for purchasing legal wood products.


How locals and conservationists saved the elephants of Mali amidst conflict and poverty


(04/02/2014) At a time when Africa's elephants are facing a relentless poaching crisis, one community has managed to safeguard their elephants in the most unlikely of places: Mali. In a country that has suffered from widespread poverty, environmental degradation, and, most recently, warfare, a collaboration between conservationists and the local community has kept Mali's elephants from extinction.


Ten years after Lost Africa: a retrospective on indigenous issues


(04/01/2014) Ten years ago, Cyril Christo and Marie Wilkinson photographed and wrote, a tribute to the expansive imagination of Africa's vast landscape, incredible people, and astonishing animals. As Marie and Cyril tell us below in this interview, now is the time to listen, consider, and conserve our ecology and our cultural relationships with the ecology that supports us each day.


Over 9,000 primates killed for single bushmeat market in West Africa every year


(03/24/2014) Over the past 25 years, West Africa's primates have been put at risk due to an escalating bushmeat trade compounded with forest loss from expanding human populations. In fact, many endemic primates in the Upper Guinea forests of Liberia and Ivory Coast have been pushed to the verge of extinction. To better understand what's happening, a recent study in mongabay.com's open-access journal Tropical Conservation Science investigated the bushmeat exchange between these neighboring countries.


Howard G. Buffett puts $24M toward saving rhinos

(03/21/2014) Howard G. Buffett, the son of Berkshire Hathaway chairman Warren Buffett, has pledged $23.7 million to South African National Parks to help fight rhino poaching in Kruger National Park, reports Reuters.


Indigenous people witness climate change in the Congo Rainforest


(03/20/2014) Indigenous communities in the Republic of Congo are observing climate change even though they have no knowledge of the science, according to a unique collaboration between the Rainforest Foundation UK (RFUK) and local communities. The environmental changes witnessed by the locals in the Congo rainforest include increased temperature, less rainfall and alterations to the seasons, much as expected under global climate change.


Panda lemur making a comeback


(03/20/2014) One of the world's biggest populations of greater bamboo lemurs (Prolemur simus)—sometimes known as the panda lemur—has doubled in just three years, giving conservationists new hope that the species can be kept from extinction. With the recent arrival of twenty babies, a community conservation project run by the Aspinall Foundation has boosted the local population to over 100 individuals in Andriantantely, one of Madagascar's only surviving lowland rainforests. Greater bamboo lemurs are currently categorized as Critically Endangered, though they were once believed extinct until hidden populations were uncovered in the 1980s.


Frog creates chemical invisibility cloak to confuse aggressive ants


(03/14/2014) The African stink ant creates large underground colonies that are home to anywhere from hundreds to thousands of ants, and occasionally a frog or two. The West African rubber frog hides in the humid nests to survive the long dry season of southern and central Africa. However, the ant colonies are armed with highly aggressive ant militias that fight off intruders with powerful, venomous jaws. So how do these frogs escape attack?


From theory to deadly reality: malaria moving upslope due to global warming


(03/06/2014) Malaria is a global scourge: despite centuries of efforts to combat the mosquito-borne disease, it still kills between 660,000 to 1.2 million people a year, according to World Health Organization data from 2010. Astoundingly, experts estimate that around 300 million people are infected with the disease every year or about 4 percent of the world's total population. And these stats may only get worse. For years scientists have vigorously debated whether or not malaria will expand as global warming worsens, but a new study in Science lays down the first hard evidence.


Rhino with bullet in its brain and hacked off horn wanders for days before being put down


(03/05/2014) Last week, visitors in Kruger National Park came on a horrifying sight of the poaching trade: a rhino, still alive, with its horn and part of its face chopped off. The gruesome photo of the young rhino went viral and sent South African authorities scrambling. Five days after the sighting, South African National Parks (SANParks) has announced they found the rhino and put it out of its misery.


South Africa loses nearly 150 rhinos to poachers so far this year

(02/28/2014) Since the first of the year, South Africa has lost 146 rhinos to poachers or approximately 2.5 rhinos every day. This is a slight dip from last year's poaching rate, which hit 1,004 for the whole year or 2.75 a day. South Africa is home to more rhinos than any other country on the planet, but the populations have been hit hard by poachers in recent years seeking rhino horn.


Birds of the Serengeti – book review

(02/27/2014) Birds of the Serengeti: And Ngorongoro Conservation Area by Adam Scott Kennedy may be the best birding book available covering the general safari region for northwestern Tanzania and southern Kenya. Filled with firsthand accounts, excellent photographs, and broken down into chapters by habitats, Birds of the Serengeti: And Ngorongoro Conservation Area is the guidebook for the broader non-scientific community.


Illegal logging surges in Mozambique

(02/25/2014) Illegal logging has spiked over the past five years in Mozambique, finds a new report by researchers at the University of Eduardo Mondlane.


The lemur end-game: scientists propose ambitious plan to save the world's most imperiled mammal family


(02/20/2014) Due to the wonderful idiosyncrasies of evolution, there is one country on Earth that houses 20 percent of the world's primates. More astounding still, every single one of these primates—an entire distinct family in fact—are found no-where else. The country is, of course, Madagascar and the primates in question are, of course, lemurs. But the far-flung island of Madagascar, once a safe haven for wild evolutionary experiments, has become an ecological nightmare. Overpopulation, deep poverty, political instability, slash-and-burn agriculture, illegal logging for lucrative woods, and a booming bushmeat trade has placed 94 percent of the world's lemurs under threat of extinction, making this the most imperiled mammal group on the planet. But, in order to stem a rapid march toward extinction, conservationists today publicized an emergency three year plan to safeguard 30 important lemur forests in the journal Science.


Shoot to conserve: Corey Knowlton's rhino hunt escalates the debate over trophy hunting and environmentalism


(02/20/2014) 'After a long conversation with the FBI I have decided to temporarily suspend my activity on this page. I want to thank all of you who have commented [on] this important issue of Black Rhino Conservation.' – Corey Knowlton, Feb 3, 2014. This was the last post on Corey Knowlton's Facebook page. Knowlton is the hunter who won the Dallas Safari Club auction on January 11th to kill a Critically Endangered black rhino. All the money—$350,000—will go to a fund to protect rhinos. The plan is that sometime soon—once the paperwork clears the U.S. Fish and Wildlife Service—Knowlton will go to Namibia on a "trophy hunt" (accompanied by a park service official), shoot the designated rhino, and bring the old bull's hide back home to Texas.


Animals of the Serengeti – book review

(02/19/2014) Animals of the Serengeti: And Ngorongoro Conservation Area by Adam Scott Kennedy and Vicki Kennedy is an easy-to-use guidebook that is also very readable. The region covered by the book is the Greater Serengeti area bounded in the west by Lake Victoria and the east by Lake Manyara in Tanzania, and in the north by southern Kenya.


Microsoft buys Madagascar carbon credits

(02/15/2014) Technology giant Microsoft has bought the first carbon credits generated under a rainforest conservation project in Madagascar, reports Wildlife Conservation Society (WCS), which organized and backed the initiative.


Ivory trade's shocking toll: 65% of world's forest elephants killed in 12 years (warning: graphic image)

(02/12/2014) Forest elephants have suffered unprecedented butchery for their ivory tusks over the past decade, according to new numbers released by conservationists today in London. Sixty-five percent of the world's forest elephants have been slaughtered by poachers over the last dozen years, with poachers killing an astounding nine percent of the population annually. Lesser-known than their savannah cousins, a genetics study in 2010 found that forest elephants are in fact a distinct species, as far removed from savannah elephants as Asian elephants are from mammoths. These findings make the forest elephant crisis even more urgent.


Obama announces new strategy to tackle wildlife trafficking, including toughening ivory ban

(02/12/2014) Yesterday, the Obama administration announced an ambitious new strategy to help tackle the global illegal wildlife trade, including a near-complete ban on commercial ivory. The new strategy will not only push over a dozen federal agencies to make fighting wildlife trafficking a new priority, but will also focus on reducing demand for wildlife parts and actively engaging the international community. The U.S. is the world's second largest destination for illegal wildlife trafficking after China.


Madagascar's new president pledges to fight illegal logging

(02/07/2014) Madagascar's newly elected president Hery Rajaonarimampianina pledged to 'lead the fight' against illegal rosewood logging in the impoverished island nation.


20 million people face hunger in Africa's Sahel region

(02/04/2014) The UN and partner humanitarian groups today called on the international community to spend $2 billion to avoid a famine in Africa's Sahel region, which includes nine nations along the southern edge of the Sahara. Although the Sahel is chronically prone to food insecurity, the situation has dramatically worsened as the UN estimates 20 million people are at risk of hunger up from 11 million last year.


Total says it will not drill in any World Heritage Sites

(02/03/2014) One of the world's largest oil and gas companies, Total, has committed to leave the planet's UNESCO World Heritage Sites untouched, according to the United Nations. The UN says the French energy giant has sent written confirmation that it will not explore or extract fossil fuels from any of the world's over 200 natural World Heritage Sites.


Predator appreciation: how saving lions, tigers, and polar bears could rescue ourselves


(01/29/2014) In the new book, In Predatory Light: Lions and Tigers and Polar Bears, authors Elizabeth Marshall Thomas, Sy Montgomery, and John Houston, and photographers Cyril Christo and Marie Wilkinson share with us an impassioned and detailed appeal to appreciate three of the world's biggest predators: lions, tigers, and polar bears. Through lengthy discussions, combining themes from scientific conservation to local community folklore, In Predatory Light takes us step by step deeper into the wild world of these awe-inspiring carnivores and their varied plight as they facedown extinction.


Over 1,000 rhinos killed by poachers in South Africa last year

(01/17/2014) In another sign that Africa's poaching crisis has gotten completely out of control, South Africa lost 1,004 rhinos to poachers last year. According to the numbers released today by the South African Department of Environmental Affairs, 2013 was the worst year yet for rhino poaching in the country with nearly 3 rhinos killed every day.


Trophy hunters auction off life of Critically Endangered black rhino

(01/13/2014) The Dallas Safari Club has auctioned off a permit to shoot-and-kill a Critically Endangered black rhino in Namibia for $350,000. The club says the proceeds from the auction will aid rhino conservation, but the move has upset many wildlife organizations and attracted protestors outside the closed-door auction. In fact the issue has become so contentious that the FBI is currently investigating purported death threats against the Dallas Safari Club members over the issue. Currently, less than 5,000 black rhinos survive in the wild today, a drop of 90 percent since 1960 as the species has been decimated by poaching and habitat loss.


Primary school children build fuel-efficient stoves in Uganda


(01/10/2014) A group of young children have become a catalyst in the effort to save Kibale National Park from deforestation. Children from Iruhuura Primary School in Uganda have collaborated with the Kasiisi Project and Camp Uganda to build fuel-efficient stoves, developing a more sustainable method of wood consumption around the hugely-biodiverse Kibale National Park.


Lions face extinction in West Africa: less than 250 survive


(01/08/2014) The lions of West Africa, which may represent a distinct subspecies, are on the precipice of extinction. A sober new study in PLOS ONE reports that less than 250 mature lions survive in the region. Scientists have long known that West Africa's lions were in trouble, but no one expected the situation to be as dire as it was. In fact, in 2012 scientists estimated the population at over 500. But looking at 21 parks, scientists were shocked to find lions persisted in just four with only one population containing more than 50 individuals.


Scientists uncover new crocodile in Africa


(01/07/2014) Scientists working in Africa have uncovered a new crocodile species hiding in plain site, according to a paper published in the Proceedings of the Royal Society B. Looking at the molecular data of the slender-snouted crocodile, the researchers discovered two distinct species: one in West Africa and another in Central Africa. Although mostly lumped together as one species (Mecistops cataphractus) for over a hundred and fifty years, the scientists found that the two species have actually been split for at least seven million years, well before the evolution of hominins.


Rainforest news review for 2013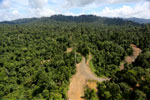 (12/26/2013) 2013 was full of major developments in efforts to understand and protect the world's tropical rainforests. The following is a review of some of the major tropical forest-related news stories for the year. As a review, this post will not cover everything that transpired during 2013 in the world of tropical forests. Please feel free to highlight anything this post missed via the comments section at the bottom. Also please note that this review focuses only on tropical forests.


Featured video: what would a world without wildlife look like?

(12/20/2013) Greenpeace today released a clever video highlighting the global biodiversity crisis with a little help from a much-beloved Disney film. While it might seem unlikely the Africa's animals will vanish, this is exactly what's happening in parts of the continent due to poaching, unsustainable bushmeat trade, habitat loss, massive development projects that are often poorly planned, and a booming human population.


Conservation Hail Mary works: Mate for near-extinct fish found!

(12/20/2013) Researchers are celebrating after an urgent global search turned up a female mate for a fish that is on the brink of extinction.


Madagascar's most famous lemur facing big threats


(12/18/2013) The ring-tailed lemur (Lemur catta), perhaps the most well-known of Madagascar's endemic animals, is facing a "very high" risk of extinction in the wild. The Madagascar Section of the IUCN Primate Specialist Group reassessed the Red List status of ring-tailed lemurs and upgraded the species from Near-Threatened (2008) to Endangered (2012). Ring-tailed lemurs are facing extinction in some parts of Madagascar because of continued habitat loss, and more recently, species exploitation.


Using stories to connect people to biodiversity: an interview with Tara Waters Lumpkin, PhD


(12/18/2013) In a world where extinctions are almost commonplace and global warming barely raises an eyebrow, very few of us can return to find the places we grew up in unsullied by development. Sometimes, all that is left of a favorite grove of trees or strip of forest are memories. Through Izilwane: Voices for Biodiversity Project, an online magazine for story-tellers, Tara Waters Lumpkin has succeeded in bringing together more than one hundred "eco-writers" who have shared their memories, highlighted environmental crises in their localities and raised their voices against habitat destruction.


Africa to build world's largest dam, but who will benefit?


(12/17/2013) The Congo River traverses the continent of Africa, ending its journey in the Democratic Republic of Congo (DRC) where it spills 1.5 million cubic feet per second into the Atlantic Ocean. Now, plans are underway to harness this tremendous force of water in what promises to be the world's largest hydropower scheme, The Grand Inga.


Big data shows tropical mammals on the decline


(12/12/2013) The world's largest remote camera trap initiative—monitoring 275 species in 17 protected areas—is getting some big data assistance from Hewlett-Packard (HP). To date, the monitoring program known as the Tropical Ecology Assessment and Monitoring (TEAM) Network has taken over 1.5 million photos of animals in 14 tropical countries, but conservationists have struggled with how to quickly evaluate the flood of data.


Bonobos: the Congo Basin's great gardeners


(12/11/2013) The survival of primary forests depends on many overlapping interactions. Among these interactions include tropical gardeners, like the bonobo (Pan pansicus) in the Congo Basin, according to a new study in the Journal of Tropical Ecology. Bonobos are known as a keystone species, vital to the diversification and existence of their forests.


Top 10 Environmental Stories of 2013


(12/10/2013) 1. Carbon concentrations hit 400ppm while the IPCC sets global carbon budget: For the first time since our appearance on Earth, carbon concentrations in the atmosphere hit 400 parts per million. The last time concentrations were this high for a sustained period was 4-5 million years ago when temperatures were 10 degrees Celsius higher. Meanwhile, in the slow-moving effort to curb carbon emissions, the Intergovernmental Panel on Climate Change (IPCC) crafted a global carbon budget showing that most of the world's fossil fuel reserves must be left untouched if we are to avoid catastrophic climate change.


Conventional satellite imagery may underestimate forest clearing for subsistence agriculture

(12/09/2013) Analysis of forest cover using medium-scale satellite imagery may miss deforestation for small-scale subsistence agriculture, finds a study published in the journal Environmental Research Letters.


Like ancient humans, some lemurs slumber in caves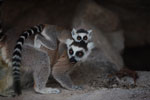 (12/05/2013) After playing, feeding, and socializing in trees all day, some ring-tailed lemurs (Lemur catta) take their nightly respite in caves, according to a new study in Madagascar Conservation and Development. The findings are important because this is the first time scientists have ever recorded primates regularly using caves (see video below).


Microsoft founder funds Africa-wide elephant survey to measure ivory poachers' toll

(12/04/2013) Beginning next year, light planes and helicopters will undertake the first ever continent-wide aerial survey of Africa's vanishing elephant populations. The hugely ambitious initiative, which will count elephant herds in 13 countries, is being funded by Microsoft founder, Paul Allen, through his Paul G. Allen Family Foundation.


Sky islands: exploring East Africa's last frontier


(12/04/2013) The montane rainforests of East Africa are little-known to the global public. The Amazon and Congo loom much larger in our minds, while the savannas of East Africa remain the iconic ecosystems for the region. However these ancient, biodiverse forests—sitting on the tops of mountains rising from the African savanna—are home to some remarkable species, many found only in a single forest. A team of international scientists—Michele Menegon, Fabio Pupin, and Simon Loader—have made it their mission to document the little-known reptiles and amphibians in these so-called sky islands, many of which are highly imperiled.


86 percent of big animals in the Sahara Desert are extinct or endangered


(12/03/2013) Bigger than all of Brazil, among the harshest ecosystems on Earth, and largely undeveloped, one would expect that the Sahara desert would be a haven for desert wildlife. One would anticipate that big African animals—which are facing poaching and habitat loss in other parts of the world—would thrive in this vast wilderness. But a new landmark study in Diversity and Distributions finds that the megafauna of the Sahara desert are on the verge of total collapse.


22,000 elephants slaughtered for their ivory in 2012

(12/02/2013) As the African Elephant Summit open in Botswana today, conservationists released a new estimate of the number of African elephants lost to the guns of poachers last year: 22,000. Some 15,000 elephants killed in 42 sites across 27 countries on the continent, according to newly released data from the CITES program, Monitoring the Illegal Killing of Elephants (MIKE). But conservationists estimate another 7,000 went unreported. The number killed is a slight decrease over 2011 numbers of 25,000.


Illegal timber, rhino horn, elephant ivory seized in raids across Africa

(12/01/2013) Raids in southern and eastern Africa yielded a stash of contraband linked to illegal poaching and logging, reports Interpol, which coordinated the operations.


28 percent of potential bonobo habitat remains suitable


(11/27/2013) Only 27.5 percent of potential bonobo habitat is still suitable for the African great ape, according to the most comprehensive study of species' range yet appearing in Biodiversity Conservation. 'Bonobos are only found in lowland rainforest south of the sweeping arch of the Congo River, west of the Lualaba River, and north of the Kasai River,' lead author Jena Hickey with Cornell told mongabay.com. 'Our model identified 28 percent of that range as suitable for bonobos. This species of ape could use much more of its range if it weren't for the habitat loss and forest fragmentation that gives poachers easier access to illegally hunt bonobos.'


Controversial palm oil project approved in Cameroon rainforest


(11/26/2013) A controversial palm oil project set in the West African rainforest in Cameroon has won a three-year provisional lease to convert 20,000 hectares of land for plantations. The project, which is run by U.S.-based Herakles Farms, has been heavily opposed by environmental groups who say it will destroy blocks of wildlife-rich forest.


Consumer report uncovers why people buy rhino horn


(11/26/2013) The rhinoceros is one of the largest and most iconic animals to roam the earth. However, poaching for their horn, erroneously believed to have medicinal value, has led the IUCN Red List to classify three of the world's five species as Critically Endangered. But, a new consumer report by the wildlife trade monitoring network, TRAFFIC, finds that rhino horn consumers in Vietnam buy the illegal product as much to raise their social status as to attempt to treat a fever or hangover.


Elusive giraffe-relative - the okapi - now listed as Endangered


(11/26/2013) The discovery of the okapi shocked the world in 1901. African explorer, Henry Stanley, called it 'donkey-like,' while others thought it a new species of zebra, given the stripes. However, this notoriously-secretive rainforest ungulate proved to be the world's only living relative of the giraffe, making it one of most incredible taxonomic discoveries of the Twentieth Century as well as one of the last large-bodied mammals to be uncovered by scientists. But the future of the okapi (Okapia johnstoni) is increasingly in doubt: a new update of the IUCN Red List released today has raised the threatened level for the okapi from Vulnerable to Endangered.


New children's book celebrates the rich wildlife of Kibale National Park


(11/25/2013) There are many ways in which people practice conservation. The most well-known are working to save species in the field or setting up protected areas. But just as important—arguably more important for long-term conservation success—is conservation education, especially with children. Anyone who grew up watching David Attenborough documentaries, reading Gerald Durrell books, or simply exploring ecosystems on their own can tell you how important it is to encounter the wonders of wildlife at a young age. And for many of us most of our first encounters with wild animals are in illustrated books. Eric Losh's new book, The Chorus of Kibale, not only provides an educational opportunity for children to become acquainted with the many animals in Kibale National park in Uganda—through wonderful pictures and sounds—but proceed also go directly to two conservation groups working in the region, U.N.I.T.E. for the environment and the Primate Education Network (PEN).


Satellites reveal browning mountain forests


(11/22/2013) In a dramatic response to global warming, tropical forests in the high elevation areas of five continents have been "browning" since the 1990s. They have been steadily losing foliage, and showing less photosynthetic activity. Scientists analyzed the forest cover by using satellites to measure sunlight bouncing off the surface of the earth, then determining the different surface types via reflection patterns.


Remote sensor captures sound of ivory poacher shooting an elephant

(11/20/2013) A sensor used by researchers to capture low-frequency communication between elephants inadvertently recorded the audio of an elephant being gunned down by a poacher in Gabon, reports the Wildlife Conservation Society, which used the sound byte in a video highlighting the carnage of the ivory trade.


Timber smuggling continues in Madagascar

(11/18/2013) Stocks of rosewood illegally harvested during in the aftermath of Madagascar's 2009 coup are being steadily smuggled off the Indian Ocean island, reports a paper published in the journal MADAGASCAR CONSERVATION & DEVELOPMENT.


Prize exploring the next big idea in rainforest conservation announced


(11/16/2013) Mongabay.org, a non-profit that aims to raise awareness about social and environmental issues relating to tropical forests and other ecosystems, has announced the first winner of its environmental reporting prize its Special Reporting Initiative (SRI) program. The prize sought proposals to explore the question of what's the next big idea in tropical biodiversity conservation. After a two-month application window and a month of deliberations, this week an independent panel of journalists and tropical forest specialists selected environmental journalist Wendee Nicole as the first recipient of the Mongabay Prize for Environmental Reporting.


Coelacanths might be monogamous, to the surprise of researchers


(11/14/2013) They evaded humans for millions of years and live very private lives. The hulking, fleshy-finned fish known as the coelacanth has beguiled scientists for generations. But the coelacanth mystique that enchants researchers also makes it difficult to study. Researchers recently revealed in Nature Communications one startling aspect of the coelacanth lifestyle: they might be monogamous.


Five new, cryptic bats discovered in Senegal


(11/11/2013) An international research team led by Daurina Koubinova has discovered five new species of vesper bats during a series of expeditions to Senegal's Niokolo-Koba National Park. The new species are considered cryptic, because their genetic makeup is different despite physical similarities. The new bats have yet to be named.


New campaign: hey China, stop killing the 'pandas of Africa'


(10/29/2013) A new public-service campaign in China will ask potential ivory and rhino horn buyers to see the victims of these illicit trades in a new light: as the "pandas of Africa." The posters are a part of WildAid's 'Say No to Ivory and Rhino Horn' campaign, which was launched earlier in the year.


790 rhinos poached in South Africa this year

(10/29/2013) 790 rhinos have been poached in South Africa this year, nearly a fifth higher than last year's record toll, reports the Department of Environmental Affairs.


Orphaned gorillas successfully reintroduced where apes had been hunted to extinction

(10/21/2013) The reintroduction of captive gorillas to areas where they have been hunted to extinction appears to working, suggesting a possible new front in efforts to save great apes, finds a new study published in the journal Oryx.


Honey badgers and more: camera traps reveal wealth of small carnivores in Gabon (photos)


(10/17/2013) Gabon has lost most of its big meat-eaters including lions, spotted hyenas, and African wild dogs (although it's still home to leopards), but a new study focuses on the country's lesser-known species with an appetite for flesh. For the first time, researchers surveyed Gabon's small carnivores, including 12 species from the honey badger (Mellivora capensis) to the marsh mongoose (Atilax paludinosus).


Tanzania should implement shoot-to-kill policy for poachers, says government minister

(10/09/2013) A government minister in Tanzania has called for a "shoot-to-kill" policy against poachers in a radical measure to curb the mass slaughter of elephants. Khamis Kagasheki's proposal for perpetrators of the illicit ivory trade to be executed 'on the spot' divided opinion, with some conservationists backing it as a necessary deterrent but others warning that it would lead to an escalation of violence.


Climate change could increase diarrheal disease in Botswana

(10/03/2013) Climate change may increase the incidence of diarrheal disease in Botswana, according to a recent study in the International Journal of Environmental Research and Public Health. "Diarrheal disease is a very important public health problem in Botswana," said lead author Kathleen Alexander, who led a unique 30-year analysis (1974-2003) on the incidence of diarrhea in Botswana. "As a water-restricted country, Botswana is predicted to be heavily impacted by climate change.


Unlikely success: how Zimbabwe has become a global leader in rhino conservation


(10/02/2013) With its collapsed economy, entrenched poverty, and political tremors, one would not expect that a country like Zimbabwe would have the capacity to safeguard its rhinos against determined and well-funded poachers, especially as just across the border South Africa is currently losing over two rhinos a day on average. And indeed, without the Lowveld Rhino Trust (LRT), rhinos in Zimbabwe would probably be near local extinction. But the LRT, which is centrally involved in the protection of around 90 percent of the country's rhinos in private reserves along with conservancy members, has proven tenacious and innovative in its battle to safeguard the nation's rhinos from the poaching epidemic.


African manatee hanging on in Cameroon

(09/30/2013) In the Lower Basin of the Sanaga River in Cameroon, near Lake Ossa and the Douala-Edea National Parks, manatees swim and float about like round, potato-shaped mermaids. This region is home to the West African manatee (Trichechus senegalensis), an aquatic mammal facing a decline in population. Classed as Vulnerable by the IUCN Red List, the West African manatee is threatened by excessive kills, habitat loss, and habitat degradation. Given this, and the dearth of information about manatees, a group of Cameroon scientists have taken an ethnobiological approach (i.e. the interaction between people and wildlife) by employing skilled, knowledgable locals to collect data on the manatees.


Wildlife drones could revolutionize aerial surveys of animal populations

(09/30/2013) In open areas, like the African savannah, scientists often estimate wildlife populations through manned aerial surveys. However a new study in mongabay.com's open access journal argues that using small drones may be more cost-effective, safer, and capable of reaching more remote areas. Researchers tested the accuracy of drone counts in Bazinga Game Ranch (NGR) in Burkina Faso.


Samburu's lions: how the big cats could make a comeback in Kenya


(09/30/2013) In 2009 conservationists estimated that less than 2,000 lions survive in Kenya, a drop of 26 percent in just seven years. In addition, the East Africa country continues to hemorrhage lions: around a hundred a year. Poaching, poisoning, and large-scale habitat loss has put lions on the defensive across Africa, but even countries once thought lion strongholds--like Kenya--have seen populations harried to devastation and in some cases local extinction. Shivani Bhalla, a fourth-generation Kenyan, is working to turnaround this trend in Samburu National Reserve.


Worst rhino poaching year on record for South Africa

(09/29/2013) At least 688 rhinos have been poached in South Africa this year, surpassing last year's record of 668 with more than three months remaining in 2013, reports the country's top environmental official.


Clinton Global Initiative pledges $80 million to combat elephant poaching

(09/27/2013) Hillary and Chelsea Clinton on Thursday deployed their mother-daughter star power to help the effort to save African elephants, brokering an $80m effort to stop the ivory poaching which threatens the animals with extinction.


Forgotten species: the nearly extinct primate that can be shot on sight


(09/27/2013) The attention paid to charismatic popular primates—such as gorillas, chimps, orangutans, lion tamarins, and even some lemurs—could make one suppose that conservationists have the protection of our closest relatives well in hand; the astounding fact that no primate species is known to have gone extinct in the last hundred years (despite large-scale destruction of their habitats) seems to confirm this statement. However, looking more closely at the data, one finds that not only are many of the world's primates slipping toward extinction, but a number of them have received little conservation attention. According to the IUCN Red List, a staggering 48 percent of the world's primates are threatened with extinction: that's a worse percentage than amphibians which have been ravaged by a global epidemic. And although a handful of the world's 600-plus primates have garnered conservation adoration, many remain obscure.


Poaching jumps since South Africa announced support for legal rhino horn trade

(09/20/2013) South Africa has experienced an uptick in rhino poaching since Environmental Minister Edna Molewa called for legalizing the rhino trade, reveals analysis by the Environmental Investigation Agency (EIA).


Controversial oil palm company now accused of illegal logging in Cameroon rainforest

(09/18/2013) Environmental group, Greenpeace, has accused Herakles Farms of illegal logging in Cameroon after the company has already been lambasted by scientists and conservationists for its plan to build a 70,000 hectare palm oil plantation in one of Africa's most biodiverse rainforests. Herakles Farms has been under fire from green groups—both in Cameroon and abroad—for years over its oil palm plantation plans, including facing protests from locals who live in the forest to be cleared.


Lions rising: community conservation making a difference for Africa's kings in Mozambique


(09/17/2013) Everyone knows that tigers, pandas, and blue whales are threatened with extinction—but lions!? Researchers were shocked to recently discover that lion populations have fallen precipitously: down to around 30,000 animals across the African continent. While 30,000 may sound like a lot, this is a nearly 70 percent decline since 1960. In addition, lion populations are increasingly fragmented with a number of populations having vanished altogether. However, there is hope: one place where lion populations are actually on the rise is Niassa National Reserve in Mozambique. Here, lion populations have risen by around 60 percent in just seven years. In part this is due to the effort of Colleen and Keith Begg.


Credits from first African government-backed REDD+ project go on sale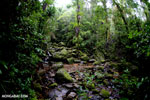 (09/17/2013) Carbon credits generated from protecting thousands of hectares of endangered rainforest in northeastern Madagascar have now been certified for sale, reports the Wildlife Conservation Society (WCS), the project's main organizer. The development represents the first time that credits generated by African government-owned project have been put on the voluntary carbon market.


Butchering nature's titans: without the elephant 'we lose an essential pillar in the ability to wonder'


(09/12/2013) Africa's elephant poaching crisis doesn't just threaten a species, but imperils one of humanity's most important links to the natural world and even our collective sanity, according to acclaimed photographers and film-makers, Cyril Christo and Marie Wilkinson. Authors of the book Walking Thunder - In the Footsteps of the African Elephant, Christo and Wilkinson have been documenting Africa's titans in photos and film for several years. In 2011, the pair released a film Lysander's Song (named after their son an avid fan of elephants) which depicts the millennial-old relationship between humans and elephants.


600 vultures killed by elephant poachers in Namibia


(09/11/2013) As the illegal poaching of African elephants and rhinos reaches epidemic levels, other species are also suffering catastrophic losses as a direct result of poachers' behavior. A recent incident in July, where a poisoned elephant carcass led to the death of 600 vultures near Namibia's Bwabwata National Park, has highlighted how poachers' use of poison is now one of the primary threats to vulture populations.


U.S. to crush its six ton ivory stockpile

(09/10/2013) On October 8th, the Obama administration will publicly destroy its ivory stockpile, totaling some six tons, according to a White House forum yesterday on the illegal wildlife trade. The destruction of the stockpile—via crushing—is meant to send a message that the U.S. is taking a tougher stand on illegal the wildlife trade, which is decimating elephants across Africa and imperiling other animals worldwide. The U.S. remains one of the biggest destinations for ivory and other illegal animal part aside from East Asia.


Protecting predators in the wildest landscape you've never heard of


(09/10/2013) The Serengeti, the Congo, the Okavango Delta: many of Africa's great wildernesses are household names, however on a continent that never fails to surprise remain vast wild lands practically unknown to the global public. One of these is the Ruaha landscape: covering 51,800 square kilometers (20,000 square miles) of southern Tanzania's woodlands and savannah, Ruaha contains the largest population of elephants in East Africa, over 500 bird species, and a wealth of iconic top predators, including cheetah, hyena, wild dogs, leopard, and—the jewel in its crown—10 percent of the world's lions. But that's not all, one of Africa's least-known and secretive tribal groups, the Barabaig, also calls Ruaha home.


A year after devastating attack, security returns to the Okapi Wildlife Reserve (photos)


(09/09/2013) On June 24th of last year, MaiMai Simba rebels, led by an elephant poacher known as Morgan, launched a devastating attack on the headquarters of the Okapi Wildlife Reserve in Epulu, Democratic Republic of Congo (DRC). The attack, which was reportedly in response to a crack down on poaching and illegal mining in the park, left buildings burned, equipment destroyed, and six people dead including two rangers. The militia also left with 28 women hostages, many of them minors. As if to add insult to injury, the militia didn't leave until they shot dead all 14 captive okapis at the headquarters, which were used as wildlife ambassadors for the local community.


Scientists outline how to save nearly 70 percent of the world's plant species

(09/05/2013) In 2010 the Convention on Biological Diversity (CBD) pledged to set aside 17 percent of the world's land as protected areas in addition to protecting 60 percent of the world's plant species—through the Global Strategy for Plant Conservation (GSPC)—by 2020. Now a new study in Science finds that the world can achieve both ambitious goals at the same time—if only we protect the right places. Looking at data on over 100,000 flower plants, scientists determined that protecting 17 percent of the world's land (focusing on priority plant areas) would conserve 67 percent of the world's plants.


Smuggler who illegally traded 500 chimps gets one year in prison

(08/27/2013) Wildlife smuggler, Ousame Diallo, who has admitted to illegally trafficking 500 endangered chimpanzees out of the Republic of Guinea, was sentenced to a year in prison in the West African country reports WWF. The arrest and charge was supported by INTERPOL and to anti-wildlife trafficking local group, GALF.


Safeguarding nine priority areas could protect all of Tanzania's primates


(08/20/2013) Researchers at the Wildlife Conservation Society (WCS) have recently developed a list of "Priority Primate Areas" to save Tanzania's many primate species from extinction. A hub of unique and endangered primates, Tanzania is widely considered to be the most important mainland country for primate diversity in Africa. Approximately a third of the 27 primate species found in Tanzania are unique to the country, including the recently discovered kipunji.


Worst drought in 30 years threatens millions in southern Africa with food insecurity

(08/19/2013) Around 2 million people face food insecurity in northern Namibia and southern Angola as the worst regional drought in decades takes its toll, according to the UN. Two years of failed rains have pushed families into desperate conditions in a region already known for its desert-like conditions. In Namibia alone, experts estimate that over 100,000 children under five are at risk for acute malnutrition.


Illegally captured parrots finally free to fly


(08/19/2013) In 2010, Bulgarian airport authorities confiscated 108 African grey parrots (Psittacus erithacus) from a smuggler. Last month, the 28 parrots who survived the stress of being stuffed into dog kennels, constantly handled by humans, and the absence of their native habitat, completed their three-year journey to freedom.


Rhino slaughtered for its horn in city park

(08/13/2013) In another sign that the rhino poaching crisis has gone out-of-control, Kenyan officials announced late last night that a pregnant rhino was poached in Nairobi National Park, which sits on the edge of Kenya's capital. Home to lions, leopard, giraffes and hippos in addition to rhinos, the park is known for its views of iconic wildlife flanked by Nairobi's skyline.


Endangered chimps and forest elephants found in rainforest to be logged for palm oil


(08/08/2013) A biological survey of forests slated for destruction for a palm oil project in Cameroon has uncovered 23 species of large mammals, including the world's most endangered chimpanzee subspecies, the Nigeria-Cameroon chimpanzee (Pan troglodytes ellioti). The project in question, operated by U.S.-based company Herakles Farms, has come under stiff criticism both locally and abroad for threatening one of Africa's most biologically rich forest lands and arguably undercutting local peoples' access to traditional lands.


Old-growth trees store half rainforest carbon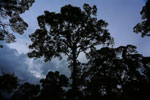 (08/07/2013) Large trees store store up to half the above-ground biomass in tropical forests, reiterating their importance in buffering against climate change, finds a study published in Global Ecology and Biogeography. The research, which involved dozens of scientists from more than 40 institutions, is based on data from nearly 200,000 individual trees across 120 lowland rainforest sites in Africa, Asia, and Latin America. It found that carbon storage by big trees varies across tropical forest regions, but is substantial in all forests.


Elephant killer gets five years in prison in the Republic of Congo

(08/01/2013) The Congolese Supreme Court has ordered Ghislain Ngondjo (known as Pepito) to five years in prison for slaughtering dozens of elephants for their ivory tusks. The five year sentence is the maximum in the Republic of Congo for poaching. Ngondjo was considered the "kingpin" of an elephant poaching group; in addition to killing pachyderms, Ngondjo recruited new poachers and made death threats to park rangers and staff in Odzala National Park.


Population of newly discovered lemur in Madagascar down to last 50 individuals (photo)

(07/30/2013) Researchers have discovered a new — and critically endangered — species of lemur on the island of Madagascar. The primate is formally described in the journal Molecular Phylogenetics and Evolution.


Illegal marijuana cultivation threatens Nigeria's forests and chimps


(07/26/2013) The world's highest deforestation rate, the execution of eight environmental activists including a Nobel Peace Prize nominee, and ongoing turmoil surrounding oil operations in the Niger River Delta has created a notoriously disreputable environmental record for the West African country. Now, a new threat is rising in the already-compromised forests of Nigeria: illegal marijuana cultivation.


Cheetah don't overheat during hunts

(07/25/2013) A new study published in Biology Letters finds that contrary to popular opinion, cheetah don't overheat during hunts. But their body temperature rises after successful hunts due to stress than another predator may seize their prey.


Zoos call on governments to take urgent action against illegal wildlife trade (photos)


(07/24/2013) In a single night in March, a band of heavily-armed, horse-riding poachers slaughtered 89 elephants in southern Chad, thirty of which were pregnant females. The carnage was the worst poaching incident of the year, but even this slaughter paled in comparison to the 650 elephants killed in a Cameroon park in 2012. Elephant poaching is hitting new records as experts say some 30,000 elephants are being killed every year for their ivory tusks. But the illegal wildlife trade—estimated at $19 billion—is not just decimating elephants, but also rhinos, big cats, great apes, and thousands of lesser-known species like pangolins and slow lorises. This growing carnage recently led to representatives of over 40 zoos and dozens of wildlife programs to call on governments around the world to take immediate action on long-neglected wildlife crime.


NGO hits out at study for downplaying logging threat in Congo rainforest


(07/23/2013) Global Witness has called in question conclusions reached in a study on logging in the Congo rainforest. The group, which has published a series of investigative reports on abuses by logging companies operating the world's second largest tropical forest, said that a review published Monday in the Philosophical Transactions of the Royal Society B '[presents] a misleading and inaccurate picture of the present and growing threats to the Congo Basin rainforest.'


No sweat: elephants living with people aren't stressed


(07/23/2013) Nature preserves, wildlife sanctuaries, national forests, parks, grasslands and protected areas are the cornerstones of conservation. These are the wild places where animals can still dwell, grow, and reproduce in their natural environment without any human-caused stressors. While many of these special places have facilitated leaps and bounds for wildlife conservation, the reality is that these areas are extremely limited and most plants and animals live beyond, or must migrate out of, their bounds.


Hunting, logging could threaten long-term health of Congo forests by wiping out key animals


(07/23/2013) Unsustainable hunting of forest elephants, gorillas, forest antelopes, and other seed-dispersers could have long-term impacts on the health and resilience of Congo Basin rainforests, warns a study published today in a special issue of the journal Philosophical Transactions of The Royal Society B. Conducting a review of more than 160 papers and reports on trends in wildlife populations, hunting, and land use in the Congo Basin, an international team of researchers conclude that unless effective management plans are put into place, hunting pressure in the region is likely to increase, with knock-on ecological effects.


Madagascar occupied by humans 2,500 years earlier than previously thought


(07/22/2013) New research indicates that Madagascar was occupied some 2,500 years earlier than previously established. The findings, published in Proceedings of the National Academy of Sciences, suggests a more complex view of the human role in the extinction of the island's mega-fauna. A large body of research holds that village communities began to appear in Madagascar around 500 AD. These were established by people of Indonesian and East African heritage, according to past studies that found linguistic similarities between the Malagasy languages of southeastern Borneo as well as genetic markers tying modern-day Malagasy people to both Indonesia and East Africa. But there have been plenty of hints that people came to the world's third largest island well before 500 AD.


Deforestation rate falls in Congo Basin countries


(07/22/2013) Deforestation has fallen in Congo Basin countries over the past decade despite a sharp increase in the rate of forest clearing in the Democratic Republic of the Congo, according to a new study published in the Philosophical Transactions of the Royal Society B as part of a set of 18 papers on the region's tropical forests. The special issue, which was put together by Oxford University's Yadvinder Malhi, covers a range of issues relating to the rainforests of the Congo Basin, including deforestation, the impacts of global change, the history and key characteristics of the region's forests, and resource extraction, among others.


Madagascar's rate of speciation slowing down

(07/16/2013) While Madagascar is famous for its incredible diversity of plants and animals, a new study suggests that the island's rate of speciation has slowed to a crawl.


Scientists: lions need funding not fences


(07/15/2013) Fences are not the answer to the decline in Africa's lions, according to a new paper in Ecology Letters. The new research directly counters an earlier controversial study that argued keeping lions fenced-in would be cheaper and more effective in saving the big cats. African lion (Panthera leo) populations across the continent have fallen dramatically: it's estimated that the current population is around 15,000-35,000 lions, down from 100,000 just 50 years ago. The animal kings are suffering from booming human populations, habitat loss and fragmentation, prey decline, trophy hunting, and human-lion conflict.


Obama to take on elephant and rhino poaching in Africa

(07/03/2013) Barack Obama launched a new initiative against wildlife trafficking on Monday, using his executive authority to take action against an illegal trade that is fueling rebel wars and now threatens the survival of elephants and rhinoceroses. The initiative, announced as the president visited Tanzania on the final stop of his African tour, was the second time in a week Obama has used an executive order to advance environmental policy, after announcing a sweeping new climate change plan.


Making movies to save Uganda's great apes


(07/03/2013) A new series of films aims to protect Uganda's great ape species (mountain gorillas and chimpanzees) by bringing entertaining and educational movies to a rural audience living on the edges of Kibale National Park and Bwindi Impenetrable National Park. Produced with heavy input from locals, these films are acted with an all-Ugandan task to teach those living near great apes about the species and their conservation-needs.


The Egyptian Vulture on the Balkans – a hopeful but perilous conservation story


(07/02/2013) "They look like humans: have bare skin, wrinkles, hairdos… Maybe that's why many people don't like them," says Dr. Stoyan Nikolov from the Bulgarian Society for the Protection of Birds about Egyptian vultures. Poisoned, electrocuted, shot, these rare and magnificent birds are the fastest disappearing raptors in Europe. The globally endangered species has become extinct in nine European countries in the past half a century. Dr Nikolov, the manager of an EU-funded conservation project along with more than 100 people on his team are working hard to make sure that the Egyptian vulture does not disappear from Bulgaria and Greece.



Page 1 | Page 2 | Page 3 | Page 4 | Page 5 | Page 6 | Page 7 | Page 8 | Page 9 | Page 10 | Page 11