Jeremy Hance
mongabay.com
June 16, 2011
Three years of sustained community opposition have brought down plans for a massive dam on the Madre de Dios River in Peru. Yesterday the Peruvian government announced it was terminating the contract with Empresa de Generación Eléctrica Amazonas Sur (Egasur) to build a 1.5 gigawatt dam, known as the Inambari Dam. The dam was one of six that were agreed upon between Peru and Brazil to supply the latter with energy.

"Although this resolution does not prevent the construction of all dams in the Inambari Basin, it is very important because it clearly cancels EGASUR's participation. The resolution states that all future proposed projects must be subjected to prior consultation with local communities," said Aldo Santos, from local NGO SER (Rural Educational Services), in a press release. 



The cancellation follows a month long strike by 2,000 people against the dam as well as mining and oil projects in the region.

If built, the Inambari Dam would have inundated 46,000 hectares of rainforest and impacted the agricultural livelihoods of thousands of people. The dam would also have flooded 120 kilometers of the only-just finished Inter-Oceanic Highway.

"Even though the project is cancelled we know that we have won the battle but not the war. We know there are too many interests behind construction of Inambari, especially the interests of the Brazilians and their energy thirst," said Olga Cutipa, President of the Front to Defend the Inambari-San Gaban.


A year ago Peru signed and Energy Agreement with Brazil to supply 7 gigawatts of hydropower to Brazil. The agreement was based on a series of six planned hydroelectric projects in the Peruvian Amazon, of which the Inambari would have been the largest. Following the cancellation, the agreement may be in jeopardy. However, the Inambari Dam could still re-emerge. The resurrection of the Belo Monte dam in Brazil after a decade is proof that such large projects are rarely, if ever, truly defeated.

The fate of the Inambari Dam, and the regions and people it would impact, now lies with newly-elected Peruvian President, Ollanta Humala.

















Related articles

Last chance to see: the Amazon's Xingu River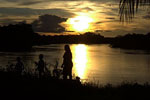 (06/15/2011) Not far from where the great Amazon River drains into the Atlantic, it splits off into a wide tributary, at first a fat vertical lake that, when viewed from satellite, eventually slims down to a wild scrawl through the dark green of the Amazon. In all, this tributary races almost completely southward through the Brazilian Amazon for 1,230 miles (1,979 kilometers)—nearly as long as the Colorado River—until it peters out in the savannah of Mato Grosso. Called home by diverse indigenous tribes and unique species, this is the Xingu River.


Brazil's shame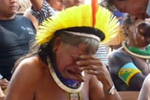 (06/03/2011) As an American I know a lot about shame — the U.S. government and American companies have wrought appalling amounts of damage the world over. But as an admirer of Brazil's recent progress toward an economy that recognizes the contributions of culture and the environment, this week's decision to move forward on the Belo Monte dam came as a shock. Belo Monte undermines Brazil's standing as a global leader on the environment. Recent gains in demarcating indigenous lands, reducing deforestation, developing Earth monitoring technologies, and enforcing environmental laws look more tenuous with a project that runs over indigenous rights and the environment.


Indigenous leaders take fight over Amazon dams to Europe

(03/02/2011) Three indigenous Amazonian leaders spent this week touring Europe to raise awareness about the threat that a number of proposed monster dams pose to their people and the Amazon forest. Culminating in a press conference and protests in London, the international trip hopes to build pressure to stop three current hydroelectric projects, one in Peru, including six dams, and two in Brazil, the Madeira basin industrial complex and the massive Belo Monte dam. The indigenous leaders made the trip with the NGO Rainforest Foundation UK, including support from Amazon Watch, International Rivers, and Rainforest Concern.