mongabay.com
March 17, 2011
The U.S. Navy released shocking pictures showing widespread devastation in Japan following last week's 9.0-magnitude earthquake and accompanying tsunami. The photos include a house floating in the open ocean, scenes of destruction in Ofunato, and piles of vehicles and debris, among others.
2011 Tōhoku earthquake was the strongest on record in Japan. It was the fifth most powerful quake since record-keeping began more than 100 years ago.
The quake caused tens in billions in damages, leaving hundreds of thousands homeless. More than 10,000 are feared dead.
page 1
|
page 2
|
page 3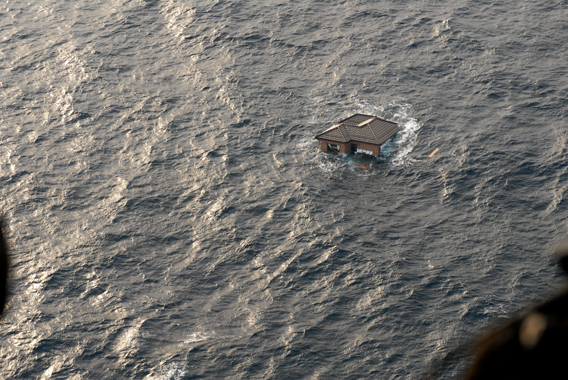 PACIFIC OCEAN (March 13, 2011) A Japanese home is seen adrift in the Pacific Ocean. Ships and aircraft from the Ronald Reagan Carrier Strike Group are searching for survivors in the coastal waters near Sendai, Japan. (U.S. Navy photo by Mass Communication Specialist 3rd Class Dylan McCord/Released)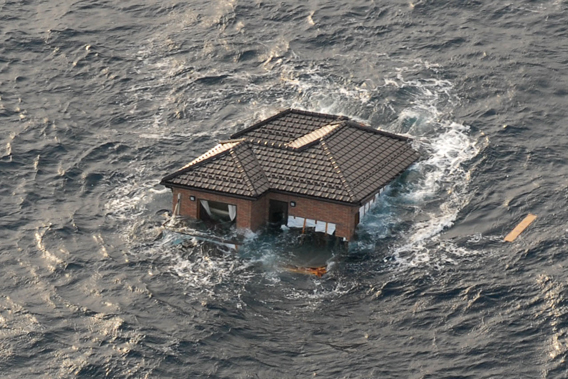 PACIFIC OCEAN (March 13, 2011) A Japanese home is seen adrift in the Pacific Ocean. (U.S. Navy photo by Mass Communication Specialist 3rd Class Dylan McCord/Released)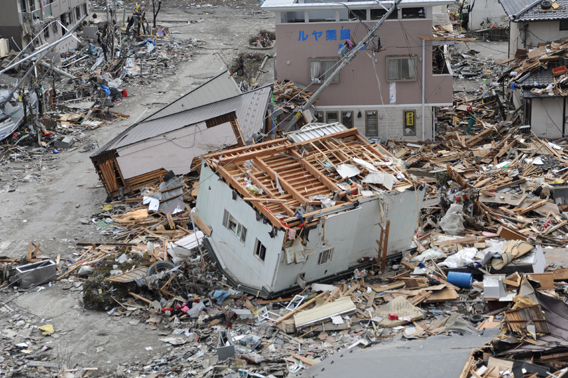 OFUNATO, Japan (March 15, 2011) An upended house is among debris in Ofunato, Japan, following a 9.0 magnitude earthquake and subsequent tsunami. (U.S. Navy photo by Mass Communication Specialist 1st Class Matthew M. Bradley/Released)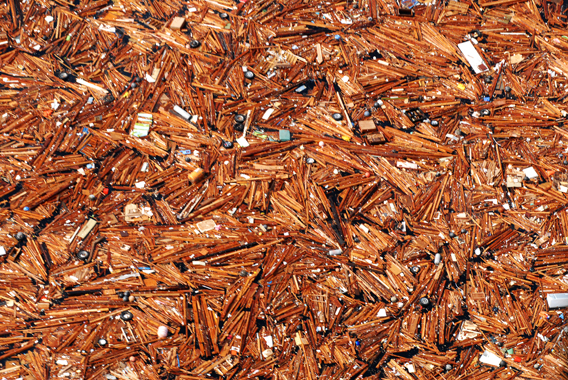 PACIFIC OCEAN (March 13, 2011) An aerial view of debris from an 8.9 magnitude earthquake and subsequent tsunami that struck northern Japan. The debris was inspected by a helicopter-based search and rescue team from the aircraft carrier USS Ronald Reagan (CVN 76). (U.S. Navy photo by Mass Communication Specialist 3rd Class Dylan McCord/Released)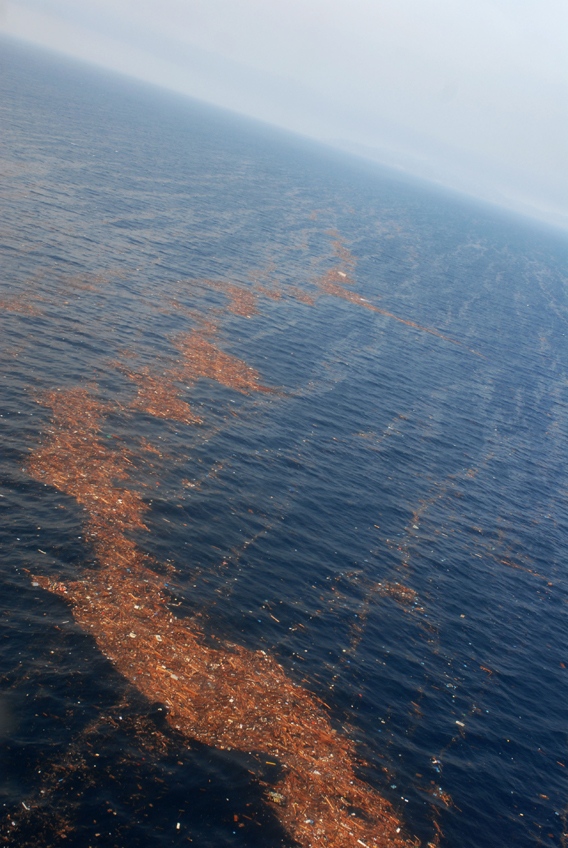 PACIFIC OCEAN (March 13, 2011) An aerial view of debris from an 8.9 magnitude earthquake and subsequent tsunami that struck northern Japan. The debris was inspected by a helicopter-based search and rescue team from the aircraft carrier USS Ronald Reagan (CVN 76). (U.S. Navy photo by Mass Communication Specialist 3rd Class Dylan McCord/Released)
WAKUYA, Japan (March 15, 2011) An aerial view of damage to Wakuya, Japan after a 9.0 magnitude earthquake and subsequent tsunami devastated the area in northern Japan. Ships and aircraft from the Ronald Reagan Carrier Strike Group are conducting search and rescue operations and re-supply missions as directed in support of Operation Tomodachi throughout northern Japan. (U.S. Navy photo by Mass Communication Specialist 3rd Class Alexander Tidd/Released)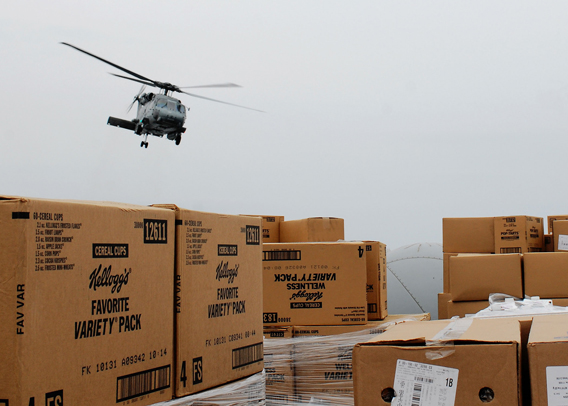 PACIFIC OCEAN (March 15, 2011) An HH-60H Sea Hawk helicopter assigned to the Black Knights of Anti-Submarine Squadron (HS) 4 prepares to land aboard the aircraft carrier USS Ronald Reagan (CVN 76) to take on humanitarian supplies. Ships and aircraft from the Ronald Reagan Carrier Strike Group are conducting search and rescue operations and re-supply missions as directed in support of Operation Tomodachi throughout northern Japan. (U.S. Navy photo by Mass Communication Specialist Seaman Apprentice Michael Feddersen/Released)
page 1
|
page 2
|
page 3
Related articles

Before-and-after tsunami satellite pictures

(03/15/2011) Google released satellite images revealing the devastation caused by the March 11 tsunami in Japan.


Japan's earthquake disaster may boost rainforest logging in Borneo

(03/13/2011) Malaysian loggers say Japan's recovery from last week's devastating earthquake and tsunami will boost demand for rainforest timber, reports the Borneo Post.


Is Japan's tsunami linked to climate change?

(03/11/2011) Could the earthquake that triggered Japan's devastating tsunami be linked to climate change? The short answer is probably not, but recent research suggests that changing climate has the potential to influence earthquakes in some parts of the world