Jeremy Hance
mongabay.com
April 07, 2010
The United States' Eastern forests have suffered a "substantial and sustained net loss" over the past few decades, according to a detailed study appearing in BioScience. From 1973 to 2000, Eastern have declined by 4.1 percent or 3.7 million hectares. Deforestation occurred in all Eastern regions, but the loss was most concentrated in the southeastern plains.

The loss overturns a trend of increasing forest that was sustained for about half a century. During the 19th Century, much of the Eastern forests were felled for agriculture, but that trend turned around by 1920 with forests making a comeback. While the report found that reforestation of abandoned fields and pastures continues in some places, overall forests lost out.

Forests are being lost largely to spreading suburbs and the timber industry. Mountaintop mining, a hot-button issue in the region, has also contributed significantly to forest loss: more than 420,000 hectares of forest (just over 10 percent of the total) have been lost in the Appalachian highlands due to the practice of blowing up mountain peaks for coal extraction. Recently a group of experts called on the Obama Administration to ban mountaintop removal due to environmental and human impacts.

Researchers have theorized that once forests reached a maximum point of recovery, forest cover would stabilize and plateau for the foreseeable future. However, according to the study's authors these new findings prove otherwise, which, they write, "has important implications for sustainability, future carbon sequestration, and biodiversity."







Related articles

Eating Appalachia: NASA satellite images reveal mountain cannibalism for coal

(03/02/2010) New images released by NASA reveal the conversion of mountains and forests in southern West Virginia to a giant surface mine.


Scientists call for an end to mountaintop removal mining in the US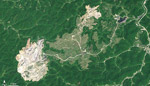 (01/07/2010) A group of scientists have called for the Obama Administration to place a moratorium on infamous mountain top mining due to "growing scientific evidence" of severe environmental degradation and serious impacts on human health, including cancer. The article, published in Science, is written by a dozen influential scientists, including hydrologists, ecologists, and engineers.


America's iconic Midwest forests in significant decline

(06/14/2009) Laura Ingalls Wilder's beloved series of novels about life in the American frontier begins in Wisconsin with the novel Little House in the Big Woods. Less than a hundred years since its publication, a study in Conservation Biology finds that these Midwestern 'big woods' are experiencing a worse-than-expected decline and would likely be unrecognizable to Wilder herself.