Conservation news
Founded in 1999, Mongabay is a leading provider of environmental science and conservation news.
The future of tropical biology research and conservation
(07/30/2014) Last week, the Association for Tropical Biology and Conservation (ATBC) held its 51st annual meeting in Cairns, Australia. In addition to the normal symposia, plenaries, and poster sessions on a wide range of conservation topics, the convening produced a declaration calling for stronger protection of the Great Barrier Reef and two resolutions on expanding research funding in Papua New Guinea and >imploring Australia to restore its environmental leadership.


Stunning high-resolution map reveals secrets of Peru's forests


(07/30/2014) Peru's landmass has just been mapped like never before, revealing important insights about the country's forests that could help it unlock the value healthy and productive ecosystems afford humanity.


87 new bird species considered threatened with extinction


(07/29/2014) Scientists have added 361 new bird species to the IUCN Red List following a major taxonomic review of non-passerine birds, i.e. non-perching or non-songbirds. Worryingly, 87 of these new birds are threatened with extinction, a percentage nearly double the overall threatened percentage for all birds, which currently sits at 13 percent.


Peruvian oil spill sparks concern in indigenous rainforest community

(07/29/2014) A ruptured pipeline that spilled tens of thousands of gallons of crude oil into the Marañón River in late June is fueling concerns about potential health impacts for a small indigenous community.


Deforestation ramping up in Yasuni as Ecuador sets to open up national park to drilling


(07/29/2014) Yasuni National park has been in the conservation spotlight in recent years, with oil drilling threatening the forests and wildlife of this biodiversity hotspot. Recently, disturbance in the park may have ramped up, with satellite data showing a significant increase in deforestation alerts within Yasuni National Park since 2011.


Don't eat or touch bat bushmeat amid worsening Ebola outbreak, UN warns

(07/29/2014) The world's worst Ebola outbreak was likely begun by a hunter shooting a fruit bat for their dinner or the market, according to the UN. The outbreak has killed over 660 people in six months to date, and recently spread via plane to Nigeria. The disease is particularly deadly with a mortality rate of around 90 percent.


Palm oil company clears rainforest in New Guinea


(07/29/2014) An Indonesian Stock Exchange-listed company whose commissioner is a member of The Nature Conservancy-Indonesia's board has been clearing dense rainforest in New Guinea, finds a new report from Greenomics-Indonesia. The report is based on analysis of data from Global Forest Watch, NASA satellites, Indonesia's Ministry of Forestry, and company documents.


Over a million pangolins slaughtered in the last decade


(07/28/2014) One of the world's most bizarre animal groups is now at risk of complete eradication, according to an update of the IUCN Red List. Pangolins, which look and behave similarly to (scaly) anteaters yet are unrelated, are being illegally consumed out of existence due to a thriving trade in East Asia.


Invasion of the oil palm: western Africa's native son returns, threatening great apes


(07/28/2014) As palm oil producers increasingly look to Africa's tropical forests as suitable candidates for their next plantations, primate scientists are sounding the alarm about the destruction of ape habitat that can go hand in hand with oil palm expansion. A recent study sought to take those warnings a step further by quantifying the overlap in suitable oil palm land with current ape habitat.


Short-eared dog? Uncovering the secrets of one of the Amazon's most mysterious mammals


(07/28/2014) Fifteen years ago, scientists knew next to nothing about one of the Amazon's most mysterious residents: the short-eared dog. Although the species was first described in 1883 and is considered the sole representative of the Atelocynus genus, biologists spent over a century largely in the dark about an animal that seemed almost a myth.


No longer 'deaf as a stump': researchers find turtles chirp, click, meow, cluck


(07/25/2014) Turtles comprise one of the oldest living groups of reptiles, with hundreds of species found throughout the world. Many have been well-researched, and scientists know very specific things about their various evolutionary histories, metabolic rates, and the ways in which their sexes are determined. But there was one very obvious thing that has been largely left unknown by science until very recently. Turtles can make sounds.


Seafood apartments and other experiments in fixing Indonesia's fisheries (Part IV)


(07/25/2014) Shrimp farms, industrial plants, and one of Indonesia's busiest thoroughfares make up Java's north coast today. It's a very different scene from the fishing villages with beachfront boat parking that stood here decades earlier. Which begs the question, where will fish live in this new 'coast without mangroves, without coral, without seagrass,' asks Alan Koropitan, a marine biologist based at Bogor Agricultural University.


True stewards: new report says local communities key to saving forests, curbing global warming


(07/24/2014) Deforestation is compromising forests around the world, destroying vital habitat and causing greenhouse gases emissions that are contributing to global warming. A new report released today finds a possible solution: protecting forests by empowering the local communities that live within them.


A letter to Indonesia's new president on his environmental policy


(07/24/2014) Congratulations on your successful bid for the Indonesian presidency. Although neither you nor your opponent spent much time focusing on the environment, the world hopes your previous record in Surakarta (Solo) and Jakarta, coupled with the idealistic language in your campaign platform, is evidence enough of your intent to slow the rapid destruction of Indonesia's environment. It will be a long and challenging road, but the Indonesian people have entrusted their country to you based on the promises you made to them. The world looks forward to watching you enact policies that keep these promises.


It's not just extinction: meet defaunation


(07/24/2014) Get ready to learn a new word: defaunation. Fauna is the total collection of animals—both in terms of species diversity and abundance—in a given area. So, defaunation, much like deforestation, means the loss of animals in all its myriad forms, including extinction, extirpation, or population declines.


Desperate measures: researchers say radical approaches needed to beat extinctions


(07/24/2014) Today, in the midst of what has been termed the "Sixth Great Extinction" by many in the scientific community, humans are contributing to dizzying rates of species loss and ecosystem changes. A new analysis suggests the time may have come to start widely applying intensive, controversial methods currently used only as "last resort" strategies to save the word's most imperiled species.


Next big idea in forest conservation: Reconnecting faith and forests


(07/24/2014) 'In Africa, you can come across Kaya forests of coastal Kenya, customary forests in Uganda, sacred forest groves in Benin, dragon forests in The Gambia or church forests in Ethiopia...You can also come across similar forest patches in South and Southeast Asia including numerous sacred groves in India well-known for their role in conservation of biological diversity,' Dr. Shonil Bhagwat told mongabay.com.


Targeted enforcement saved a Massachusetts-worth of Amazon rainforest in 3 years

(07/24/2014) Targeted law enforcement efforts via Brazil's green municipalities programs were responsible for reducing deforestation by 10,653 square kilometers — an area the size of Massachusetts — between 2009 and 2011, argues a paper published in the journal Land Use Policy.


Brazil could meet all its food demand by 2040 without cutting down another tree


(07/24/2014) Better utilization of its vast areas of pasturelands could enable Brazil to dramatically boost agricultural production without the need to clear another hectare of Amazon rainforest, cerrado, or Atlantic forest, argues a new study published in the journal Global Environmental Change.


Scientists ask Australia to strengthen, not weaken, protection for Great Barrier Reef

(07/24/2014) A convening of nearly 600 tropical biologists and conservation scientists has called upon the Australian government to strengthen protection of the Australia's Great Barrier Reef. The declaration, issued at the annual meeting of the Association for Tropical Biology and Conservation (ATBC), comes as Prime Minister Tony Abbott pushes to allow industrial dumping in the Great Barrier Reef Marine Park as well as port development in a nearby coastal area.


Lush Cosmetics launches bid to protect pangolins

(07/24/2014) Lush Cosmetics has agreed to support an effort to battle trafficking of the Sunda pangolin.


Scientists ask PNG to support conservation research

(07/24/2014) The Association for Tropical Biology and Conservation (ATBC), the world's largest group of tropical researchers, is calling on the government of Papua New Guinea to increase support for biology training programs in the densely-forested and wildlife-rich country.


Rebuilding Kissama: war-torn Angola's only national park affected by deforestation, but refaunation gives hope


(07/24/2014) The story of Kissama National Park is one of perseverance, vision and disaster in waiting. The only functional national park in Angola, a country wracked by war for decades, Kissama (also called Quiçama) lost much of its wildlife, with that which is left still impacted by poaching and deforestation. However, a project is attempting to bring the park back to life.


Peru slashes environmental protections to attract more mining and fossil fuel investment


(07/23/2014) In an effort to kickstart investment in mining and fossil fuels, Peru has passed a controversial law that overturns many of its environmental protections and essentially defangs its Ministry of Environment. The new law has environmentalists not only concerned about its impact on the country but also that the measures will undermine progress at the up-coming UN Climate Summit in December.


Phone-based logging alert system eyes expanding to the Amazon

(07/23/2014) After exceeding an ambitious fundraising target to launch a near-real time forest monitoring system in the Congo Basin, a San-Francisco based start-up is now eyeing expansion in the Amazon where it hopes to help an indigenous rainforest tribe fight illegal logging.


NASA: Sumatra fires in the rise

(07/22/2014) The number of fires burning in Sumatra's Riau Province doubled on Sunday, raising concerns that dry conditions could unleash an especially severe haze this dry season in Indonesia.


'A high price to pay': new Indonesian peatland regulation may do more harm than good


(07/22/2014) The Government Regulation on Peatland Ecosystem Protection and Management, initially drafted by the Ministry of Forestry in 2013, is getting mixed acceptance from civil society. On one hand, the regulation would offer more protection to the country's vast peatland areas. However, on the other, some NGOs have slammed the draft as a potential source of new conflicts for local people.


Rare bird paradise protected in war-torn Colombian mountain range (photos)


(07/22/2014) A coalition of conservation groups have established a new protected area in one of Latin America's most neglected ecosystems: the Colombian-side of the Serranía de Perijá mountain range. Following decades of bloody conflict and rampant deforestation, experts say only five percent of rainforest is left on the Colombian side of this embattled mountain range.


Over-depleted and undermanaged: can Indonesia turn around its fisheries? (Part III)


(07/22/2014) Compared to maritime ministries worldwide, Indonesia's Ministry of Marine Affairs and Fisheries (MMAF) is a teenaged neophyte. The governing body was formed a mere 13 years ago;a staggering fact for a country made up of two-thirds water where many of the 250 million people depend on fish for both protein and income. Mongabay.org's SRI Fellow Melati Kaye reports on the state of Indonesian fisheries in the third installment of a four-part series.


Setting the stage: theater troupe revives tradition to promote conservation in DRC


(07/22/2014) Two years ago, environmental artist Roger Peet set off to the Democratic Republic of Congo to support the new Lomami National Park with bandanas that he designed. This time, Peet is back in Congo to carry out a conservation theater project in remote villages near the proposed Lomami National Park.


Monkeys use field scientists as human shields against predators


(07/22/2014) If you're monkey—say a samango monkey in South Africa—probably the last thing you want is to be torn apart and eaten by a leopard or a caracal. In fact, you probably spend a lot of time and energy working to avoid such a grisly fate. Well, now there's a simpler way: just stick close to human researchers.


Scientists blast Australian government's moves to dismantle environmental protections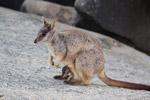 (07/22/2014) On Tuesday a prominent group of conservation scientists condemned the Australian government's recent moves to eliminate protections for native ecosystems, cut research funding, backtrack on commitments to reduce greenhouse gas emissions, and step up persecution of individuals and organizations that speak out for the environment.


Global warming emissions from meat consumption rising rapidly


(07/22/2014) Greenhouse gas emissions from livestock production have increased by more than 50 percent over the past 50 years and are set to zoom higher as the developing world consumes more meat, finds a new study published in the journal Proceedings of the National Academy of Sciences (PNAS).


Roads through the rainforest: an overview of South America's 'arc of deforestation'


(07/21/2014) When a new road centipedes its way across a landscape, the best of intentions may be laid with the pavement. But roads, by their very nature, are indiscriminate pathways, granting access for travel and trade along with deforestation and other forms of environmental degradation. And as the impacts of roads on forest ecosystems become clear, governments and planning agencies reach a moral crossroads.


Surprising habitat: camera traps reveal high mammal diversity in forest patches within oil palm plantations


(07/21/2014) After more than four and a half years of camera trap footage, the results are encouraging: 36 mammal species, of which more than half are legally protected, are prospering in this most surprising of spots: an oil palm plantation in the province of East Kalimantan in Indonesian Borneo.


Germany tops energy efficiency rating while U.S. remains stuck near the bottom

(07/21/2014) Two years after the first energy efficiency ranking report put out by the American Council for an Energy-Efficient Economy (ACEEE), and the U.S. still lags widely behind most of the world's other large economies. In the second report, the U.S. came in at number 13 out of 16 nations—even beaten by new-comer to the report, India—while Germany took the top spot.


What is peat swamp, and why should I care?


(07/20/2014) Long considered an unproductive hindrance to growth and development, peat swamp forests in Southeast Asia have been systematically cleared, drained and burned away to make room plantations and construction. Now, as alternating cycles of fires and flood create larger development problems, while greenhouse gas emissions skyrocket, it is time to take a closer look at peat, and understand why clearing it is a very bad idea.


Is there hope for bonobos? Researchers, NGOs, gov't officials, local communities band together to save iconic ape (Part III)


(07/18/2014) Sankuru Nature Reserve was established in 2007 primarily for bonobo protection. The largest continuous protected great ape habitat in the world, Sankuru is still losing large swaths of forests to burning and other activities, primarily along roads that transect the center of the reserve. However, hope exists, both from human efforts – and from the apes themselves.


Boom but mostly bust: fighting over sardines in Indonesia's Bali Strait (Part II)


(07/18/2014) Fifty-five crewmen, stripped to their briefs, sing Madurese sea shanties to synchronized gestures as they haul in giant seine nets, hand-over-hand, onto the swaying wooden deck of the M/V Sinar Indah out in the middle of the Bali Strait. This morning they had offloaded a bumper haul at their homeport of Muncar: seven tons of lemuru sardines Sardinella lemuru, the local specialty, for which dockside cannery agents offered $3,500.


Poaching, fires, farming pervade: protecting bonobos 'an enormous challenge' (Part II)


(07/17/2014) Sankuru Nature Reserve in the DRC was established in 2007 to safeguard the 29,000 to 50,000 bonobos that remain in existence. However, while touted as the largest swath of protected continuous great ape habitat in the world, the reserve is still losing thousands of hectares of forest every year. Burning, bushmeat hunting, and agricultural expansion are taking a large toll on the endangered great ape.


Two years after coming into effect, Australia kills carbon tax

(07/17/2014) In a significant victory for Prime Minister Tony Abbott, the Australian Senate has voted to repeal the country's two-year-old carbon tax. Abbott made dismantling the tax one of the cornerstones of his campaign last September even as Australia remains one of the highest carbon emitters per capita in the industrialized world.


Surrounded by deforestation, critically endangered gorillas hang on by a thread


(07/17/2014) The mountain forests at the Nigeria-Cameroon border are home to one of the rarest and most threatened subspecies of African apes – the Cross River gorilla (Gorilla gorilla diehli). Today, fewer than 300 individuals survive in the wild. These occur in 14 small, fragmented populations spread over a 12,000-square kilometer (4,633-square mile) landscape, characterized by rugged, hilly terrain and a matrix of farmlands, villages, and forests.


Scientists can now accurately count polar bears...from space

(07/17/2014) Polar bears are big animals. As the world's largest land predators, a single male can weigh over a staggering 700 kilograms (about 1,500 pounds). But as impressive as they are, it's difficult to imagine counting polar bears from space. Still, this is exactly what scientists have done according to a new paper in the open-access journal PLOS ONE.


30% of Borneo's rainforests destroyed since 1973


(07/16/2014) More than 30 percent of Borneo's rainforests have been destroyed over the past forty years due to fires, industrial logging, and the spread of plantations, finds a new study that provides the most comprehensive analysis of the island's forest cover to date. The research, published in the open-access journal PLOS ONE, shows that just over a quarter of Borneo's lowland forests remain intact.


Will the last ape found be the first to go? Bonobos' biggest refuge under threat (Part I)


(07/16/2014) Bonobos have been declining sharply over the past few decades. In response, several non-profit organizations teamed up with governmental agencies in the DRC to create Sankuru Nature Reserve, a massive protected area in the midst of bonobo habitat. However, the reserve is not safe from deforestation, and has lost more than one percent of its forest cover in less than a decade.


Please, don't hate us: celebrating World Snake Day!


(07/16/2014) Okay, so some snakes are so venomous they can kill you in 30 minutes (the inland taipan). And, yes, the fact that they don't have legs is a little creepy to many people. And, admittedly, some scientists have even suggested that humans may have an inborn genetic terror of snakes.


Fishing for coherent regulations along Fiji's coral reefs


(07/16/2014) Will Fiji implement a much-needed update to its fisheries laws before the September election? If you want to quiet a room in Fiji or feel like a lobster in a boiling pot, bring up coastal fishing rights, and ask what's happening with the plan to update the country's fisheries laws.


Forest loss rising in Borneo (caption)

(07/16/2014) Forest loss is on the rise in Borneo, according to data from a team of researchers led Matt Hansen of the University of Maryland. The study, published last November in the journal Science, now underpins Global Forest Watch, a worldwide forest mapping platform.


The history of the contentious number behind zero deforestation commitments for palm oil


(07/15/2014) It was just after lunch, Monday, November 8th 2010 when it all began. At the time, it was innocent enough; there were certainly no ill intentions. Yet, looking back, I now see it as the moment that kicked off the polarizing debate that today splits the palm oil industry and that drowns out much needed sensible discussion around how forest protection and palm oil expansion might go hand in hand. The debate, with all its spin and tension, has become the focus rather than that more important, bigger question.


On track to 'go beyond the critical point': Sri Lanka still losing forests at rapid clip


(07/15/2014) During the latter half of Sri Lanka's civl war, between 1990 and 2005, Sri Lanka suffered one of the highest rates of deforestation in the world, losing about 35 percent of its old growth forest and almost 18 percent of its total forest cover. The conflict ended in 2009, and while deforestation has slowed somewhat, Sri Lanka is still losing forest cover at a fast pace.


Coastal wildlife paradise declared biosphere reserve in Argentina (PHOTOS)


(07/15/2014) Conservationists are celebrating the announcement that UNESCO has dubbed Argentina's Península Valdés a biosphere reserve under the Man and Biosphere Program (MBA). A hatchet-shaped peninsula that juts out into the Southern Atlantic Ocean, the world's newest biosphere reserve is home to a hugely-diverse collection of both terrestrial and marine wildlife.


'Stop using the bloody things': pesticides linked to bee collapse now blamed for bird declines


(07/15/2014) In recent years the evidence has piled up that neonicotinoids—a hugely popular group of pesticide—may be at least partly responsible for ongoing bee and pollinator collapse. But new research in the journal Nature find that these pesticides could also be taking a heavy toll on other species, in this case common birds.


Attack of the killer vines: lianas taking over forests in Panama


(07/14/2014) A worrying trend has emerged in tropical forests: lianas, woody long-stemmed vines, are increasingly displacing trees, thereby reducing forests' overall ability to store carbon. The study, recently published in Ecology, found several detrimental effects of increased liana presence.


Too much of a good thing: fertilizer 'one of the three major drivers of biodiversity loss this century'


(07/14/2014) The world's grasslands are being destabilized by fertilization, according to a paper recently published in the journal Nature. In a study of 41 grassland communities on five continents, researchers found that the presence of fertilizer weakened grassland species diversity.


558 dead: rhino poaching in South Africa on track to exceed last year's record

(07/14/2014) Poachers have butchered 558 rhinos in South Africa so far this year, approximately a hundred more animals than lost during the same time in 2013.


Only 15 percent of world's biodiversity hotspots left intact


(07/14/2014) The world's 35 biodiversity hotspots—which harbor 75 percent of the planet's endangered land vertebrates—are in more trouble than expected, according to a sobering new analysis of remaining primary vegetation. In all less than 15 percent of natural intact vegetation is left in the these hotspots, which include well-known jewels such as Madagascar, the tropical Andes, and Sundaland.


Forests as important as farming for some rural communities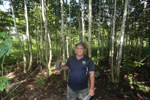 (07/14/2014) Forests have long been assumed to provide an important source of income for many of the world's poor. But determining exactly how forests contribute to rural economies – such as how much income is derived from forests, or how poverty relates to deforestation – has been difficult to pinpoint.


New palm oil sustainability manifesto met with criticism from environmentalists


(07/11/2014) This week several palm oil giants announced new environmental criteria for palm oil production. The companies say the initiative goes beyond the industry-leading standard set by the Roundtable on Sustainable Palm Oil (RSPO), but two prominent environmental groups quickly disagreed, arguing the measure has substantial loopholes that will allow growers to continue destroying forests.


Downturn in shade-grown coffee putting forests, wildlife, people at risk


(07/11/2014) Growing coffee in the shade of forests allows native vegetation to persist, thereby reducing the impact of agriculture on the natural landscape. While production of shade-grown coffee surged in recent decades, it is now experiencing a decline. A recent study analyzed the situation, finding that the growth of consumer demand and changes in coffee agronomy has caused coffee production and management to change drastically.


DRC deforestation escalates despite resource shortages, protests, rape, homicide


(07/10/2014) Road construction, the promise of employment, and the conversion of forest to farmland – the effects of logging tropical forests are often not confined to the boundaries of the concessions, where, in the best case, a timber company has gained legal access to harvest trees. Along the Congo River in the northern Democratic Republic of Congo, recent data showing probable forest loss demonstrate the often-unforeseen consequences of timber harvesting.


Good intentions, collateral damage: forest conservation may be hurting grasslands


(07/10/2014) Trees absorb CO2 and trap carbon molecules, and countless are lost as forests are felled around the world. So why not plant as many as we can? A recent paper suggests otherwise; the planting of more trees through international reforestation schemes may actually be harming tropical grasslands, which harbor endemic species and offer unique ecosystem services.


Next big idea in forest conservation? Rewards for reforestation


(07/10/2014) Susie McGuire and Dr. Edward Louis Jr. are the powerhouse team behind the Madagascar Biodiversity Partnership (MBP), an NGO that involves local residents—both human and primate—in reforestation efforts in Madagascar. A conservation geneticist and veterinarian by training, Ed Louis has discovered 21 lemur species and successfully reintroduced two species of locally extinct lemurs back into the wild.


The last best place no more: massive deforestation destroying prime chimp habitat in Uganda


(07/09/2014) The Kafu River, which is about 180 kilometers (110 miles) long, is part of a vast chimpanzee habitat that includes forest reserves and several unofficial protected areas. However, this region of Uganda is losing a significant portion of valuable chimpanzee habitat, and at least 20 percent of the forest cover along the Kafu River has disappeared since 2001.


A garden or a wilderness? One-fifth of the Amazon may have been savannah before the arrival of Europeans


(07/09/2014) The Amazon is the largest tropical forest on the planet, covering about 6.5 million square kilometers, although much has been lost in recent decades.Yet new research published in the Proceedings of the National Academy of Sciences (PNAS) finds that quite recently—just 500 years ago—a significant portion of the southern Amazon was not the tall-canopied forest it is today, but savannah.


Cats' best friend? A new role for guard dogs in South Africa


(07/09/2014) While there has been a surge of recovery and reintroduction programs to combat predator decline, human population growth and limited protected areas have led to increased rates of human-wildlife conflicts in many regions of the world. A study published recently tested the ability of trained guarding dogs to protect livestock in South Africa and found it to be highly effective, protecting humans and predators alike.


Sold into extinction: great apes betrayed by protectors


(07/09/2014) In what appears to be corruption in high places, the international body charged with protecting endangered species has turned a blind eye to massive illegal trade of endangered Great Apes. This was my distinct impression on reading the Great Apes report prepared by the Convention on International Trade in Endangered Species (CITES) Secretariat for the 65th CITES Standing Committee meeting, which will take place in Geneva in early July this year.


Stuff of fairy tales: stepping into Europe's last old-growth forest


(07/09/2014) There is almost nothing left of Europe's famed forests, those that provided for human communities for millennia and gave life to the world's most famous fairytales. But straddling the border between Poland and Belarus, the Bialowieza Forest is Europe's last lowland old-growth forest, parts of which have never been cut by man.


Despite el Nino threat, palm oil prices dive

(07/08/2014) Despite concerns that the el Niño weather phenomenon could reduce output, palm oil prices have fallen by more than a fifth since their most recent peak in March. Analysts are blaming competition from other edible oils amid record oilseed production.


APP won't acquire companies that continue to destroy forests


(07/08/2014) Asia Pulp & Paper (APP) will not acquire companies that continue to destroy forests, according to a new procedure for association introduced by the Indonesian forestry giant. The procedure, developed after months of consultations with NGOs, effectively closes a loophole some environmentalists feared would allow APP to sidestep its zero deforestation commitment by acquiring companies that continued to clear forest after its February 5, 2013 deadline.


Climate-linked drought cutting forests' carbon-storing ability

(07/08/2014) Climate extremes are dramatically cutting the ability of trees to sequester carbon, threatening to convert some forests from carbon sinks into carbon sources, finds a study published this month in Environmental Research Letters.


Pope Francis: 'this is our sin: we exploit the earth'

(07/08/2014) In Southern Italy over the weekend, Pope Francis reiterated his view that environmental destruction constituted a sin. Visiting the largely agricultural region of Molise, the Pope responded to an address by a local farmer attending university.


An end to India's 'Wild West'? Meghalaya bans coal mining... for now


(07/08/2014) Meghalaya, a state in India's northeast, has thick forests above ground and valuable minerals below. Uncontrolled mining in the area has cleared forests, degraded rivers, and led to many accidents and deaths as few health and safety standards exist for mine workers. A ban effected earlier this year halted all mining in the state, but is set to be reconsidered at a hearing scheduled for August.


A tale of two fish: cyanide fishing and foreign bosses off Sulawesi's coast (Part I)


(07/08/2014) In spring and summer, after the monsoon storms have passed, the fishing boats set out again from tiny Kodingareng Island in the Spermonde Archipelago off the coast of South Sulawesi. In the afternoon heat, Abdul Wahid joins his fellow fishermen in the narrow shade of the beachfront village houses to check out the daily fish prices.


From triumph to tragedy: famine could hit world's newest country by August

(07/08/2014) Suffering from a six month civil war, the world's youngest country could begin experiencing famine conditions in the next few weeks, according to an analysis from a group of British aid agencies.


Booming populations, rising economies, threatened biodiversity: the tropics will never be the same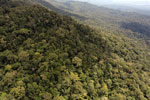 (07/07/2014) For those living either north or south of the tropics, images of this green ring around the Earth's equator often include verdant rainforests, exotic animals, and unchanging weather; but they may also be of entrenched poverty, unstable governments, and appalling environmental destruction. A massive new report, The State of the Tropics, however, finds that the truth is far more complicated.


Oil, wildlife, and people: competing visions of development collide in Virunga National Park


(07/07/2014) What does SOCO's withdrawal really mean for the future of Virunga National Park? - Part II. Located in the eastern DRC, Virunga is the first national park created in Africa, a World Heritage Site and home to mountain gorillas, of which fewer than 900 remain. As such, SOCO's announcement to suspend activities followed in the wake of a concerted campaign led by WWF to "draw the line" to save Virunga from devastation by prospective oil drilling.


They think, therefore they spread: plants can make complex conditional decisions


(07/07/2014) Strong memory, being able to predict the future, and acting based on one's surroundings are traits typically associated only with the most advanced types of animals. However, a team of German and Dutch scientists from the Helmholtz Center for Environmental Research (UFZ) and the University of Göttingen found ecological evidence that plants also have these abilities.


Price of ivory triples in China

(07/07/2014) In the last four years the price of ivory in China has tripled, according to new research from Save the Elephants. The news has worrying implications for governments and conservationists struggling to save elephants in Africa amidst a poaching epidemic, which has seen tens-of-thousands of elephants butchered for their tusks across the continent annually


APP: Indonesia needs a new business model


(07/04/2014) In response to news that Indonesia has now surpassed Brazil as the world's top deforester, the head of sustainability at one of Indonesia's biggest forestry companies is calling for a new business model in how the Southeast Asian nation manages its forest. In a letter published Friday, Aida Greenbury, Asia Pulp & Paper's Managing Director Sustainability, said Indonesia needs to take a more comprehensive approach to tackling deforestation.


Do Indonesians really want more big plantations?

(07/04/2014) How to best use Indonesia's land resources? This is one of the more crucial questions facing the Presidential candidates in Indonesia's upcoming elections.


No restrictions: Japan's demand for illegal wood driving rampant deforestation in Siberia


(07/03/2014) Illegal logging is taking a huge toll on forests around the world. In response, many countries have banned the import of timber whose legal harvest cannot be verified. However, Japan has made no strides to reduce its import of illegal timber. Instead, it is knowingly importing mass quantities of wood sourced from vulnerable forests in Siberia, according to a recent report.


A fine line: new program predicts when human impact becomes too much


(07/03/2014) Scientists at Stanford University recently unveiled a new modeling program that can predict the response of the environment to the land-use changes of human communities. Using their model, they found that natural resources can support humanity – up to a certain point.


U.S should sanction Mozambique for its role in elephant, rhino poaching, urges NGOs

(07/03/2014) Two prominent NGOs U.S should sanction Mozambique for its role in elephant, rhino poaching, urges NGOsare petitioning the U.S government to slap Mozambique with trade sanctions due to the country's role in regional poaching. The groups contend that Mozambique has done little to combat both its own poaching epidemic or stop its nationals from spilling over the border to kill rhinos and elephants in South Africa and Tanzania.


Next big idea in forest conservation? The 'double-edged sword' of democracy


(07/03/2014) Dr. Douglas Sheil considers himself an ecologist, but his research includes both conservation and management of tropical forests. Currently teaching at the Norwegian University of Life Sciences (NMBU) Sheil has authored and co-authored over 200 publications including scholarly articles, books, and popular articles on the subject.


A children's book inspired by murder: the 25th anniversary of 'The Great Kapok Tree'


(07/03/2014) "The Great Kapok Tree" was written by Lynne Cherry in response to the murder of Brazilian environmental activist Chico Mendes, who was assassinated by a rancher in 1988 in Brazil. Mendes' murder was a significant international incident galvanizing support for environmental activists working to protect the Amazon forest.


On a whim: Equatorial Guinea building new capital city in the middle of the rainforest


(07/02/2014) More than 8,000 hectares of rainforest are under threat as the nation builds a new $600 million capital city from scratch. Called Oyala, and also known as Djibloho, the city is expected be completed by 2020 and house up to 200,000 people -- about an eighth of the entire population of Equatorial Guinea.


Horror movie bugs: new wasp species builds nest with the bodies of dead ants


(07/02/2014) If ants made horror movies this is probably what it would look like: mounds of murdered ants sealed up in a cell. The villain of the piece—at least from the perspective of the ants—is a new species of spider wasp, which scientists have aptly dubbed the bone-house wasp (Deuteragenia ossarium) in a paper released today in PLOS ONE.


NASA successfully launches carbon-sensing satellite

(07/02/2014) On Wednesday NASA successfully launched the Orbiting Carbon Observatory-2 (OCO-2), a satellite that will track carbon dioxide in the atmosphere.


Bigfoot found? Nope, 'sasquatch hairs' come from cows, raccoons, and humans


(07/01/2014) Subjecting 30 hairs purportedly from bigfoot, the yeti, and other mystery apes has revealed a menagerie of sources, but none of them giant primates (unless you count humans). Using DNA testing, the scientists undertook the most rigorous and wide-ranging examination yet of evidence of these cryptic—perhaps mythical—apes, according to a new study in the Proceedings of Royal Society B.


On the brink of extinction: Javan rhino has new enemy in invasive palm


(07/01/2014) The last of Indonesia's critically endangered Javan rhinoceroses have survived poachers, rapid deforestation and life in the shadow of one of the archipelago's most active volcanoes. But an invasive plant is now posing a new threat to the world's rarest species of rhino.


On babies and motherhood: how giant armadillos are surprising scientists (photos)


(07/01/2014) Until ten years ago scientist's knowledge of the reproductive habits of the giant armadillo— the world's biggest— were basically regulated to speculation. But a long-term research project in the Brazilian Pantanal is changing that: last year researchers announced the first ever photos of a baby giant armadillo and have since recorded a second birth from another female.


Oil palm plantations degrade local water quality relative to community forests

(06/30/2014) Oil palm plantations are not only encroaching on forests, they are also degrading water quality, finds a new study published in the Journal of Geophysical Research: Biogeosciences.


Malaysian citizens want govt to spend more to save native rainforests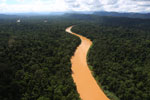 (06/30/2014) As developing countries reach upper middle income (UMI) status, their populations are willing to pay increasing amounts toward tropical forest conservation, yet government spending on these programs lags far behind, concludes a study available today in the PNAS Online Early Edition.


Super cute, but tiny, elephant-relative discovered in Namibia


(06/30/2014) Forget marsupials, the world's strangest group of mammals are actually those in the Afrotheria order. This superorder of mammals contains a motley crew that at first glance seems to have nothing in common: from elephants to rodent-sized sengi. Last week, scientists announced the newest, and arguably cutest, member of Atrotheria: the Etendeka round-eared sengi.


New report: illegal logging keeps militias and terrorist groups in business


(06/30/2014) Released last week by the United Nations Environment Programme (UNEP) during the first United Nations Environment Assembly in Nairobi, Kenya, a new report found that together with other other illicit activities such as poaching, illegal deforestation is one of the top money-makers for criminal groups like Boko Haram and Al-Shabaab.


Featured video: What would you change in conservation?

(06/30/2014) What would you change in conservation? It's a simple question, but like so many fundamental quandaries it's bound to elicit a wide diversity of answers. Recently, a pair of students in the MSc Conservation Science program at Imperial College London posed this question to their fellow students, recording a fascinating string of ideas about the future of conservation.


Despite moratorium, Indonesia now has world's highest deforestation rate


(06/29/2014) Despite a high-level pledge to combat deforestation and a nationwide moratorium on new logging and plantation concessions, deforestation has continued to rise in Indonesia, according to a new study published in Nature Climate Change. Annual forest loss in the southeast Asian nation is now the highest in the world, exceeding even Brazil.


Is REDD+ bad for wildlife? New study says lowland forest protection bias unfair, urges change


(06/27/2014) A study published this week found tree cover does not necessarily correlate with habitat importance. It suggests that using such a metric may be leading to false assumptions of habitat importance, and that REDD+ and other carbon-centric conservation programs may actually be propelling some species towards extinction.


Ecotopia emerging: sustainable forests and healthy livelihoods go hand in hand


(06/26/2014) Callenbach's 1975 utopian novel Ecotopia became wildly popular among environmental-leaning folks, hippies, and progressive thinkers of the day. Set in 1999, the novel took place twenty years after Oregon, Washington and northern California seceded from the union to form an imperfect, in-process sustainable nation. For a book that has fallen mostly off the radar, certain aspects of Ecotopian society fall remarkably in line with research of Arun Agrawal, a professor of political science at the University of Michigan.


Next big idea in forest conservation? Playing games to understand what drives deforestation


(06/26/2014) Dr. Claude Garcia plays games, but you won't find him betting his shirt at the casino. As leader of the Forest Management and Development Research Group at ETH Zürich, Garcia and his team use participatory modeling and role-playing games, merged with more traditional disciplinary sciences such as ecology, economics, and sociology to understand and manage complex landscape change in the tropics.



Page 1
|
Page 2
|
Page 3
|
Page 4
|
Page 5
|
Page 6
|
Page 7
|
Page 8
|
Page 9
|
Page 10
|
Page 11
|
Page 12
|
Page 13
|
Page 14
|
Page 15
|
Page 16
|
Page 17
|
Page 18
|
Page 19
|
Page 20
|
Page 21
|
Page 22
|
Page 23
|
Page 24
|
Page 25
|
Page 26
|
Page 27
|
Page 28
|
Page 29
|
Page 30
|
Page 31
|
Page 32
|
Page 33
|
Page 34
|
Page 35
|
Page 36
|
Page 37
|
Page 38
|
Page 39
|
Page 40
|
Page 41
|
Page 42
|
Page 43
|
Page 44
|
Page 45
|
Page 46
|
Page 47
|
Page 48
|
Page 49
|
Page 50
|
Page 51
|
Page 52
|
Page 53
|
Page 54
|
Page 55
|
Page 56
|
Page 57
|
Page 58
|
Page 59
|
Page 60
|
Page 61
|
Page 62
|
Page 63
|
Page 64
|
Page 65
|
Page 66
|
Page 67
|
Page 68
|
Page 69
|
Page 70
|
Page 71
|
Page 72
|
Page 73
|
Page 74
|
Page 75
|
Page 76
|
Page 77
|
Page 78
|
Page 79
|
Page 80
|
Page 81
|
Page 82
|
Page 83
|
Page 84
|
Page 85
|
Page 86
|
Page 87
|
Page 88
|
Page 89
|
Page 90
|
Page 91
|
Page 92
|
Page 93
|
Page 94
|
Page 95
|
Page 96
|
Page 97
|
Page 98
|
Page 99