Just days before Myanmar, also known as Burma, implements a ban on exporting raw logs, the Environmental Investigative Agency (EIA) has released a new report that captures the sheer scale of the country's illegal logging crisis. According to the EIA, new data shows that 72 percent of logs exported from Myanmar between 2000-2013 were illegally harvested.



"The forestry sector is in crisis [in Myanmar]. Logging is rampant, transparency non-existent. Drivers include consumers' need for cheap raw materials in the form of logs and in particular Myanmar's precious hardwoods," EIA Forest Campaign Leader, Faith Doherty, told mongabay.com, adding "this situation is acknowledged by the government and we hope that support for reform in the forestry sector from the international community becomes a reality."



Analyzing new figures released by Myanmar's Ministry of Environmental Conservation and Forestry and published by the country's Eleven Media group, the EIA found that official export data accounted for only 28 percent of logs imported into other countries. This means, the rest—over three-fourths of the total—was likely illegally logged and exported. In all, 22.8 million cubic meters of logs were imported to various countries around the world from Myanmar during the period in question.






Illegal logging is rampant in Myanmar. Photo courtesy of the EIA.



"Data of this kind has not been published before; lack of transparency remains a major concern in Myanmar and the country still does not report trade data to mainstream global bodies such as the United Nations," reads the EIA briefing Data Corruption: Exposing the True Scale of Logging in Myanmar.



Illegal logging is a global scourge, accounting for some 15-30 percent of deforestation in the tropics and worth an estimated $30-$100 billion in ill-gotten gains annually. Not only does the practice devastate forests, harm biodiversity, and emit carbon, but it also imperils forest communities and robs developing countries of revenue. In Myanmar's case, the EIA estimates that the country lost out on $6 billion in revenue over the 14 year period, four times the country's health and education budget during 2013-2014.



Myanmar is hoping its new ban on exporting raw logs, which is set to begin April 1st, will allow the country to regain some control over its forestry sector. However, Faith Doherty says the ban is only one piece of the puzzle.



"A ban is only as good as the enforcement that governs it," Doherty said, adding that Myanmar's biggest importers will need to step up as well.





Graph showing discrepancy between government logging figures and imports into other countries. Graph courtesy of the EIA.



"We would like to see the countries that benefit from [Myanmar's] logs to reciprocate in that they would enact log import bans from Myanmar—countries such as China, India, Thailand and Vietnam."



To date, Myanmar's government has largely blamed its illegal logging crisis on self-regulating ethnic areas, particularly the state of Kachin which runs a notorious logging trade route into China. However, the EIA says the data doesn't point to Kachin as the sole source of illegal logging. Instead the data "reveals chronic levels of unlicensed logging and timber smuggling throughout Myanmar—a problem which is by no means confined to ethnic areas."



The scale of the problem should put buyers on notice, according to the EIA. More and more countries—including the U.S., the EU, and Australia—have implemented laws that outlaw trading in wood products illegally logged abroad.





Truck carrying raw logs in Myanmar. Photo courtesy of the EIA.



"Purchasing timber from Myanmar is extremely high risk," added Doherty. "The Government of Myanmar have indicated that they want to enter into negotiations with the EU through the Forest Law Enforcement Governance and Trade (FLEGT) initiative—this is very useful in that transparency and verification that is independent will be at the heart of reform desperately…In the meantime consuming nations need to ask the Myanmar Government for verified information that the timber they are purchasing is indeed legal. It is not good enough to accept government issued documents."



In order to begin turning the situation around—and safeguarding Myanmar's remaining forest—the EIA says Myanmar must take its log export ban seriously, increase transparency in the forestry industry, cut cronyism out of the forestry sector, and step-up investigations of companies and government officials involved in illegal logging.



Myanmar is a part of the Indo-Burma biodiversity hotspot, which was dubbed by Conservation International (CI) as the world's most imperiled hotspot in 2011. At that time, CI estimated that only 5 percent of the ecosystem remained. Between 1990-2005, Myanmar lost 17.8 percent of its forest cover, according to FAO data.
Related articles



Plantations used as cover for destruction of old-growth forests in Myanmar

(12/02/2013) As Wild Burma: Nature's Lost Kingdom airs on the BBC, the forests documented in the series are increasingly being cut down, according to a new report by U.S. NGO Forest Trends. The report alleges that wide swathes of forest are being cleared in ethnic minority areas of Myanmar (also known as Burma), ostensibly for palm oil and rubber plantations. However after the lucrative timber is extracted, the report finds little evidence that the companies involved are serious about establishing plantations.
Mangrove ecosystems being obliterated in Myanmar

(11/27/2013) Mangrove cover in Myanmar's Ayeyarwady Delta declined by nearly two-thirds between 1978 and 2011, leaving coastal areas more vulnerable to disasters like Cyclone Nargis, which killed 138,000 people in 2008, finds a new study published in the journal Global Environmental Change. The research, led by a team of scientists from the National University of Singapore and Mangrove and Environmental Rehabilitation Network in Yangon, is based on remote sensing and field data.
Myanmar faces new conservation challenges as it opens up to the world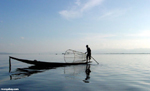 (10/04/2013) For decades, one of Southeast Asia's largest countries has also been its most mysterious. Now, emerging from years of political and economic isolation, its shift towards democracy means that Myanmar is opening up to the rest of the world. Myanmar forms part of the Indo-Burma biodiversity hotspot, and some of the largest tracts of intact habitat in the hotspot can be found here.
Mekong region has lost a third of its forests in 30 years, may lose another third by 2030

(05/03/2013) The Greater Mekong region of Cambodia, Laos, Myanmar (Burma), Thailand and Vietnam will lose a third of its remaining forest cover by 2030 unless regional governments improve management of natural resources and transition toward a greener growth model, warns a new report issued by WWF.
The river of plenty: uncovering the secrets of the amazing Mekong

(04/23/2013) Home to giant catfish and stingrays, feeding over 60 million people, and with the largest abundance of freshwater fish in the world, the Mekong River, and its numerous tributaries, brings food, culture, and life to much of Southeast Asia. Despite this, little is known about the biodiversity and ecosystems of the Mekong, which is second only to the Amazon in terms of freshwater biodiversity. Meanwhile, the river is facing an existential crisis in the form of 77 proposed dams, while population growth, pollution, and development further imperil this understudied, but vast, ecosystem.
Pictures: 126 new species discovered in Greater Mekong region last year

(12/18/2012) Some 126 new species were described in Asia'a Mekong region last year, notes a new report published by the World Wildlife Fund (WWF).