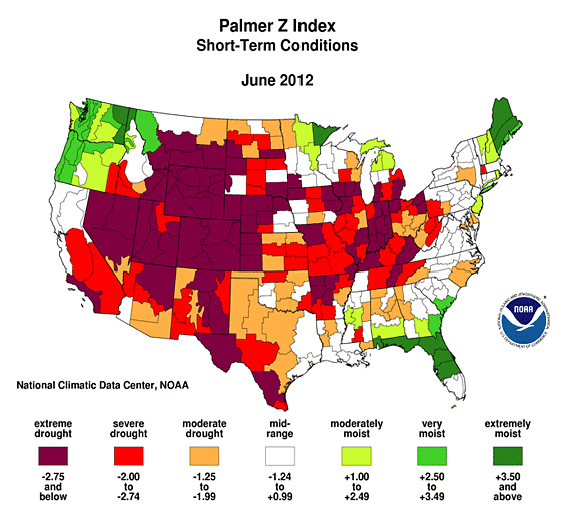 The U.S. is suffering drought levels not seen in over 50 years—and drawing comparisons to the Dust Bowl—with 56 percent of the contiguous U.S. in moderate to extreme drought. Some experts fear that the drought, and resulting hikes in food prices, could propel another global food crisis like those seen in 2008 and 2010.



While not as severe as the Dust Bowl yet, the drought has put the U.S. government on alarm. Unprecedentedly, the government has declared a third of the U.S. counties covering 26 states federal disaster areas due to the drought. To make matters worse, drought conditions are not expected to be relieved anytime soon. The drought also comes as the U.S. has experienced its warmest 12 consecutive months on record, including an unprecedented Spring heatwave and another rare end-of-June heatwave.



Not surprisingly then corn and other crops are wilting in the field. The U.S. Department of Agriculture recently cut their forecast of this year's corn crop by 12 percent, and some expect further cuts. The U.S. is the world's largest exporter of corn, which is largely fed to livestock or used to produce corn meal, corn syrup and ethanol biofuels. Last week corn prices hit a record high of $8.24.



"What happens to the U.S, supply has an immense impact around the world. If the price of corn rises high enough, it also pulls up the price of wheat," Robert Thompson with the Chicago Council of Global Affairs told the Guardian. Wheat is one of the world's most important food staples.



And the U.S. isn't alone: floods in the U.K. and Russia have hurt wheat crops while droughts in South America have taken a toll on soy. Wheat prices have not yet hit levels like those seen during past food crisis, but have still jumped 55 percent in the last month.



While food prices are determined by many factors, including environmental and social, some are pointing their fingers at climate change for increasing and worsening extreme weather that is decimating crops. This is not without evidence: a recent study found that climate change had increased the probability of Texas' 2011 drought by 20 times. Other studies have illustrated intriguing, but disputed, links between global warming and the East African famine in 2011 and Russia's heatwave, drought, and fires in 2010.



"This is what global warming looks like at the regional or personal level," Jonathan Overpeck, climatologist with the University of Arizona, recently told the Associated Press in response the U.S. extremes. "The extra heat increases the odds of worse heat waves, droughts, storms and wildfire. This is certainly what I and many other climate scientists have been warning about."



Related articles



Drought, heat, fires push more Americans to accept reality of climate change

(07/19/2012) Record temperatures, wildfires, drought, and crop failures have is helping convince more Americans that climate change is real and occurring, reports Bloomberg.
Deja vu: U.S. undergoes hottest 12 months on record…again and again

(07/12/2012) According to new data from the National Oceanic and Atmospheric Administration (NOAA)'s National Climatic Data Center, the last twelve months have been the warmest on record for the contiguous United States. This record, set between July 2011 through June 2012, beat the last consecutive twelve month record set only a month earlier between June 2011 and May 2012, which in turn beat the previous record holder, you guessed it: May 2011 through April 2012.
Climate change increased the probability of Texas drought, African famine, and other extreme weather

(07/11/2012) Climate change is here and its increasing the chances for crazy weather, according to scientists. A prestigious group of climatologists have released a landmark report that makes the dramatic point that climate change is impacting our weather systems—and in turn our food crops, our economies, and even our lives—here-and-now. The new report in the American Meteorological Society is first of what is intended to be an annual offering that will attempt to tease out the connections between climate change and individual extreme weather events, such as heatwaves, droughts and floods.
Scientist: 'no doubt' that climate change is playing a role in U.S. fires

(07/02/2012) A noted climate scientist says there is 'no doubt' that climate change is 'playing a role' in this year's series of record fires in the western U.S. A massive wildfire in Colorado has forced the evacuation of 36,000 people, destroyed over 300 homes, and killed two people. The devastation wrought by the Waldo Canyon Fire even prompted a visit form U.S. President Barack Obama. But this is not the only epic fire in the U.S. this year: less than a month before the Colorado disaster, New Mexico experienced its largest fire on record in Gila Nation Forest; the conflagration burned up 247,000 acres (100,000 hectares). Other major wildfires have occurred in Utah and Wyoming, as well as other parts of New Mexico and Colorado.
NASA image: New Mexico suffers record megafire

(06/04/2012) To date, around 250,000 acres (101,000 hectares) of the Gila Forest in New Mexico have burned in the state's largest fire ever recorded. Begun on May 16th due to lightning strikes, the unprecedented fire has likely been made possible by a combination of land-use changes, unflagging drought, and climate change.
"Strong evidence" linking extreme heatwaves, floods, and droughts to climate change

(03/28/2012) As North America recovers from what noted meteorologist Jeff Masters has called "the most incredible spring heatwave in U.S. and Canadian recorded history," a new paper argues that climate change is playing an important role in a world that appears increasingly pummeled by extreme weather. Published in Nature Climate Change, the paper surveys recent studies of climate change and extreme weather and finds "strong evidence" of a link between a warming world and the frequency and intensity of droughts, floods, and heatwaves—such as the one that turned winter into summer in the U.S.