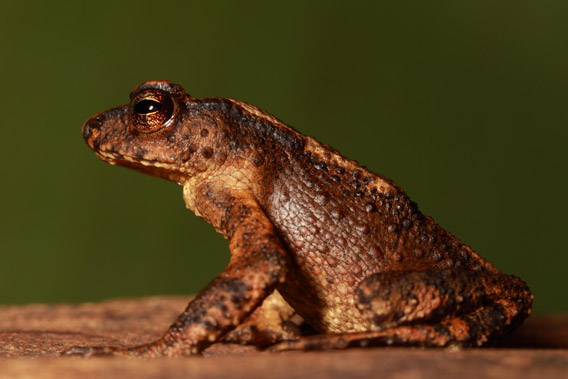 The Kandyan dwarf toad hadn't been seen for over a century until researchers stumbled on it in 2009. Photo courtesy of: L.J. Mendis Wickramasinghe.



A small toad not seen since 1876, and considered by many to be extinct, has been rediscovered in a stream in Sri Lanka. First recorded in 1872, the Kandyan dwarf toad had (Adenomus kandianus) vanished for over a century before being found by scientists during a survey in 2009 in the Peak Wilderness Sanctuary, according to a new paper in Zootaxa.



"During a nocturnal sampling session, about four specimens of an unusual species were observed, from the Peak Wilderness Sanctuary on the 23rd October 2009, which were sympatric with Adenomus dasi on rocks close to fast flowing streams where a single specimen was collected in order to taxonomically clarify its identity," lead author L.J. Mendis Wickramasinghe with Herpetological Foundation of Sri Lanka told mongabay.com.



After being collected, however, the individual was found to not be the closely-related Adenomus dasi, but the long lost Kandyan dwarf toad. The genus Adenomus is only found in Sri Lanka and comprises just three species. Although the discovery is worth celebrating, Wickramasinghe cautions that the species is likely close to extinction.



| | |
| --- | --- |
| | Another view of the Kandyan dwarf toad. Photo courtesy of: L.J. Mendis Wickramasinghe. |
"It's most likely that this population will be categorized as a Critically Endangered population in future updates of the IUCN Red List of Threatened Species," Wickramasinghe says.



Wickramasinghe and his team were in the region to survey land-based amphibians because "not much light has been shed on their diversity by scientists, because of the difficulty to reach these sites due to harsh weather conditions and tough trails."



Wickramasinghe hints that the rediscovery of the Kandyan dwarf toad (Adenomus kandianus) may not be the last of supposed extinct frogs found on the island-nations.



"Although Sri Lanka carries the dubious distinction of contributing the highest proportion (60%), to the global list of extinct amphibians, I must say there are several others that are yet to be updated and will be published in the near future," he says.
Related articles



EPA considers ban on herbicide that triggers sex reversal in frogs

(06/08/2012) The Environmental Protection Agency (EPA) will weigh a ban on Atrazine, a widely used herbicide linked to sex reversal and other reproductive problems in amphibians and fish. The chemical, which is manufactured by Syngenta, has been banned in the European Union since 2004 but some 80 million pounds Atrazine are applied to corn, sugarcane, sorghum and rice in the United States each year.
Herp paradise preserved in Guatemala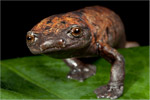 (05/29/2012) Fifteen conservation groups have banded together to save around 2,400 hectares (6,000 acres) of primary rainforest in Guatemala, home to a dozen imperiled amphibians as well as the recently discovered Merendon palm pit viper (Bothriechis thalassinus). The new park, dubbed the Sierra Caral Amphibian Reserve, lies in the Guatemalan mountains on the border with Honduras in a region that has been called the most important conservation area in Guatemala.
New frog species leaves scientists' fingers yellow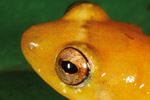 (05/22/2012) A beautiful, yellow frog species has been discovered in western Panama, according to a new paper in ZooKeys. Scientists were surprised when handling the new species to find their fingers stained bright yellow by its skin, but even after laboratory research the purpose of this dye remains a mystery. The new species, named Diasporus citrinobapheus, is a member of the large rain frog family, whose members skip the tadpole stage and instead are born directly from eggs as tiny froglets.
Mad frog bonanza: up to 36 new frogs discovered in tiny Madagascar forest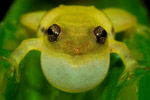 (04/19/2012) A forest less than half the size of Manhattan sports an astounding number of frogs, according to a new paper in Biodiversity Conservation. Two surveys of Madagascar's Betampona Nature Reserve, which covers 2,228 hectares, has uncovered 76 unique frogs, 36 of which may be new to science. To put this in perspective: the U.S. and Canada combined contain just 88 frog species, but cover an area nearly a million times larger than Betampona.
Two new frogs discovered in Philippines spur calls for more conservation efforts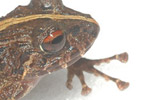 (04/19/2012) Two new frogs have been discovered on the Philippine island of Leyte during a biological survey last year by Fauna and Flora International, which also recorded a wealth of other species. Discovered in November on the island's Nacolod mountain range, the frogs have yet to be named. The Philippines is one of the world's global biodiversity hotspots, yet suffers from widespread deforestation and degradation.
Photos: the aye-aye of frogs rediscovered after 62 years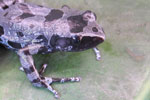 (03/27/2012) A pair of researchers have rediscovered a long-lost frog in the tiny African country of Burundi. Known as the Bururi long-fingered frog (Cardioglossa cyaneospila), the species hadn't been seen for over 60 years—since the Soviet Union tested its first nuclear weapon in 1949—but was rediscovered in Bururi Forest Reserve.