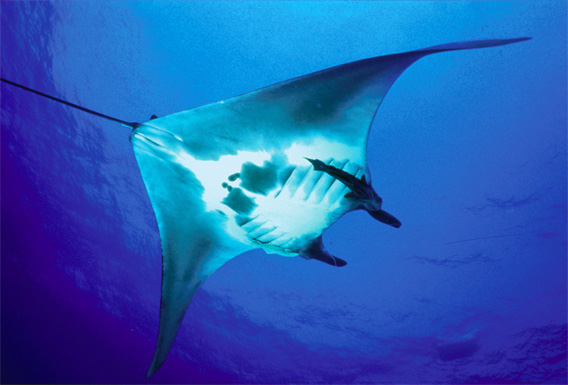 Researchers from the Wildlife Conservation Society, the University of Exeter, and the Government of Mexico have published the first-ever satellite telemetry study on the manta ray, the world's largest ray species. The findings will help inform ecosystem-based management plans for the rays, which are in decline worldwide due to fishing and accidental capture. Photo credit: Kaile Tsapis.



Satellite tracking technology has revealed new insights into the behavior of manta rays, reports the Wildlife Conservation Society (WCS). The findings are published in this week's issue of the journal PLoS.



Scientists from WCS, the University of Exeter (UK), and the Government of Mexico used satellite telemetry to track six giant rays for 13 days off the coast Mexico's Yucatan Peninsula. They learned that manta rays, which can grow up to 25 feet in width, cover vast distances as they search for their primary sources of food.



"The satellite tag data revealed that some of the rays traveled more than 1,100 kilometers during the study period," said Dr. Matthew Witt of the University of Exeter's Environment and Sustainability Institute. "The rays spent most of their time traversing coastal areas plentiful in zooplankton and fish eggs from spawning events."



The researchers say the study will help inform efforts to conserve the manta ray, which is listed as "vulnerable" on the International Union for Conservation of Nature's (IUCN) Red List. Rays are targeted by fishermen for the Traditional Chinese Medicine market and caught accidentally.



"Almost nothing is known about the movements and ecological needs of the manta ray, one of the ocean's largest and least-known species," said Rachel Graham, lead author on the study and director of WCS's Gulf and Caribbean Sharks and Rays Program, in a statement. "Our real-time data illuminate the previously unseen world of this mythic fish and will help to shape management and conservation strategies for this species."



"Studies such as this one are critical in developing effective management of manta rays, which appear to be declining worldwide," added Dr. Howard Rosenbaum, Director of WCS's Ocean Giant Program.



The manta has the highest brain to body ratio of all sharks and rays, according to WCS. The species gives birth to only one or two young each year, leaving them at risk from overexploitation.
Related articles



Scientists count penguins by satellite, find twice as many as expected (photos)

(04/14/2012) The population of emperor penguins in Antarctica is nearly twice as high as previously estimated according to a new satellite-based assessment.
Development of Google Earth a watershed moment for the environment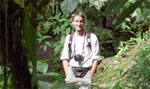 (03/31/2009) Satellites have long been used to detect and monitor environmental change, but capabilities have vastly improved since the early 1970s when Landsat images were first revealed to the public. Today Google Earth has democratized the availability of satellite imagery, putting high resolution images of the planet within reach of anyone with access to the Internet. In the process, Google Earth has emerged as potent tool for conservation, allowing scientists, activists, and even the general public to create compelling presentations that reach and engage the masses. One of the more prolific developers of Google Earth conservation applications is David Tryse. Neither a scientist nor a formal conservationist, Tryse's concern for the welfare of the planet led him develop a KML for the Zoological Society of London's EDGE of Existence program, an initiative to promote awareness of and generating conservation funding for 100 of the world's rarest species. The KML allows people to surf the planet to see photos of endangered species, information about their habitat, and the threats they face. Tryse has since developed a deforestation tracking application, a KML that highlights hydroelectric threats to Borneo's rivers, and oil spills and is working on a new tool that will make it even easier for people to create visualizations on Google Earth. Tryse believes the development of Google Earth is a watershed moment for conservation and the environmental movement.
Advancements in satellite technology will help scientists and policy makers map and monitor forest carbon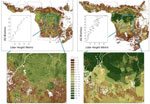 (03/29/2009) Given that deforestation accounts for nearly one fifth of anthropogenic greenhouse gas emissions, reducing forest clearing and degradation is increasingly seen as an critical component to any framework addressing climate change. By some estimates, a mechanism that compensates countries for reducing emissions from deforestation and forest degradation (REDD) could funnel billions of dollars per year towards forest conservation. However the effectiveness of such a mechanism will hinge on the quality of data. Effective mapping and monitoring of forest carbon stores is absolutely key to any mechanism that compensates countries for reducing emissions from deforestation and forest degradation.
Google Earth now allows ocean exploration, tracking of sharks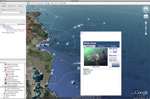 (02/05/2009) Google Earth now allows users to dive beneath the surface of the world's oceans to see coral reefs, trenches, and other marine wonders. The new version, Google Earth 5, includes layers showing locations of shipwrecks and surf spots; routes for ocean expeditions; the movements of GPS-tracked sea animals; and information (including videos and images) about the ocean environment from sources including National Geographic, the Cousteau Society, the International Union for Conservation of Nature (IUCN), the Monterey Bay Aquarium, and the National Oceanic and Atmospheric Administration (NOAA).
Photos: Google Earth used to find new species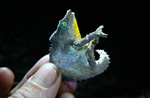 (12/22/2008) Scientists have used Google Earth to find a previously unknown trove of biological diversity in Mozambique, reports the Royal Botanic Gardens in Kew. Scouring satellite images via Google Earth for potential conservation sites at elevations of 1600 meters or more, Julian Bayliss a locally-based conservationist, in 2005 spotted a 7,000-hectare tract of forest on Mount Mabu. The scientifically unexplored forest had previously only been known to villagers. Subsequent expeditions in October and November this year turned up hundreds of species of plants and animals, including some that are new to science.