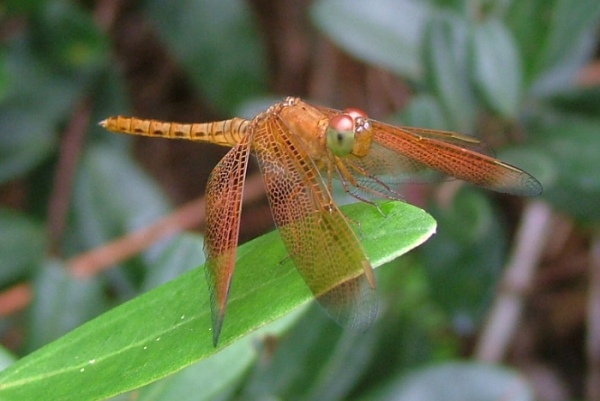 An unidentified species of dragonfly in Borneo. Photo by Janie Dubman.
PASIR PANJANG, Borneo – A forest is nothing if not a treasure trove. At no time is this as evident as in the early morning, when the green tapestry sparkles not only with crystal dew, but also with the delicate shimmers of dragonfly wings. These creatures range in color, size and form from the thread-thin pond damsels, to the meaty striped hunters that really are little dragons. When these animals surround one in such abundance, it's hard not to observe their behavior, which is much more interesting than a pin-head brain might suggest; they perform complex synchronized mating dances over the water, and race each other from stem to stem. The red-winged ones do an odd, four-step, mechanical wing-twitch as soon as they land on a branch, and the blue ones never sit on anything but logs. There is a herd (what would you call a group of dragonflies?) that circles in front of the Care Center building every afternoon, with gorgeous golden black wings, but their hang-out is unknown to me, and so I've never managed a photo. The locals speak of a monster dragonfly (Capung in Indonesian, Sensibur in the local Dayak dialect) which only comes out at some elusive hour of the afternoon which I have yet to discover.
This is just one of the jewels that can be marveled at in a scrap of tropical rainforest. I say scrap because that is essentially what the 80 hectare piece of secondary swamp forest around OFI`s (Orangutan Foundation International) Orangutan Care Center and Quarantine, is. But a scrap that, apart from glittering with dragonflies, blooms with color, sings with the eerie, repetitive calls of tropical birds and overwhelms the nose with scents that range from heavenly to putrid. The fact is, the rich biodiversity that has drawn naturalists and biologists to the tropics for centuries still persists in the face of the diverse forces that threaten to wipe them out, and every surviving piece of jungle is a testament to that richness.
Orangutan Foundation International, based in southern Central Kalimantan (Indonesian Borneo), where your devoted author is currently volunteering, strongly believes in protecting tropical rainforests, whether there are orangutans living in them or nor. The greatest threat to the local forests is palm oil plantation development, and the associated clear-cutting.
We are currently in the middle of an ambitious project to buy and protect almost all remaining forest in the vicinity of the Care Centre, and create a private, strictly protected 6,000 hectare heath-swamp forest reserve.
To help OFI with its conservation mission, visit www.orangutan.org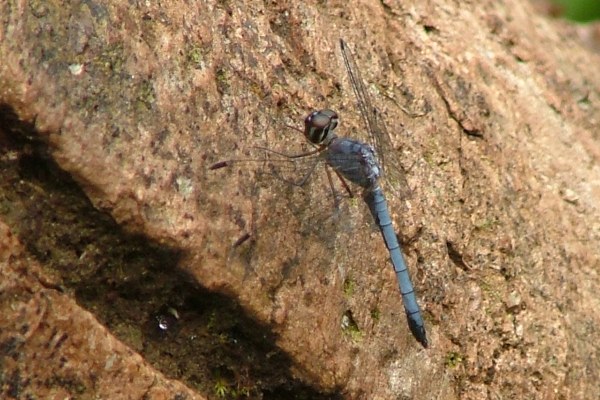 An unidentified species of dragonfly in Borneo. Photo by Janie Dubman.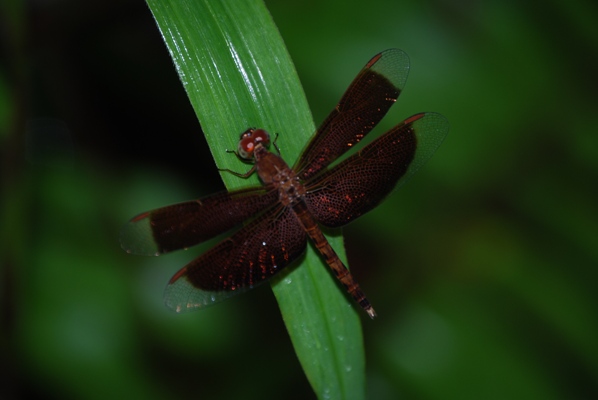 An unidentified species of dragonfly in Borneo. Photo by Jessica Parker.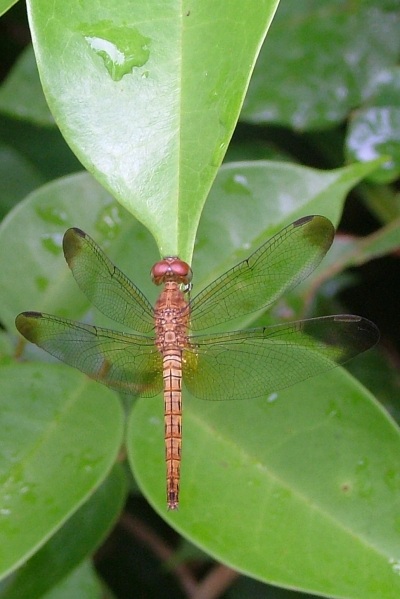 An unidentified species of dragonfly in Borneo. Photo by Janie Dubman.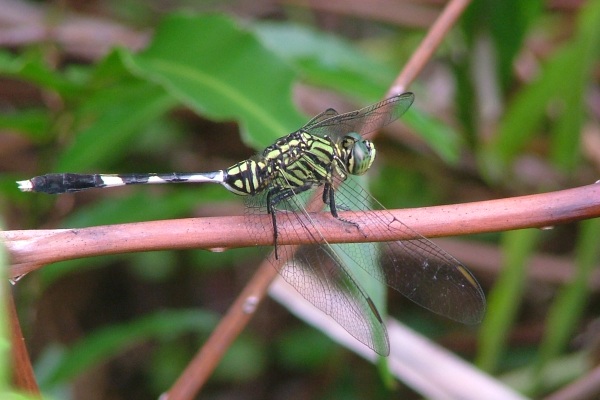 An unidentified species of dragonfly in Borneo. Photo by Janie Dubman.
Orangutan Foundation International
Earlier article about Galdikas and Camp Leaky
(05/24/2006) A look at conservation efforts in Kalimantan, on the island of Borneo. I'm in Tanjung Puting National Park in southern Kalimantan on the island of Borneo. At 400,000 hectares (988,000 acres) Tanjung Puting is the largest protected expanse of coastal tropical heath and peat swamp forest in southeast Asia. It's also one of the biggest remaining habitats for the critically endangered orangutan, the population of which has been great diminished in recent years due to habitat destruction and poaching. And orangutans have become the focus of a much wider effort to save Borneo's natural environment. We are headed to Campy Leakey, named for the renowned Kenyan paleontologist Louis Leakey. Here lies the center of the Orangutan Research conservation Project. Established by Birute Mary Galdikas, a preeminent primatologist and founder of the Orangutan Foundation International (OFI), the project seeks to support the conservation and understanding of the orangutan and its rain forest habitat while rehabilitating ex-captive individuals. The Orangutan Research conservation Project is the public face of orangutan conservation in this part of Kalimantan, the Indonesia-controlled part of Borneo. Borneo, the third largest island in the world, was once home to some of the world's most majestic, and forbidding forests. With swampy coastal areas fringed by mangrove forests and a mountainous interior, much of the terrain was virtually impassable and unexplored. Headhunters ruled the remote parts of the island until a century ago.