Sebuah proyek terkemuka RED di Aceh, Indonesia kemungkinan tidak cukup untuk menyelamatkan hutan hujan dataran rendah di Sumatera Utara yang terancam akibat penebangan dan pengubahan ke perkebunan sawit, lapor para peneliti yang menulis di Environmental Research Letters.
Penelitian ini menyoroti kontradiksi antara proyek konservasi Ulu Masen – yang melibatkan Flora and Fauna International, Bank of America, dan Carbon Conservation yang berbasis di Australia, sebuah perusahaan perdagangan karbon – dan ekspansi jalan yang terus berlanjut, dan pendirian perkebunan kelapa sawit di wilayah ini.
Proyek ini kebanyakan berfokus pada daerah dataran tinggi yang memiliki resiko penggundulan hutan lebih kecil karena akses yang sulit dan terutama sekali bukan habitat yang baik bagi orang utan, prioritas konservasi kunci di Sumatera, catat para penulisnya yang dipimpin oleh David Gaveau of University of Kent. Sementara itu, jaringan jalan raya yang luas saat ini sedang dibangun di dalam hutan Aceh, sementara perusahaan-perusahaan sedang mengubah hutan dataran rendah menjadi perkebunan kelapa sawit.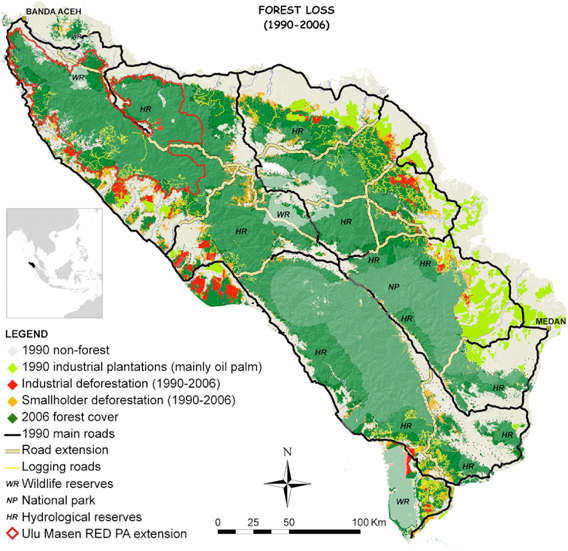 Menggunakan model resolusi tinggi yang secara jarak mengeksplisitkan penggundulan hutan yang meramalkan perubahan penggunaan lahan di seluruh wilayah dengan skenario yang berbeda-beda, para peneliti menemukan bahwa skema pembayaran-untuk-konservasi-hutan akan lebih efektif bila diaplikasikan dalam tingkat propinsi di seluruh lanskap hutan yang masih ada untuk mengikutsertakan habitat hutan dataran rendah yang kritis dalam skema REDD, daripada hanya dalam satu blok di hutan dataran paling tinggi seperti Ulu Masen dan jika konstruksi dari jalanan baru tersebut dihentikan.
"Prediksi kami menyarankan inisiatif awal REDD Indonesia di PA dataran tinggi mungkin tidak secara signifikan mengurangi penggundulan hutan di Sumatera Utara dan akan memiliki dampak kecil pada konservasi orangutan karena sebagian besar hutan di dalam wilayah proyek telah terlindungi secara de facto melalui sulitnya akses, sementara hutan di dataran rendah akan tetap terekspos pada ekspansi kombinasi dari perkebunan dengan pendapatan tinggi dan jalanan," tulis mereka. "Berkebalikan dengan itu, RED akan lebih efektif dalam dampak konservasi bila pembayaran diluaskan pada seluruh hutan tropis kaya karbon yang masih ada, termasuk hutan rawa gambut dataran rendah, habitat pilihan bagi populasi padat orangutan, dan jika konstruksi jalanan baru dihentikan."

Proyek REDD Ulu Masen akan bergantung terutama pada petugas hukum untuk menghindari penggundulan hutan dalam batasan wilayah proyek. Skema REDD tingkat propinsi tidak dapat bergantung pada petugas hukum karena ini akan mencakup daerah-daerah yang tidak terlindungi. Bahkan, mereka harus bergantung pada pembayaran langsung pada pengguna hutan. Tapi sesuai catatan penulis, skema REDD tingkat propinsi sepertinya tidak akan bersaing dengan bentuk lain penggunaan lahan, terutama di wilayah yang cocok untuk perkebunan dan pertanian dan dapat dicapai dengan jalan, kecuali kompensasi untuk karbon hutan tinggi.
Sehingga inklusi karbon yang tersimpan dibawah tanah di lahan gambut akan membantu REDD lebih kompetitif dengan bentuk lain penggunaan lahan dan karenanya meningkatkan kemungkinan bahwa hutan dataran rendah Sumatera – dan keanekaragaman hayati yang menghuninya – bisa dilindungi.