Empat puluh persen dari hutan dataran rendah di Sumatera dan Kalimantan (Borneo Indonesia) telah dibabat sejak 1990 hingga 2005, lapor sebuah taksiran resolusi tinggi dari perubahan lahan di Indonesia.
Penelitian ini, dipimpin oleh Matthew Hansen dari South Dakota State University, dan kolega, menemukan bahwa Indonesia kehilangan 21,35 juta hektar (82.400 mil persegi) dari hutan selama periode waktu tersebut. Penggundulan hutan memuncak pada periode 1990-2000 (dengan rata-rata 1,78 juta hektar per tahun) sebelum jatuh sekitar akhir abad. Sejak itu, pembabatan hutan terus merangkak naik berdasar pada jumlah tahun per tahun, mencapai 1 juta hektar di 2005, namun pada tingkat 0,71 juta hektar per tahun pada periode 2000-2005, masih di bawah tahun 1990an.
Tujuh puluh persen dari penggundulan hutan terkonsentrasi di Sumatera dan Borneo, dua pulau yang masih memiliki populasi orangutan asli.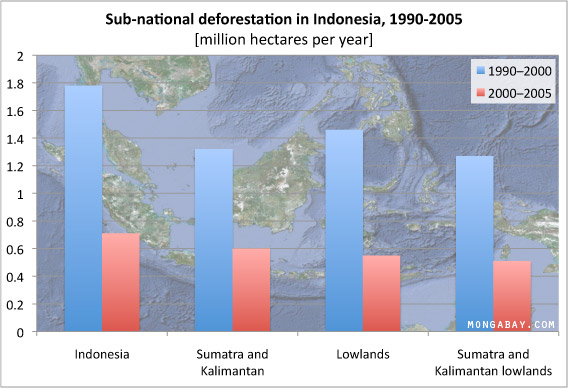 Taksiran tersebut didasarkan pada penarikan contoh yang terpilih dari data sensor remote yang dikatakan oleh penulisnya dapat memberikan akurasi yang lebih baik dibandingkan estimasi dari Food and Agriculture Organization (FAO) milik PBB, sumber konvensional untuk estimasi cakupan hutan. Data FAO didasarkan pada pencitraan satelit dan data pelaporan langsung dari negara-negara tapi ini telah banyak dikritisi.
Hansen dan koleganya tahun kemarin mengeluarkan estimasi global tentang penggundulan hutan berdasarkan pada metodologi penarikan contoh dengan sasaran khusus. Mereka melaporkan bahwa 27,2 juta hektar (105.000 mil persegi) dari hutan tropis telah habis sejak 2000 hingga 20005, sebuah wilayah yang merepresentasikan 2,36 persen dari cakupan hutan tropis global. Terhitung, Brazil memiliki 48 persen penggundulan hutan, disusul Indonesia (13 persen).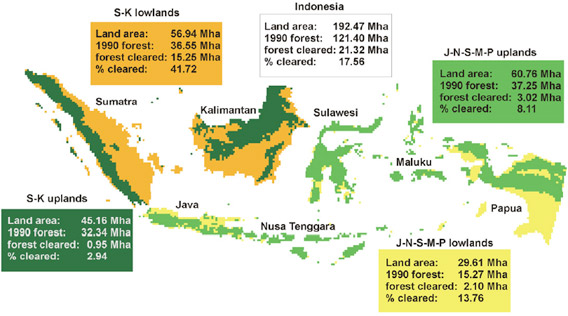 Perkiraan cakupan hilangnya hutan nasional dan sub-nasional. S-K merupakan singkatan untuk kedua kelompok pulau Sumatera dan Kalimantan. J-N-S-M-P singkatan dari kelompuk pulau paduan Jawa, Nusa Tenggara, Sulawesi, Maluku and Papua. Gambar merupakan milik Hansen et. al. 2009.
Penggundulan hutan di Indonesia terutama disebabkan oleh penebangan hutan dan perubahan menjadi pertanian dan perkebunan. Industri minyak kelapa, bubur kayu, dan kertas telah muncul sebagai penggerak utama dari pembabatan hutan selama 20 tahun ke belakang.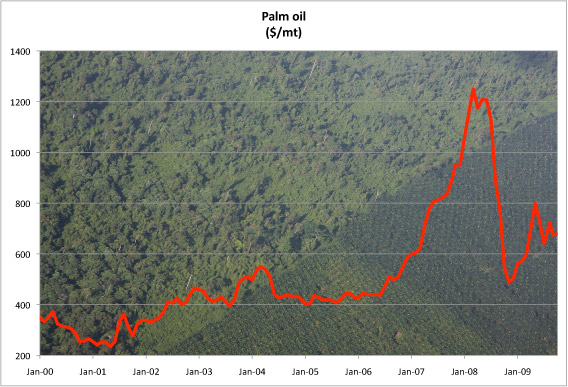 Harga minyak ($US/per ton persegi), Januari 2000-Oktober 2009, berdasarkan data dari World Bank.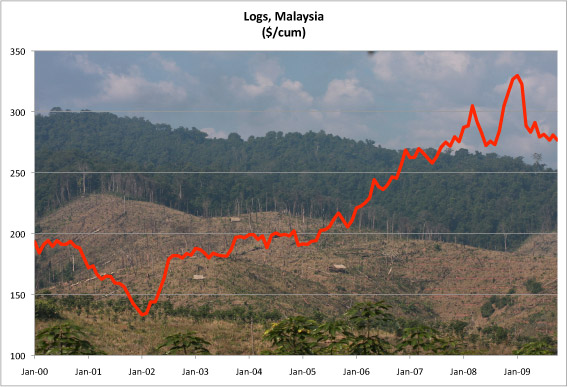 Harga kayu Meranti($US/meter kubik), Januari 2000-Oktober 2009, berdasarkan data dari World Bank.