Madagascar has legalized the export of rosewood logs, possibly ushering in renewed logging of the country's embattled rainforest parks.
The transitional authority led by president Andry Rajoelina, who seized power during a military coup last March, today released a decree that allows the export of rosewood logs harvested from the Indian Ocean island's national parks. The move comes despite international outcry over the destruction of Madagascar's rainforests for the rosewood trade. The acceleration of logging since the March coup has been accompanied by a rise in commercial bushmeat trafficking of endangered lemurs.


Click to enlarge


Illegal rosewood logging in Masoala National Park. Photo by Rhett A. Butler
The decree, dated December 31, 2009, says that "the export of export of precious wood can proceed." Hundreds of containers' worth of rosewood can now be shipped from Vohemar, a port in northern Madagascar.
Two weeks ago a $40 million shipment of rosewood from Vohemar was canceled after complaints that the French shipping company, Delmas, would facilitate the trafficking of illegally logged timber, potentially in violation of the E.U.'s FLEGT, a regulation which aims to reduce illegal logging. Protesters argued that the Delmas' shipment would undermine France's negotiating position at climate talks in Copenhagen. France has pledged to fight illegal logging and support rainforest conservation as a means to fight climate change.
But shortly after the Delmas shipment was canceled, Rajoelina's government began applying pressure on Delmas to resume rosewood transports. Patrick Leloup, an adviser to Rajoelina, reportedly threatened to prohibit Delmas from conducting future business in Madagascar if it refused to pick up rosewood stocks stored in containers in and around Vohemar. More than 200 containers — worth at least $40 million — are said to be awaiting shipment. The first pick-up may come as early as Friday.
Rosewood logging may get a further boost this week if Cyclone Edzani hits the eastern coast of Madagascar. The storm could bring devastation to Madagascar, which is already reeling from an economic crisis caused by the ongoing political strife. Previous cyclones, which hit Madagascar every few years on average, have caused extensive damage and loss of life.
Cyclones are also linked to rosewood logging. While harvesting of precious hardwoods for export has been prohibited for a decade, an exception has been made for "fallen trees" ostensibly knocked down by powerful cyclones. However in practice, this has created a loophole for illegal logging since the government has never conducted an inventory of downed trees following a cyclone. Timber traders can easily claim the logs they've harvested are the result of storm damage (similar approaches are also employed by loggers in the United States and elsewhere). Since national parks are about the only place where these valuable trees still stand, these areas will be targeted.
Resumption of the rosewood trade could be a windfall for traders — rosewood is one of the few sources of foreign exchange at the moment in Madagascar, where banks — especially in the north — are reported to be having difficulty facilitating large cash transactions. With elections approaching, rosewood may also be seen by politicians as a means to fund campaigns, according to an observer, who spoke to mongabay.com on the condition of anonymity.
But while traders and politicians may benefit from lifting of the export ban on rosewood, its unclear whether most Malagasy (as the people of Madagascar are known) would see the upside. Logging employs few people yet has taken a heavy toll in some of Madagascar's most spectacular parks, which are the basis for the 390-million-a-year tourism industry. Further, logging has been associated with a rise in commercial hunting of birds and endangered lemurs, chief draws for tourists. Therefore expanded logging could well have long-term ecological impacts on the country's most biodiverse forests thereby undermining ecotourism for years to come.
12-Jan-10. Cyclone Edzani turned away from Madagascar and appears unlikely to hit the island
13-Jan-10. Delmas is refusing to ship any rosewood according to a representative from the company, who said transporting the wood wasn't worth the risk of further tarnishing its reputation. The representative cited a barrage of complaints for the decision.
Related articles
World Bank, European governments finance illegal timber exports from Madagascar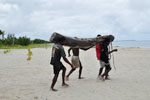 (01/11/2010) While Madagascar's current government has drawn sharp criticism from the international community for its failure to prevent the environmental destruction of recent months, France, Holland, Morocco, and the World Bank have all been implicated in financing illegal logging operations in Madagascar's national parks over the past year. Even as foreign governments condemned the surge in illegal logging last year, many–either directly or through institutions they support–are shareholders in the very banks that have financed the export of illegal lumber from Madagascar's SAVA region. The Bank of Africa Madagascar, for instance, is part owned by Proparco, a subsidiary of the Agence Française du Développement, as well as the World Bank's International Finance Corporation, Dutch development bank FMO, and the Banque Marocaine du Commerce Extérieur. Société Générale and Crédit Lyonnais, both part-owned by the French government, have also provided loans to illegal timber traders.
Facing cash crunch, will Madagascar's politicians sanction rainforest plunder?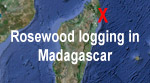 (01/07/2010) Facing a severe cash crunch in the aftermath of a March military coup which triggered donor governments to suspend aid and crippled its economy, Madagascar's top politicians are reportedly mulling the export of tens of millions of dollars' worth of precious hardwoods illegally logged from the country's rainforest parks, according to high-placed sources in the Indian Ocean island nation.
Madagascar's Political Chaos Threatens Conservation Gains [Yale e360]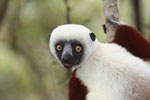 (01/04/2010) Only ten years ago, Madagascar was notorious for its environmental degradation and deforestation; astronauts orbiting the earth remarked that the red color of Madagascar's rivers suggested the country was bleeding to death as its denuded mountainsides hemorrhaged topsoil into its waterways. But that began to change earlier this decade when President Mark Ravalomanana, working with international conservation organizations and local groups, set aside 10 percent of the country as parks and nurtured a thriving ecotourism business, all of which slowed deforestation and safeguarded more of the nation's legendary biodiversity. The emergence of ecotourism helped make local people partners — rather than adversaries — in conservation. In short order, Madagascar went from being a pariah of the conservation world to a model. All of which makes the spasm of forest destruction that has swept the country since a coup last March even more tragic. In the absence of governance, organized gangs ransacked the island's protected rainforests for biological treasures — including precious hardwoods and endangered lemurs — and frightened away tourists, who provide a critical economic incentive for conservation.
Shipment of questionable Madagascar rosewood canceled after international outcry
(12/28/2009) A planned shipment of rosewood that had been illegally logged from Madagascar'a rainforest parks has been canceled following international outcry, report sources in Madagascar. The shipment, which would have been transported by Delmas, a French shipping company, had been scheduled for December 21st or 22nd out of the port of Vohemar.