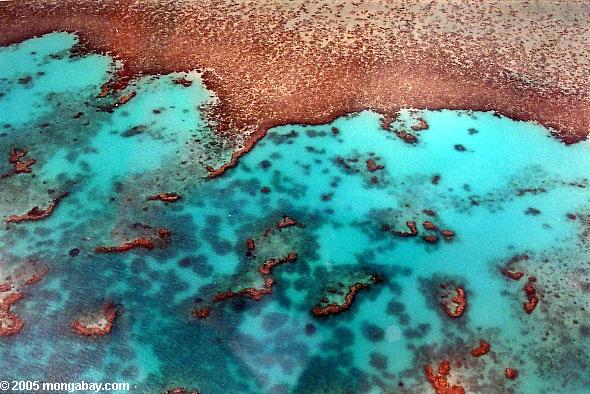 Aerial view of a section of the Great Barrier Reef in Australia.
A new study from the Secretariat of the Convention on Biological Diversity has synthesized over 300 reports on ocean acidification caused by climate change. The report finds that increasing ocean acidification in the oceans will lead to irreversible damage in the world's oceans, creating a less biodiverse marine environment. Released today the report determines that the threat to marine life by ocean acidification must be considered by policymakers at the UN Climate Change Conference in Copenhagen.
The world's oceans naturally store carbon, however due to increasing carbon emissions from mankind the ocean has been sequestering carbon at a higher rate than usual has actually changed the chemistry of the ocean, making it more acidic.
Global warming causing irreversible acidification in world's oceans