Photo: brown collared lemur at the Bronx Zoo's new Madagascar exhibit
WCS / mongabay.com
June 25, 2008
Vivienne, a brown collared lemur, is leaping for joy inside her new Madagascar! home at the Wildlife Conservation Society's Bronx Zoo.
On her first full day of greeting the public, Vivienne was happily exploring her Spiny Forest habitat.
The Wildlife Conservation Society (WCS) hopes that this new permanent exhibit will inspire visitors to learn more about the mysterious and exotic wildlife and wild lands of Madagascar, the world's fourth largest island off Africa's eastern coast. The exhibit features a wealth of wildlife biodiversity found in this island nation, sometimes called "the eighth continent." Sadly, it is also one of the poorest nations and its wildlife is threatened with extinction.
WCS has been working to help save wildlife in Madagascar for over 20 years.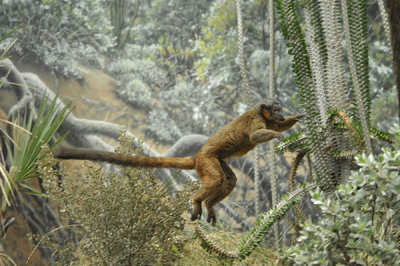 Credit: Julie Larsen Maher © WCS