Sudden sea level rise could put hundreds of millions at risk
Sudden sea level rise could put hundreds of millions at risk
mongabay.com
April 19, 2007
| | |
| --- | --- |
| | Pakarang Cape, Thailand before and after the December 26, 2004 tsunami. Image courtesy of USGS. |
A sudden surge in sea levels could put more than a billion people at risk reports new research presented by scientists from the U.S. Geological Survey (USGS).
New mapping technique show how much land would be inundated by various increases in sea levels. The researchers caution that the scenarios are likely to result from storm surges and earthquake-produced tsunami, not gradual rises in sea level caused by global warming-induced melting sea ice and glaciers.



Their models show that a 5-meter (16 foot) rise in sea levels would flood some 5.4 million square kilometers (2.1 million square miles) of land and displaced nearly 670 million people, while a 30-meter (100 foot) increase would cause 9.5 million square kilometers (3.7 million square miles) of land to be lost and affect 1.4 billion people.
The researchers, led by E. Lynn Usery, note that the largest surge during the 2004 Aceh tsunami, which killed 230,000 people around the Indian Ocean, reached 100 feet.



Sea levels are currently rising at 0.04 to 0.08 inches (1 to 2 millimeters) each year due to melting ice caps and thermal expansion of sea water.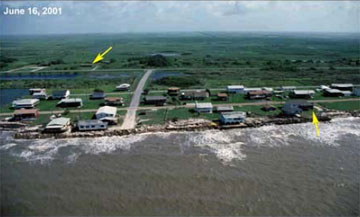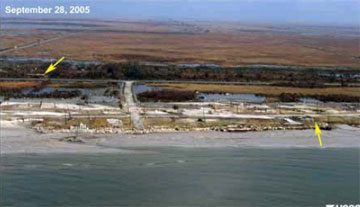 Peveto Beach, Louisiana, before and after Hurricane Katrina.
Image courtesy of USGS.
– this note used information from a USGS. presentation and a Reuters report by Michael Kahn.