Visiting the rainforest – a practical guide
Visiting a tropical rainforest promises to be a memorable experience. Rainforests house around half the world's plant and animal species and are home to indigenous people who live in ways quite unlike those in the western world.
Further, rainforests are found in a variety of landscapes: some are situated on scenic mountain ranges, others hug giant lowland rivers, while more still are found near beautiful beaches and coral reefs. Rainforests offer opportunities for cultural exchange, photography, adventure, fishing, hiking, relaxation, birding and wildlife spotting. However, a visit to the rainforest is not a trip fit for everyone. Rainforests can be hot and humid, are often difficult to reach and insect-ridden, and have wildlife that is relatively hard to see. Before planning your first trip to the rainforest there are some things you should consider.
Climate
The climate of tropical rainforests is evident in their name. "Tropical" means that rainforests are usually warm and humid. When you're not under the protective cover of the canopy, the tropical sun will be quite strong, at least when it is not raining. Rainforests generally receive at least 80 inches of rain per year, although this rainfall may be somewhat seasonal in some forests. Thankfully, tropical rainstorms tend to be short lived. In the Amazon, you will often experience showers for an hour or two in the afternoon and clear weather the rest of the day. Tropical thunderstorms can be quite a sight with bone-rattling thunder and spectacular lightning.
Wildlife — What to reasonably expect.

Jaguar in Belize
Do not confuse "diversity" with "abundance." While rainforests are home to countless numbers of species, most of these are small creatures that live in the forest canopy. The biology of tropical rainforests is a biology of rare species — any one given species is not necessarily plentiful. Animal life in the rainforest is subtle and fleeting, and many animals rely on camouflage and nocturnal behavior to protect themselves from predators. The only guarantees are insects and maybe some lizards. A good guide can make your experience educational and fascinating even if you don't see a jaguar or tapir.
That said, there is a good chance that you will see some interesting species when visiting the rainforest, especially if you visit a lodge in a protected area that has a lot of biodiversity and top-notch guides. Just don't be disappointed if you fail to see a number of large mammals or birds.
Plants
You will certainly see lots of plants in the rainforest. One of the first things you'll notice in the rainforest is that trees, unlike those of North America, are closely spaced and grow like poles straight up into the high canopy. Canopy trees will have virtually no branches before their crown.
You probably will not see many flowers in the rainforest, although you may find fallen flowers on the forest floor and see blooms around clearings and along rivers. In cloud forests you can expect to find bromeliads and orchids.
People

Kaiapo shaman in the Brazilian Amazon
You will probably not encounter the indigenous people you have seen in textbooks and on wilderness TV programs, especially if you are in southeast Asia or Central America. The local people you are likely to meet in places like the Amazon basin will be subsistence farmers or colonists from outside the region. If you do encounter indigenous people (some ecotourist outfits have relationships with native Amazonians) they will probably be wearing T-shirts and shorts and using plastic Tupperware and outboard motors. They will get the bulk of their food from agriculture and possibly fishing, though they will often supplement their diet by hunting. Wild game is an important source of food for these people and has been for thousands of years.
---
Traveling to the rainforest
If I have not scared you away by this point, keep reading. This is not an effort to dissuade you from pursuing your dream of visiting the rainforest — I just want to keep your expectations inline with what is reasonable.
Where to go
While rainforests are found in dozens of countries around the globe, there is a limited number of countries at present that are relatively safe, politically stable, and have facilities suitable for a first time visitor. I have listed some examples below in groups ranging from "tame" to "intrepid." Bear in mind that there are other rainforests around the world that are highly worth a visit. Before we jump into this section there are a couple of points to consider.
Language. Obviously language will make a difference in the ease of your travels. While you should be able to find English-speaking guides in most of the countries suggested below, English is not necessarily widely spoken. This will be more of an issue when you are traveling in cities and around the countryside. It's a good idea to learn a few basics in the local language before you go, both for courtesy's sake and for getting around.
Safety. No country is completely safe. People get mugged in the United States all the time. It's important to be aware of what's going on around you and be able to recognize potentially dangerous situations. Take a look at the safety section below for more.
Tame
---
These places are fun to visit and close to the United States, but less adventurous than other destinations. Since these are islands, there is comparably little wildlife and lots of invasive species but they can still give you a taste for the structure and feel of a rainforest. Personally, I'd recommend starting with a place under "entry level" to get a true rainforest experience.


Manoa Falls, Oahu.
Most of the rainforest in Hawaii is found on the islands of Kauai and the Big Island.
Hawaii. Little wildlife, but accessible with great beaches and a number of fine hikes. Most of the rainforest in Hawaii is found on the island of Kauai and the
of the Big Island. On Kauai, the Napali Coast is spectacular with scenic coastline, waterfalls, and 3,000-foot cliffs.
Puerto Rico. Once heavily forested and home to some 500 species of trees, Puerto Rico's forests have largely been degraded by logging and conversion for agriculture. Today the only true subtropical rainforest occupies small little area in El Yunque National Park. El Yunque is managed by the US Forest Service who maintains an extensive network of hiking trails.
Entry level rainforest experiences
---
Australia. Australia is an incredible place better known for its reefs, beaches, and dry areas. Australia has two small areas of rainforest on the Cape York Peninsula in the extreme northeast of the continent and along the coastal plains and mountain ranges north of Townsville. This small area of rainforest is very diverse and provides a habitat for 30% of the marsupials of Australia, 30% of the frogs, 23% of the reptiles, 62% of the butterflies, and 18% of the birds.



Osa peninsula, Costa Rica.
The Osa peninsula houses the largest section of tropical rainforest found in Costa Rica.

Costa Rica. Costa Rica is the leading rainforest destination for ecotourists. It provides an excellent introduction to the rainforest with its many parks, experienced guides, and tourist-friendly atmosphere. There are several types of forests in the country along with other attractions like surfing, whitewater rafting, and volcanoes. All sorts of accommodations are available from bare bones huts to relatively posh yet environmentally friendly eco-lodges like Lapa Rios on the Osa Peninsula.

Belize. Belize is an English-speaking country located just south of Mexico on the Caribbean coast of Central America. Belize has a couple of excellent rainforest reserves in addition to the world's second largest barrier reef. Belize is generally pricier than Costa Rica.
More intrepid rainforest experiences
---
| | |
| --- | --- |
| | Tourists in the Amazon. |

Brazil. Brazil is home to the Amazon, world's largest rainforest and river. There are many eco-lodges (and "non" eco-lodges so do your homework) as well as a number of Amazon cruise boats. Brazil is the most biodiverse country on earth and has a lot of offer beyond its rainforests.

Peru. Peru has several excellent rainforest lodges based around research facilities located in the Amazon basin including the Amazon Center for Environmental Education and Research (ACEER) near Iquitos and in the Tambopata, and the Manu Lodge in Manu National Park. With its varied elevation, Peru has extraordinarily high biodiversity for a country of its size. Peru also offers another unforgettable attraction: the ancient Inca city of Machu Picchu.
Panama. Panama offers considerably more than its canal. The Central American country is home to 15 national parks that cover some 12 percent of its land area and house more than 10,000 species of plants. At Barro Colorado, the largest forested island in the Panama Canal waterway, the Smithsonian Tropical Research Institute has one of the world's foremost rainforest research facilities. Panama also has world-class surf spots and excellent diving. The island of Coiba is one of the little known jewels of Central America.
Thailand. While Thailand is better known for its beaches, the country still sports some forest cover. There are several forest lodges around the Khao Sok national park. Wildlife including monkeys, elephants, and langurs are found in these forests.



Osa peninsula, Costa Rica.
The Osa peninsula houses the largest section of tropical rainforest found in Costa Rica.

Malaysia. Malaysia once had extensive forest cover though logging has left it with only limited cover in Peninsular Malaysia. These forests are believed to be some of the oldest on Earth. The bulk of Malaysia's remaining forest is found on the island of Borneo in the Malaysian states of Sabah and Sarawak. Here you can still find wild orangutans, pygmy elephants, and several species of monkeys. Be forewarned: Borneo has a healthy population of terrestrial leeches that will pursue you when you are in the forest, especially after it rains. Though these are harmless and carry no disease, they are not the most pleasant guests in your clothes.
Africa
---
At this time I'm not recommending any rainforest destinations in Africa for first time visitors. African ecotourism thus far is more geared towards wildlife safaris, which are fantastic and range from rugged budget to top of the line luxurious. If I were to recommend rainforests in Africa, I would start with Gabon and Madagascar. Both places have tremendous biological diversity, are relatively safe and politically stable, and have extensive park systems. Gabon is striving to become Africa's Costa Rica, while Madagascar has what many consider the best wildlife on the planet. The biggest drawbacks for both of these places is their remoteness, level of poverty, and still developing tourist infrastructure.
---
How to plan a trip
Self arranged trip versus using a tour operator
I probably would not advise "winging it" for your first visit to a rainforest unless you are visiting one of the "Tame" locations listed above or are a particularly experienced or savvy traveler. Showing up in a country like Brazil and then figuring out travel to the Amazon can be a little daunting especially if you are under time constraints. While there will be local operators, it can be a little tricky finding the best options unless you have done some research beforehand.

Operators
Sometimes it is worth paying a little extra money to ensure that things run fairly smoothly. If trouble does arise it is nice to have someone local to contact and an operator generally provides such a possibility. Additionally, a local operator can often recommend good local guides as well as knowing when and where to visit.
There are many operators that arrange trips in rainforest countries. Most of these will claim to be environmentally friendly operations, but in truth, some are definitely greener than others. As you evaluate operators using guide books (Lonely Planet, Rough Guides, Bradt, Moon, Eyewitness are generally good ones) and the web, look for statements on the operator's environmental philosophy and signs that an operator may not be as responsible as claimed (photos of tourists handling wildlife can be a negative clue). Do they hire locals as guides and employees? Do you support any projects to benefit the local community? Do they have an environmental policy? What happens to trash and waste? Don't be afraid to ask these questions.
Certification. You can also look for green certification. In theory, these certification programs use independent auditors to rate the environmental and social impacts of operators and hotels. Personally I have found certification schemes for ecotourism somewhat confusing since there are a number of competing bodies and there is no central clearinghouse that lists certified operators. A starting point might be The International Ecotourism Society
. Hopefully, in time, there will be a better system for quickly locating approved operators and hotels across certification schemes and across international borders.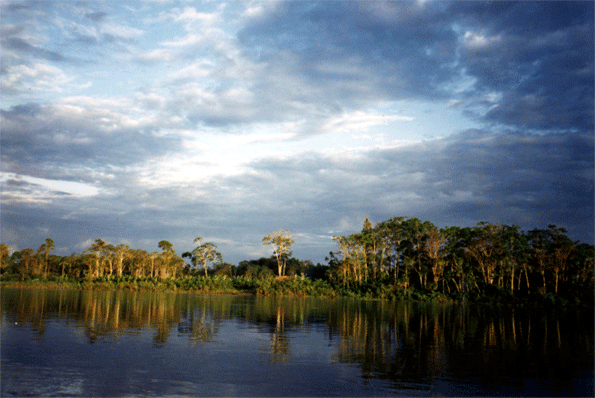 The Amazon rainforest in Peru

Where to stay. Lodge vs. camping vs. cruise
Camping. Arranging your own camping trip in the rainforest is not something I would recommend for first time visitors largely because conditions differ significantly from those in North American and Europe. The climate is warm, humid, and rainy, and safety can be a concern in some areas. If you do decide to camp, it is wise to speak with a tour operator or national park to find out where it's safe and legal to camp. Sometimes you will be required to bring a local guide with you if you stay in a national park overnight.
Lodges. Lodges in the rainforest range from basic to deluxe depending on where you go and how much money you want to spend. Some research facilities like the ACEER in Peru and La Selva in Costa Rica offer accommodations for guests. These facilities tend to have excellent guides, locations in biologically rich areas, well-planned trails, and sometimes research materials available for browsing.

| | |
| --- | --- |
| | Amazon riverboat. |

Cruise. One of the best ways for visitors to see the Amazon rainforest is on a cruise. Traveling by water allows you see different areas and cover a lot of ground while offering access to interior parts of the rainforest.You see different areas and cover a lot of ground. Your clothes and things stay drier, it can be cooler on the river with the breeze, and you don't have to constantly pack and re-pack your stuff. Several ecotourism outfits offer Amazonian river cruises.
---
Tips for first visit to rainforest
General rainforest tips
Guides. It is usually a good idea to have a guide. Chances are you will not see much wildlife on your own or you might hurt yourself or get lost. Further, many countries require you to use a local guide when you enter a national park. This not only is a service to you, but also economically justifies the park by providing employment opportunities to local people. In populated areas, conservation cannot really be considered a success without the support of local people. Locals must see tangible economic benefit from their forfeiture of everyday activities like hunting and subsistence agriculture.
Homework. To fully appreciate your rainforest experience you should learn something before you go. It helps tremendously to have a basic familiarity with the environment around you.
Once you're actually in the rainforest
Relax and enjoy yourself, but be alert. This will help you both spot wildlife and have a safer experience.
Be observant. If you're waiting for someone, take a look at the leaf litter and the vegetation around you. You should notice differences between the rainforest ecosystem and that of forests in North America and Europe. If you look closely you might be lucky enough to see small animals hidden among leaves and leaf litter. As you walk take care not to trip over roots or get entangled in vines. Also be careful when you reach out to grab tree trunks for support — thorns are a common in the forest.
Be quiet. Enjoy the sounds of the rainforest. Loud talking will scare wildlife and may annoy others in your group. Large groups tend to see less wildlife because they are noisy.
Do not feed wildlife. Feeding wildlife can cause many problems, both for you and the animals.
What to pack for your visit to the rainforest



It's a good idea to pack light. That said, there are a fair number of items you probably want to bring to the jungle. Below is a full list, although you may not need all this stuff. printable packlist

Health and comfort related items


Insect repellent

Ant-inch / insect bite relief products

Sunscreen

Lip balm

Sunburn relief products

Pre-moistened towelettes or baby wipes

Hand sanitizer

Moisturizer

Medication (altitude sickness, colds, fever, bites)

Basic first aid kit (band-aids, aspirin, disinfectant / antiseptic, tweezers

Instructions on medications if you have special requirements for attending doctor.

Toiletries

Spare contact lenses and glasses

Ear plugs if you are a light sleeper
Clothes-washing soap

Clothing


Raincoat / poncho

Wide brim hat

Flip flops / sandals

Walking shoes/old athletic shoes/hiking boots. Be sure they are comfortable — blisters are not fun in the tropics where they are likely to get infected. 2 pairs are a good idea since one pair will usually be wet and muddy from hiking.

Socks. Your socks will likely be thrashed by the end of the trip. Be prepared to wash them daily.

Bathing / swimming attire

Shorts, although long pants are a better bet for hiking

Long pants. I prefer cotton or quick drying material to the high-tech synthetic stuff that tends to be hot. Breathable is good. Quick drying is good — jeans are not fun when wet and hot.

Light cotton shirts can be preferable to T-shirts, though T-shirts are easy

Lightweight long-sleeved shirts for protection against sun and insects

Bandanas can be useful for all sorts of purposes

Lightweight jacket — it can get cold especially at elevation

Underwear

Sleeping attire

Hiking stuff


Lightweight day pack for hikes. Waterproof is nice but plastic bags inside the pack is an option.

Binoculars for birds and mammals

Sunglasses

Water bottle and/or a CamelBak-style backpack. I use a plastic water bottle acquired locally — less stuff to bring and there's no pain when they get lost or smashed.
Flashlight and a headlamp

Camera stuff

You should pack your film in your carry on. Some airport x-ray machines now damage undeveloped film. Check with security people at the airport.
Charger
Current converter and plug adapter
Extra film, batteries, and memory cards. Bring more than you think you'll need.

Other stuff

"Gifts." Pens and school materials for kids, not candy. You should give gifts for children to their parents or teachers, never directly to children.

Extra bag for tourist items you pick up along the way. Old clothes can be given away at the end of the trip — less stuff to take home and more room for locally produced goods.

Travel guide, field guides, reading material (sometimes this can be left behind in lodges where it can be appreciated by other guests)
Travel clock with alarm
Cheap watch
Notebook, journal, pens (including a permanent marking pen)
Zip lock bags are great for keeping your clothes and gear orderly and dry.
Mosquito netting. Many lodges have mosquito netting — ask before you go. If you don't know where you will be staying (i.e. "winging it"), it's probably a good idea to bring netting.
Safety tips in the rainforest
Listen to your guide. They will understand the rainforest environment better than you and can recognize signs of wildlife. Your guide will probably do most of the wildlife spotting.
Animal encounters. The most dangerous things you are likely to encounter are insects (ants, wasps, bees, and mosquitoes) and plants (many rainforest plants protect themselves with spines, thorns, or caustic substances. While there are many poisonous snakes in the rainforest your chance of encountering one during daylight hours is low. You should be most careful at dusk and in the evening. If you do find a snake, leave it alone. Most people are bitten when they try to kill a snake or get closer look at it or catch it.
Shoes. Wear comfortable shoes. In the rainforest a small blister can easily get infected and turn into a festering wound. Also, shake out your shoes in the morning. Sometimes over the course of a night, scorpions will make a home in your shoe.
Cover up. Though it may be hot and humid, your best protection against insects and thorny plants and vines is long sleeves and pants. If you don't cover up, it's probably a good idea to use some sort of insect repellent. Sometimes your native guides have some interesting local solutions to keeping insects at bay — just ask them!
Swimming. Always ask your guide if it is safe to swim before jumping in a river or lake. In places like the Amazon there can be wildlife concerns (stingrays, caiman, piranha, electric eels, and other surprises) as well as unexpected currents.
Stay hydrated. Drink plenty of water — it is easy to become dehydrated in the rainforest. Crankiness is one of the first signs of dehydration so if someone is being particularly irritable offer them some water.
Health issues
Doctor's visit. Check with your physician to confirm that you are healthy to travel. Inform your doctor where you are going to see if there are any special concerns and check the CDC travel web site for emerging health issues in the region.
Immunizations and Vaccinations. Check what immunizations are needed for travel and see that your vaccinations are up to date. Some countries require specific immunizations for entry.
Fitness. Because of the climate and general lack of medical facilities, you should be reasonably fit before setting off the Amazon or some other tropical rainforest. Check with your doctor!
Travel Health Insurance. Check to see whether your health insurance covers you overseas. If not, buy supplemental travel health insurance if you think there's a risk or want to be on the safe side. Medivac is a good idea for some countries and locales. There are some countries you don't want to spend a lot of time in the hospital.
Packing. Pack prescriptions in your carry-on. Bring enough for your trip and maybe a little bit extra in case of unforeseen delays but don't pack excessive amounts because it may raise suspicions at customs. If you are taking especially unusual or potentially illegal medications you should have a note from your doctor (or maybe not traveling in the first place). Medications have different legal status in different countries, but it is usually not a problem. Bringing narcotics is a bad idea and some countries have particularly steep consequences if you are caught with such drugs (i.e. the death penalty).
Medications to bring. Take personal medications for aches and pain, motion sickness, infection, upset stomach, allergies, and diarrhea.
Don't forget insect repellent and sunscreen!
Passport copies
Always have several copies of the photo page of your passport. Color is preferable. Keep these in separate places in your luggage and on your person.
Get your visas (if required) well before departure. Make sure your passport is valid for at least six months after the date your return from your trip.
General travel tips for visits to other countries
Treat people with respect and be respectful of other cultures. Be an Ethical traveler
Learn local taboos to avoid offending people.
Be patient. Expect delays and when things run on time be pleasantly surprised.
Try to avoid raising your voice in anger.
Do not flaunt your relative wealth. Chances are you are materialistically wealthier than most people you will meet in developing countries.
Support locally owned hotels, restaurants, and shops.
Bargain fairly and respectfully.
Be careful about talking politics in countries that have recently experienced war.
Be alert. Thieves prey on the lost and distracted. Note if you are being followed.
Take care when you pay for things — watching eyes may note where you are keeping your money. Potential thieves already know about money belts. Other options include secret pockets sewn inside your pants or the interior pockets of your jacket. You may wish to consider a decoy wallet filled with a few small bills and expired cards if you are particularly concerned about getting robbed. You best protection is being aware of what's going on around you.
Use a hotel safe. In less than deluxe hotels, consider propping a chair against the door at night or using a rubber wedge to protect against uninvited guests.
Use a carabiner or D-ring to clip bags together at the airport. A thief will have more trouble trying to do a snatch and run with two bags clamped together. Consider using twist ties on zippers to slow down potential crooks.
Leave your jewelry at home. You can look pretty or handsome when you get home — it's not worth getting robbed or beat up for your jewelry. Go moderate on the perfume, aftershave, and cologne.
Learn the local tipping custom by reviewing guide books and web sites. Excessive over-tipping can be as harmful as under-tipping.
Travel light. The more stuff you have, the more likely you are to lose it or have it stolen
Protecting your gear
If you are taking valuable electronic equipment like cameras, camcorders, sound equipment, etc, you should make a list that includes a description of each item, serial, and model numbers, and your name and home address. This will let customs agents know that your aren't planning to sell the gear in the country as well as help protect you from the appropriation of your equipment by unscrupulous customs and police officials. It will also help if your things get stolen and you need to fill out a police report (which in and of itself can be an adventure in some places). It's advisable to make several copies of this list.
Silica gel packets help protect your camera against humidity.
IF you have the room in your luggage and are taking nice gear, you may want to get an all weather, shatter-proof Pelican case. Definitely bring lots of Zip lock bags for keeping your stuff dry.
---
Doing your part to "save" rainforests
The rainforest is an incredible place and by participating in environmentally responsible tourism you can help justify the protection of these important ecosystems. Ecotourism is a key to saving the world's remaining tropical forests.


Happy travels!