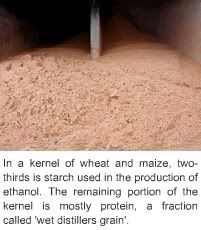 VeraSun, the second largest ethanol producer in the U.S.
announces
that it has developed an innovative, patent-pending process for the production of biodiesel from a co-product of ethanol production. This way, it will be possible to produce two renewable fuels - ethanol and biodiesel - from one single feedstock. The process improves the economics of ethanol production.
VeraSun has developed a way to extract oils from distillers grains, a co-product of the ethanol production process. Distillers grains are undervalued as a feed component, but they prove to be an excellent feedstock for biodiesel. Removing the oil from distillers grains both increases the value of the oil for fuel use, and enhances the resulting distillers grains as a livestock feed by concentrating protein and reducing fat content.
"Creating another renewable fuel from an existing co-product of the ethanol production process makes good economic, business and environmental sense. We are adding to the renewable fuel supply, enhancing the content of a valuable animal feed, and creating additional value for our shareholders."


- Don Endres, Chairman and CEO of VeraSun
VeraSun is currently evaluating locations for a 30 million gallon (113 million liter) per year biodiesel production facility that will use distillers grain as a feedstock, with plans to commence construction in 2007 and begin production in 2008:
ethanol :: biodiesel :: biomass :: bioenergy :: biofuels :: energy :: sustainability :: co-products :: by-products ::

The Company has contracted with Lurgi PSI, Inc. for design and engineering services for the biodiesel facility and with Crown Iron Works Company for oil extraction equipment. As a result of the exclusivity provisions in these contracts, VeraSun expects to be the first to develop large-scale facilities using this technology. The Company has also filed a provisional patent application with the U.S. Patent Office for the production process.

"This opportunity is a natural extension to our business and consistent with our objective to be a leader in the production of renewable fuels," said Don Endres, Chairman and CEO of VeraSun. "This technology is particularly strategic to VeraSun because it allows us to extend our large and low-cost producer strategy from ethanol to include biodiesel."

"We have been conducting research and development in the biodiesel area for years, testing and evaluating various technologies," said Matt Janes, Vice President of Technology at VeraSun. "We're confident this process will allow for large-scale, low-cost, and high-quality biodiesel production."