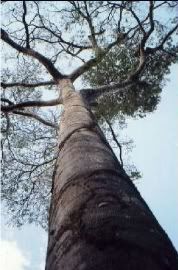 There is a huge diversity of exotic tropical crops out there that could be used as biofuel feedstocks. Most of us have never heard of them, because they do not figure in our daily lives (just like people in the West only know a few tropical fruit species that have been marketed and that conform to the simple tastes of the consumer, whereas in reality there are of course thousands out there). It is interesting to see that some farmers dare venturing into planting such more exotic crops with a view on the long term implications of the post-petroleum era.
In Australia, a Queensland
farmer is experimenting
with the tropical
Copaifera langsdorfii
, also known as the 'diesel tree', which is native to the Amazon (but can be found all over the humid tropics in South America). The name is derived from early texts by Catholic missionaries, ethnobotanists and anthropologists who witnessed indigenous 'Indios' tapping the tree and obtaining copious quantities of an oleoresin called 'copaiba', which was later identified to have properties similar to diesel fuel. In 1978, Nobel laureate Dr. Melvin Calvin, director of the Chemical Biodynamics Laboratory at Lawrence Berkeley Laboratory, said:
"Natives ... drill a 5 centimeter hole into the 1-meter thick trunk and put a bung into it. Every 6 months or so, they remove the bung and collect 15 to 20 liters of the hydrocarbon. Since there are few [Volkswagen] Rabbit diesels in the jungle, the natives use the hydrocarbon as an emollient and for other nonenergy-related purposes. But tests have shown that the liquid can be placed directly in the fuel tank of a diesel-powered car."
Since then, the tree has become known as the 'diesel tree'. Mike Jubow, the nursery wholesaler from Mackay, Queensland, has now begun importing copaifera seed from Brazil to plant the trees. Even though there is not much consistent information on the yields of the species, it is estimated that with good management, a one hectare plantation could produce 12,000 litres of fuel a year, one of the highest yields for any biofuel crop.
The tropical tree is one of the many species that can be tapped, simply by making an incision into the bark, after which the resin flows out of the cut - the procedure is similar to that of tapping rubber trees or sugar palms (an overview of such palms and trees that are traditionally tapped for gums, latex, sugar or fuel can be found
here
).
Mr Jubow, who operates the Nunyara Wholesale Forestry Nursery and has been in the industry for 14 years, said he had heard about the trees from a colleague attending a forestry conference. "I pricked my ears and thought 'This guy is having a go at me' but when I came home I got onto the net and typed in diesel tree and there it was," Mr Jubow said. "I thought 'I've got to get seeds for this thing' and it's taken me three years to track them down." He sourced the seed from Brazil and says the first seedlings would be available in late January:
biodiesel :: biomass :: bioenergy :: biofuels :: energy :: sustainability :: Australia :: diesel tree :: Copaifera langsdorfii ::


The recommended method of growing them is to plant 1,000 trees on a hectare of land, preferably in a tropical area, then test them for their vigour, growth and yield about three years later, which ordinarily would lead to culling about half of them. About four to six years later they would be measured again before culling them down to between 250 and 350 of the best trees, which would be inter-bred and harvested for seed.

Mr Jubow said a large mature tree would yield about 40 litres of diesel a year, which equated to about 12,000 litres per hectare of trees. "It becomes astonishingly viable for a farmer to have a piece of his most productive land to get the tree up and running and then he can be independent from the fuel companies for the rest of his life," he said. They are known to produce fuel for 70 years.

While the fuel cannot be stored for more than a few months it can be tapped. But even if it is left too long, it thickens into copaiba oil, which is used in alternative medicines and fetches around $100 a litre in the United States. And at the end of the tree's life, it can be milled to produce a light brown timber favoured by cabinet makers. "There's nothing wasted on the tree," Mr Jubow said.