Rhett A. Butler, mongabay.com
December 26, 2012
Peat drainage canal and stacks of MTH harvested from forest clearance by APRIL wood supplier PT. RAPP in Kampar peninsula. Some CITES-protected ramin trees were "saved" and left standing. Photo taken by Eyes on the Forest at N°17'52.36" E102°43'22.29" on 10 February 2012.
Pulp and paper giant Asia Pacific Resources International Limited (APRIL) continues to destroy large areas of rainforests and peatlands despite a commitment to end natural forest logging by 2009, says a new report issued by a coalition of Indonesian environmental groups.
The
Eyes on the Forest report
[PDF] finds that APRIL and its suppliers cleared at least 140,000 hectares (346,000 acres) of natural forest between 2008 and 2011 in Riau, accounting for 27 percent of all forest loss in the province during the period. Some of the area cleared by APRIL and its subsidiaries consisted of deep peat swamp forest, which stores massive amount of carbon. The report, which is titled "APRIL: Riau, Sumatra's biggest forest pulper 2009 to 2012", says that 69 percent of APRIL's concessions lie on peat soils, suggesting that emissions from the company's operations could worsen as it clears remaining forest areas.

Natural forest clearance by APRIL wood supplier PT. Triomas FDI in Kampar Peninsula. Photo taken by Eyes on the Forest on 30 May 2012.

MTH or mixed tropical hardwood is sourced from natural forests in Indonesia. In 2009 and 2010 MTH "represented 84% and 50% of the raw material needs of APRIL's Riau mill", according to the report.
"APRIL's public commitment to sustainable and natural fiber free operations after 2009 was pure sales talk; greenwashing to win back customers who had left the company due to its dismal sustainability record," said the report. "Any statements on environmental sustainability made by APRIL today must be viewed with the highest possible skepticism and should not be taken at face value."
The report goes on to state that APRIL "APRIL knowingly pulped natural forest wood from concessions whose licenses were issued through corrupt practices."
"Ten of twelve APRIL wood suppliers operating in the company's main wood supply area, Riau Province's deep peat Kampar Peninsula, obtained their licenses from the heads of Siak and Pelalawan district. Both were convicted in high profile cases for corrupt practices in issuing these licenses and are currently in prison," it says. "APRIL suppliers also received annual cutting licenses from three Riau Forestry Agency chiefs who since then have been sentenced to prison terms for graft by the corruption court."
| | |
| --- | --- |
| | PT. RAPP Sungai Kampar concession where natural forest was clearcut. A few Ramin trees were left standing though their survival outside their natural forest habitat is questionable. An aerial photo by EoF on 30 May 2012. |
The report alleges that APRIL's fiber suppliers cleared forests inside areas zoned for protection, rather than conversion or timber production, as well as forests set aside under Indonesia's two-year moratorium on 14.5 million hectares of forests and peatland. However APRIL strongly denied those allegations. In
a statement
[PDF] issued shortly after publication of the report, APRIL said that there has been no breach of the government's moratorium.
"All licenses from which wood supplies have been sourced by APRIL were issued prior to the commencement of the moratorium in early 2011," APRIL said in a statement posted on its web site. "Were APRIL to have breached these requirements or any other laws then action would have been taken by the authorities. It is simply not in APRIL's business interests to do anything other than ensuring full compliance with the law."
APRIL also said that while it continues to clear natural forests, it does so legally.
"Accusations that APRIL or those the company sources wood fibre from are operating illegally, or that concessions awarded have been the subject of corrupt practices, are untrue. APRIL operates in full compliance with Indonesian laws and regulations. All of APRIL's fibre supply comes from legal sources. The Report, while making accusations, does not provide evidence to the contrary."
APRIL suppliers' concessions in Kampar Peninsula. Concessions of APRIL's subsidiary PT. RAPP are shown with orange boundary (including one block in Padang island just off the peninsula); concessions of ten affiliated suppliers who obtained licenses from two jailed bupatis (District heads) are shown with red boundary; an additional concession of an affiliated supplier is shown with a yellow boundary. Courtesy of EoF.
The report's allegations of illegality are based on Eyes on the Forest investigations as well as press reports, including a story published by Indonesia's TEMPO magazine that detailed a planned civil suit against 14 pulp and paper suppliers, six which supply APRIL. The report also cites a May 2011 incident where APRIL supplier PT Sumatera Riang Lestari failed to obtain a Timber Legality Verification System (SVLK) certificate for 220,000 ha due to legal non-compliance. APRIL did not address those specific cases in its statement. However the company said it passed an audit for Sustainable Production Forest Management and Timber Legality Verification (PHPL/SVLK) standards, a certification scheme. APRIL also noted that it "could not reach agreement" on what constitutes "high conservation value forest" within its concessions with Forest Stewardship Council (FSC) auditors. APRIL's FSC certificate was revoked in 2010 due to non-compliance.
Eyes on the Forest's report also charges that APRIL's operations have exacerbated social conflict, especially in Riau's Kampar Peninsula and islands of Riau's coast. It highlights a case where protesters from Pulau Padang sewed their mouths shut in January 2012 to pressure APRIL subsidiary PT RAPP from operating a concession in a forest area used by the community. In its statement, APRIL acknowledged that "as a major concession holder we inevitably become involved in disputes from time to time," but that "we undertake extensive and ongoing community consultations as an important part of our business processes". The company said that a third party review concluded that it "had complied with all laws" in the Pulau Padang case.
APRIL wood suppliers' concessions and loss of natural forest between 2008/2009 and 2011 in Riau Province, Sumatra. Concessions with red boundaries and (*) continued to clear natural forest after 2009 based on annual cutting licenses (RKT) and Landsat image analysis.. Courtesy of EoF.
The report ends with a call for APRIL "to stop destroying peat and pulping natural forest fibre and not expand its pulp production capacity until a sustainable wood supply has been verified by an independent third party".
"Eyes on the Forest recommends that APRIL buyers and other business partners avoid being associated with the tropical forest and peat destruction of APRIL and its associated business entities and not let themselves be trapped by the company's greenwashing campaigns," Eyes on the Forest states. "In fact, 2009, the year in which APRIL had committed to become MTH-free, appears to have been the beginning of an all-out assault on Sumatra's most precious peat forests and with it the global climate."
APRIL is a subsidiary of Royal Golden Eagle group, a conglomerate that owns palm oil producer Asian Agri and energy company Pacific Oil & Gas, among others. APRIL and its competitor, Asia Pulp & Paper (APP), controls more than 80 percent of Indonesia's pulp and paper production. Both companies have been targeted by environmental campaigners for their forest management practices on the island of Sumatra.
Related articles

Indonesia's pulp and paper targets incompatible with green growth goals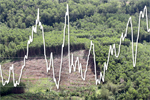 (08/10/2012) Indonesia's pulp and paper targets incompatible with green growth goals Indonesia's ambitious targets for boosting pulp and paper production to make it the world's lowest-cost producer are at odds with its push for green economic growth should expansion proceed on its current business-as-usual path, said a forestry expert presenting at the annual meeting of the Association for Tropical Biology and Conservation (ATBC) in Bonito, Brazil.


Pulp and paper firms urged to save 1.2M ha of forest slated for clearing in Indonesia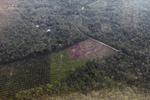 (03/17/2011) Indonesian environmental groups launched a urgent plea urging the country's two largest pulp and paper companies not to clear 800,000 hectares of forest and peatland in their concessions in Sumatra. Eyes on the Forest, a coalition of Indonesian NGOs, released maps showing that Asia Pulp and Paper (APP) and Asia Pacific Resources International Limited (APRIL) control blocks of land representing 31 percent of the remaining forest in the province of Riau, one of Sumatra's most forested provinces. Much of the forest lies on deep peat, which releases large of amount of carbon when drained and cleared for timber plantations.


Does chopping down rainforests for pulp and paper help alleviate poverty in Indonesia?


(01/13/2011) Over the past several years, Asia Pulp & Paper has engaged in a marketing campaign to represent its operations in Sumatra as socially and environmentally sustainable. APP and its agents maintain that industrial pulp and paper production — as practiced in Sumatra — does not result in deforestation, is carbon neutral, helps protect wildlife, and alleviates poverty. While a series of analyses and reports have shown most of these assertions to be false, the final claim has largely not been contested. But is conversion of lowland rainforests for pulp and paper really in Indonesia's best economic interest?


Pulp plantations destroying Sumatra's rainforests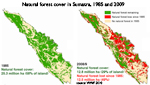 (11/30/2010) Indonesia's push to become the world's largest supplier of palm oil and a major pulp and paper exporter has taken a heavy toll on the rainforests and peatlands of Sumatra, reveals a new assessment of the island's forest cover by WWF. The assessment, based on analysis of satellite imagery, shows Sumatra has lost nearly half of its natural forest cover since 1985. The island's forests were cleared and converted at a rate of 542,000 hectares, or 2.1 percent, per year. More than 80 percent of forest loss occurred in lowland areas, where the most biodiverse and carbon-dense ecosystems are found.