mongabay.com


July 20, 2012

Orangutan in Malaysia.



Prime Minister Datuk Seri Najib Tun Razak's plan to spend nearly $16 million (50 million Malaysian ringgits) to lease two baby pandas from China for ten years is a waste of money and resources at a time when its own native species are suffering from a range of threats, warned a leading Malaysian conservationist in an open letter.

Cynthia Ong, Executive Director of Land Empowerment Animals People (LEAP), said that the Malaysian leader should focus on allocating scarce wildlife funds for tangible conservation projects within Malaysia, not showcasing a foreign species in a zoo.

"Your actions with projek panda deeply confused, upset and angered me and many of my colleagues who are working tirelessly to protect the endangered species of Sabah and Malaysia. We go through soul-destroying fund application processes to receive (or not) what little funds your government allocates to manage and protect this natural capital fundamental to the economic, ecological, social and cultural health of the state," she writes.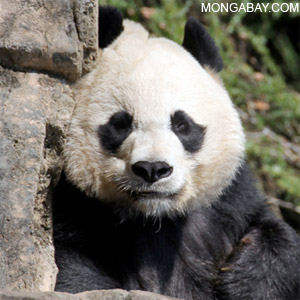 "I have dedicated my life to fund-raising and have raised perhaps RM50,000,000 over the last 20 years for many causes (mostly environmental) - most have come from international sources. The need on the ground has been great and the national sources, both public and private, have been pitiful. In one fell swoop, you spent a chunk of funds equal to what I've spent half my life to raise."

Ong proposes that Najib set aside matching fund for conservation efforts in Sabah, a state in Malaysian Borneo that is battling to save endangered orangutans, elephants, Sumatran rhinos, and sun bears from habitat loss and degradation. The fund would be administered by the Sabah State government in collaboration with NGOs.

"Improve your and your administration's relationship with Sabah by matching one-to-one the funds that you are putting into projek panda and putting it into a Sabah Endangered Species Fund," she writes.

"I ask you to consider my request and show government leadership, at the same time modeling philanthropic leadership for the private sector."

Najib says the giant panda project will boost its relationship with China and attract tourists. The Natural Resources and Environment Ministry claims the project will "promote public awareness on China's panda conservation efforts," according to Malaysia's Star.

Malaysia is home to a number of charismatic endangered mammals, including the clouded leopard, the Malay tapir, the Bornean orangutan, the pygmy elephant, the Sumatran rhino, the Malayan tiger, the Siamang, the otter civet, various gibbon species, and the proboscis monkey. Logging, poaching, and conversion of habitat for rubber, timber, and oil palm plantations are among the major threats to wildlife in Malaysia.

The current conflict between Sabah and the federal government stems partly from the way revenue from energy deposits off the Sabah is distributed. Under Malaysian law, sub-surface mineral rights belong to the federal government, so it, instead of Sabah, collects the lion-share of the revenue from oil and gas reserves.

















Related articles