Bush administration praises record level of global warming emissions
mongabay.com
April 17, 2007
The head of the U.S. Environmental Protection Agency said the 0.8 percent growth in greenhouse gas emissions in 2005 showed the Bush Administration was serious about addressing climate change.
"The Bush Administration's unparalleled financial, international and domestic commitment to reducing greenhouse gas emissions is delivering real results," said EPA Administrator Stephen L. Johnson. "As America's economy continues to grow, our aggressive yet practical strategy is putting us on track to reach President Bush's goal to reduce our nation's greenhouse gas intensity 18 percent by 2012."
Environmentalists thought otherwise.

Historical Growth Rates for U.S. Carbon Intensity.
Data from the EIA
"Things have come to a pretty sad state of affairs when the EPA tries to spin increased greenhouse gas emissions as a victory," Frank O'Donnell, president of Clean Air Watch, an environmental advocacy group, told the Associated Press.
"The climate system doesn't respond to emission intensity. It's a red herring," the A.P. quoted Ben Dunham, an attorney for U.S. PIRG, an environmental advocacy group, as saying.
Total emissions of the six main greenhouse gases (carbon dioxide, methane, nitrous oxide, hydrofluorocarbons, perfluorocarbons, and sulfur hexafluoride) in 2005 were equivalent to 7,260 million metric tons of carbon dioxide, up from 7,204 million metric tons in 2004 and 6,242 million metric tons in 1990. The EPA shows indicates that overall emissions have grown by 16 percent from 1990 to 2005, while the U.S. economy has grown by 55 percent over the same period.
The United States is the world's largest emitter of carbon dioixde, accounting for about 24 percent of global anthropogenic emissions, but China is fast gaining--some project that it will pass the U.S. in emissions as early as this year. From an economic standpoint, the U.S. accounts for 28 percent of world GDP, indicating that it is slightly more carbon efficient that the global average.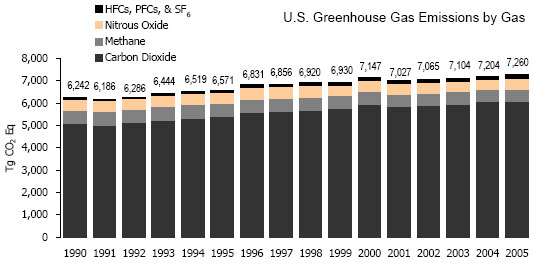 Related articles

Tropical ocean dead zones could increase 50 percent by 2050
(11/18/2008) If carbon dioxide levels continue to rise as expected, marine dead zones in the tropics are expected to increase by 50 percent in just over four decades, according to a new study from the Leibniz Institute of Marine Sciences in Germany. The expansion of marine dead zones in tropical seas could have devastating impacts on ocean ecosystems and fisheries.

Industrialized countries slow to reduce emissions
(11/17/2008) Industrialized countries are making slow progress in reducing emissions as pledged under the Kyoto Protocol, finds a new U.N. assessment of global emissions.

Water vapor will amplify global warming
(11/17/2008) The heat-amplifying effect of water vapor in the atmosphere could more than double the climate warming caused by increased carbon dioxide levels, report researchers using NASA data.

CO2 emissions penalties may cost 20 countries $46 billion
(11/16/2008) Japan, Australia, and several European countries face billions of dollars in emissions penalties under the Kyoto Protocol, reports Bloomberg.

Group may sue EPA under Clean Water Act to address ocean acidification
(11/14/2008) An environmental group plans to sue the U.S. Environmental Protection Agency for failing to uphold water standards in the face of ocean acidification.





---
Comments?



News options News index | RSS | Add to MyYahoo!







MONGABAY.COM
Mongabay.com seeks to raise interest in and appreciation of wild lands and wildlife, while examining the impact of emerging trends in climate, technology, economics, and finance on conservation and development (more)

CONTENTS


POPULAR PAGES


T-SHIRTS