Coordinating minister Luhut Pandjaitan flew over a burning concession before accusing the firm of burning the forest.
Students from Sriwijaya University in South Sumatra gathered to protest in provincial capital Palembang.
The Singapore government served Bumi Andalas Permai with a Section 9 notice under the city state's Transboundary Haze Act 2014.
The international effort to control the fires in Indonesia remained focused on South Sumatra on Tuesday, a day after the minister leading the anti-haze operation flew over a burning concession in the province. In the nearby city of Palembang, hundreds of students from a prominent university took to the streets to call on the local government to do more.
Luhut Pandjaitan, Indonesia's coordinating minister for political, legal and security affairs, has lately taken on a greater role in the fight against haze. The Straits Times has an account of the ex-Singapore ambassador and highly competent former commando viewing an industrial timber concession run by an Asia Pulp & Paper (APP) supplier before berating the management.
"For almost 15 minutes, we hovered above your concession, practically all below was on fire. You are blaming the local farmers. I know it was you who burned the forest," Luhut told PT Bumi Andalas Permai (BAP) directors.
It was not clear from the article if the minister had evidence BAP started the fires – burning is the cheapest way to clear land for planting – but in Indonesia agribusinesses are liable for any burning in their concessions. Luhut did call BAP's prevention system insufficient, with only one helicopter to cover a concession of 100,000 hectares, for example.
The Singapore government served BAP with a Section 9 notice under the city-state's Transboundary Haze Pollution Act on Monday, the sixth firm to be issued with such an order. BAP will now have to commit to extinguishing fires on its concessions, cease any burning on its land and submit a plan to Singapore's National Environment Agency (NEA) on fire prevention measures. Companies in breach face a maximum $2 million fine.
"In January, February, March, you have to report what you have and what you plan to do," Luhut told the directors. "I will come back here in February to check."
APP has attributed the fires in the concessions of its suppliers and subsidiaries to burning by smaller operators nearby which spreads uncontrollably despite suppression efforts.
"Our team has been working around the clock, day and night, deploying 2,900 trained firefighters to help deal with this tragic situation," Aida Greenbury, APP's head of sustainability, told Mongabay about the company's operations in general.
The NEA added that APP had complied with its request to provide details on its Indonesian and Singaporean subsidiaries. Luhut said it would take approximately 10 days – including three or four of heavy rain – for the bulk of the fires to be extinguished.
The 3-hour Pollutant Standards Index in Singapore began the day at 5 a.m. at 129 before spiking to 155 at 11 a.m. on Tuesday. Breathable air quality moderated by late afternoon.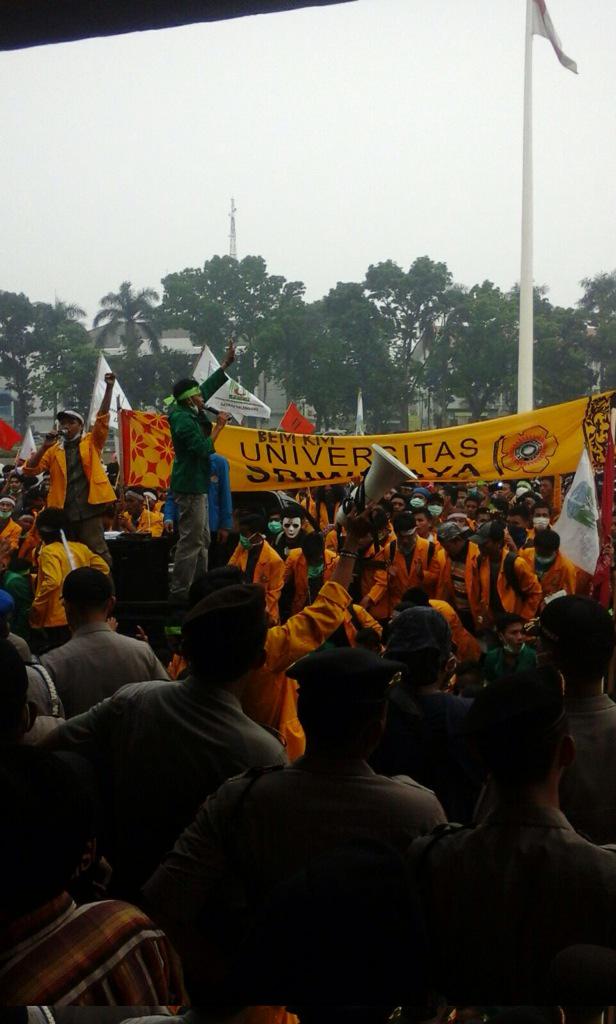 In Kalimantan, which has seen the worst of the haze, the Borneo Orangutan Survival Foundation (BOSF) continues to operate its two rehabilitation facilities, which are home to around 700 orangutans.
"We have lost thousands of trees that we planted aged around 10-15 years," Nico Hermanu at BSOF told Mongabay on Monday afternoon. "We have to rehabilitate the land."
BSOF told Mongabay that 200 orangutans at its Nyaru Menteng facility had not needed to be evacuated because of fires, contrary to some reports.
"Fortunately for us it has been quiet for a couple of days," he said. "There is no fire happening but we are still in alert mode."