Chopping down rainforests and orangutan habitat for palm oil production in Malaysia



Safeway has become the latest company to establish a policy that excludes deforestation-linked palm oil from its products.



Safeway Inc. (NYSE: SWY), the second biggest U.S. grocery chain, made the commitment in response to a shareholder proposal by the New York State Common Retirement Fund. In exchange for the fund withdrawing its sustainable palm oil shareholder proposal, Safeway will ask its suppliers to implement social and environmental criteria that ensure the palm oil it uses in branded products is "free of deforestation, free of expansion on carbon–rich peat lands, not developed or expanded on illegal or customary use lands without the free, prior and informed consent of local communities and free of human rights violations including forced and child labor, human trafficking and poor working conditions," according to a statement from New York State Comptroller Thomas P. DiNapoli, who has led the shareholder activist campaign.



"Safeway is sending a strong message to its suppliers that safeguarding the environment is a business priority," DiNapoli said in a statement. "Shoppers don't see where the palm oil used in hundreds of products comes from, but often it's harvested in ways that destroy rainforests and leads to climate change. Safeway's new policy protects the company and its shareholders from reputational harm associated with environmental destruction."



The policy comes just a day after General Mills and Colgate-Palmolive announced deforestation-free policies for palm oil sourcing.



Safeway's move was immediately welcomed by the Rainforest Action Network, which has been campaigning to push American companies to demand greener palm oil.



"Safeway has made a bold move by publicly committing to eliminate Conflict Palm Oil from its supply chain, which will reduce the company's environmental and social impact," said Ginger Cassady, program director at Rainforest Action Network. "By directly engaging its suppliers to tackle the urgent issue of rainforest destruction, Safeway will ensure that its values are upheld throughout its palm oil supply chain and will prevent reputational risk for the company."





Deforestation in Malaysia for an oil palm plantation. Despite playing a key role in the founding of the RSPO and leading the way on palm oil yield improvement, the Malaysian government is widely seen by environmentalists as an obstacle to improving the environmental performance of the palm oil industry. Government-backed bodies like the Malaysian Palm Oil Council (MPOC) have been blamed for greenwashing and misrepresenting the impact palm oil can have on forests.




Palm oil is the largest driver of deforestation in Indonesia and Malaysia. In recent months however, two of the world's largest palm oil producers — Golden-Agri Resources and Wilmar — committed to zero deforestation policies throughout their supply chains. Environmental campaigners are now pushing retailers to adopt sourcing standards that would reward greener producers and shift the sector toward more responsible practices.



But some palm oil players are pushing back against the efforts. For example, the Malaysian government in particular says it plans to continue encouraging large-scale deforestation for new plantation development in the state of Sarawak. It is also setting up a rival standard that is considerably weaker than that run by the Roundtable on Sustainable Palm Oil (RSPO), the industry's dominant certification body. Environmentalists say the country — which according to Google had the world's highest rate of forest loss among major forest countries between 2000 and 2012 — is at risk of falling behind its mail rival, Indonesia, in terms of its commitment to palm oil sustainability.




Related articles



General Mills, Colgate-Palmolive announce deforestation-free policies for palm oil sourcing

(03/24/2014) Two consumer products giants have joined the wave of companies committing to deforestation-free palm oil. On Monday General Mills and Colgate-Palmolive both announced palm oil policies that go beyond standards set by the Roundtable on Sustainable Palm Oil (RSPO), the industry's main certification body. The policies include provisions to protect wildlife-rich rainforests and carbon-dense peatlands, while respecting the rights of local communities.
Indian food giant to source deforestation-free palm oil

(03/19/2014) Orkla, a Nordic conglomerate that owns MTR Foods, one of India's major food companies, has established a zero deforestation policy for the palm oil it sources, reports Greenpeace.
Will zero deforestation commitments save Indonesia's forests?

(03/17/2014) Skirting the Malacca Strait near the Indonesian city of Dumai the air is thick with haze from peat fires burning below. As the sky clears, a landscape of sharply-cut geometric shapes becomes apparent. What was once carbon-dense peat forests and rainforests are today massive oil palm and wood pulp plantations.
Progressive palm oil group opens door to companies, NGO's adopting zero deforestation policies

(03/12/2014) The Palm Oil Innovation Group (POIG), an alliance formed last year, has opened its doors to new members who commit to social and environmental safeguards that go beyond the Roundtable on Sustainable Palm Oil (RSPO) eco-certification standard.
Snickers, Twix to be deforestation-free

(03/10/2014) Mars, Inc., the maker of M&M's, Snickers, Twix, and a variety of other food products, has committed to a zero deforestation policy for the palm oil it sources, reports Greenpeace. The policy pledges Mars to only using palm oil produced legally and without conversion of high conservation value areas, peatlands, or high carbon stock areas like tropical rainforests.
Fast food companies are laggards on palm oil sourcing safeguards

(03/05/2014) Fast food companies are lagging behind other consumer products companies in efforts to establish policies that favor deforestation-free and conflict-free palm oil, finds a new assessment published by the Union of Concerned Scientists, an advocacy group. The report, titled 'Donuts, Deodorant, Deforestation: Scoring America's Top Brands on Their Palm Oil Commitments', looked at palm oil sourcing policies of 30 of the largest fast food, personal care, and packaged food corporations in the United States. It found leadership by a handful of firms.
Greenpeace stunt targets Procter & Gamble's Cincinnati headquarters over palm oil

(03/04/2014) Several Greenpeace activists were arrested after they scaled Procter & Gamble's headquarters in a demonstration against the company's use of palm oil linked to deforestation in Indonesia.
After GAR expands policy, over 50% of world's palm oil bound by zero deforestation commitments

(03/03/2014) Over half the world's palm oil traded internationally is now bound by zero deforestation commitments after Singapore-based Golden-Agri Resources (GAR) extended its forest conservation policy across all palm oil it produces, sources and trades. In a filing posted Friday Singapore Stock Exchange, GAR announced its breakthrough forest conservation policy now applies to all the palm oil it trades.
Can palm oil move past its bad reputation?

(03/02/2014) Indonesia's palm oil industry has gained a notorious reputation in recent years. Palm oil companies are routinely accused of clearing primary forests, destroying the habitats of endangered species, releasing massive amounts of carbon by draining peat swamps and fueling land conflicts with local communities. In the face of this widespread criticism, some palm oil companies are exploring ways to clean up their operations by implementing innovative programs to minimize harm to the environment and ensure local communities benefit from palm oil investments, according to a new study.
L'Oreal pledges to wipe out forest destruction from its products by 2020

(01/31/2014) French cosmetics giant, L'Oreal, has pledged to stop using palm oil linked to deforestation for its products by 2020. Palm oil, which is found in both cosmetics and many food items, has been linked to widespread deforestation in places like Indonesia and Malaysia, decimating biodiversity and contributing to global warming. The crop, which is both high-yield and lucrative, is now becoming increasingly popular in Africa and Latin America as well.
Norwegian insurance giant blacklists palm oil companies

(01/27/2014) Storebrand, one of Norway's largest life insurance and pension savings companies, has sold off holdings in eleven palm oil companies due to environmental concerns. In a statement issued last week, Storebrand said it divested after it found the companies had breached its sustainability standards.
Hershey commits to zero deforestation for palm oil

(12/19/2013) In an effort to avoid palm oil linked to deforestation, candy giant Hershey Company (NYSE:HSY) will source 100 percent of its palm oil from traceable sources by the end of 2014.
World's biggest palm oil company makes zero deforestation commitment

(12/05/2013) Wilmar, the world's largest palm oil trader and a long-time target of environmentalists, has signed a landmark policy that commits the company to eliminate deforestation from its supply chain. The deal, if fully implemented, has the potential to transform the palm oil industry, which has emerged over the past decade as one of the world's most important drivers of tropical forest destruction.
Greening the world with palm oil?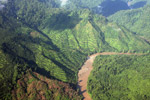 (01/26/2011) The commercial shows a typical office setting. A worker sits drearily at a desk, shredding papers and watching minutes tick by on the clock. When his break comes, he takes out a Nestle KitKat bar. As he tears into the package, the viewer, but not the office worker, notices something is amiss—what should be chocolate has been replaced by the dark hairy finger of an orangutan. With the jarring crunch of teeth breaking through bone, the worker bites into the 'bar'. Drops of blood fall on the keyboard and run down his face. His officemates stare, horrified. The advertisement cuts to a solitary tree standing amid a deforested landscape. A chainsaw whines. The message: Palm oil—an ingredient in many Nestle products—is killing orangutans by destroying their habitat, the rainforests of Borneo and Sumatra.