A mob of 150 palm oil workers has disrupted court proceedings against Kalista Alam, an Indonesian palm oil company accused of illegally converting blocks of protected peat forests for an oil palm plantation in Aceh, Sumatra. The Kalista Alam case is widely seen as a test of Indonesia's commitment to forestry sector reform, including enforcement of its two-year-old moratorium on new concessions in primary forests and peatlands.



According to environmental groups attending the court case, proceedings were delayed when "an estimated 150 palm oil workers, who arrived by busses believed to be paid by Pt Kalista Alam, conducted a noisy demonstration before the court, demanding the court find in favor of the controversial company."



Bringing in paid protesters is a common tactic in Indonesia, where laborers and students can be paid small amounts of money to stage demonstrations. In 2011 and 2012 such "rent-a-mobs" were dispatched by palm oil and pulp and paper companies to protest against Greenpeace.



"Today's show of intimidation by Pt Kalista Alam outside the court in Meulaboh is just one example of many companies attempting to intimidate the legal and political processes of Aceh, it deserves close scrutiny from anti corruption and legal agencies," said Kamaruddin SH, an Acehnese lawyer who represented communities in Tripa with their complaints against PT Kallista Alam, at a press conference in Medan Thursday.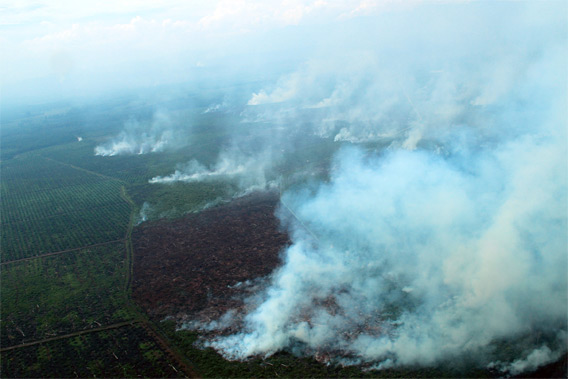 Tripa peat fires. Courtesy of the Sumatran Orangutan Conservation Program



In the Kallista Alam case, the court is expected to next month deliver a final ruling on whether Kalista Alam's permit for clearing peatlands within Aceh's Leuser Ecosystem was granted illegally. The company's concessions were canceled in September 2012 after administrational courts concluded the permit was invalid.



"PT Kallista Alam is one of several palm oil companies illegally burning forests on deep peat within the Leuser Ecosystem during the last few years," said Ian Singleton, Director of the Sumatran Orangutan Conservation Programme, at the press conference. "We congratulate the Indonesian Ministry of Environment on its action against PT Kallista Alam, but also remind people that a potentially devastating new spatial plan being proposed by the Provincial Government still threatens huge swathes of Aceh's forests and their incredibly unique biodiversity, in addition to Aceh's people and their economic livelihoods."



Singleton is part of a coalition of groups battling to trop a proposed revision of Aceh's spatial plan, which governs land use in the Indonesian province. Environmentalists say the revision would leave large blocks of rainforest open to mining and industrial plantation development. Some of the potential new concessions would be situated on sleep slopes in watersheds above villages and towns.



"Much of Aceh's remaining forests are on steeply sloping terrain, that should be off limits to development under existing spatial planning regulations," said GIS specialist Graham Usher. "Clearing forests and building roads in such areas is simply not safe, and potentially disastrous."



"There can only be one word to describe the situation for the Leuser Ecosytem, and it's emergency," added Kamaruddin. "The Leuser Ecosystem is a Nationally Strategic Area protected for its Environmental Function, It is currently illegal for any district, provincial or national leader to issue permits for palm oil, mining or any other activity that would degrade the environmental function of the Leuser Ecosystem, but powerful business lobby is currently trying to undo this, not to support [the] community, but to line their pockets with the assets of Aceh."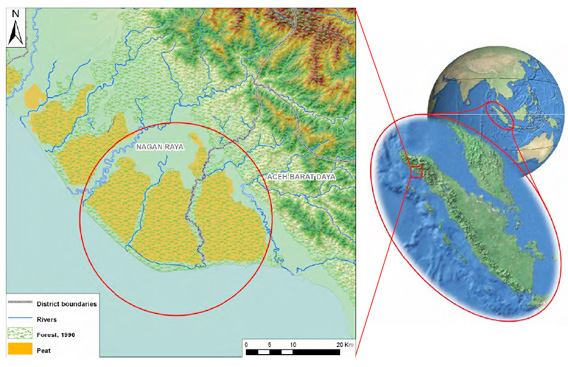 Kallista Alam's concession in Aceh's Rawa Tripa peat swamp forest, which a local environmental group says violates the Indonesia's two-year moratorium on new concessions in primary forests and peatlands. Former Aceh Governor Irwandi Yusuf issued Kallista Alam's permit in August 2011, more than three months after the nation-wide moratorium went into effect.



Other environmental groups are using the situation in Aceh's Tripa swamp to call upon Western consumers and companies to consider their role in buying commodities that are driving conversion of Indonesia's natural habitats.



"Tripa and the Leuser Ecosystem are globally important areas. It is imperative that consumer companies take responsibility for the fact that Conflict Palm Oil like that produced at the expense of the Tripa peat swamp is making its way into the global marketplace," said Gemma Tillack of the Rainforest Action Network, which is in the midst of a campaign to convince a group of foodmakers to source palm oil more responsibly. "Companies like the "Snack Food 20″ targeted by Rainforest Action Network (RAN) urgently need to engage with their supply chains and implement truly responsible palm oil procurement policies that demand palm oil be produced without contributing to rainforest destruction, climate pollution or human rights abuses."





Campaign run by a coalition of environmentalists opposing the conversion of Tripa peat swamp for Kallista Alam's oil palm plantation.