Warning: Rob Shirkey wants to change the world, one gas pump at a time.



In a video spot for his organization, Robert Shirkey stands on a highway overpass behind speeding cars and tells the camera, "We need to face the reality that we've changed the basic chemistry of our planet … This is the greatest challenge of our time. And we're not doing enough to fix it."



Rob Shirkey is the founder of the Toronto-based, not-for-profit organization Our Horizon. Inspired by his grandfather's last words to him, "Do what you love," Shirkey quit his job and founded the organization. Our Horizon is founded on the basis that we are all responsible for global climate change through our daily collective choices. It endeavors to influence those choices, specifically with the goal of convincing municipalities to require climate change warning labels on gasoline pumps.
| | |
| --- | --- |
| | One of the warnings possibly headed for the gas pumps of Canada. Courtesy of Our Horizon. |
Modeled after Canadian cigarette warning labels, the warnings would show images of a bleached coral reef, a baby reindeer, and drought-swept Africa to show different results of climate change. Beneath the pictures are blunt statistics in red and white font. For example, under a picture of a child, the label reads: "Use of this fuel product contributes to smog which may cause asthma and other respiratory problems in children."



"But it's a lot more than just a label," Shirkey says. "The idea creates feedback by bringing far-away consequences into the here and now. The idea also takes a problem with diffuse origins and quite literally locate responsibility right in the palm of your hand."



Shirkey tells mongabay.com, "Denial or ignorance means we get to avoid the problem, but it's an ineffective strategy. The problem is only going to get worse the longer we ignore it. Our labels force us to face the reality of what we're up against. After all, if we can't even honestly face our problem, what hope do we have in actually addressing it? I often say that the first step in addressing any problem is to honestly confront it. That's all our labels do."



Instead of lobbying oil companies and pipelines directly, Our Horizon's approach is based off the economic principal that a product's value is determined by its users. Our Horizon taps into the power of each consumer at the pump.



"We're asking municipalities across Canada to use their licensing powers (and general health and welfare powers) to require gasoline retailers to place these warning labels on their gas pump nozzles," Shirkey explains. "It would just be a new condition on the retailer's license to do business in that community. Our game plan is to set precedents in Canadian communities and then take our concept global."



Canada has certainly proven before it can make changes. Shirkey points out in the Our Horizon video spot that in December of 2000, Canada became the first country in the world to require health warnings are all cigarette packages. Through his labels, Shirkey wants to promote a similar innovative spirit. "There's this idea that if we challenge ourselves, we can do better. … We can make them [more efficient cars]. Why don't we? … At the end this is in the interest of all our pocketbooks, and when it comes to climate change. … People will still need to have their mobility needs met, but they will be dissatisfied with prevailing solutions."

The Our Horizon team, with Rob Shirkey sitting front, left. Photo courtesy of Our Horizon.



Currently, Our Horizon is launching a cross-Canada Tour. "We have conducted workshops at schools in Toronto for students to express their climate change concerns by designing their own warning labels. We also inspire participants to use their voices to make our idea real; we now have a growing list of youth who have committed to speak at Toronto City Hall when our motion is debated. We are taking our workshops from coast to coast this fall," Shirkey explains.



Our Horizon also has already begun its "Bieber 365" initiative, where @OurHorizonOrg tweets Canadian pop star Justin Bieber (the most popular person on Twitter) everyday with "unique tweets" to raise awareness.



Our Horizon's name is a play on Deepwater Horizon, the oil rig which exploded in 2010 lead to the Gulf of Mexico oil spill. Shirkey explains, "'Our Horizon'… is a rejection of the system that made Deepwater Horizon a reality. 'Our Horizon' is hopeful." And it is in that spirit that Rob Shirkey and Our Horizon are working towards a Canada, and a world less dependent on fossil fuels.









You can donate money to Our Horizon's efforts at indiegogo and www.OurHorizon.org. Our Horizon can also be found on Twitter @OurHorizonOrg (#FaceTheChange).
Related articles



Saving 'Avatar Grove': the battle to preserve old-growth forests in British Columbia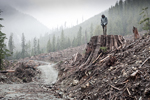 (07/23/2012) A picture is worth a thousand words: this common adage comes instantly to mind when viewing T.J. Watt's unforgettable photos of lost trees. For years, Watt has been photographing the beauty of Vancouver Island's ancient temperate rainforests, and documenting their loss to clearcut logging. The photographer and environmental activist recently helped co-found the Ancient Forest Alliance (AFA), a group devoted to saving the island's and British Columbia's (BC) last old-growth while working with the logging industry to adopt sustainable practices. This February the organization succeeded in saving Avatar Grove—which was only discovered in 2009—from being clearcut. The grove, a rare stand of massive and ancient trees named after the popular eco science-fiction movie, has become a popular tourist destination, providing a new economic incentive for communities to protect rather than cut Canada's last great forests.
Thousands of scientists hold mock funeral in Canada to highlight nation's "death of evidence"

(07/11/2012) Carrying signs that said 'Stop Harper's War on Knowledge' and 'Scientists Shouldn't Wear a Muzzle,' Canada's scientists were unusually theatrical yesterday at a rally against the Canadian government's cuts for basic science funding and environmental protections. Scientists, dressed in white coats, carried a coffin to represent "the death of evidence" in Canada, while a costumed grim-reaper led the way. According to police, around 2,000 joined in the protest.
WWF: biggest villain at Rio+20 is Canada

(06/18/2012) Having sent a delegation to the United Nation's Rio+20 Summit on Sustainable Development, the World Wide Fund for Nature (WWF), the world's biggest conservation group, has recently declared their Heroes and Villains of Rio+20—so far. The NGO has strong words for the negotiating position of the U.S. and the major oil exporting countries (OPEC), but saves its harshest criticisms for Canada.