Environmental activists have launched a major campaign targeting 20 of the largest snack food companies that use palm oil in their products. The campaign, led by the Rainforest Action Network (RAN), says that food giants are failing to ensure the palm oil they source does not drive deforestation or worsen social conflict.



The campaign, which kicked off today with the release of a report and a protest at Chicago's Board of Trade where RAN activists posted a banner reading "Cut Conflict Palm Oil, Not Rainforests", cites declining orangutan populations, greenhouse gas emissions from conversion of rainforests and peatlands to plantations, labor abuses, and violent clashes between communities and developers as negative consequences of unrestrained palm oil expansion. RAN says these issues present substantial risks to leading brands, including Conagra Foods, Dunkin' Donuts, General Mills, PepsiCo, Hormel Foods, and Krispy Kreme, among others. While many of these companies have pledged to source only palm oil certified under the Roundtable on Sustainable Palm Oil (RSPO) — the leading eco-standard — by 2015, the report argues that the RSPO doesn't do enough to protect forests or ensure "conflict-free" palm oil.








"While some companies are beginning to take steps to address their palm oil problem, none have yet adopted and fully implemented adequate safeguards to eliminate conflict palm oil from entering their supply chains and contaminating their products," said the report. "These big, global food companies have the power, through their supply chains, to drive a transformation in the way palm oil is now commonly produced. Increased consumer and citizen pressure on these companies is a key ingredient for success."



RAN's consumer campaigns have shown success in the past, leading companies to adopt more stringent sourcing policies for timber, paper, and other products. But palm oil has been a challenging target for activists generally, given its high profitability and ubiquitousness as a low-cost fat — while palm oil derivatives may be found in half of processed foods in the average supermarket in the United States, few people are aware they consume the stuff. A more formidable obstacle has been the fact that the vast majority of palm oil is consumed in India, Indonesia, China, Malaysia, and Pakistan are the biggest market for the stuff.



But environmentalists believe the wide use of palm oil in consumer products in the West gives them leverage in their campaigns. If they can convince the world's biggest companies to adopt stricter sourcing criteria, and pay a premium for greener palm oil, they hope these standards can become best practices for producers.



| | |
| --- | --- |
| | |
"Palm oil is found in nearly 50 percent of the packaged foods on our grocery store shelves, and tragically it is also the leading cause of orangutan extinction and rainforest destruction in Indonesia and Malaysia. The Snack Food 20 can and must solve their problem with Conflict Palm Oil before it's too late for the great red ape," said Gemma Tillack, Rainforest Action Network's Senior Agribusiness Campaigner, in a statement. "[The] Rainforest Action Network has developed a clear roadmap for companies to follow to eliminate Conflict Palm Oil from their products, and we are ready and willing to work with the Snack Food 20 now to make it happen."



The campaign comes at what could be a pivotal moment for the palm oil industry. In two months, the RSPO will convene its annual meeting in Medan, Indonesia. A faction of Malaysian producers is threatening use the meeting as a platform to pull out of the RSPO to join a new Malaysian government-backed scheme, citing dissatisfaction with the certification process and low premiums for certified palm oil. The exodus could potentially weaken the initiative just after it revised its criteria and is seeing record uptake.



Accordingly, neither RAN, nor Greenpeace, which also just published a palm oil report, are calling for companies to abandon the RSPO, which offers stronger environmental safeguards than the proposed Malaysian standard. The groups instead are asking companies to establish policies that go beyond RSPO standards. And they are trying to rally consumers to do the same.



"Companies who want to purchase only responsible palm oil must adopt independent global palm oil procurement policies that go above and beyond the standards of the RSPO," said the RAN report. "Solving the problem of conflict palm oil requires building strong public and market demand for responsible palm oil and eliminating demand for conflict palm oil. The goal is to create tipping points that enhance the economic viability of responsible palm oil and transform the global infrastructure of palm oil supply chains."



In response, the RSPO called RAN's report "a compelling showcase of the most destructive and devastating consequences of conventional or unsustainably produced palm oil."



"The RSPO was established as a solution to address exactly these detriments," said the palm oil body in a release emailed to Mongabay.com.



"The report states many salient points for the sector to be more sustainable – most of which are embedded in the RSPO Principles and Criteria as well as Code of Conduct. This includes wide range of environmental and social issues, which mandate (amongst others) the use of free, prior and informed consent to develop new plantings on local peoples' land, where it can be demonstrated that there are legal, customary or user rights."





Deforestation for palm oil production in Borneo. Click image for more photos



RAN: Conflict palm oil Sept 2013.



Related articles



Palm oil now biggest cause of deforestation in Indonesia

(09/03/2013) Conversion of forests for palm oil production now appears to be the single largest driver of deforestation in Indonesia, accounting for roughly a quarter of forest loss between 2009 and 2011, asserts a new Greenpeace report that accuses the sector's main certification standard of failing to stop forest destruction. The report, titled Certifying Destruction, uses satellite imagery, government concession data, field investigations, and third party analysis to conclude that several recent and current members of the Roundtable on Sustainable Palm Oil (RSPO) — the industry's chief eco-certification body — are continuing to buy or trade palm oil produced via the conversion of rainforests and carbon-dense peatlands in the Southeast Asian nation.
Greening the world with palm oil?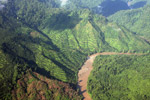 (01/26/2011) The commercial shows a typical office setting. A worker sits drearily at a desk, shredding papers and watching minutes tick by on the clock. When his break comes, he takes out a Nestle KitKat bar. As he tears into the package, the viewer, but not the office worker, notices something is amiss—what should be chocolate has been replaced by the dark hairy finger of an orangutan. With the jarring crunch of teeth breaking through bone, the worker bites into the 'bar'. Drops of blood fall on the keyboard and run down his face. His officemates stare, horrified. The advertisement cuts to a solitary tree standing amid a deforested landscape. A chainsaw whines. The message: Palm oil—an ingredient in many Nestle products—is killing orangutans by destroying their habitat, the rainforests of Borneo and Sumatra.