River and forest in Guyana's Amazon. Photo by: Tiffany Roufs.



A judge in Guyana's high court has ruled that indigenous groups do not have the right to expel legal miners from their land. The judge, Diana Insanally, found that if the miners in question held a government-approved license than the local community had no right to dispute the mining. The ruling has sparked protests by indigenous groups and is expected to be appealed.



"We are deeply disappointed and worried with this ruling and what it means to our village and to Amerindian communities in general. On the ground it has serious environmental and social impacts for us. The miners have, for example, brought with them problems related to drugs and prostitution," reads a press release from the indigenous community Isseneru.



The controversial ruling came after gold miner, Joan Chang, took the the community of Isseneru to court for disputing her mining claim on their titled land. Isseneru village is located deep in western Guyana's Amazonian interior. More than 75 percent of the country is still under forest cover, however mining, particularly gold mining, has been seen as a rising threat in recent years.



The recent ruling also opens up old wounds over just how much rights indigenous people have over their traditional lands.



"We feel that when the High Court tells us that we have no rights to decide and control what takes place on our land, then the land is not ours […] Just Friday, when inquiring at the office of the GGMC [Guyana Geology and Mines Commission], we learnt that our whole land is covered with mining concessions. Yet, the government has not informed us about this," the Isseneru community writes.



Last Friday, 80 indigenous people protested the high court ruling outside the Office of the President.



"If this ruling goes forward then it will be a huge step backwards and will threaten indigenous peoples' rights to land and to self-determination throughout the country," says Jean La Rose, Programme Administrator at the Amerindian Peoples Association (APA).
Related articles



Norway to send Guyana $45m for maintaining low deforestation rate

(12/24/2012) Norway will pay Guyana $45 million for maintaining its low deforestation rate under a climate partnership between the two countries.
Guyana rainforests secure trust fund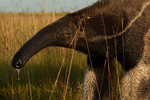 (07/30/2012) The nation of Guyana sports some of South America's most intact and least-imperiled rainforests, and a new $8.5 million trust fund hopes to keep it that way. The Guyanese government has teamed up with Germany and Conservation International (CI) to create a long-term trust fund to manage the country's protected areas system (PAS).
Guyanese tribe maps Connecticut-sized rainforest for land rights

(02/07/2012) In a bid to gain legal recognition of their land, the indigenous Wapichan people have digitally mapped their customary rainforest land in Guyana over the past ten years. Covering 1.4 million hectares, about the size of Connecticut, the rainforest would be split between sustainable-use regions, sacred areas, and wildlife conservation according to a plan by the Wapichan tribe that will be released today. The plan says the tribe would preserve the forest from extractive industries.
8 Amazon countries pledge more coordination in rainforest conservation

(11/27/2011) Eight Amazon countries pledged greater cooperation in efforts to protect the world's largest rainforest from deforestation and illegal mining and logging, reports AFP.
Indigenous technicians scour Amazonia to help researchers track wildlife populations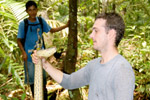 (11/09/2011) Scientists only have so many hands and eyes. That's why ecologists enlisted hundreds of Makushi and Wapishana villagers to record the sights and signs of animals across 48,000 square kilometers of the Amazon basin near the Brazil-Guyana border. In the ongoing project, scientists seek to describe the interactions between indigenous peoples, their environment and the native fauna.
Prominent indigenous leader gets death threats in Guyana

(12/17/2010) Environmental groups have written to Guyana president Bharrat Jagdeo over recent threats against Tony James, the President of the Amerindian Peoples Association in Guyana.
Guyana: where's the money pledged for saving rainforests?

(12/09/2010) Funds ostensibly set aside to reward tropical countries for protecting their rainforests are being held up, threatening to exhaust the political capital needed to advance the proposed reducing emissions from deforestation and degradation (REDD) mechanism before it even gets off the ground, warned the president of Guyana during a lively panel organized by Avoided Deforestation Partners on the sidelines of UN climate talks in Cancun, Mexico.