Mining in Peru's Madre de Dios



The world's largest rainforest is in the midst of a mining boom fueled by high mineral prices, reveals a new assessment of the Amazon's resources.



The atlas, published by a the Amazonian Network of Georeferenced Socio-Environmental Information (RAISG), a group of 11 civil society organizations and research institutions, shows that nearly 53,000 mining areas cover 163 million hectares of land across the Amazon, or about 21 percent of the region. These areas range from potential mining zones to active mines.



The report finds that Brazil has by far the largest number of mining zones (42,623) and extent (135 million ha), amounting to 27 percent of the Brazilian Amazon. Guyana is second in terms of extent of mining areas, with 14.5 million ha, followed by Colombia with 502,000 ha.



At 67.5 percent of its Amazon land cover, Guyana has the proportion of its land mass designated for potential mining. By comparison, only 3 percent of the Peruvian Amazon has been okayed for mining, although the area affected by illegal, informal mining may be much larger.



Mining is of concern to civil society groups for its social and environmental impacts. Gold mining booms across the Amazon have spurred land invasions in indigenous territories and protected areas, at times sparking violent conflict. Meanwhile mining waste has poisoned rivers with mercury, cyanide, and heavy metals. Operations have torn up large tracts of forests and created intensive bushmeat hunting pressures in some places. Finally industrial mining operations often provide impetus for damaging infrastructure projects, including roads and dams, that further drive deforestation.



The atlas also highlights other potential threats to the Amazon, including expansion of oil and gas exploration and extraction, a proliferation in hydroelectric projects, expanding road networks, and growing incidence of fire.



CITATION: RAISG 2012. Amazonía bajo presión [PDF-Spanish}
Related articles



Brazilian bank approves $10.8 billion loan for controversial Amazon rainforest dam

(11/30/2012) Brazil's National Development Bank (BNDES) on Monday announced it has approved a $10.8 billion (22.5 billion Brazilian reais) loan to the consortium that is building the controversial Belo Monte dam in the state of Par´ in the heart of the Amazon rainforest, reports International Rivers, a group that is campaigning against the dam. The loan in the largest in the bank's 60-year history, according to the group.
Vale's $1 trillion iron mine in the Amazon wins approval

(07/09/2012) The Brazilian government approved the environmental license for the expansion of an iron mine in the Amazon region, reports Vale, the Brazilian mining giant behind the project.
Gold mining in the Peruvian Amazon: a view from the ground

(03/15/2012) On the back of a partially functioning motorcycle I fly down miles of winding footpath at high-speed through the dense Amazon rainforest, the driver never able to see more than several feet ahead. Myriads of bizarre creatures lie camouflaged amongst the dense vines and lush foliage; flocks of parrots fly overhead in rainbows of color; a moss-covered three-toed sloth dangles from an overhanging branch; a troop of red howler monkeys rumble continuously in the background; leafcutter ants form miles of crawling highways across the forest floor. Even the hot, wet air feels alive.
Peruvian authorities raid illegal gold mining operations

(11/07/2011) Peru's Defense Ministry destroyed at least 75 illegal dredges and seized 15 vehicles from gold miners operating illegally in one of the most biodiverse parts of the Amazon rainforest.
High gold price triggers rainforest devastation in Peru

(10/11/2011) As the price of gold inches upward on international markets, a dead zone is spreading across the southern Peruvian rain forest. Tourists flying to Manu or Tambopata, the crown jewels of the country's Amazonian parks, get a jarring view of a muddy, cratered moonscape … and then another … and another in what the country boasts is its capital of biodiversity. While alluvial gold mining in the Amazon is probably older than the Incas, miners using motorized suction equipment, huge floating dredges and backhoes are plowing through the landscape on an unprecedented scale, leaving treeless scars visible from outer space. Sources close to the Peruvian Environment Ministry say the government is considering declaring an environmental emergency in the region, but emergency measures passed two years ago were not enough to contain the destruction, and some observers doubt that a new decree would have any more impact.
Demand for gold pushing deforestation in Peruvian Amazon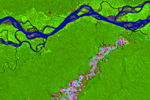 (04/19/2011) Deforestation is on the rise in Peru's Madre de Dios region from illegal, small-scale, and dangerous gold mining. In some areas forest loss has increased up to six times. But the loss of forest is only the beginning; the unregulated mining is likely leaching mercury into the air, soil, and water, contaminating the region and imperiling its people. Using satellite imagery from NASA, researchers were able to follow rising deforestation due to artisanal gold mining in Peru. According the study, published in PLoS ONE, Two large mining sites saw the loss of 7,000 hectares of forest (15,200 acres)—an area larger than Bermuda—between 2003 and 2009.
First strike against illegal gold mining in Peru: military destroys miners' boats

(02/21/2011) Around a thousand Peruvian soldiers and police officers destroyed seven and seized thirteen boats used by illegal gold miners in the Peruvian Amazon, reports the AFP. The move is seen as a first strike against the environmentally destructive mining. Used to pump silt up from the river-bed, the boats are essential tools of the illegal gold mining trade which is booming in parts of the Amazon.
Peru's rainforest highway triggers surge in deforestation, according to new 3D forest mapping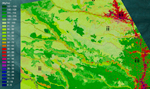 (09/06/2010) Scientists using a combination of satellite imagery, airborne-laser technology, and ground-based plot surveys to create three-dimensional high resolution carbon maps of the Amazon rainforest have documented a surge in emissions from deforestation and selective logging following the paving of the Trans-Oceanic Highway in Peru. The study, published this week in the early edition of the Proceedings of the National Academy of Sciences, reveals that selective logging and other forms of forest degradation in Peru account for nearly a third of emissions compared to deforestation alone.
High mineral prices drive rainforest destruction

(08/13/2008) The surging price of minerals is contributing to degradation and destruction of rainforests worldwide, warns a researcher writing in the current issue of New Scientist.
Gold mining in Guyana damages environment, threatens Amerindians
(3/6/2007) Informal gold mining is causing environmental harm and human rights abuses in Guyana says a new report from the International Human Rights Clinic (IHRC) of Harvard Law School's Human Rights Program. Wildcat gold mining has been a serious problem in the Guiana shield countries of Brazil, Venezuela, Guyana, Suriname and French Guiana. Rising gold prices in recent years have only worsened the problem, as illegal miners have flooded the region clearing forest, polluting rivers, and making threats against indigenous people.
| | |
| --- | --- |
| | |
Europe's largest tropical rainforest invaded by gold miners
(12/19/2006) As Europe frets over climate change and deforestation, threats to "Europe's largest tropical rainforest" are mounting, according to reports from French Guiana. While French Guiana is best known for its infamous Devil's Island penal colony and as the main launch site for the European Space Agency, which is responsible for more than 50% of the state's economy activity, most of the territory is covered with lowland tropical rainforest. French Guiana's forests are biologically rich with some 1,064 known species of amphibians, birds, mammals and reptiles, and 5,625 species of vascular plants according to figures from the World conservation Monitoring Center.
| | |
| --- | --- |
| | |
Mining in Venezuelan Amazon threatens biodiversity, indigenous people
(11/9/2006) Troubles are mounting in one of Earth's most beautiful landscapes. Deep in the Venezuelan Amazon, among ancient forested tabletop mountains known as tepuis, crystalline rivers, and breathtaking waterfalls, illegal gold miners are threatening one of world's largest remaining blocks of wilderness, one that is home to indigenous people and strikingly high levels of biological diversity. As the situation worsens — a series of attacks have counted both miners and indigenous people as victims — a leading scientific organization has called for the Venezuelan government to take action.