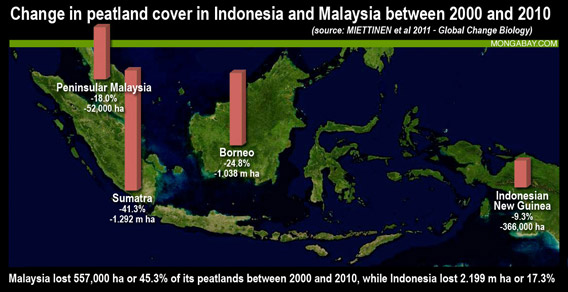 Chart: Change in peatland cover in Indonesia and Malaysia between 2000 and 2010. Background satellite image courtesy of Microsoft/Bing Maps and NASA, design by mongabay.com. Click image to enlarge.



Indonesia's top official charged with implementing the country's moratorium on new concessions in peatlands and primary forest areas is calling for an investigation into alleged violations by a palm oil company operating in Central Kalimantan, reports the REDD+ Task Force.



Kuntoro Mangkusubroto, the Head of REDD+ Task Force and the Presidential Delivery Unit for Development Monitoring and Oversight (UKP4), said his agency will probe potentially illegal forest clearing by PT Suryamas Cipta Perkasa (SCP). The palm oil company's alleged transgressions in Indonesian Borneo were highlighted earlier this month in a report published by Environmental Investigation Agency (EIA) and Telapak. The environmental groups provided the REDD+ Task Force with a dossier detailing PT SCP's what they called violations of various laws.



"PT SCP is suspected to have committed violations to the concession area since three years ago at the very least," Kuntoro told Reuters. "[PT SCP's] breach is due to the absence of environmental impact assessment report (Amdal) and its negligence for doing environmental audit as stipulated by the Environmental Law No. 32/2009 Article 121 paragraph (1)."



Kuntoro also repeated a call upon the governor of Aceh province to revoke licenses and permits of two companies operating in the Tripa peat swamp on the island of Sumatra. Following an investigation, UKP4 concluded those companies are violating the several regulations, including the 2011 moratorium on new forest concessions.



In a statement UKP4 added it will "continue to review other permits that may have been improperly issued and also monitor activities of the license or permit holders to ensure that such acts are not repeated."



Last month the REDD+ Task Force released the REDD+ National Strategy [PDF] which lays out a plan for establishing an effective REDD+ program in Indonesia.
Related articles



Chart: Indonesia's forest moratorium

(07/22/2012) Indonesia's moratorium on new forestry concessions was proposed in 2010 under an agreement with Norway to reduce emissions from deforestation and peatlands degradation. Set to begin Jan 1, 2011, the moratorium was not defined until May 2011 due to battles over what lands would be included. The moratorium was originally expected to include all forest areas, but lobbying by industrial sectors led to significant weakening, resulting in only peatlands and primary forests being included in the moratorium, with loopholes for mining and some energy and food crops.