Facing pressure in Europe and the United States over its environmental practices and the E.U.'s Timber Legality and Verification System (SVLK), Asia Pulp & Paper is planning to increase sales in Africa and the Middle East, the paper giant told the Investor Daily.



"We aim to boost the contribution of export to Africa and the Middle East by 3 percent," APP spokesman Hendra Gunawan was quoted as saying by the newspaper.



A three percent increase in volume would be greater than APP's total sales to the E.U., according to the paper supplier. Africa and the Middle East account for 10-15 percent of APP's current paper exports.



APP has been heavily criticized for its forest management practices on the island of Sumatra. It has been linked to conversion of wildlife-rich forests for industrial pulp plantations and has missed three targets for phasing out logging of natural forests. Due to these concerns, APP has lost a number of major Western customers over the past year.



In an effort to stop the bleeding, APP last month announced a forest policy which would phase out fiber sourced from natural forests by 2015. However critics — including Greenpeace and WWF — say the policy isn't much of an improvement over previously announced commitments.



Consumers in markets outside Europe and the United States are generally less sensitive to environmental concerns. Some greens worry that the declining importance of Western markets could diminish interest in eco-friendly products.
Related articles



Another red herring from Asia Pulp & Paper on its deforestation problem

(05/29/2012) In a press release issued last Thursday, Asia Pulp & Paper (APP) asserted that the presence of mixed tropical hardwood fiber (MTH) in its products 'does not come from the felling of virgin tropical rainforest trees in Indonesia'. The embattled paper giant goes on to say that 'the presence of MTH fiber says nothing about whether the product is sustainable or not" and that "MTH can be found easily in recycled paper.' All these points are true. But what APP doesn't tell you is that its response is yet another facade in its effort to deflect criticism from its forestry practices.
Asia Pulp & Paper to temporarily suspend rainforest clearing in Indonesia

(05/16/2012) Asia Pulp & Paper (APP), a forestry giant that has been heavily criticized for destroying rainforests and peatlands in Indonesia, will temporarily suspend clearing of natural forest areas until conservation assessments have been conducted.
Indonesia's Environment Ministry to sue APP, APRIL in $225B illegal logging case

(05/03/2012) Indonesia's Ministry of Environment is planning to sue 14 pulp and paper companies for illegally logging forests in Riau Province on the island of Sumatra, reports Tempo Magazine. 12 of the 14 companies are linked to Asia Pulp & Paper (APP) and Asian Pacific Resources International Holdings Limited (APRIL), pulp and paper giants that have been heavily criticized by environmentalists for destroying rainforests and peatlands that serve as critical habitat for endangered tigers, elephants, and orangutans.
Paper giant hammered on forest certification claims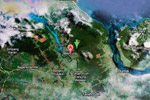 (02/15/2012) Beleaguered paper giant Asia Pulp & Paper was sharply criticized Wednesday for its claims that its operations are certified sustainable by independent auditors. WWF said its survey of certifiers and certification schemes shows that none apply to 'the most controversial operations' of APP's suppliers: clearing of rainforests and peatlands that are home to endangered tigers, elephants, and orangutans. In responding to complaints from environmentalists that its operations are responsible for large-scale destruction of native forests, APP often touts various certification standards which it says demonstrate its commitment to sustainability. Yet the new WWF survey found that these standards don't apply across all of the paper giant's operations — APP's suppliers in Indonesia continue to harvest and convert natural forests. Nor do the certification standards necessarily prove that APP's forest management practices are 'sustainable'.