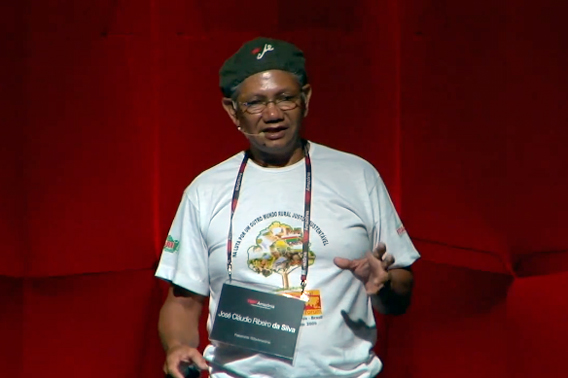 José Cláudio Ribeiro da Silva speaking at a TEDx Amazon in 2010, just a few months before he and his wife were assassinated for their activism.



On May 24th, 2011, forest activist José Cláudio Ribeiro da Silva and his wife, Maria do Espírito Santo da Silva, were gunned down in an ambush in the Brazilian state of Pará. A longtime activist, José Cláudio Ribeiro da Silva had made a name for himself for openly criticizing illegal logging in the state which is rife with deforestation. The killers even cut off the ears of the da Silvas, a common practice of assassins in Brazil to prove to their employers that they had committed the deed. Less than a year before he was murdered, da Silva warned in a TEDx Talk, "I could get a bullet in my head at any moment…because I denounce the loggers and charcoal producers."



In many parts of the world, standing up for one's forest, land, or environment has become incredibly dangerous. A new briefing by Global Witness finds that 711 activists, journalists, and community members were murdered defending or investigating land and forest rights issues between 2002 and 2011. Such killings are on the rise: last year 106 people were killed over defending land and forest rights, the highest number in the past ten years.



"This trend points to the increasingly fierce global battle for resources, and represents the sharpest of wake-up calls for delegates in Rio. Over one person a week is being murdered for defending rights to forests and land," Billy Kyte, campaigner at Global Witness, said in a press release, referring to the United Nations Rio+20 Summit on Sustainable Development, which is meeting this week.



The briefing—which catalogues people killed while investigating or protesting activities such as mining, logging, agriculture, ranching, plantations, dams, urban development, and poaching—notes that "these trends are symptomatic of the increasingly fierce competition for resources, and the brutality and injustice that come with it."



Brazil alone accounted for over half of the murders documented by Global Witness for a total of 365 people killed over the past ten years. Next in line are Peru, Colombia, and the Philippines. In these countries, as well as in Cambodia, Indonesia, and the Democratic Republic of the Congo, Global Witness says that many of the killings include serious links to private sector involvement, both domestic and international. Most murders occurred in Latin America and Asia with far fewer reported in Africa, however Global Witness this may be to a lack of information.



"Because information on such killings is fragmented and scarce, the number of deaths is very likely to be higher than we have been able to identify," the briefing reads. "This report also does not include the hundreds of thousands of victims of intimidation and violence linked to disputes over access to land and forest or killings from land and forest claims associated with oil and gas extraction."



For example, in the Democratic Republic of the Congo, a conflict between local villagers and logging company, SIFORCO, resulted in a number of villagers being beaten and raped by state security forces. The clash also resulted in the death of 70-year-old Frederic Moloma Tuka. Although SIFORCO asked the government to help mediate the conflict, it took no responsibility for the resulting violence.



According to the report, justice is rarely given to murder victims. Killers are rarely brought to trial and often acquitted when they are. In Brazil, fewer than 10 percent of such murders go to trial, and only 1 percent see convictions. The report also notes that out of 50 murder cases in the Philippines linked to land and environmental issues—usually protesting massive mining projects—none have gone to prosecution.



"Suspected perpetrators of these killings [in the Philippines] are police, military, and private security forces of private corporations," reads the briefing.



The Global Witness briefing urges the international community to push for full and impartial investigations into such killings; ensure Free, Prior, and Informed Consent (FPIC) for local communities impacted by industrial projects; and make certain both state security forces and private security follow national laws and international codes of conduct.



"The international community must stop perpetuating this vicious contest for forests and land. It has never been more important to protect the environment and it has never been more deadly," said Kyte.



Murders over forests and land continue. Just two months ago, on April 26th, renowned Cambodian forest activist, Chut Wutty, was killed while escorting two journalists to illegal logging sites. He was stopped by military police and after a clash was shot dead. The details of his death are still mysterious, as the military has provided various stories to explain how Wutty, as well as one of the soldiers, were killed. An investigation is ongoing.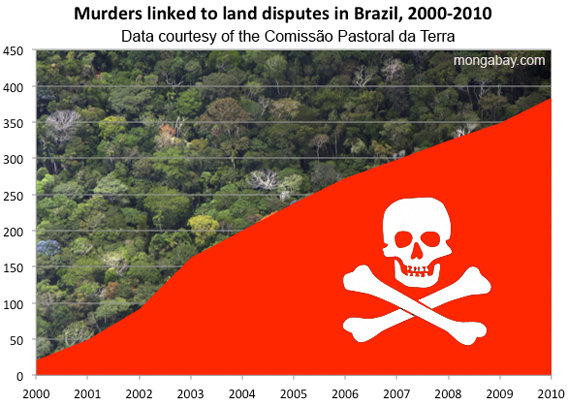 Murders tied to land disputes in rural Brazil, cumulative total of 383 since 2000.





Related articles



Cambodia suspends economic land concessions

(05/07/2012) Cambodian Prime Minister Hun Sen announced today that Cambodia would be temporarily suspending new economic land concessions and would revoke any concessions from companies involved in illegal logging, the evictions of locals or land-grabbing. The announcement comes two week after the high-profile death of local forest activist, Chut Wutty, who was shot and killed by military police while investigating illegal logging with two journalists.
Assassinated forest activist Chut Wutty: 'I want to see people live with freedom'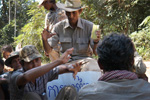 (05/02/2012) Chut Wutty, a dedicated Cambodian activist, was shot dead at an illegal logging site by military police, last Thursday. At the time Wutty was driving with two journalists, who wrote a shocking eye-witness account of his death, revealing that he was physically and verbally abused, then shot whilst trying to drive away, and left to die. His death reveals the brutal power of logging syndicates and companies, which are looting the country's natural wealth, and employing the military to silence their opponents.
Forest activist shot dead in Cambodia allegedly over photos of illegal logging

(04/26/2012) Chut Wutty, a prominent activist against illegal logging and deforestation, has been killed in the Koh Kong province of Cambodia. Wutty was shot dead at a military police checkpoint while traveling with two journalists with The Cambodia Daily. The journalists are currently being held for questioning by the military police.
David vs. Goliath: Goldman Environmental Prize winners highlight development projects gone awry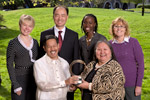 (04/16/2012) A controversial dam, a massive mine, poisonous pesticides, a devastating road, and criminal polluters: many of this year's Goldman Environmental Prize winners point to the dangers of poorly-planned, and ultimately destructive, development initiatives. The annual prize, which has been dubbed the Green Nobel Prize is awarded to six grassroots environmental heroes from around the world and includes a financial award of $150,000 for each winner.
Two arrested in connection with murdering Amazon activists

(09/20/2011) Two suspects have been arrested for allegedly taking part in the killing of Amazon activist, José Cláudio Ribeiro da Silva, and his wife, Maria do Espírito Santo da Silva. The men, who are brothers, were arrested after police stormed their remote jungle camp on Sunday in Brazilian state of Para. A third man remains at large.
Suspects named for assassination of husband and wife activists in Brazil

(07/21/2011) Brazilian authorities have fingered three men for the killing of environmental activist, José Cláudio Ribeiro da Silva, and his wife, Maria do Espírito Santo da Silva, in May. The grisly murders received international attention, since José da Silva was a well known activist against illegal logging in Pará, a state in Brazil that is rife with deforestation and violence.
Bloody June: fifth rural activist assassinated in Brazil this month

(06/16/2011) A rural worker who confronted illegal loggers operating in the Brazilian state of Pará was found murdered near his home, reports the Associated Press. Murdered on the Esperanca landless settlement, his death is likely related to ongoing conflicts between loggers and farmers in the Esperanca community. The victim, Obede Souza, is the fifth person to be murdered this month after standing up to illegal loggers.
Rash of murders threatens to silence environmental and social activism in Brazil

(06/10/2011) Authorities in Brazil have sent an elite police force consisting of 60 officers to offer protection to environmental activists in the Amazon after a series of killings, reports the Associated Press. The move comes 10 days after Brazil's Vice President Michel Temer announced the creation of a working group on Amazon violence following the assassinations of three activists in the region in late May. The Brazilian Amazon is no stranger to systemic violence against environmental activists, yet the response from the federal government in the past two weeks is the most significant to date.
Photos: Cambodians rally as 'Avatars' to save one of the region's last great rainforests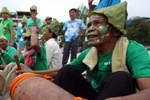 (05/31/2011) Two hundred Cambodians rallied in Phnom Penh last week to protest the widespread destruction of one of Southeast Asia's last intact lowland rainforests, known as Prey Lang. In an effort to gain wider media attention, protestors donned dress and make-up inspired by the James Cameron film, Avatar, which depicts the destruction of a forest and its inhabitants on an alien world. The idea worked as the rally received international attention from Reuters, CNN (i-report), MSNBC, and NPR, among other media outlets.
Killing in the name of deforestation: Amazon activist and wife assassinated

(05/24/2011) José Cláudio Ribeiro da Silva and his wife, Maria do Espírito Santo da Silva, were gunned down last night in an ambush near their home in the Brazilian state of Pará. Da Silva was known as a community leader and an outspoken critic of deforestation in the region. Police believe the da Silvas were killed by hired assassins because both victims had an ear cut off, which is a common token for hired gunmen to prove their victims had been slain, according to local police investigator, Marcos Augusto Cruz, who spoke to Al Jazeera. Suspicion immediately fell on illegal loggers linked to the charcoal trade that supplies pig iron smelters in the region.
Mexican environmental activist shot dead

(04/25/2011) Javier Torres Cruz, 30, who fought illegal deforestation by drug traffickers in the Mexican state of Guerroro, was murdered a week ago. A member of the local NGO, Environmental Organization of the Coyuca and Petatlán Mountains, Torres Cruz was known as an outspoken activist against illegal logging in the mountainous dry forest region. Logging in the region is primarily linked to fields of poppies for the illegal drug trade.
After another ranger killed, Virunga National Park requests UN peacekeepers

(02/01/2011) Less than a week after 3 wildlife rangers and 5 soldiers were killed in Virunga National Park by the rebel group Democratic Forces for the Liberation of Rwanda (FDLR), another ranger has been killed and a driver put in the hospital in critical condition. The situation has pushed park authorities to request UN peacekeepers for the park.
Eight rangers, soldiers killed in Virunga National Park

(01/25/2011) Yesterday morning, 3 wildlife rangers and 5 soldiers working in Virunga National Park were killed by the rebel group Democratic Forces for the Liberation of Rwanda (FDLR). These 8 were killed and 3 more wounded when their vehicle was fired on by FDLR rebels with rocket launchers. Park director Emmanuel de Merode told the AFP that it was the most serious incident to occur in Virunga National Park in the past 12 months.
Activist against illegal mining shot dead in India

(07/21/2010) On July 20th two unidentified men rode up to Amit Jethwa on a motorcycyle as he was coming out of his office in Ahmedabad and shot him dead at point blank range. Jethwa had recently filed a petition against illegal logging in the Gir Forest, the last home of the Asiatic lion, a subspecies of the African lion listed as Endangered by the IUCN Red List.
Violence a part of the illegal timber trade, says kidnapped activist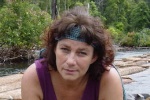 (07/07/2010) The European parliament made a historical move today when it voted overwhelmingly to ban illegal timber from its markets. For activists worldwide the ban on illegal timber in the EU is a reason to celebrate, but for one activist, Faith Doherty of the Environmental Investigation Agency (EIA), the move has special resonance. In early 2000, Doherty and an Indonesian colleague were kidnapped, beaten, and threatened with a gun by illegal loggers in Indonesian Borneo.
Justice delayed: Dorothy Stang's killer appeals

(08/31/2011) Next Tuesday, four Brazilian judges will hear an appeal from a rancher convicted of organizing the 2005 murder of Dorothy Stang, an elderly American nun who worked with small farmers in the Amazon rainforest state of Pará.