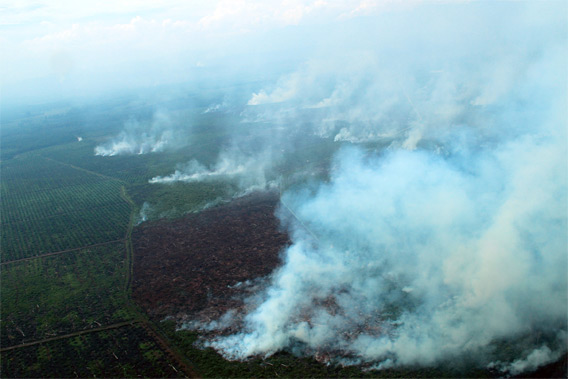 Tripa peat fires. Courtesy of the Sumatran Orangutan Conservation Program


Several fires are burning in a contested concession within Aceh Province's Tripa peat swamp raising questions about the efficacy of a high-profile investigation by Indonesian authorities, say environmentalists.



Satellite data and aerial photos released by the Sumatran Orangutan Conservation Program show dozens of fires burning across Sumatra's Tripa landscape, including six within the PT Kallista Alam concession, which is the subject of an investigation into whether the palm oil company's license violates Indonesia's moratorium on new concessions in peatlands and primary forests. Last month Kuntoro Mangkusubroto, Head of the Indonesian President's Delivery Unit for Development Monitoring and Oversight (UKP4) and Chair of the REDD+ Task Force, called Kallista Alam's activities illegal and said they must stop.



But the fires indicate that land-clearing is still occurring in the concession despite the investigation by the Ministry of Forestry and demands from the central government.



Kamaruddin, the head lawyer for the Tripa community which filed suit against Kallista Alam and the governor of Aceh, said the fires indicate "complete disregard for Indonesian law and the authority of the ongoing investigation."



"A direct Presidential Instruction is urgently required to bring an immediate halt to the rampant and illegal destruction of Tripa, not a speech telling the world deforestation is a thing of the past," Kamaruddin said, alluding to Indonesian president Susilo Bambang Yudhoyono's statements at CIFOR and Rio+20 suggesting that Indonesia has already emerged as a leader on reducing deforestation. In his speeches, the president cited undocumented deforestation data from the Ministry of Forestry in asserting that Indonesian's deforestation rate is now lower than 500,000 ha per year.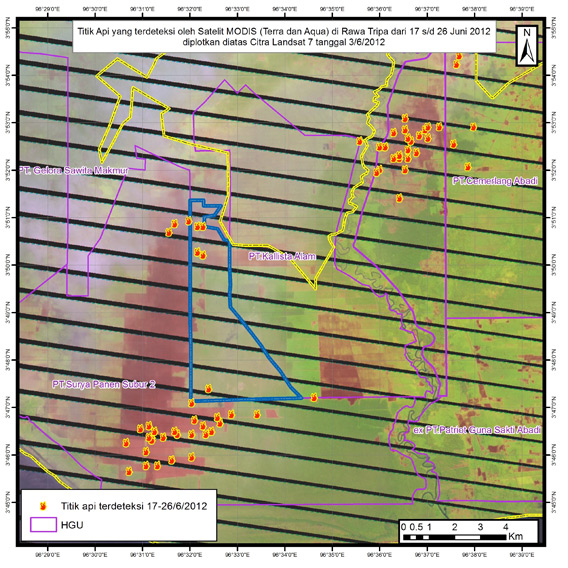 Fires in Tripa from 17/06/12 – 26/06/12


"There is no doubt that each of these companies is breaking several laws. Whilst we realize, and very much appreciate and support the investigation going on (by the Department of Environment), it's proving to be too little too late. These companies simply have to be ordered to stop immediately, and that order to be strictly enforced, otherwise the Peat Forests and inhabitants of Tripa will be lost forever."



Environmental groups have taken a stand over Tripa due to its once high density of critically endangered Sumatran orangutans. The area is also part of the Gunung Leuser ecosystem and consists of carbon dense peat forest, which should be prohibited from conversion over several local and national regulations and commitments.



The Sumatran Orangutan Conservation Program recently launched a petition on Change.org demanding action by the Indonesian government.
Related articles