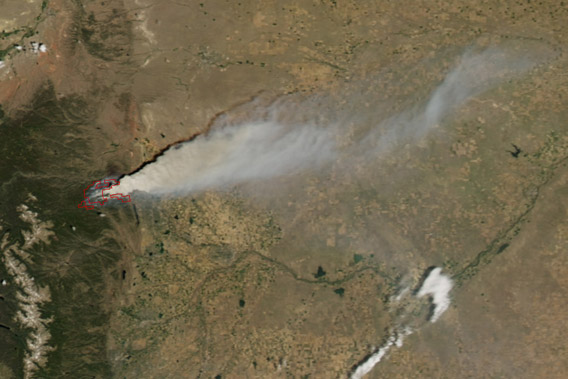 The High Park Fire in Colorado started on June 9th from a lightening strike and quickly expanded. This image is from June 10th, taken by Moderate Resolution Imaging Spectroradiometer (MODIS) on NASA's Aqua satellite. Image courtesy of NASA.



A massive wildlife in Colorado still burns after it has killed one person and damaged or destroyed over a hundred structures. The fire, the third largest in Colorado's history, has burned 39,500 acres (16,000 hectares) to date. Meanwhile in central New Mexico, another wildfire has damaged or destroyed 35 structures and burned 34,500 acres (14,000 hectares). This comes just weeks after New Mexico's largest wildfire ever—still going—has burned up over 247,000 acres (100,000 hectares) of the Gila Forest. Weeks of heroic efforts by thousands of firefighters have contained this megafire by only 37 percent to date. Now, a new scientific study in Ecospshere has found that North America and Europe must prepare for even more fires as global temperatures continue to rise from climate change.



"In the long run, we found what most fear — increasing fire activity across large parts of the planet," lead author Max Moritz, a fire specialist in UC Cooperative Extension, said in a press release. "But the speed and extent to which some of these changes may happen is surprising."



Looking at 16 climate models and satellite data, the researchers found that fires will likely increase across much of North America and Europe. Evidence was especially strong across the various models that fires will increase both in the near term (2010-2039) and long term (2070-2099) in the western U.S.



"When many different models paint the same picture, that gives us confidence that the results of our study reflect a robust fire frequency projection for that region," said co-author Katharine Hayhoe at the Climate Science Center at Texas Tech University. "What is clear is that the choices we are making as a society right now and in the next few decades will determine what Earth's climate will look like over this century and beyond."



Already the western U.S. has been battered by fires in recent years. While this year saw New Mexico's biggest fire on record, the previous record holder occurred just last year and burned 156,000 acres (63,000 hectares). Arizona also saw its biggest fire ever in 2011: the Wallow Fire burned 540,000 acres (218,500 hectares). The last few decades have seen the arrival of what some scientists are calling the 'megafire': abnormally large fires that also inflict a lot of damage.



"These abrupt changes in fire patterns not only affect people's livelihoods," Moritz says, "but they add stress to native plants and animals that are already struggling to adapt to habitat loss."



The research also predicts that fires may decline in the tropics, especially if rainforests receive more precipitation and not less. Fires in rainforests are naturally rare, and usually only occur when humans start them to clear land.



The last twelve months have been the warmest on record for the U.S. with the country also experiencing its warmest spring since record-keeping began in the late 19th Century. In addition to climate change, experts also say fires in the U.S. are worsening due to a century of suppressing small, natural wild fires, leaving a perfect tinder box for megafires.



Globally, climate change has warmed the entire planet 0.8 degrees Celsius (1.44 degrees Fahrenheit) since the early Twentieth Century. The International Energy Agency (IEA) has warned recently governments worldwide that without rapid action to cut greenhouse gas emissions the world would warm 6 degrees Celsius (10.8 degrees Fahrenheit).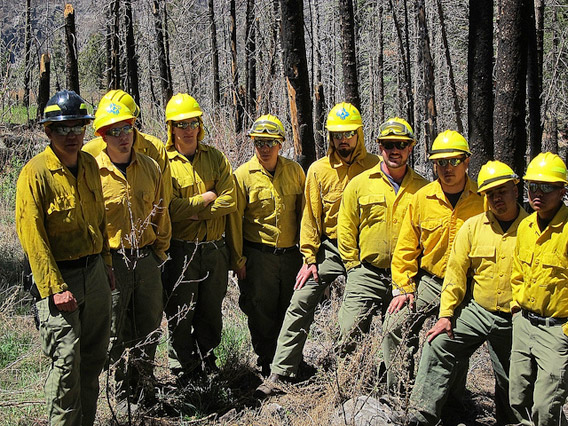 New Mexico firefighters gather to highlight the connection between megafires in their state and climate change. The photo was taken as apart of 'Connect the Dots' day organized by 350.org. It must be noted that this photo was taken a few weeks before the megafire in the Gila National Forest, which is now New Mexico's worst. Photo courtesy of: 350.org.






CITATION: Max A. Moritz, Marc-André Parisien, Enric Batllori, Meg A. Krawchuk, Jeff Van Dorn, David J. Ganz, and Katharine Hayhoe. Climate change and disruptions to global fire activity. Ecosphere. 2012.






Related articles



NASA image: New Mexico suffers record megafire

(06/04/2012) To date, around 250,000 acres (101,000 hectares) of the Gila Forest in New Mexico have burned in the state's largest fire ever recorded. Begun on May 16th due to lightning strikes, the unprecedented fire has likely been made possible by a combination of land-use changes, unflagging drought, and climate change.
Oil company blamed for fire in Belize national park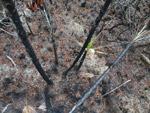 (05/01/2012) At the end of March in southern Belize the sun beats down through blackened trees onto what was the only known low-lying sphagnum moss bog in Central America. Now it is an expanse of ash and pale crusts of burned moss onto which dragonflies settle briefly before passing on. Fire spread through the area at the end of February 2012, and since then reeds have begun to sprout, but otherwise it remains a scene of devastation with no sign that the moss is regenerating.
Fires raging in peat forest at center of legal case in Indonesia

(03/27/2012) Fires are burning in a peat forest that is the center of contentious court case.
Killer Russian heatwave product of climate change

(10/26/2011) Last year's Russian heatwave and drought resulted in vast wildfires and a morality rate that was 56,000 people higher than the same period in 2009. Now, researchers have published a paper in the Proceedings of the National Academy of Sciences (PNAS) that finds the heatwave would very likely have never happened if not for climate change. The study flies in the face of previous research by the National Oceanic and Atmospheric Administration (NOAA) that concluded the heatwave was simply due to natural variation and not a warming world.
Restoring tropical forests by keeping fire far away

(09/26/2011) Keeping fire at bay could be key to reforesting abandoned land in the tropics, according to a new study in mongabay.com's open access journal Tropical Conservation Science. Measuring the recovery of regenerating forests in Kibale National Park in Uganda, the study found that suppressing fire allowed the forest to come back over a period of decades. Given the role rainforests play in sequestering carbon and safeguarding biodiversity, the study argues that reforesting abandoned land in the tropics should be a global policy and controlling fire may be an simple and largely inexpensive method to achieve the goal.
Repeated burning undercuts Amazon rainforest recovery

(09/26/2011) The Amazon rainforest can recover fromlogging, but has a far more difficult time returning after repeated burning, reports a new study in mongabay.com's open-access journal Tropical Conservation Science. In areas where the Amazon had been turned to pasture and was subject to repeated burning, Visima trees become the dominant tree inhibiting the return of a biodiverse forest. The key to the sudden domination of Visima trees, according to the study, is that these species re-sprout readily following fires; a capacity most other Amazonian trees lack.
Chart: US suffers record drought

(08/01/2011) An exceptional drought is still scorching major parts of Texas, New Mexico, Oklahoma, and Louisiana. A new report from the National Drought Mitigation Center finds that over July, nearly 12 percent of the US saw exceptional drought conditions, the highest record since monitoring began a dozen years. Exceptional drought is the worst possible on a 5-scale drought scale.
Adaptation, justice and morality in a warming world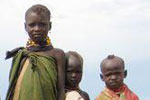 (07/28/2011) If last year was the first in which climate change impacts became apparent worldwide—unprecedented drought and fires in Russia, megaflood in Pakistan, record drought in the Amazon, deadly floods in South America, plus record highs all over the place—this may be the year in which the American public sees climate change as no longer distant and abstract, but happening at home. With burning across the southwest, record drought in Texas, majors flooding in the Midwest, heatwaves everywhere, its becoming harder and harder to ignore the obvious. Climate change consultant and blogger, Brian Thomas, says these patterns are pushing 'prominent scientists' to state 'more explicitly that the pattern we're seeing today shows a definite climate change link,' but that it may not yet change the public perception in the US.
Yellowstone burning: big fires to hit world's first national park annually by 2050

(07/25/2011) An icon of conservation and wilderness worldwide, Yellowstone National Park could see its ecosystem flip due to increased big fires from climate change warn experts in a new study in the Proceedings of the National Academy of Science (PNAS). A sudden increase in large fires—defined as over 200 hectares (500 acres)—by mid-century could shift the Yellowstone ecosystem from largely mature conifer forests to younger forests with open shrub and grasslands.