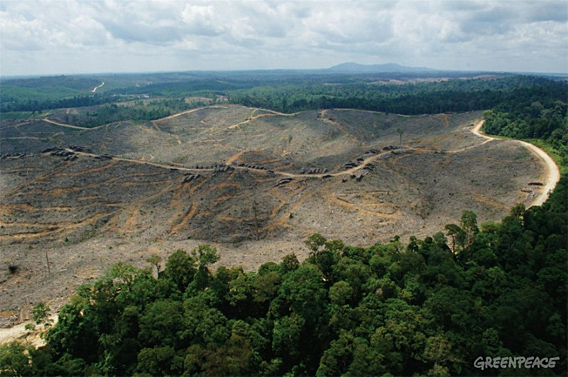 Forest clearing in the Bukit Tigapuluh Forest Landscape in central Sumatra. Courtesy of Greenpeace.



Fast food giant Kentucky Fried Chicken (KFC) is linked to the destruction of Indonesia's rainforests through its packaging sourcing practices, alleges a new report published today by Greenpeace.



An investigation by the environmental activist group found traces of mixed tropical hardwood fiber (MTH) in KFC's drink cups, food boxes, napkins and chicken buckets. The fiber comes from Asia Pulp & Paper, a paper products giant that continues to rely on conversion of Indonesian rainforests for pulp and paper production.



"KFC is the latest big brand to be caught trashing rainforests and pushing endangered animals, like the Sumatran tiger, towards extinction," said Bustar Maitar, head of Greenpeace's Indonesia campaign, in a press release. "KFC customers worldwide will be horrified to learn that packaging destined for the trash comes from trashed rainforests."




Greenpeace's latest report was accompanied by a colorful protest at KFC's headquarters in Louisville, Kentucky and Youtube videos.



Greenpeace found that some packaging products contain more than 50 percent rainforest fiber. The group notes that neither KFC nor its parent company Yum! Brands have "safeguards in place to prevent products from deforestation entering their supply chains."



It isn't the first time KFC has been criticized for its fiber sourcing practices. Campaigners — including Cole Rasenberger, a pre-teen activist — have targeted the company for using packaging from endangered forests in the United States.



But the focus of the new Greenpeace report is KFC's relationship with APP, which has suffered waves of customer defections in recent years due to its environmental record. APP has cleared hundreds of thousands of hectares of rainforest and peatlands in Riau and Jambi, destroying critical habitat for endangered wildlife including Sumatran tigers, elephants, and orangutans.



In an effort to stem the bleeding, APP recently announced a temporary freeze on clearing of natural forests until conservation assessments are done. But the move falls short in the view of environmentalists — it only applies to about a million hectares of concessions directly owned by APP. The paper giant's suppliers, which have a land bank of 1.5 million hectares of forest according to The Wall Street Journal, aren't asked to come into compliance until 2015.



APP has missed three earlier targets — 2004, 2007, and 2009 — for phasing out sourcing from natural forests.



Greenpeace says it will continue to pressure APP's customers until the forest products giant meaningfully reforms. It cites APP's sister company, Golden Agri Resources (GAR), a palm oil giant, as a potential model. After being targeted by Greenpeace, in 2011 GAR established a forest policy that prohibits conversion of land with more than 35 tons of carbon per hectare, effectively sparing rainforests and peatlands. The policy also requires free, prior informed consent in deadling with local communities. The policy has helped restore GAR's reputation among its international customers.




KFC has not replied to multiple requests for comment on its forest policies.
Related articles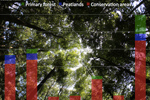 Indonesia revises moratorium map; makes contested orangutan forest off-limits

(05/22/2012) Indonesia is making 'encouraging' progress on its push to reduce deforestation by improving governance over its forests and peatlands, but still needs to do more to enforce environmental laws, said the head of the country's Reducing Emissions from Deforestation and Degradation (REDD+) task force speaking at a press conference Monday in Jakarta. Kuntoro Mangkusubroto, Head of the Indonesian President's Delivery Unit for Development Monitoring and Oversight (UKP4) and Chair of the REDD+ Task Force, said an effort to develop a map of Indonesia's forests and forest concessions has been completed, although the Ministry of Forestry has yet to deliver the map to President Susilo Bambang Yudhoyono, missing last Friday's deadline. The map serves as the basis for a two-year moratorium on new forestry concessions in primary forests and peatlands had been completed.
Indonesia's moratorium will not significantly reduce emissions, but has other benefits, finds analysis

(02/27/2012) Indonesia's moratorium on new forest concessions alone "does not significantly contribute" to its goal of reducing greenhouse gas emissions 26 percent from a projected 2020 baseline, concludes a new analysis by the World Resources Institute (WRI). However the study says the moratorium does support the target in the long-term by creating a window for enacting governance reform needed to stop destructive business-as-usual approaches to forest management.
Is the Ministry of Forestry undermining Indonesia's logging moratorium?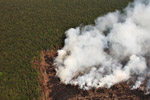 (06/28/2011) Indonesia's Ministry of Forestry is already undermining the moratorium on new forestry concessions on peatlands and in primary forest areas, alleges a new report from Greenomics-Indonesia. The report, The Toothless Moratorium, claims that a new decree from the Ministry of Forestry converts 81,490 hectares of forest protected under the moratorium into logging areas. The area affected is larger than Singapore.
Indonesia's moratorium disappoints environmentalists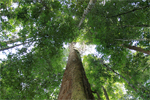 (05/20/2011) The moratorium on permits for new concessions in primary rainforests and peatlands will have a limited impact in reducing deforestation in Indonesia, say environmentalists who have reviewed the instruction released today by Indonesian President Susilo Bambang Yudhoyono. The moratorium, which took effect January 1, 2011, but had yet to be defined until today's presidential decree, aims to slow Indonesia's deforestation rate, which is among the highest in the world. Indonesia agreed to establish the moratorium as part of its reducing emissions from deforestation and degradation (REDD) agreement with Norway. Under the pact, Norway will provide up to a billion dollars in funds contingent on Indonesia's success in curtailing destruction of carbon-dense forests and peatlands.