Sumatran orangutan. Photo by: Rhett A. Butler.



Environmental groups are escalating their battle over an area of peat forest in Tripa, Sumatra that has been granted for oil palm plantations.



The Sumatran Orangutan Conservation Programme (SOCP), an initiative run jointly by the Yayasan Ekosistem Lestari and the PanEco Foundation, says that unless the government suspends the contested plantation permits and prosecutes the "rogue companies" operating in the area, it will push for a suspension of Norway's billion dollar aid package for Indonesia's forests and a global moratorium on Indonesian palm oil that hasn't been certified under the Roundtable on Sustainable Palm Oil (RSPO). SCOP is also demanding international rejection of the Indonesian Sustainable Palm Oil (ISPO) certification scheme, which compels Indonesian palm oil companies to abide by Indonesian laws. SCOP says ISPO certification clearly falls short if it includes PT Kallista Alam, which it says is illegally clearing deep peat and protected forest in Tripa.
The SOCP's primary goal is the conservation of the Critically Endangered Sumatran orangutan, including Tripa's unique and globally important population of this species. We believe that this will never be achieved until the Government of Indonesia enforces its own Environmental and Conservation Legislation. We would be betraying the Sumatran orangutan, and all our many supporters if we do not continue to lobby for this using all means at our disposal.
SOCP is calling upon the Indonesian government to suspend plantation development — including forest clearing and drainage of peat lands — in Tripa and "a comprehensive and transparent investigation of all environmental and administrative crimes perpetrated in the Tripa Peat Swamps."



The demands come just days after Aceh governor Irwandi Yusuf admitted that he granted the permit as a stunt to raise awareness of the lack of financial support for forest conservation in Aceh. The governor has been a staunch supporter of the Governors' Climate and Forest Task Force, which aims to create interim financial incentives between states and provinces in rich and tropical nations ahead of the REDD+ (Reducing Emissions from Deforestation and Degradation) program. But progress on REDD+ has been slow-going and funds remain only a fraction of levels projected five years ago.



"The international community think our forest is a free toilet for their carbon," he told the Sydney Morning Herald. "Every day they are saying they want clean air and to protect forests…but they want to inhale our clean air without paying anything."



Irwandi also asserted that no orangutans have been harmed during conversion of Tripa's peat forest. SCOP disputed that point: "The former Governor has been informed on numerous occasions of the presence of an important Orangutan population in the Tripa peat swamp forests."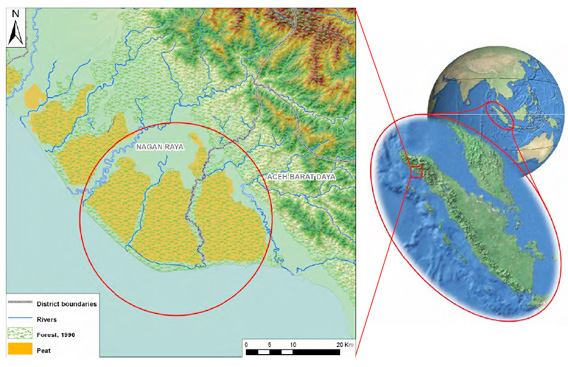 The location of the Tripa peat swamps (circled) on the west coast of Aceh province, northern Sumatra, showing rivers, forest cover in 1990, peat, and district boundaries. Tripa is the site of a controversial new oil palm plantation that has could put Aceh's governor in prison. Image courtesy of Tim Koalisi Penyelematan Rawa Tripa, a coalition of community groups seeking legal action against the governor.
Biological surveys in the 1990s showed that Tripa once contained some of the highest densities of Sumatran orangutans in the world, which are considered critically endangered due to habitat loss. But the population has rapidly declined as the areas peat forests have been drained and cleared for oil palm plantations. SCOP estimates that less than 300 of the red apes now remain in Tripa, and an estimated 7,000 in Sumatra in total.



SCOP has not been alone in its campaign. WAHLI, a coalition of Indonesian environmental groups, has led the legal charge against conversion of Tripa's forests. Last year it filed suit against PT Kallista Alam and Irwandi, alleging the permit granted by the governor violated Tripa's protected area status as part of the Leuser Ecosystem, broke multiple moratoriums on peatlands destruction, and ran roughshod over the rights of local communities, which depend on the forest for water and small-scale forest products.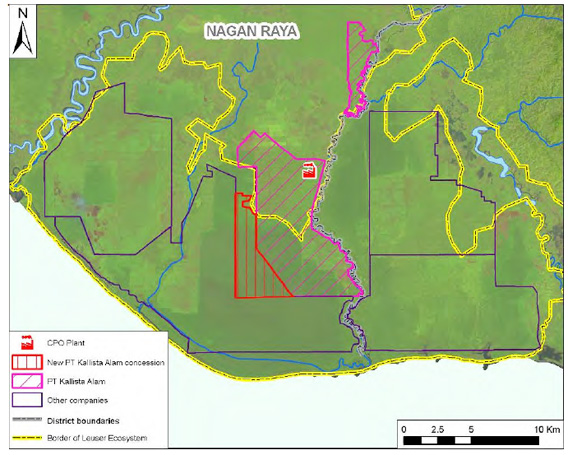 The 2 original concession areas of PT Kallista Alam (shown in pink hatching) and "new" concession (in red) in the Tripa peat swamps, on a 2006 satellite. Images and captions contained in Tripa Truths, a report produced for Tim Koalisi Penyelematan Rawa Tripa.



Meanwhile the San Francisco-based Rainforest Action Network (RAN) recently linked the developments in Tripa to its campaign to get agribusiness giant Cargill to adopt stricter safeguards for its palm oil sourcing. The activist group issued a statement last week noting that Cargill purchased palm oil from PT Kallista Alam's parent company Astra, which is one of Indonesia's largest companies.



Cargill immediately denied sourcing palm oil from PT Kallista Alam and said that it "is committed to sourcing its palm oil products responsibly."



"Last year, 94% of the of the crude palm oil Cargill sourced from Indonesia oil palm plantations was from RSPO members," a Cargill spokesperson told mongabay.com. "Cargill continues to work with oil palm smallholders to help them sustainably increase their yields and move towards RSPO certification."



But RAN said Cargill isn't doing enough to ensure its palm oil isn't sourced from places like Tripa.



"RSPO membership does not ensure that any RSPO criteria are being met at the plantation level since the only major criteria to meet in the first 5 years is consistent dues payment," RAN Forest Campaigner Lindsey Allen told mongabay.com. "Even certification does not ensure that companies are not expanding on peat given the lack of greenhouse gas emissions criteria."



"Cargill fails to have safeguards on the palm oil they trade that would ensure to customers they are not sourcing from Tripa."



The group is asking Cargill to adopt "a comprehensive set of safeguards on the palm oil they trade" and be "open and transparent" about the companies that supply it with palm oil.



"Will Cargill adopt safeguards on the palm oil they trade to guarantee that they are not profiting from situations like Tripa across Indonesia and Malaysia?" asked Allen.



Sumatra's rainforests and peatlands have been rapidly destroyed in recent decades. During the 1990s the island lost 3.7 million hectares, mostly a consequence of agricultural expansion, pulp and paper plantations, and palm oil production. Sumatra is the last refuge for several charismatic and highly endangered species, including Sumatran tigers, rhinos, elephants, and orangutans. Deforestation and associated forest fires have at times cast a pall over neighboring countries — especially Singapore — and released millions of tons of carbon into the atmosphere.





Related articles



Governor of Aceh who signed palm oil permit: plantation in Tripa "morally wrong"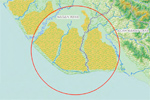 (04/05/2012) The former governor of Aceh, Irwandi Yusuf, told The Sydney Morning Herald today that an oil palm plantation he approved was "not wrong legally, but wrong morally." Irwandi, who is currently seeking re-election, signed off on the hugely controversial plantation in deep peat forest last August, but the issue came to a head this week as satellite images showed a dozen fires burning in the concession area known as Tripa. Environmental groups, which are running an online campaign, warn that the burning is imperiling an important population of Critically Endangered Sumatran orangutans (Pongo abelii).
Featured video: the battle for Tripa is about people too

(04/05/2012) Environmentalists have largely focused on the plight of orangutans as fires burn in Aceh, Sumatra to clear rainforest for a hugely controversial palm oil plantation, however as the video above highlights, local people will also feel the impacts of the destruction of forest for palm oil.
Environmentalists, orangutans lose court case over palm oil

(04/03/2012) Environmentalists were handed a set back in a dispute over a palm oil plantation granted in a protected peat swamp that is home to a population of critically endangered orangutans, reports the Aceh Globe and the Sydney Morning Herald.
NASA imagery confirms fires burning in orangutan hotspot

(03/27/2012) Satellite data from NASA confirms that fires are burning in an orangutan hotspot slated for conversion to oil palm plantations.
Fires raging in peat forest at center of legal case in Indonesia

(03/27/2012) Fires are burning in a peat forest that is the center of contentious court case.
Palm oil case against 'Green Governor' in Indonesia heats up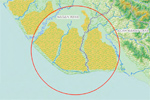 (03/22/2012) Environmental activists have launched an urgent appeal calling for a 'just decision' in a court case that has pitted Aceh's 'Green Governor' and palm oil developers against efforts to save endangered orangutans in a Sumatran peat forest. In letters directed toward judges weighing the case in Sumatra's Aceh Provice, Indonesian President Susilo Bambang Yudhoyono, the country's REDD+ authority, the World Bank, and the Governors' Climate and Forests Task Force (GCF), a coalition of conservation groups says the outcome of the case could have substantial implications for efforts to conserve Indonesia's remaining forests and peatlands.
Indonesia grants exemption from logging moratorium for 3.6m ha of forest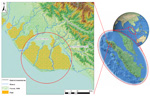 (12/21/2011) Indonesia exempted 3.6 million hectares of forests and peatlands from protected status under its two-year moratorium on forest concessions, according to a revised version of its moratorium map released near the end of climate talks in Durban. The new Indicative Map includes 10.7 million hectares of peatlands, down from 15.5 million hectares in the previous version of the map that defines areas off-limits for new concessions. Some 1.2 million hectares of previously unprotected "primary forest" has been added to the moratorium area, resulted in a net decline of 3.6 million hectares under the moratorium, according to analysis by Daemeter Consulting, an Indonesia-based forestry consultancy.
Aceh's 'green' governor breaks Indonesia's moratorium by granting oil palm plantation, alleges group

(11/23/2011) Aceh governor Irwandi Yusuf may have broken Indonesia's moratorium on new concessions in peatlands when he approved an oil palm plantation in the Tripa peat swamp in August this year, alleges WAHLI, an Indonesian environmental group.
UK firm plans to log habitat of critically endangered orangutan for palm oil production

(06/23/2009) A Scottish firm has been implicated in funding a plan that would destroy the rainforest habitat of critically endangered orangutans in Sumatra.