Climate change, in the form of rising temperatures and less precipitation, is shrinking the carbon sink of western Canada's forest, according to a new study released today in the Proceedings of the National Academy of Sciences (PNAS). Tree mortality and a general loss of biomass has cut the carbon storage capacity of Canada's boreal forests by around 7.28 million tons of carbon annually, equal to nearly 4 percent of Canada's total yearly carbon emissions.



"Recent climate changes in this region may have had substantial impact on the carbon balance of Canadian boreal forests as a result of increased fire frequency, an unprecedented expansion of insect outbreaks, and widespread drought-induced tree mortality," the authors write, but focused their study on drought.



Researchers analyzed carbon data from 96 long-term natural and undisturbed forest plots. They looked at plots both in eastern and western Canada, but found that forest carbon levels in eastern Canada had remained static, while those in western Canada had significantly decline. The difference: precipitation. Although both regions have seen higher average temperatures, western Canada has suffered a drop in precipitation, while eastern Canada had seen a rise. The drought in western Canada led to higher tree mortality and less biomass overall.



"Our results indicate that since 1963, drought-induced water stress has led to a weakening of the biomass carbon sink across a large area of the western Canadian boreal forest, with the largest reduction occurring after 2000," the authors write, only to warn that "western Canada's boreal forests may become net carbon sources if the climate change–induced droughts continue to intensify."



Although the scientists examined other trends that could be behind the forest's decline in carbon sequestration, such as tree stand aging, they found that drought far outweighed the impact of tree aging.



A 2005 analysis by the Pembina Institute for the Canadian Boreal Initiative (CBI) estimated that the carbon stored in Canada's forest and peatlands was worth 3.7 trillion Canadian dollars.



CITATION: Zhihai Ma, Changhui Penga, Qiuan Zhu, Huai Chen, Guirui Yu, Weizhong Li, Xiaolu Zhou, Weifeng Wang,
and Wenhua Zhang. Regional drought-induced reduction in the biomass carbon sink of Canada's boreal forests. PNAS. 2012. www.pnas.org/cgi/doi/10.1073/pnas.1111576109.
Related articles



Big compromise reached on Canada's Boreal by environmental groups and forestry industry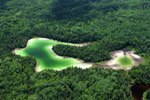 (05/19/2010) In what is being heralded as the 'world's largest conservation agreement' 20 Canadian forestry companies and nine environmental organizations have announced an agreement covering 72 million hectares of the Canadian boreal forest (an area bigger than France). Reaching a major compromise, the agreement essentially ends a long battle between several environmental groups and the companies signing on, all members of the Forest Products Association of Canada (FPAC).
Canada creates massive new park in the boreal

(02/09/2010) Last Friday, the government of Canada and the governments of the provinces of Newfoundland and Labrador signed a memorandum of understanding to create a the new Mealy Mountains National Park. Larger than Yellowstone National Park, the new Canadian park will span 11,000 square kilometers making it the largest protected area in Eastern Canada.
New report: boreal forests contain more carbon than tropical forest per hectare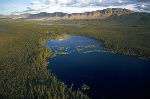 (11/12/2009) A new report states that boreal forests store nearly twice as much carbon as tropical forests per hectare: a fact which researchers say should make the conservation of boreal forests as important as tropical in climate change negotiations. The report from the Canadian Boreal Initiative and the Boreal Songbird Initiative, entitled "The Carbon the World Forgot", estimates that the boreal forest—which survives in massive swathes across Alaska, Canada, Northern Europe, and Russia—stores 22 percent of all carbon on the earth's land surface. According to the study the boreal contains 703 gigatons of carbon, while the world's tropical forests contain 375 gigatons.